14
min read
The wines of Alto Adige rarely disappoint. In this alpine corner of Italy, they are fastidiously fostered from vine to glass with a level of care and scientific precision that ought to be commended. In terms of volume, the region lags significantly behind the behemoths of Piedmont and Tuscany, but in one obscure but important category — the Tre Bicchieri awards, the most prestigious in Italy — Alto Adige dominates. Over the course of the awards, Alto Adige has averaged nearly four times as many awards per hectare as Piedmont and Tuscany.
I recently returned from Alto Adige (my second trip this year) where I attended the consorzio's annual Wine Summit. It was a unique opportunity to meet winemakers and canvas as much of the region's wines as possible. Below are the 20 wines I found most compelling.
A Little Bit About the Grapes
Are you new to the wines of Alto Adige? Let me try to summarize the landscape of grapes quickly.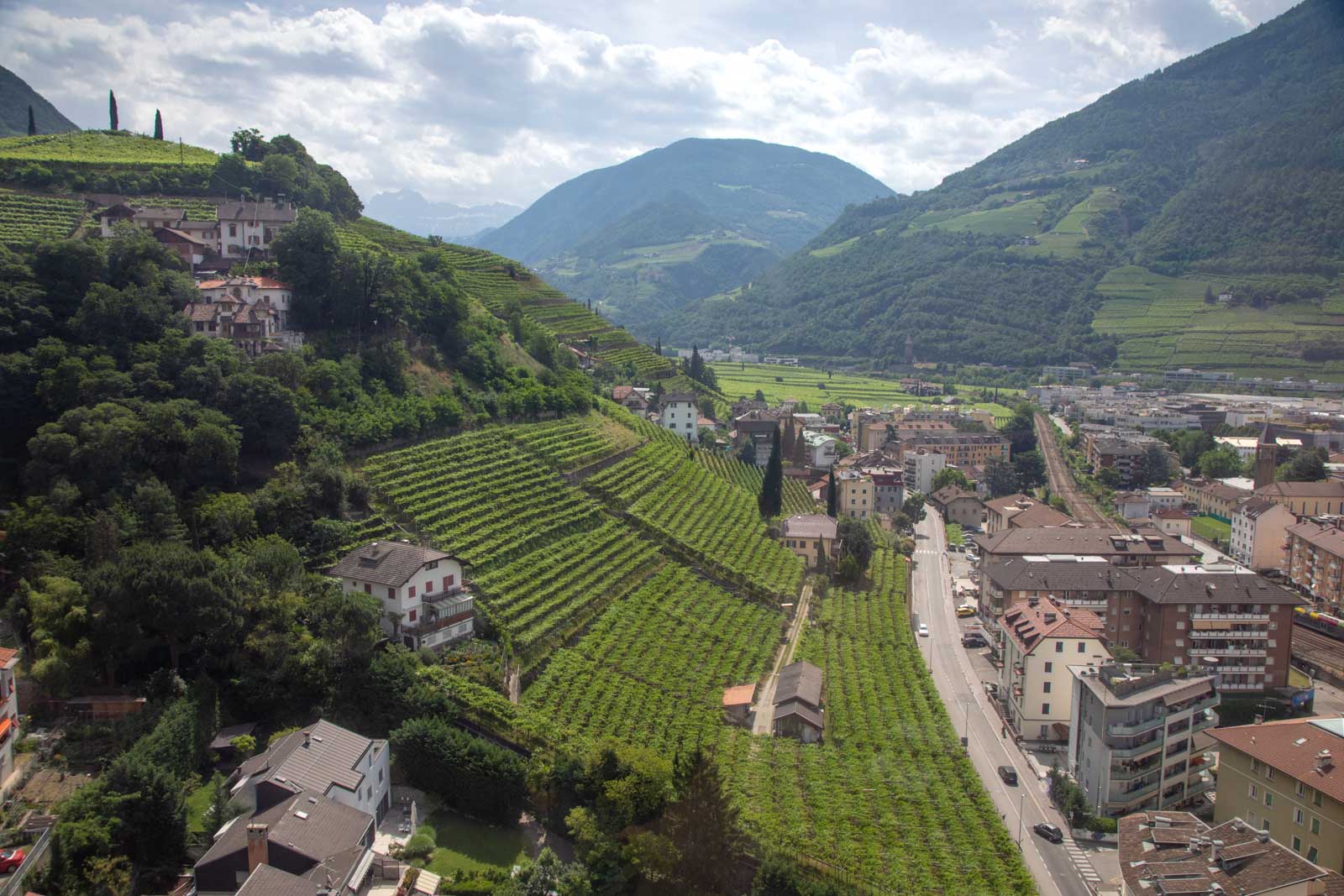 The headliners in Alto Adige are undoubtedly the white wines. Winemakers here take Pinot Grigio very seriously. If you recoil at the sound of those two words, you need to take a second look at the versions from Alto Adige. Nearly every one I have sampled has the potential to change your perception of the grape. There is also a keen focus on Pinot Bianco (often considered the world's best), Gewürztraminer, Chardonnay and Sauvignon Blanc — the latter of which has the tendency to truly surprise.
But for my tastes and interest, the finest white wines are either blends or the Austrian varieties from the Valle Isarco, prime examples of which are detailed below.
The most widely planted grape is actually a red — Schiava, which yields a simple but racy wine which we will cover in an upcoming First-Taste Guide. There is also Lagrein, a plummy and rich cousin to Syrah, as well as a spectrum of Pinot Noir and even the occasional Cabernet Sauvignon.
There were fewer superstar wines on the red spectrum in Alto Adige. Schiava is fun, but limited; Lagrein often seems lost; and if you are going to add a Pinot Noir or a Cabernet Sauvignon to the global conversation of wine, the ability to say something new is a tall order. (Yes, the same could be said for Chardonnay, and note, I don't have any varietal Chardonnay listed below). However, a few pushed the boundaries on this, and I think its an important category to keep an eye on for future vintages — particularly as Alto Adige begins to warm up.
(A quick note: Pinot Noir is called Pinot Nero or Blauburgunder in Alto Adige. I will defer to these names only when referring to a wine that is labeled as such, otherwise, I'll refer to it as Pinot Noir.)
A Final Note
Many wineries in Alto Adige have two names — a German one and an Italian one. This trait pertains mostly to the co-operatives, of which there are many. I've decided to go with whichever name is most prominent on the labels you'll see in the United States. Reading an article that is inundated with slashes and multilingual names every paragraph would be too daunting, so I've simplified as best I could.
Note that three wineries included below are not exported to the United States: Pfitscher, Baron Longo and Tröpfltalhof. (If you are an importer, please help change this fact by setting an appointment with them!)
Here are the 20 wines that turned my head at the Wine Summit of Alto Adige.
---
Whites on the Lighter Side
2018 Cantina Valle Isarco "Aristos" Sylvaner
Our first wine comes from the fairytale landscape of Valle Isarco, where Sylvaner is quietly gaining a reputation. Cantina Valle Isarco's Sylvaner (★★★★ 3/4) comes from around the Sabiona Monastery, an imposing house of God set atop rugged cliffs. Half of the wine is fermented in large acacia wood barrels, which seems to transmit the texture of oak without the dominating vanilla or coconut flavor associated with it. A delicious and intriguing wine. Learn more.
2016 Cantina Terlano "Vorberg" Pinot Bianco Riserva
Pinot Bianco is Alto Adige's sleeper grape. The winemakers of the region (and Italian wine insiders) speak of it with a high degree of reverence. But from my experience, the general consumer sees it as fashionable as a pair of flip-flops with jeans.
A few wines have been able to rise above this misconception and command significant demand, and Cantina Terlano's "Vorberg" Pinot Bianco Riserva (★★★★ 3/4) is rightly one of them. Sourced from a single, high-altitude vineyard with volcanic soil, "Vorberg" transmits diametrically opposing elements into something singular and beautiful: the tension between flowers and smokiness, herbs and fruit, could hold my attention all night. With its price tag in the high $40 range, you'd be well within your rights to ask: is it worth it? For a Pinot Bianco?
It is. Learn more.
2018 Baron Longo Weinberg Dolomiten Solaris Sichlburg
I stopped by Baron Longo's table at the vintage preview because I was curious about Solaris, a grape I'd seen in a few of the blends. Here they were, serving a varietal bottling of it. Solaris is an early ripening variety that was bred in Germany for the purposes of resisting fungal diseases. Another cross, Kerner, has had its break-out moment in the Valle Isarco. Could Solaris be next?
Baron Longo's Weinberg Dolomiten Solaris Sichlburg (★★★★ 3/4) suggests it might be. It is a generous and complex white wine that shifts shapes repeatedly, conjuring thoughts of lemongrass, yellow flowers and sulphur on the nose, as well as grapefruit and peaches on the palate. "Like someone turned a light on," I wrote in my notes, describing the wine's pitch-perfect acidity. Learn more.
---
Whites: Sauvignon Blanc
I am surprised to find myself — an ardent skeptic of the Sauvignon Blanc hype — to be profiling three wines from this herbaceous and sometimes obnoxious grape. But several winemakers in Alto Adige know how to make these wines with elegance, restraint and a sense of texture, and they deserve commendation for that.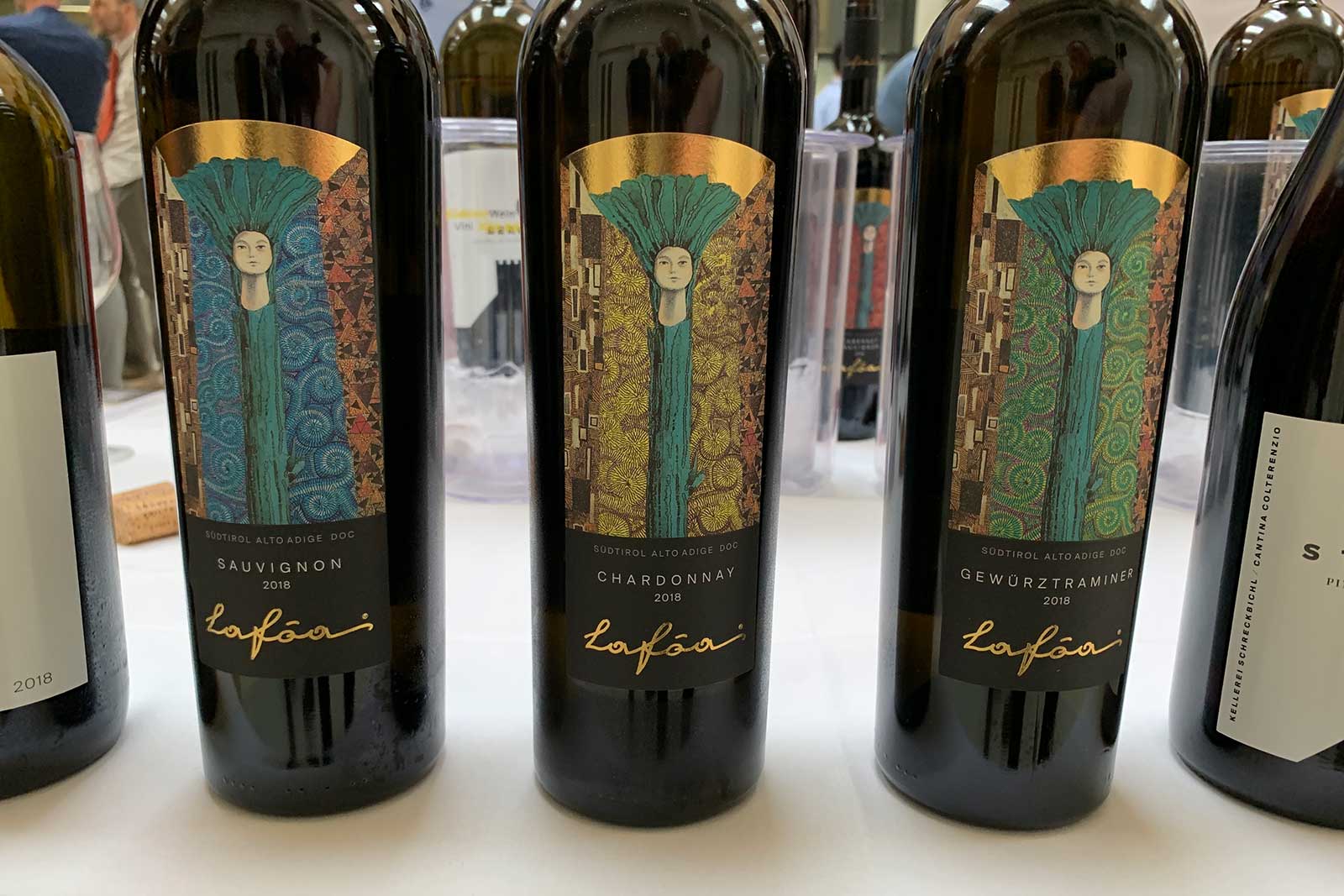 2018 Kellerei Schreckbichl Sauvignon Lafóa
Kellerei Schreckbichl represents 300 family winegrowers in and around the village of Schreckbichl (also known as Colterenzio, the alternate name of the winery as well) just south of Bolzano. Their most prized vineyard is called Lafóa, and from it they make their four most prestigious wines. The Lafóa Sauvignon Blanc (★★★★ 3/4) is one of the most playful versions I've had in years, redolent of nectarines, candied fruit and a tinge of something unusual that I could only liken to bubblegum. There is also sprightly acidity and a long finish.
Despite the serious, Gustav Klimt-inspired label, the Lafóa Sauvignon Blanc is the equivalent of a pop song that you secretly adore. Learn more.
2016 Tröpfltalhof "Garnellen" Anphora Sauvignon
Sometimes, at events like these, you don't see many natural winemakers. They often operate outside the consorzio's appellation regulations, and so they don't get a seat at the table.
Fortunately, biodynamic winemaker Andreas Dichristin of the tiny estate Tröpfltalhof had a table to himself, and he garnered quite a bit of attention from the international sommelier contingent. His vibrant version of Sauvignon Blanc, called "Garnellen" (★★★★ 3/4) carried golden tones and luscious aromas of pineapples and grass. Aged entirely in amphora with seven months of skin contact and 14 months on the lees, followed by a year in the bottle, it was vibrant, rich and textural, unlike any other wine Sauvignon Blanc I've had. Learn more.
2018 Kellerei St. Pauls "Passion" Sauvignon
The 2018 Kellerei St. Pauls "Passion" Sauvignon (★★★★ 1/2) struck me as the best ambassador of the most familiar style of Sauvignon Blanc: crisp, fruity, herbaceous and bracing. It was more serious than Kellerei Schreckbichl's Lafóa, and with a texture that had salty and savory qualities. Made from nearly 40-year-old vines, it has the maturity to not fatigue the palate. This is a wine that clearly comes from great fruit. Learn more.
---
Whites: Germanic Varieties
2018 Pacher Hof Grüner Veltliner
Known for its light and zesty profile and "white pepper" notes on the nose, Grüner Veltliner can deviate quite a bit from its typecast when it is allowed to. Pacher Hof's Grüner Veltliner (★★★★ 3/4) demonstrated the variety's mysterious side, conjuring up aromas that recalled lime, iris and toast, but known of the pepper associated with the grape. There was also a sulphurous streak through the middle that I enjoyed. Perfectly balanced with a finish that goes on and on. Learn more.
2018 Cantina Isarco "Aristos" Grüner Veltliner
The other wine from Cantina Valle Isarco to make my list is one of the two best wines I tasted in Alto Adige (see the 2018 Pacherhof Kerner below for the other). The "Aristo" Grüner Veltliner (★★★★★) is a robust but athletic wine — it doesn't fall prey to anonymity or sluggishness like so many internationally styled white wines do. Boasting detailed aromatics reminiscent of crisp nectarine, citrus zest, thyme, and faint peppercorns, the wine followed through with an amplified presence on the palate and a clean finish. It was the texture — once again the texture! — of this wine that made it stand out. It feels caressing and soft, the result perhaps, of its seven months on the fine lees and its partial fermentation in acacia wood barrels. Learn more.
2018 Abbazia di Novacella Praepositus Riesling
I checked in with Abbazia di Novacella once again, even though only three months separated me from my visit to the ancient winery. They were pouring two white wines from the new 2018 vintage, the Praepositus Grüner Veltliner and the Praepositus Riesling (★★★★ 3/4), the latter of which impressed me more. Invoking fresh stone fruit and wildflowers on the palate, it was like summertime in the glass, with none of the oily, petroly tones that often give Riesling away. Learn more.
---
Whites: More Substantial
2018 Alois Lageder "Porer" Pinot Grigio
I reviewed Lageder's 2017 "Porer" in February and it was the first Italian Pinot Grigio to receive a rating in my highest echelon. Last month, I revisited the new 2018 Porer Pinot Grigio (★★★★★), and it is still top shelf. A magical blend of three different vinification techniques — stainless steel, 14-hours on the skins and several months on the skins — to create the roundest, creamiest Pinot Grigio this side of the Alps. The first of two wines to reaffirm Alois Lageder's Essential Winemaker of Italy standing. Learn more.
2018 Pacher Hof Kerner
Pacher Hof's Kerner (★★★★★) also came in with highest marks. God, did I love this wine. I asked for a second taster pour, which is probably bad form, but I just wasn't done analyzing/enjoying it. (Here's the truth: at these tasting events, you sometimes get tired of cutting off a wine mid-sentence. It's like speed dating, and this Kerner was the one.)
The perfume-rich nose recalls juicy pineapple, orange peel, apricot and a handful of white flowers, while its rich but slippery texture glides easily on the palate. So vibrant. So stunning. One of the best wines in Alto Adige. Learn more.
2015 Kellerei St. Michael Eppan "Appius" Südtirol Weiß
During my follow-up research on this wine just now on Kelleri St. Michael Eppan's website, I noticed they have a countdown for the launch of this wine — sort of like CNN teasing the next Democratic Presidential Candidate debate. The "Appius" (★★★★ 3/4) I tasted was in a simple white-label with black text — the new label was not yet ready (it will be Wednesday, apparently!). Each year is a different blend, and this year's release is a cuvée of Chardonnay (55%), Pinot Grigio (25%), Pinot Bianco (15%) and Sauvignon Blanc (10%).
If that sounds like a movie boasting an all-star cast — but you can't picture how these actors will mesh on screen — that makes two of us. Indeed, Appius is one of the most fascinating, but challenging, wines I've tasted this year. It was loaded with toasty notes as well as peripheral tones of petrol, flowers and nuts. What was missing? Fruit. Was it still delicious? Yes. This wine will certainly have an interesting life in the cellar. Learn more.
2017 Kellerei Kurtatsch "Amos" Südtirol Weiß
Many of Alto Adige's most compelling and detailed wines come in the form of white blends. The "Amos" Südtirol Weiß (★★★★ 3/4) from Kellerei Kurtatsch is certainly one of them. A blend of Chardonnay, Pinot Bianco and Pinot Grigio, it hails from high-altitude (600-900 meters) vineyards above the village of Kurtatsch/Cortaccia. The wine spends 14 months on the fine lees in large wooden barrels. Draped in decadent aromas recalling peach, lavender and almonds, it was a wine that certainly caught my attention with its beauty and grace. Also: can I award bonus points for the Wassily Kandinsky-inspired label? Learn more.
2010 and 2017 Cantina Terlano "Nova Domus" Südtirol Terlaner
One of Alto Adige's most famous white wines, Cantina Terlano's "Nova Domus" is a blend of Pinot Bianco (always the lead actor), Chardonnay (to round out the body) and Sauvignon Blanc (to add a dash of aromatic prowess). There is some variance in the percentages depending on vintage.
I tasted it twice, once at the opening dinner (a 2010) and at the new vintage preview (2017). The 2010 (★★★★★) demonstrated why this wine is so iconic: it appears it can age for decades. Each portion is vinified separately in oak then blended before bottling. This was a wine that cast a few illusions throughout the night, at times recalling such distinct notes of peach and pineapple that I had the impression of sweetness, even though it was completely dry. It is a generous wine with some savory and flower edges to it. The 2017 (★★★★ 1/2) — which has a higher percentage of Chardonnay in it — is still a remarkable wine, but this is a rare white in that, clearly, it needs time in the cellar to fully come around. Learn more.
---
The Lighter Reds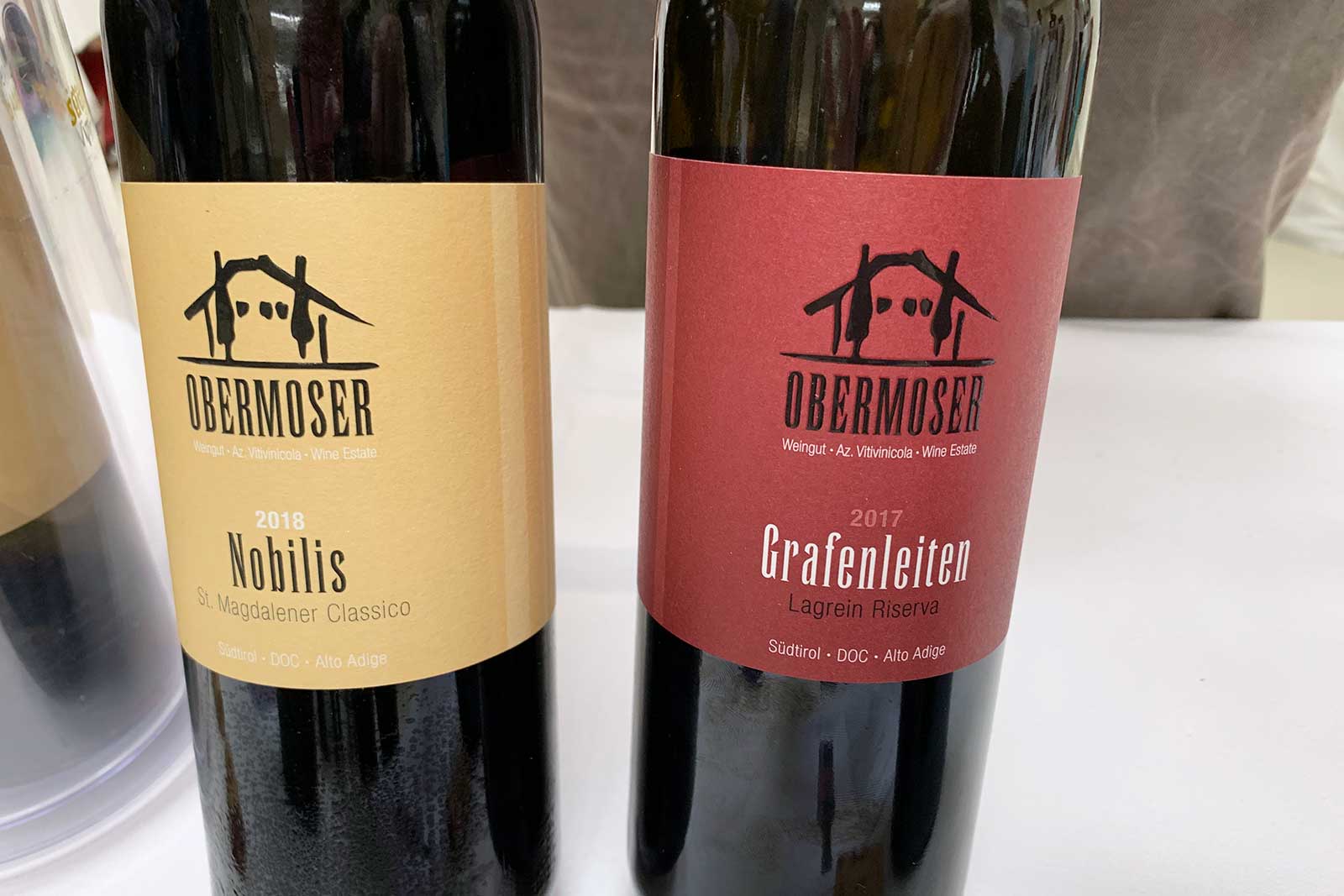 2018 Obermoser "Noblis" St. Magdalener Classico
Schiava is on the rise as a handful of producers are devoting themselves more fully to it. This is no longer just a cheap, light-bright red to ship over the Alps to their Germanic neighbors. Schiava can be serious, particularly when it is given a touch of Lagrein — a blend known as St. Magdalener/Santa Maddalena after the mountainside where the vineyards are located. Obermoser's St. Magdalener Classico called "Noblis" (★★★★ 1/2) is as intense as any St. Magdalener I've tried. The kirschy, cherry-like flavors have a plushness to them that is surprising, as Schiava is often a lean and spirited wine. That liveliness doesn't arrive until the finish — just when you need it for a second sip — making this wine a compelling rendition. Learn more.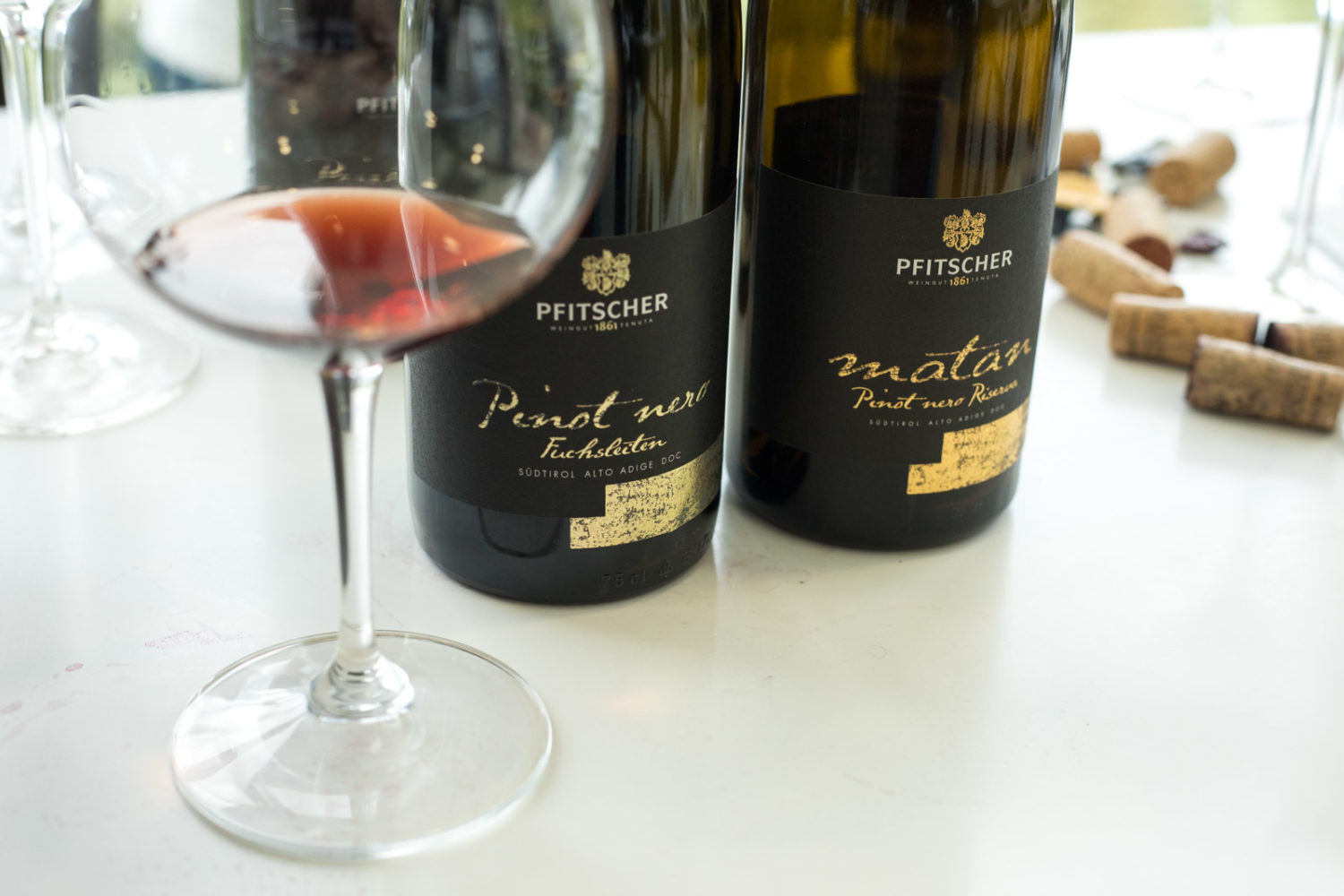 2018 Pfitscher Fuchsleiten Pinot Nero
Oh, how I wish Pfitscher was imported into the United States. We could use more Pinot Noir like this on our shelves. The family operated winery takes pride in their steeply sloped vineyards in the aptly named village of Montagna, and the Pinot Noir called Fuchsleiten (★★★★ 3/4) is an impressive ambassador for Alto Adige Pinot Noir. It is spicy at the front, fruity through the middle, and meaty and savory on the finish. Better yet, it is reasonably priced, but you will have to get it in Italy. Learn more.
2006 and 2016 Pfitscher Matan Pinot Nero Riserva
If the Pfitscher's Fuchsleiten is a fireworks display, the Matan Pinot Nero Riserva is a ballet. Earlier, I noted that if you are going to make a Pinot Noir that adds something to the global conversation of wine, it better say something unique. The Matan Pinot Nero Riserva is the only wine that came close to doing so, and that's because the Pfitscher family shared the 2006 vintage (★★★★★) alongside the 2016 vintage (★★★★ 3/4). With time and patience, the Matan maintains its perfect shape but divulges a panoply of aromas and flavors: bing cherries, black tea, roses, cinnamon stick, vanilla bean, pine needles and spearmint all arose from the glass. Referring to the newer release, some of these details were there, but the wine was narrower. It needed to unpack itself to reveal more. That's fine. I'll wait.
Whether Matan "says something new" or not, I'm not sure yet, but it certainly shows that Alto Adige has awesome potential for Pinot Noir. Learn more.
---
The Heartier Reds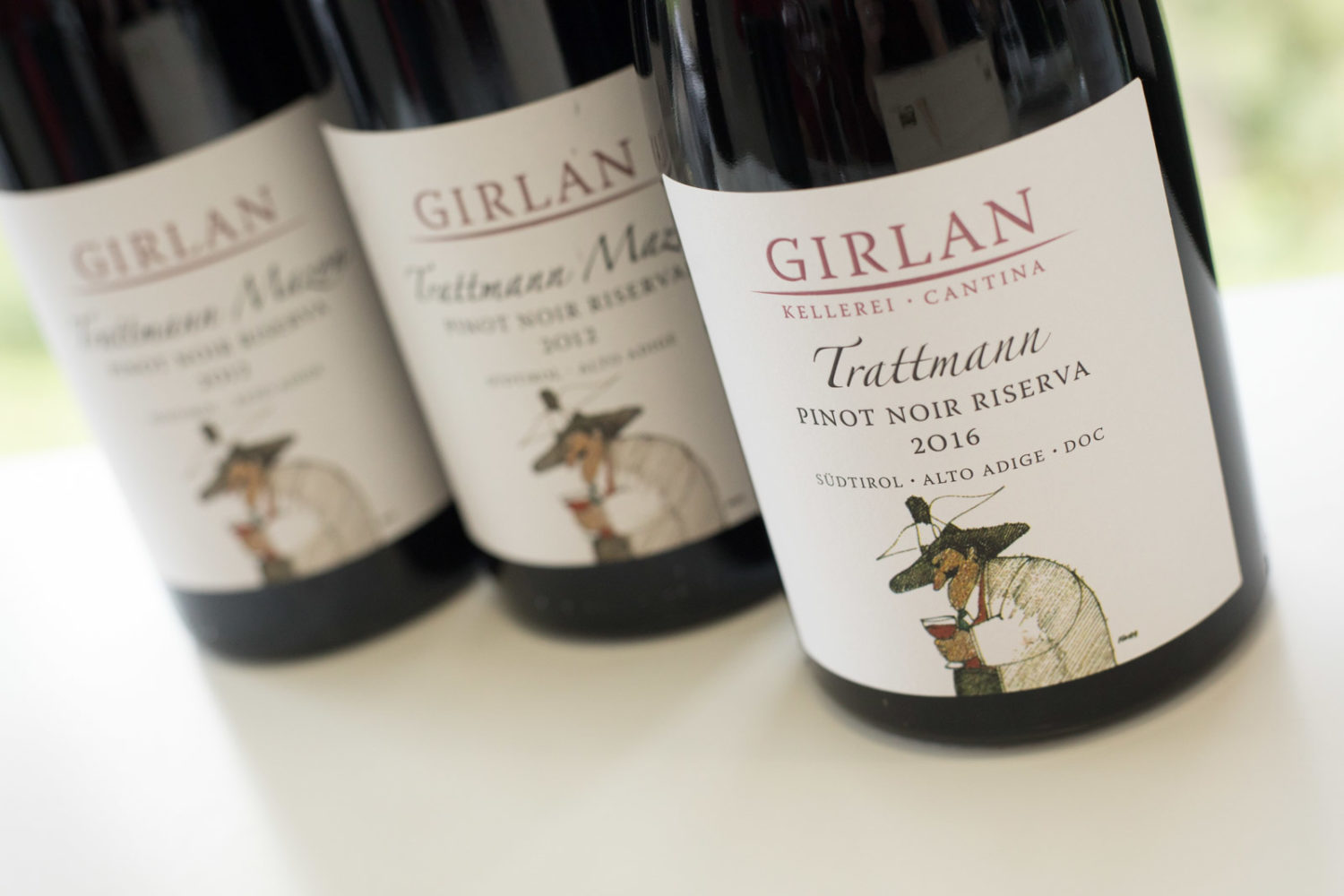 2016 Cantina Girlan Trattman Pinot Nero Riserva
In my report of what's noteworthy about Alto Adige's wines, I described the Pinot Noir from Cantina Girlan as a "monster truck rally." Perhaps their power was amplified by the fact that I sampled them alongside their contemporaries from Pfitscher, Castelfeder and Franz Haas. Truth is, the winery's Pinot Noir from the Mazzone vineyard encounters more warmth and ripening than the high-altitude vineyards of Pfitscher. As a result, they almost seem like they're from the Russian River.
The 2016 Trattman Pinot Nero Riserva (★★★★ 1/2) boasted intensely ripe red fruits with edges of rosehips and leather, as well as an oaky gravitas. At times, the high alcohol interfered a bit, but this was a wine that stood for something, and I know plenty of wine enthusiasts who appreciate bolder, richer Pinot Noir more than I do. They'd love this monster truck. Learn more.
2016 Tröpfltalhof "Barleith Anphora" Cabernet Sauvignon
The second wine from Tröpfltalhof to make my list is the winery's fresh and vital take on Cabernet Sauvignon, called Barleith (★★★★ 3/4). Winemaker Andreas Dichristin chooses to stabilize the wine over 21 months in amphora, which leaves the varietal characters of Cab unvarnished and rather naked in the glass: there is tons of crunchy pepper from the grape's high level of pyrazines, as well as a mellow cocoa and cherry counterpoint. "With light tannin" is not often a descriptor for Cabernet Sauvignon, but wines such as Barleith make a convincing argument that it ought to be more common. Learn more.
2016 Alois Lageder Römigberg Cabernet Sauvignon
The exact opposite of Barleith in many ways, the 2016 Alois Lageder Cabernet Sauvignon from the esteemed Römigberg vineyard (★★★★ 1/2) is a classically styled, bold and brash Cabernet that wants to get in the ring and throw a few punches at Bordeaux and Napa. Decked in raspberry-like fruit and substantial peppery notes, it is a great wine — if a bit unsurprising and expected. But the point is clear: anything you do, we can do also, and — in the case of Alois Lageder — do it biodynamically, too. Learn more.
---
Note: This article was made possible by back-to-back press trips which paid for my travel: one by Wines of Alto Adige for their Wine Summit, and one from Trentodoc, who paid for the plane ticket. Learn more about my editorial and advertising policy.