2
min read
Le Bout du Monde. In French, it means "the end of the world," and apparently, that's what winemaker Edouard Lafitte decided to call his winery. The story goes that a visitor used the phrase to describe the remoteness of Lafitte's estate in Languedoc-Roussillon. But take a sip of his lively, easy-drinking, purple-berried wine called L'échapée belle ("The Great Escape") and the phrase takes on a whole other meaning: imagine it as 750mL of frivolous pleasure for your last night on earth.
Much of its party-centric profile has to do with carbonic maceration, the winemaking process in which grapes are fermented in a carbon dioxide-rich environment, which gives the wine a decidedly fruity feel.
I opened L'échapée belle for a Mother's Day cookout. My dad and I loved it. My brother hated it (so I drank his). The moms? indifferent.
What made the wine so controversial was the accentuated barnyard funk on the nose, which is probably the result of Brettanomyces, which are common in natural wines. It's there — along with notes of beautiful black cherries, roses and candied fruit — and it seemed that one's sensitivity to it determined their assessment.
Now: what role did carbonic maceration have in accentuating the Brett?
Who cares? It's the last night on earth. Just drink.
2014 Le Bout du Monde "L'échapée belle"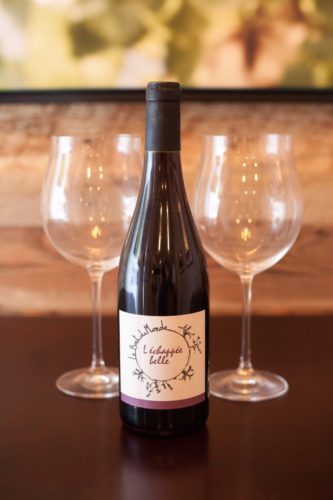 Languedoc-Roussillon, France (Vin de France)
Grapes: Syrah (60%), Carignan (40%)
Alcohol: 11%
Ratings: ★★★★ 1/2 (out of five)
• Aromas, Flavors & Structure: ★★★★ 1/2
• Food-friendliness: ★★★★ 3/4
• Value: ★★★★ 1/2
Importer: Jenny & François Selections
Tasting notes: "You're not going to like hearing this," my dad said, "but it smells like horse stable." Yep, this wine has a touch of that "barnyard" funk known as Brett, but before you run away screaming about flaws and sanitation, know that (a) this is a natural wine so its presence isn't an accident and (b) the undertones of black cherry and candied fruit, and the whispers of roses and watermelon drown out much of the funkiness. Delicate and playful, this is a most unusual wine given that it is made of Syrah and Carignan — who are typically about as playful as Principal Skinner and Super Intendant Chalmers.
Recommended for: Frivolity and merry-making. It's the kind of wine that will at least get people talking because they will either love it or hate it. One thing is for sure: they have probably never had anything like it.