7
min read
If you've acquired a taste for Barolo's wine, you have likely found yourself descending the rabbit hole of the area's cru vineyards, or MGAs (menzioni geografiche aggiuntive).
Here, Barolo's cast of characters emerge in the form of named vineyards, whose distinct borders were first informally drawn by winegrowers generations ago, only to have their terrain minutely mapped and analyzed in modern times. In fact, the obsession with site-specific identity in Barolo is only rivaled in the wine world by Burgundy, France. Buy a bottle of Barolo from the Ravera, Vignarionda or Brunate vineyards and you are likely to encounter subtle yet thrilling differences … and an endless list of questions as to why.
These subtleties can be flirted with from afar, but there is no substitute for actually going there and seeing these vineyards for yourself.
My time in Barolo in October was limited: I had two nights. But I knew that the vineyard I wanted to walk more than any other was Cerequio , a green bowl of vines at the heart of La Morra's soaring, nearly-2-mile-long hill. All it took was a couple of hours wandering its roads and vines to completely cover my navy shoes in Cerequio's yellowish-blue dust.
Months later, that metaphysical dust continues to linger in my mind.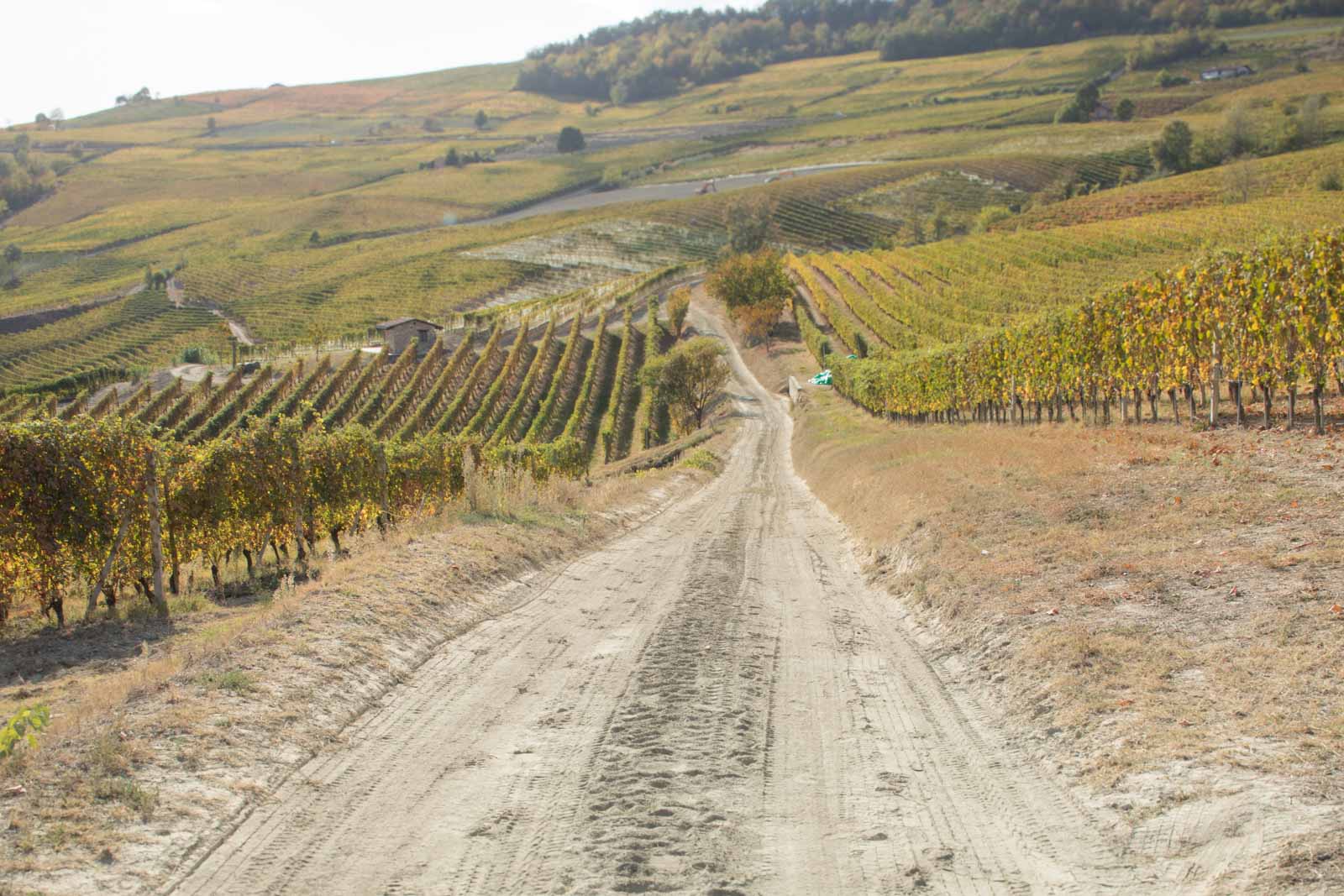 The Scene
The appellation may be named after the village of Barolo — you know, the one with a castle? — but to me, no other village defines the beauty of Barolo quite like La Morra.
La Morra crowns a long and massive hill whose entire southeast-facing aspect is covered in vines. To a newcomer, this hill looks like one big vineyard, but it is actually subdivided into several different parcels, each with their own significant story. There's La Serra and Fossati, at the top of the hill, which have traditionally been cooler sites. They are small, but the wines that they produce are becoming more coveted with each vintage. (As annual temperatures increase with climate change, one suspects that these two will be stealing the headlines in the future).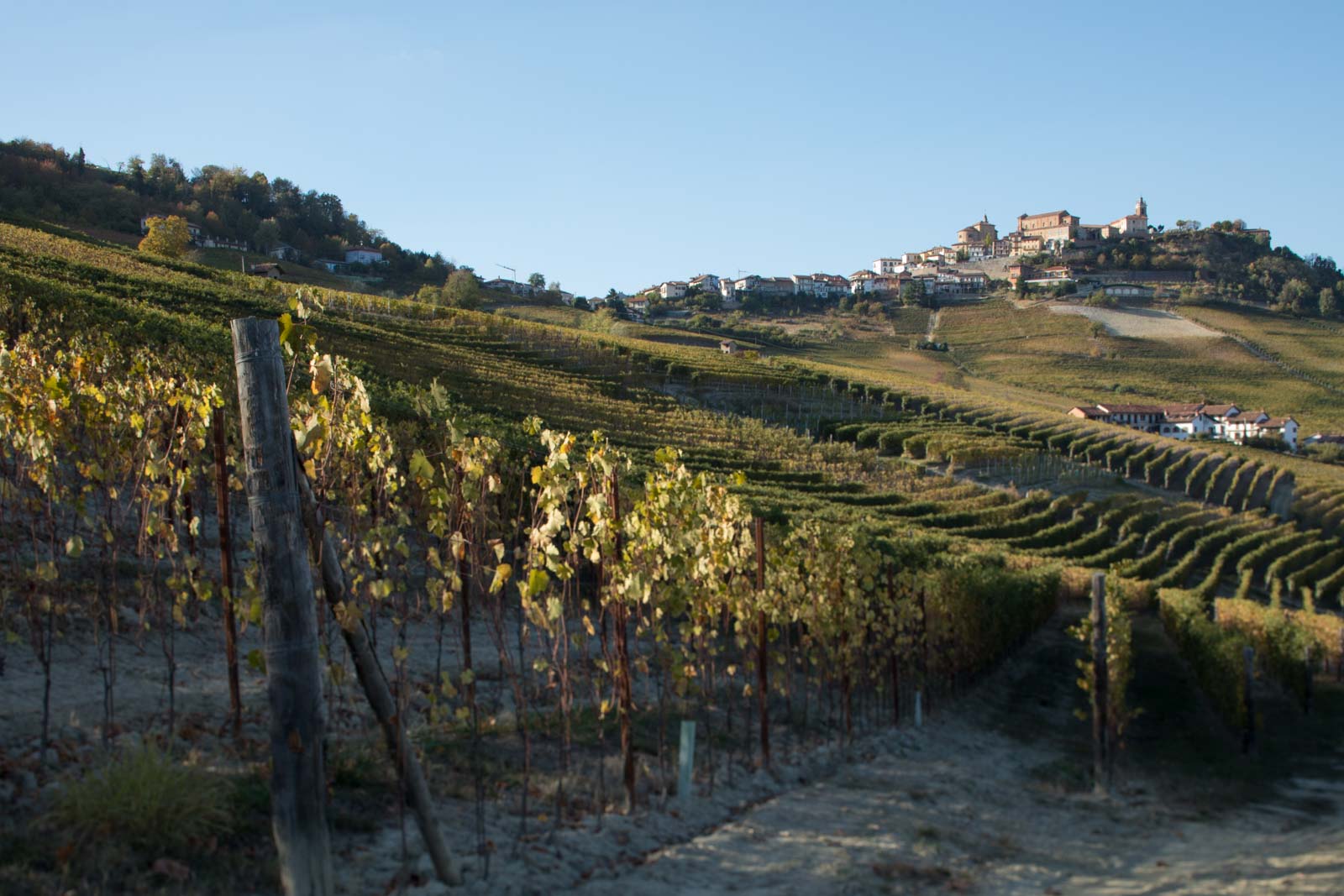 There is also Boiolo , which — in addition to being Barolo's silliest sounding cru —  has the habit of appearing in all of my photographs of La Morra, since it resides just below the town. Boiolo is exceedingly beautiful.
But of La Morra's vineyards, two have stood out for centuries: Brunate and Cerequio.
Brunate's current roster of winemakers is impressive. Ceretto, Damilano, Francesco Rinadi & Figli, Giuseppe Rinaldi, Marcarini, Oddero, Vietti and Roberto Voerzio all produce single-vineyard Barolo from this steeply pitched amphitheater of vines. Brunate is crowned by a rainbow riot: a lavishly painted, deconsecrated chapel owned by the Ceretto family. As a result, it is one of Barolo's most popular tourist sites.
Instead of a chapel — or a lonely cedar, like the hallmark of the Gattera cru in the distance — Cerequio has a palace. In 2011, winemaker Michele Chiarlo opened Palas Cerequio, a luxury inn perched right on Cerequio's ridge. From a distance, the hotel looks more like an immaculately preserved farmhouse than anything palatial, but it has created a "way in" for visitors to experience one of Barolo's most storied vineyards.
A Place of Specificity
"Cerequio has a very long reputation," Alberto Chiarlo told me shortly before my stay. He is the son of Michele Chiarlo, who has produced wine from Cerequio since 1988.
"According to the first classification of Barolo done in 1880 by Lorenzo Fantini, Cerequio was the only first-growth in Barolo. Then in the 1960s, with the next classification, it was still ranked as one of the four or five top vineyards."
Much of this has to do with its ideal aspect. For generations, winegrowers in the Langhe could tell where the best vineyard sites were by seeing where the snow melted first. The thinking was brilliantly simple: if it was warmest in those rows in winter, it would be warmest in summer as well. Given Nebbiolo's stubborn and slow-ripening nature — paired with the area's propensity for fog and cool autumns — these first-to-melt locations were prized real estate.
The entirety of Cerequio is such a place. Below is a Google Map that Michele Chiarlo created to show where their plots within Cerequio reside. Their most prized bottling — the Riserva — requires the best grapes, and so naturally, those grapes come from the purple, diamond-shaped parcel that faces to the south like a solar panel. Cerequio's microclimate is so warm that it even sustains a grove of olive trees — the only ones in Barolo, according to Alberto, because the harsh winters usually kill them.
But Cerequio's solar-absorbing qualities are only part of the story.
"All of the best Barolo vineyards have to be south-facing," Alberto told me. "The difference (with Cerequio) is the soil."
Like many of Barolo's vineyards, the soil is of sedimentary marine origin and it is poor in organic matter. But the micro-elements present in Cerequio are a little different. Sink a shovel into its dirt and you will find blue veins running through the calcareous marl, an attribute entirely missing from nearby Brunate, La Serra, Fossati and Boiolo. These intrusions are the result of an elevated magnesium content, which is five times higher in Cerequio than any other Barolo cru. As far as I can tell, no one has been able to explain why there is such a dense concentration of this element here, but it makes a big impact.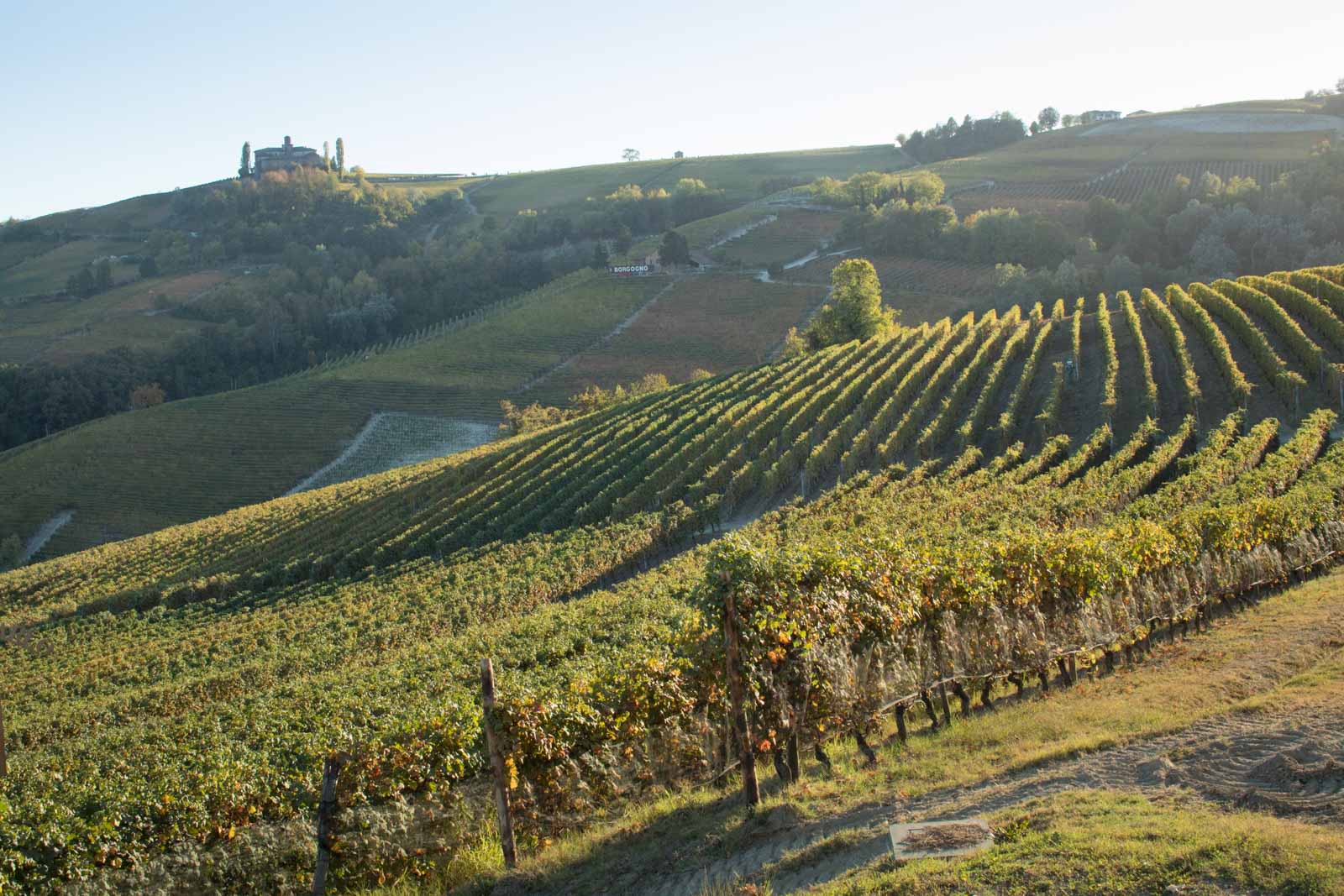 Barolo's aromas are often described as "tar and roses" (although "licorice and roses" has always seemed more appropriate to me). Cerequio's wines are "more about cassis, eucalyptus and mint" according to Alberto. Because of this, he added, Cerequio is one of the few cru in Barolo that critics always recognize in blind tastings.
Others point out that Cerequio's fruit notes are just as distinctive as its herbal tones. In a translated interview with Vinous, winemaker Roberto Voerzio described Cerequio wines this way: "The principle attribute of Cerequio that has always fascinated me is the aromatics, in particular the smell of cherries. Those small cherries that I was telling you about that are wild … they become very dark, they're very sweet, and they taste almost like jam."
The connection between magnesium in the soil and the unique sensory characteristics of the vineyard's wines is a hard needle to thread scientifically, but there are few people denying that Cerequio's wines are different. Of La Morra's vineyards, my wine-buying habits had focused on Brunate, not Cerequio. (What can I say? I love that little chapel!) So when I had my first taste, I was certainly curious.
A Taste of Cerequio
That first taste came in Denver at a wine industry event. Alberto Chiarlo had decanted a bottle of the 2012 Michele Chiarlo Cerequio Barolo (★★★★ 3/4) for a mere 20 minutes, and already its beauty was evident (usually, young Barolo need hours to fully open up).
It was a Rolls Royce of a wine: elegant, opulent and civilized. The tones were decidedly more floral than most other Barolo, but rather than a blast of pungent rose — a common Barolo note — the Cerequio struck me more as violets and lilac, with bursting layers of dark cherries, licorice and menthol.
Those notes showed up once again with the 2013 vintage (★★★★ 1/2) of the same wine, this time enjoyed with a white truffle-laced dinner at Palas Cerequio. But in this case, the wine seemed much more youthful and aggressive. The tannins cloaked many of the details, yet it was nonetheless a fun and unique Barolo. More like a Ferrari revving its engine than a Rolls Royce on a country drive.
Much of this has to do with vintage variability. "I think 2012 was a good vintage, but 2013 was great," Alberto told me, meaning its aging potential is much stronger. The upcoming 2014 — a year defined by a lot of rain and cool temperatures — won't be bottled separately. Instead, all of the fruit for Michele Chiarlo's Cerequio wines will go into the Barolo Classico blend. (It will be interesting to see if Roberto Voerzio, Damilano, Boroli and other Cerequio producers feel the same way).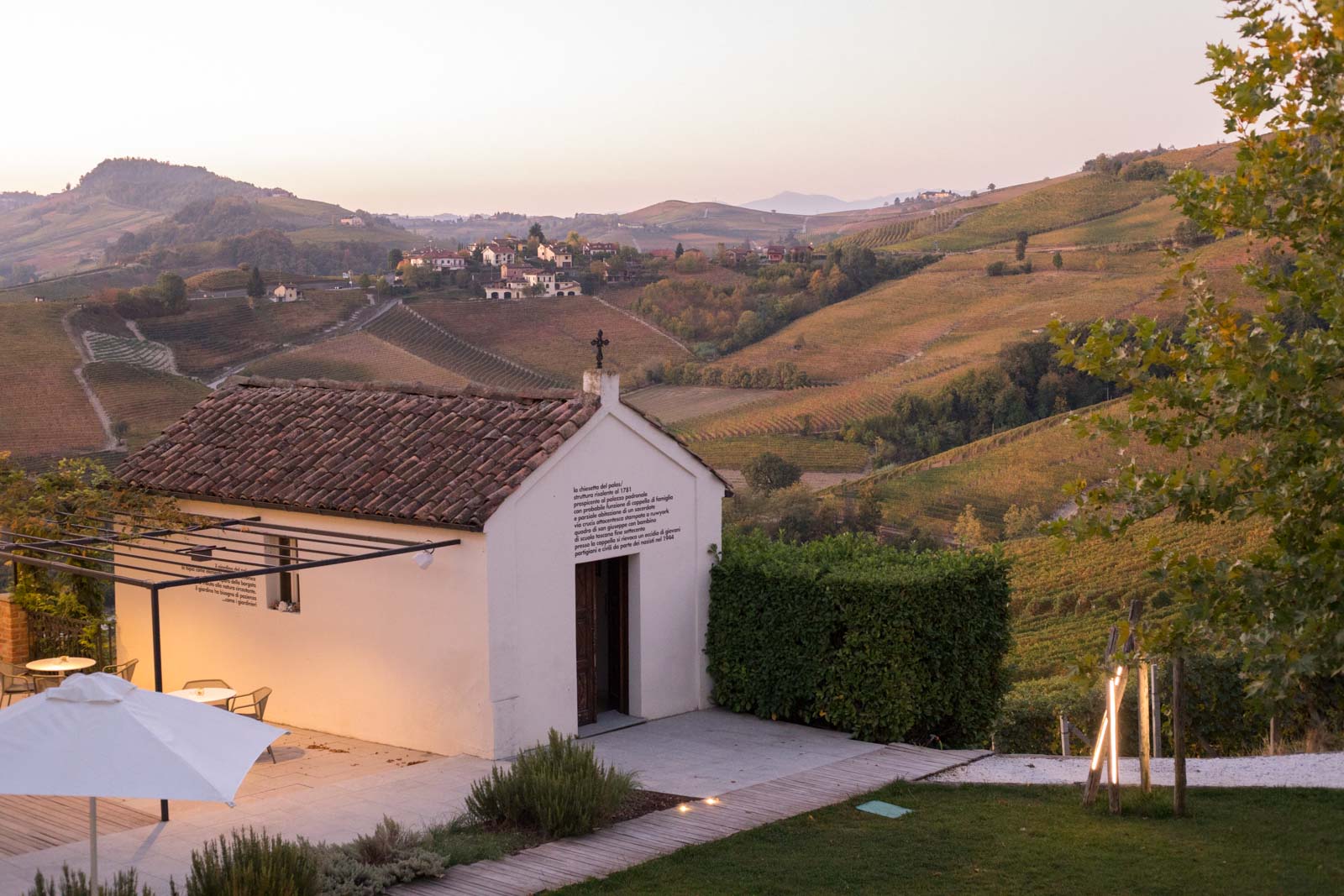 Why It Matters
Ultimately, what's important with this wine is what it says about the Barolo region's love for localism. And in a way, Italy's love for localism.
Dinner that night at Palas Cerequio was between me, my wife, my brother and my sister-in-law. It was my brother's first time in Italy, and our earlier visit to ARPEPE in Valtellina had piqued a new-found interest in fine wine for him. Surrounded by the very vines that yielded our dinner's wine, we talked about the Italian concept of campanilismo — that an Italian's identity is shaped more by their home town than their nation. In fact, the term suggests that home is anywhere that is within ear shot of your hometown campanile (bell tower).
Both Barolo and La Morra are within earshot of the Cerequio cru (and us as we dined). And between us and those two towns? The Brunate cru in one direction, the Cannubi cru in the other direction. Neither with blue soil, or olive trees for that matter.
As I explained what I knew, I could see a sense of adventure cross my brother's face. Perhaps he was hooked.
"Welcome to Italy. Another glass of Cerequio?"
---
Note: While the wines sampled in this feature were provided complimentary, our stay at Palas Cerequio was completely self-funded.
This triggers the tooltip