4
min read
From Cahors to Vacqueyras, Fitou to Crozes-Hermitage, I have been drinking a healthy amount of mid-priced French red wine this year, trying to discover what sets them apart after years of ignoring them at the local wine shop (mostly due to intimidation of all things in French).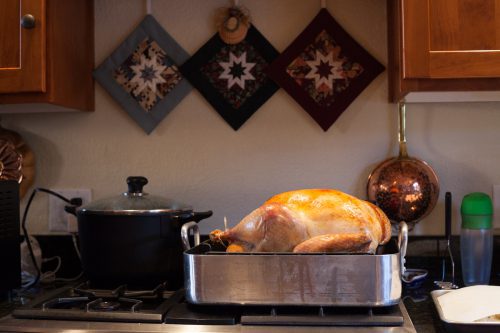 Corbières and Chinon have emerged as personal favorites, in large part because of their earthy and highly refined flavors. Chinon, in particular — with its touch of blueberry and floral spice — has struck me as a one-of-a-kind wine worth evangelizing … which is exactly what I did at Thanksgiving. Along with a fantastic Pinot Noir from Elk Cove Vineyards in Oregon, and a beautiful Verdejo called Nisia from Rueda, Spain, we passed around a bottle of Domaine de Pallus Chinon, which emerged as the big winner with a handful of the guests.
But the newcomer to my palate — the one wildcard bottle I allowed myself on this, the most holy of American feasting days — may give Chinon a run for its money as my preferred mid-priced French red. It was a Beaujolais Cru from Chateau de la Chaize. I had never had Beaujolais Cru before, only Beaujolais Nouveau, but I'll just say this single wine warrants further investigation of Beaujolais' finer stuff.
A Bit About Beaujolais Cru
There are four levels of Beaujolais: Beaujolais Cru, Beaujolais-Villages, Beaujolais Nouveau, and Beaujolais (which should be called "Just Beaujolais" to alleviate confusion). On the surface, they would all seem close enough to be the same: each classification uses only the Gamay Noir grape, each one is grown in roughly the same area of southern Burgundy … so what's the big deal?
The big deal is soil (isn't it always?).
In southern Beaujolais (where Beaujolais Nouveau comes from), the soil is clay, which in the case of Gamay Noir, leads to less developed grapes. Beaujolais Nouveau is vinified very quickly, bottled and released in a matter of days (always the third Thursday of November, a big reason its popular on Thanksgiving, the fourth Thursday of November). Winemakers sometimes add sugar to increase the alcohol, which pretty much says it all about Beaujolais Nouveau. Its a free-flowing, all-too-easy-to-drink light red wine that is meant to be consumed the same year it was grown.
To the north (where Beaujolais-Villages is made and where the best vineyards are labeled Beaujolais Cru), Gamay can be much more expressive and complex, thanks to the sandy soil that overlays granite. Warmer temperatures and better drainage create a more nuanced juice, specifically in the ten Crus: Brouilly, Côte de Brouilly, Régnié, Morgon, Chiroubles, Fleurie, Moulin-à-Vent, Chénas, Juliénas, and St-Amour. Beaujolais Cru is also made with a slower, more careful fermentation, making for a more nuanced, better balanced, more memorable bottle of wine.
Think of it this way: if you have a cheap piece of tilapia or an expensive piece of bluefin tuna, which one are you going to prepare more carefully? If you have better ingredients to start with, you're more likely to put more care into the winemaking process.
Back to the Chateau de la Chaize
The complexity of Chateau de la Chaize Brouilly was most pronounced on the nose. I found it personally nostalgic: there was a whiff of black cherry that reminded me of summers as a kid, as well as a strong aroma that strangely made me think of a meadow of Parry's primrose in the Colorado mountains — again, another scent familiar to my childhood. (Perhaps this latter note was the aroma some have likened to bananas in Beaujolais, but I didn't quite get that). On the palate, everything combined into a rich, yet pleasantly light and mostly tannin-free sip. This wine goes down the hatch easily, yet it doesn't want to be ignored.
Chateau de la Chaize Brouilly would have been brilliant next to the turkey, stuffing and cranberry sauce — if only it lasted that long. This year, it was our pre-game wine, accompanying a plate of cheese, crackers, and snitching from the stove while the bird finished.
I'd reach for it again next year. But before then, I might just pair it with tuna steaks, a rustic pizza, pork or a pasta decorated with porcini mushrooms. It's a fantastic wine.
2011 Chateau de la Chaize Brouilly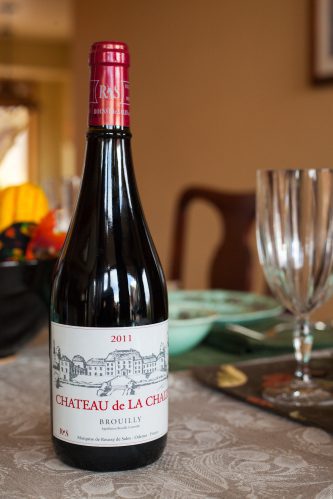 Beaujolais Cru, France
Grapes: Gamay Noir (100%)
Alcohol: 12.5%
Rating: ★★★★ 1/2 (out of five)
• Profile: ★★★★ 1/2
• Food Friendliness: ★★★★
• Value: ★★★★
Recommended for: Dishes where mushrooms take center stage, or simply a light sipper before supper. Treat it like a Pinot Noir; you'll do fine.
Tasting notes: Elegant and refreshing in every way. Aromas are quite rich for such a light wine, with black cherry and mountain flowers coming to the fore. The body of the wine is light on tannin, with cherry-strawberry and cedar combining harmoniously. Drink now through next year.
---
 Additional Reading