3
min read
I live in Colorado, and we are just not known for making wine. In terms of industry clout, the art of converting grapes into manna-from-heaven lags well behind other made-in-Colorado drinks like whiskey and beer. In fact, it is fair to say that "grown in Colorado" is more associated with marijuana these days than wine grapes. Afterall, The Denver Post does not have a wine writer and probably never will — but they do have a pot critic.
I bring all of this up because (a) I love Colorado and would never live anywhere else, and (b) when a wine with Colorado connections makes a splash, I feel a responsibility to give it a fair shake and try it.
Which brings me to Scarpetta Wine. True, these wines are Italian, but they are the brainchild of Master Sommelier Bobby Stuckey and his business partner, Chef Lachlan Mackinnon-Peterson, whose Boulder restaurant — Frasca Food and Wine — has done more to advance knowledge of Friulian cuisine in America than pretty much, well … anything.
A few years ago, they started a private wine label — Scarpetta — to make Friulian and other Northern Italian wines. They source the grapes from vineyards throughout the region, work with winemakers to come up with the style they are after, slap a pig label on them, and sell them at their restaurant and in wine shops across the country. Whether this was purely to capitalize on their growing culinary brand, or to offer a more affordable wine option to compliment their restaurant's cuisine, or merely just an itch they had to scratch, they went ahead and did it. I admire them for their ambition and foresight.
But as recently as this week, I hadn't tried any Scarpetta Wines yet, and by the time I got around to buying a bottle — the "Frico Rosso" — I was somewhat hesitant because the whole endeavor seemed so commercial.
So, is the wine any good?
Before I go any further, I should note that the Frico Rosso is a Tuscan wine, founded on mostly Sangiovese with a hint of Merlot and Cabernet Sauvignon. It's far from a Friulian, and by no means a litmus test for the whole endeavor.
But I really, really liked this wine. It was soft and fruity, delicately spicy, easy-going and modest enough to complement food. And yet, it was also charismatic and wholly indicative of great Sangiovese wine. It had that vanilla-leather-walnut edge that is a "tell" for Chianti Classico. It was just dialed down a bit, to be softer and more approachable. I wrote in my notes, it was like a "Chianti Villages" wine — a comparison to "Bourgogne Villages" or "Beaujolais Villages" wines which come from lower slopes, are more affordable, and can be perfectly charming and appealing for those days when you don't want to uncork the heavy hitters.
Scarpetta offers seven wines, almost all of them under $15 (give or take a few bucks). The whole endeavor might be commercial, but at those prices — and given the charisma of the Frico Rosso — I'm inclined to say it is a pet project born of love rather than commerce.
2014 Scarpetta Wine "Frico Rosso"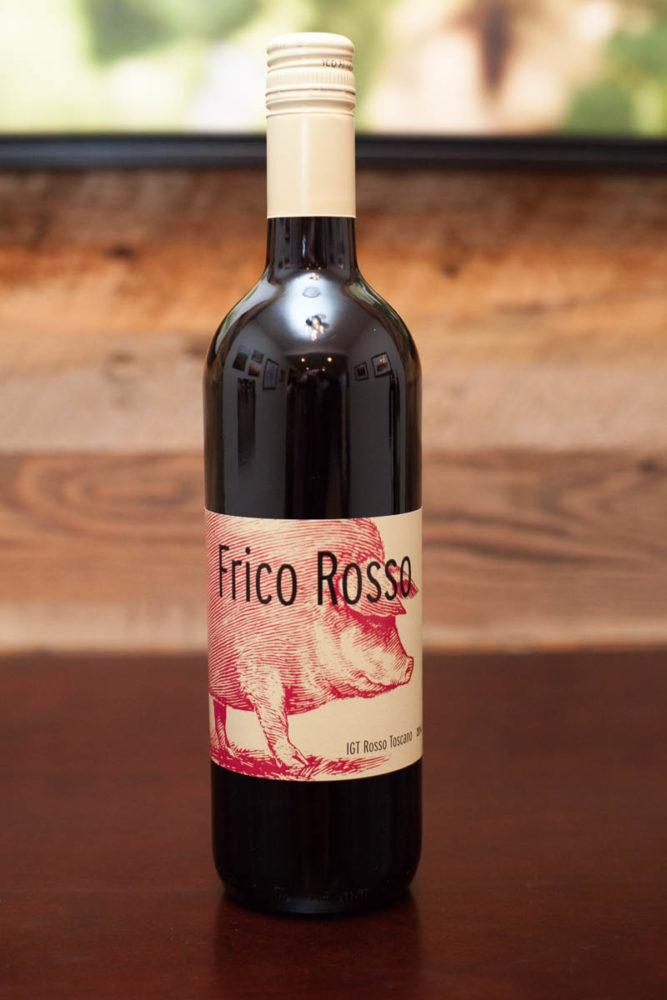 Toscano IGT, Italy
Grapes: Sangiovese (90%), Cabernet Sauvignon (5%), Merlot (5%)
Alcohol: 13.5%
Rating: ★★★★ (out of five)
• Aromas, Flavor and Structure: ★★★ 1/2
Food-friendliness: ★★★★
Value: ★★★★★
Tasting notes: A good sense of place behind this wine. One sip reveals a Sangiovese that is comfortable on the osteria table, or in your kitchen as you roll out meatballs. Think of a Chianti that has had its oak volume turned from 11 down to 2. Decked with soft fruit flavors — black cherry, plum — as well as notes recalling vanilla, leather and walnut. Modest enough to be better with food, and make food better, too.

Recommended for: Take a hint from the label. This wine loves piggie. We served ours with pork tenderloin, but I imagine dishes with bacon, pancetta or prosciutto would be close to magical.