4
min read
Years ago, I introduced a friend of mine to the red wines of Barbera. A "guy's guy" through and through, he had never hung out with anyone like me before: nerdy, obsessed with flavors, insufferable with stories about far-away places and their rows of vines. But a glass of Barbera hit him profoundly, telling him something none of my enthusiastic tales could. I remember his first introduction: He pulled the glass away to his right, gave it a side-eye glance of amazement and simply said "damn."
In short order, he developed a fondness for Barbera d'Asti, nicknaming it "Barbera da Nasty" (a complement). He started sending me images via text of the bottles of Barbera he'd buy at his local store or at a restaurant. And I was delighted. Barbera is a wine people ought to know because it rarely puts on airs. We often use the word "approachable," as though other wines require a bomb squad to diffuse. Well, Barbera is approachable: the aromas have a fondness to them, the acidity a certain juiciness, and unless the producer has really abused it with new oak, its tannins are familiar and digestible. There is nothing "nasty" about it, except maybe its tendency to urge quick consumption (thus my friend's nickname for it).
In fact, if it were a dog breed, it would be a Labrador: faithful, amiable, and probably not winning a pageant title anytime soon, but who cares?
All of this was on my mind a few nights ago when my friend came over for a backyard hangout, and when presented with four different red wines to choose from, he selected the Barbera among them: Brezza's 2017 "Vigna Santa Rosalina" Barbera d'Alba. Perhaps there was a part of me that was hoping to encourage a lane change, but in the end, it was the perfect choice because Barbera's black cherry and dried-strawberry-like tones always bring me back to a place of ease and comfort. And when its just you and an old friend hoping to catch up on life as the first chill of autumn rolls in, what more could you need?
For lovers of Piedmont wine, Brezza is a winery to follow. Led by the deft hands of Enzo Brezza (the nephew of legendary winemaker Bartolo Mascarello), this historic winery boasts remarkable consistency through their beautiful range of wines. What strikes me most about them — especially this Barbera — is the showcase of fruit. That's not to imply these wines are fruity. Piedmont's reds frequently lead the way with savory and earthy tones, but sometimes the cushion of fruit is lacking. Not with Brezza. Enzo's ability to tease out the fruit tones just enough gives these wines a welcome pleasantness.
2017 Brezza "Vigna Santa Rosalina" Barbera d'Alba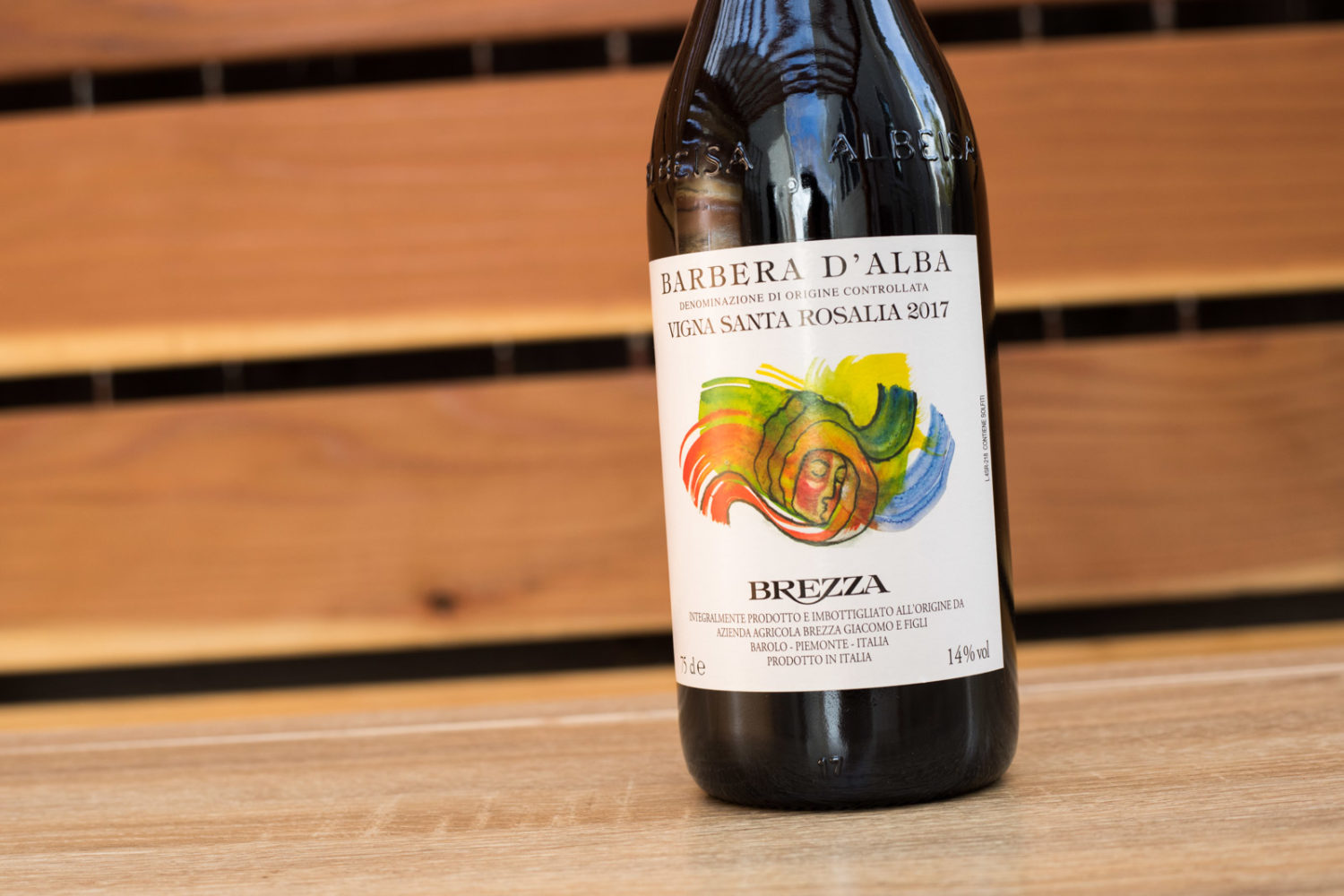 Barbera d'Alba DOC (Piedmont)  
Grapes: Barbera (100%)
Alcohol: 14%
Opinion:★★★★ 3/4 (out of five)
Food-friendliness: Versatile
Value: Very Good
A beginner might like … the complex deliciousness of this Barbera. We often think of great wines in terms of two camps: delicious or complex, rarely both. I found myself letting go and nearly (just nearly!) swigging this wine. But when I paid attention to its details, it was more than forthcoming, and not without a fair degree of shape-shifting. My favorite note? The touch of wintergreen-like snappiness on the edges. Note: this wine is sealed with a glass stopper, so put your corkscrew away. You might want a butter knife to get it started.
A wine obsessive might like … the same things a beginner would like: complex deliciousness. But also, the reason for that: Brezza's old vines for the Santa Rosalina Barbera reside next to the hilltop village of Diano d'Alba, more often associated as a Grand Cru for Dolcetto. (It is also one of the Langhe's prettiest hilltop towns). Dating back to 1952, this vineyard clearly yields character-driven fruit. Most winemakers, when granted such raw material, will aim for the fences (i.e. barrique that bad boy). But Enzo Brezza ferments and ages this wine in stainless steel and concrete, proving that — contrary to popular belief — elegant, fine wine Barbera can still have structure without oak's tannins.
Note: This wine was provided as a sample by one of Brezza's importers, Oliver McCrum Wines. Learn more about our sample and editorial policy.