3
min read
At certain times, I come across too many good wines at once, and my writing can't keep up. So before this magnificent wine from Chile disappears in my rearview mirror, I thought I'd better share a quick "hey, look for this Syrah" kind of post.
But first, here's a tip on buying wine at a small wine shop. If the shop appears to have a carefully curated selection of wines from around the world, and then all of a sudden you see three different wines from the same producer, odds are the wine buyer can't get enough of that producer's juice.
That would appear to be the case with my local wine shop here in Denver, and the wines of Sven Bruchfeld and Gonzalo Muñoz at Polkura. During my latest stock-up run at their shop, Carl and Nico raved about these Chilean wines, and so I picked up their Syrah, which is a grape I'm increasingly learning to love.
With my parents lingering for dinner last week — and steak and roasted carrots cooking in the kitchen — I reached for the Polkura Syrah. My folks prefer to buy South American wines, and rightly so: they can be among the better value wines in the world. And while the Polkura is by no means a "value wine" — it sells for roughly $19 — it was memorably unique.
For me, the leading identifier of a Syrah is a consistent aroma that borders between game and olives, overlaid on a wash of purple fruit scents. The nose on Syrah is what brings me back to it again and again, but it is a wine that can easily be ruined by too much oak or too much ripeness.
The Polkura Syrah was neither, and what is more, the characteristic aroma I usually associate with game instead recalled roasted chiles. Living in Denver, I'm no stranger to this wonderful scent. Just the other day at our neighborhood farmer's market, a vendor was roasting Anaheim peppers on site and I couldn't walk away from the aroma.
What accounts for this roasted chile note is far from definitive, but it most likely has to do with the vineyard soil where the Syrah was grown, in the Colchagua Valley of central Chile. "Polkura" is a Mapuche word for yellow stone, and this winery's estate vineyards offer a real mash-up of soils, with decomposing yellow granite, red and gray clay, and sand. Certain sites offer more clay, and therefore, more water-retention to add fruitiness; while the soils with more granite offer spice and higher levels of tannin. Blend it all together, and you have a fairly balanced Syrah. I'd be intrigued to find out whether their single vineyard wines show a more pronounced fruitiness or a harsher tannic experience. Like I always say, "further research is warranted."
Regardless, this was a memorable bottle, and I'll be keeping my eyes open for other wines from this Chilean winemaker (and you should, too).
2011 Polkura Syrah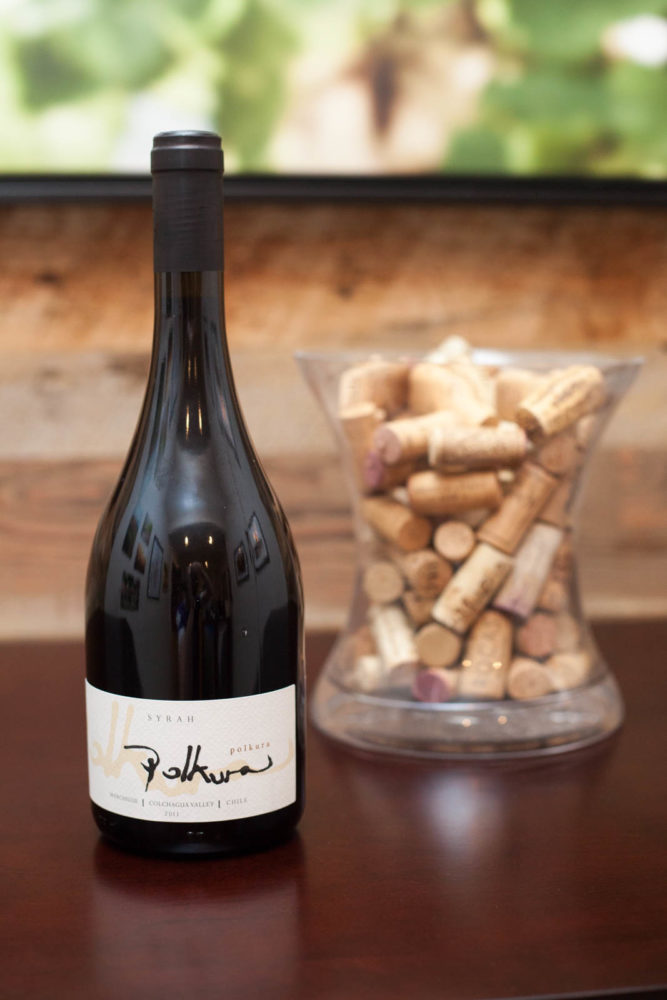 Colchagua Valley, Chile
Grapes: Syrah (91%); Malbec (5%); Cabernet Sauvignon (2%); Grenache Noir, Viognier, Tempranillo (1% each)
Alcohol: 14.5%
Rating: ★★★★ (out of five)
• Aromas, Flavors & Structure: ★★★★ 1/2
• Food friendliness: ★★★ 1/2
• Value: ★★★★
Tasting notes: An expressive and unique wine that brings an interesting mix of spice and fruit. Aromas recall roasted chiles at first, then smoke and granite, all plushly overlaying notes of plum and blackberry jam.
Recommended for: As tempting as it would be to suggest pairing this spicy red wine with Southwestern cuisine, I think that would be a big misfire. Lightly seasoned roasted meats and veggies, and crusty bread would serve as a good, simple foundation to truly appreciate this wine's unique aspects. But then again, its also a great wine to serve by itself.