2
min read
It's not often that a white wine confounds my palate, but recently, we got into a bottle of Muga Rioja Blanco and that's just what happened. Wait a minute, my tastebuds seem to say. What are you trying to pull here?
Come to think of it, Spanish wines have a track record of delightful surprises such as this. While the indigenous grapes of other countries — for instance, Italy — are aplenty, they tend to share enough commonalities here and there in structure, flavor and aroma to make comparisons to other grapes. They're not quite familiar, but at least vaguely familiar.
Certain Spanish grapes, however — like Albariño, Verdejo and Mencia to name three — stand on their own.
Viura certainly resides on its own orbit, and the Muga Rioja Blanco is one of the better wines to discover its wonderfully tart flavors, since 90% of the wine is Viura. I found this wine to be firmly acidic yet bright and playful. Rather than dominate with a sweet fruit flavor, it lead with lemony notes that are soft and welcoming. Pineapple, white flowers and a peppery spiciness rounded out the rest of its profile, making it pair well with a host of cuisines. I'd like to pour a glass of it alongside mojo-marinated grilled chicken, lemon-pesto linguini with scallops, or even a light Moroccan tagine.
There are two schools on white Rioja: for lack of a better way of putting it, let's call them traditional and modern. Traditional white Rioja is aged in oak for an extended period of time and has a fuller, nuttier flavor. Modern white Rioja is meant to be consumed young, and the Muga fits into this mold with only a brief bit of time in oak. The end result is a refreshing wine that paradoxically surprises, and can fit into most any casual occasion — for only $14.
2013 Muga Rioja Blanco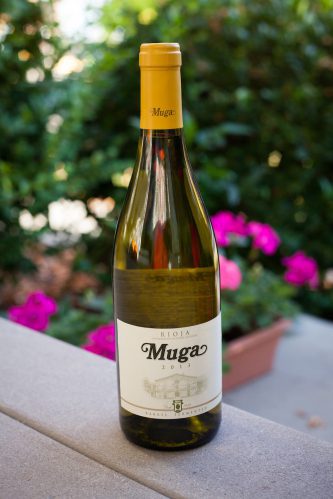 Rioja Alta, Spain
Grapes: Viura (90%), Malvasia (10%)
Alcohol: 13%
Rating: ★★★★ (out of five)
• Profile: ★★★★
Food-friendliness: ★★★★ 1/2
• Value: ★★★★ 1/2
Recommended for: Rich dishes that you would top with a spritz of lemon juice. 

Tasting notes: Delicate, straw-colored wine that leaps from the glass with bright, citric aromas and a hint of apple blossoms. The palate is zesty and refreshing, with pronounced lemon, pineapple and a bit of peppery spice. Acidic, but balanced well enough to not be an issue. Finish lingers with floral notes.
---
Additional Reading on Rioja Blanco and Viura: