2
min read
Your aunt puts ice cubes in her wine glass. Granddad chews a little too loudy. Junior doesn't eat anything if it touches something else. This is your family, and — God love 'em — they are who they are. For their sake, cork dorks like you and me need to turn the knob of our obsession down from enthusiastic boil to slow simmer on Thanksgiving.
Now is not the time. For God's sake, she's reaching for another ice cube.
That intriguing California Refosco you've been sitting on for a few weeks? The partially oxidized Rhône white that you are suppose to open on a special occasion? Now is not the time. For God's sake, she's reaching for another ice cube.
Enter Goldilocks: the village-level white Burgundy from a steady hand. It's made from Chardonnay so your company can't complain about the wacky house of mirrors you've taken their palate into. And its high-quality, comforting and (hopefully) complex enough to give you something to think about while you quietly have your moment. The only drawback: you can't go near the cranberry sauce with it. But that's the fault of cranberry sauce.
That's it. Enough said. Easiest decision of the whole affair.
2018 Marc Colin Santenay Blanc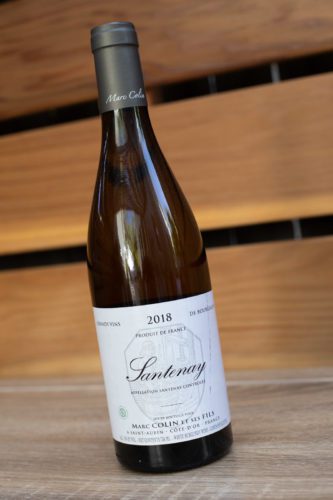 Santenay AOC (Burgundy) 
Grapes: Chardonnay (100%)
Alcohol: 12%
Opinion: ★★★★ 3/4 (out of five)
Food-friendliness: Versatile
Value: As expected
Learn more about our wine icons.
A beginner might like … the subtle ease of this Chardonnay. If your idea of Chardonnay is predicated on pineapple-like, coconut-like flavors, you are in for a surprise. Graceful, high-toned (meaning the wine's flavors seem heightened by the acidity) and yet potent enough to not shrink away alongside a bite of garlicky mashed potatoes or even the bitterness of roasted vegetables.
A wine obsessive might like … exploring the village of Santenay, which for years was overlooked because of its lack of Grand Cru vineyards. Today, producers like Marc Colin are revealing quite a bit about its terroir. Learn more about Marc Colin's approach from Ashley Hausman MW, with her profile in the Essential Winemakers of France section.
Note: This wine was purchased with funds from our editorial budget, which is supported by subscribers like you. We are so very thankful.