8
min read
Why would a winery make 37 different wines? It was a question I had planned to ask Alois Clemens Lageder last month when he swung through Denver and agreed to meet me for lunch. Usually, wineries that produce that much are throwing spaghetti at the wall to see what sticks, but as I was reminded — before the question was even asked — the Lageders have good reason to embrace the region's abundance and variety.
For one, Alto Adige has a mosaic of grape varieties, drawing from its historical standing as a crossroads of Austrian culture and Italian influence. Secondly, the landscape is dramatically mountainous, with innumerable options for terroir-expressive varietal wine.
But as we settled in at our table, Lageder got right to the point.
The Dynamics of Alto Adige
"We deal with climate change, which is nothing new," he said. "Where we are, at 700 feet under dolomitic limestone, we had Riesling one hundred years ago. Riesling has now moved up to 2,800 feet. So maybe in the future, we need to change as well."
In that, in short, is why Alois Lageder makes so many wines. Certain circles of the wine media like to forget that winemakers are business owners as well. It's a far easier story to write when you emphasize the quixotic farmer carrying on an immovable tradition. But the burden of generational responsibility in these wineries is not just to the past. It is to the future as well. What good is a traditional wine if the climate won't allow you to make it any more?
Seen through that lens, I opted not to ask my question about the 37 different wines. Besides, at previous tastings of the Alois Lageder lineup, I hadn't found fault with any of them. The entry-level white wines, focused on classical grape varieties of the region, have always been pleasing and a nice match for lazy summers on the patio. The "Compositions" wines are intricately detailed, while what I've had from the top of the line — loftily called "Masterpieces" — represent Alto Adige well as the world-class wine region that it is.
An Obsession with Process and Detail
If they make it look easy, its not, especially given the changes of a rapidly changing climate. Matching vineyard parcels to grape varieties can be a bit like solving a Rubik's cube, but Lageder cautioned against merely seeking higher ground to keep his wines intact. "You should be careful because you can interfere with nature," he told me. "Healthy agriculture needs a certain diversity, because diversity leads to fertility in the soil."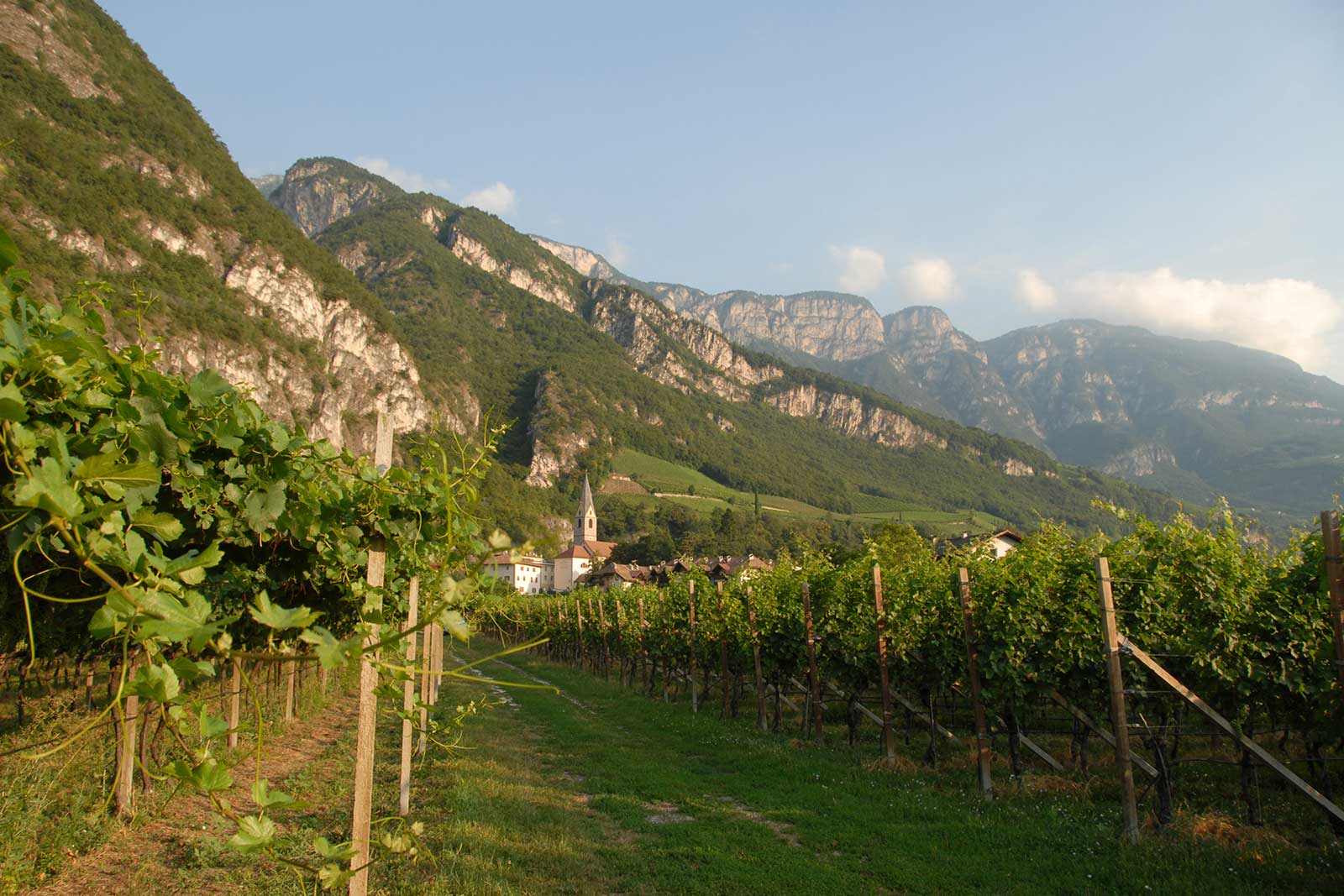 This is where Alto Adige's unique Tyrolean culture — namely, a Teutonic obsession with process and detail — comes into play. While the estate is certified biodynamic with many of its wines, the Lageders are by no means non-interventionalists in the winery. Experimenting with different vinification techniques has been an essential aspect of their approach, and Lageder told me that this craftiness is how they are facing the threats of climate change.
"We don't want to make overloaded, overripe wines. We want freshness and precision," he said.
Letting Pinot Grigio Speak
In the case of the winery's signature Pinot Grigio — called Porer — they have unlocked amazing results by blending three different batches of the wine based on various maceration levels.
"If we deal with Pinot Grigio, and we want to continue to make sharp, precise, fresh wines in 10 to 20 years, we need to find a way to increase the perceptual freshness," Lageder said, as he aligned three unlabeled wines on the table. "And that's how skin and stems come into play."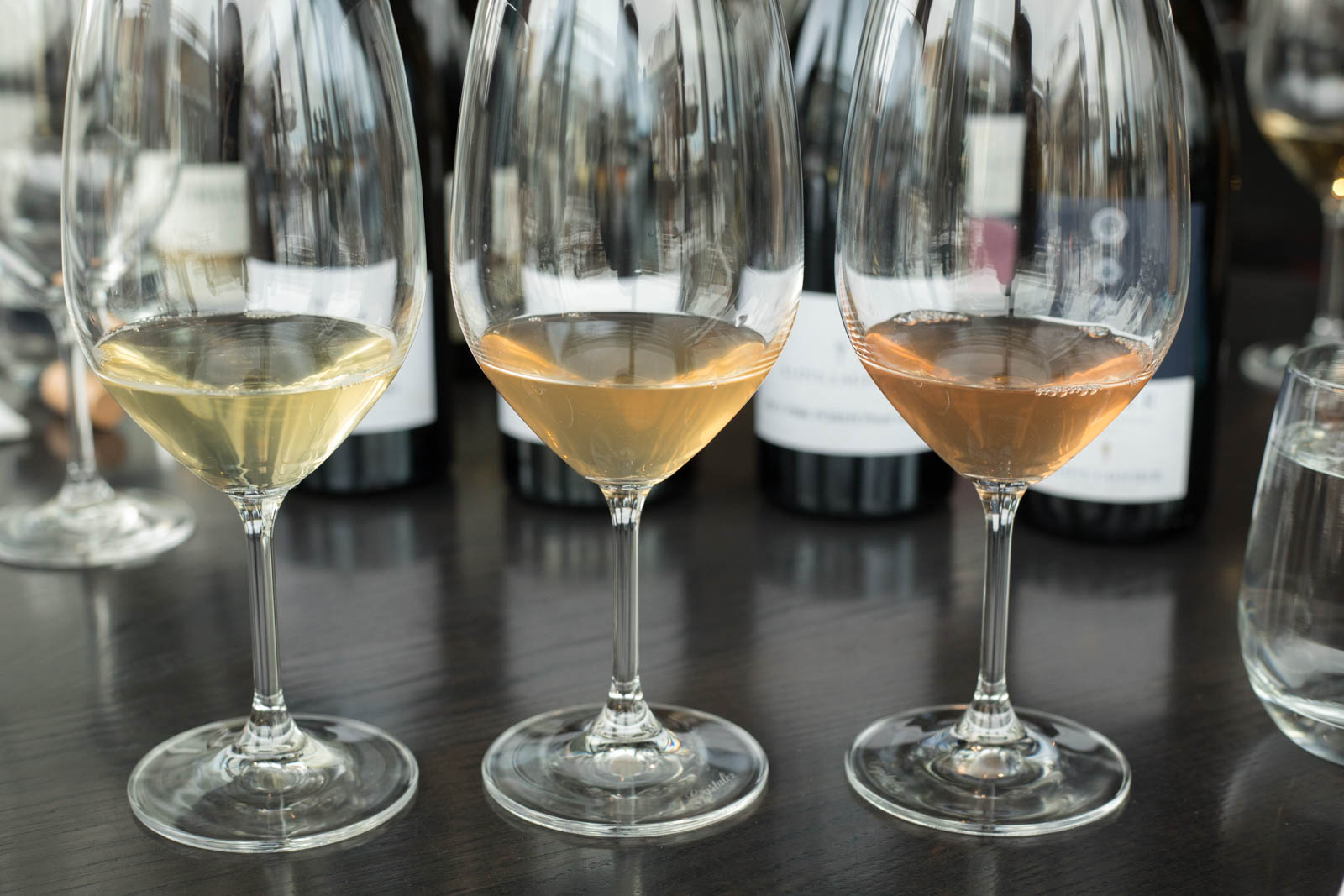 For the Porer Pinot Grigio, all of the grapes are harvested at once, but in the winery they are divided. One batch, the majority, is classically vinified. A second batch is kept in the press for 12 to 14 hours to extract character from the grapeskins. It is then racked and placed in stainless steel or large oak casks, depending on the character of the vintage. The final batch is kept on skins and stems for several months. Ultimately, the wine is blended together to create a rich, detailed and delicious Pinot Grigio that never veers off into weirdness or gimmickry.
The exact portions of these batches change each year so that, as Lageder puts it "we can better adapt to nature." It's a way of thinking that will certainly yield some failed experiments, as well as some smashing successes. But the need to adapt for future generations appears to be at the heart of the matter. The results, I believe, are very promising.
---
Tasting Impressions and Interview
My tasting with Clemens Lageder began with the Porer Pinot Grigio. He was eager to not only have me taste each of the three batches, but to play mixologist with them as well — blending various components to see how it impacted the final wine. Being a fan of skin-contact white wines, I went a little overboard on the orange Pinot Grigio, but it was a fascinating lesson in the versatility of a wrongly maligned grape variety.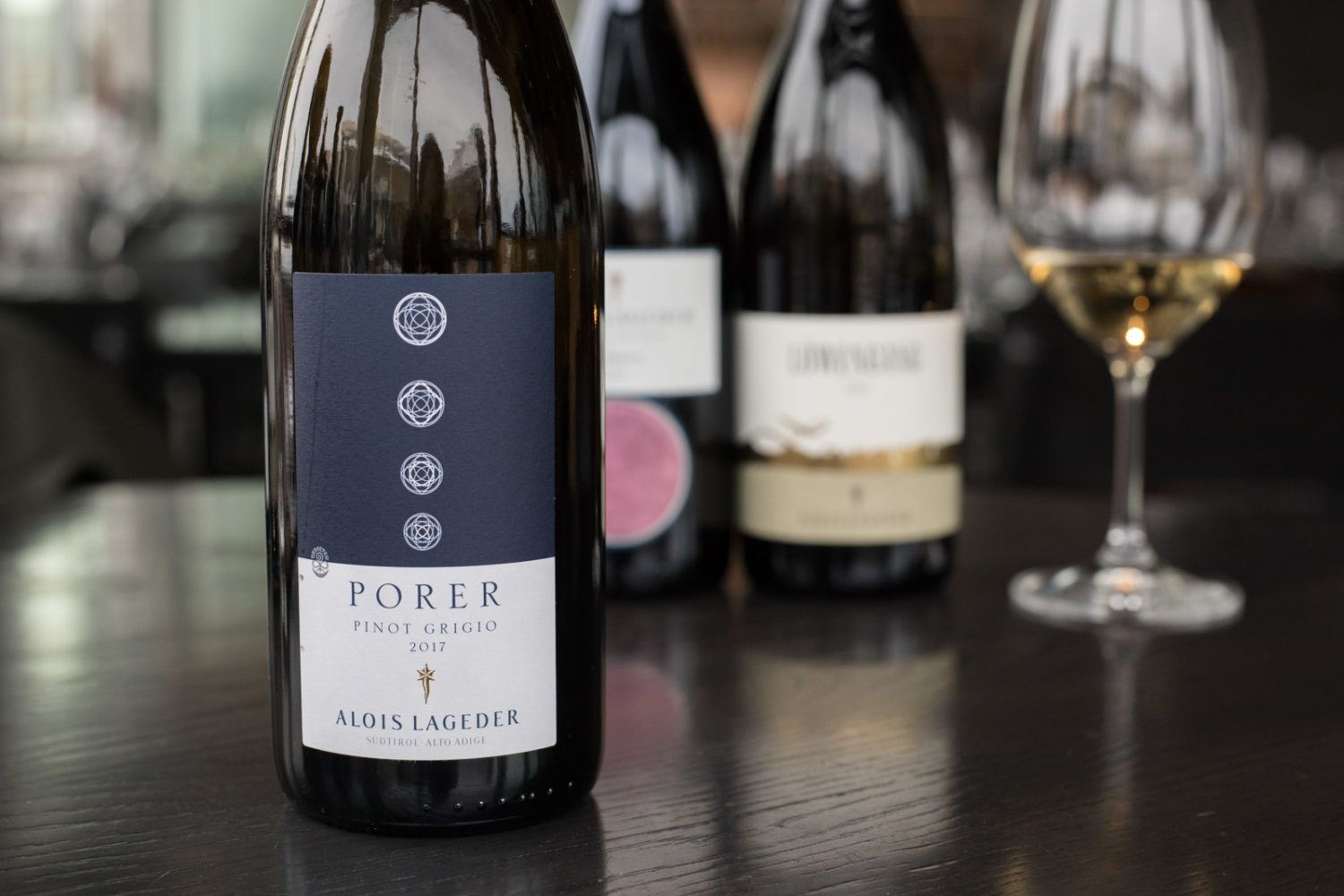 2017 Alois Lageder Porer Pinot Grigio
Opening a Bottle: What do consumers get wrong about Pinot Grigio? What do you wish they knew about it?

Clemens Lageder: I don't think it is the consumer that gets it wrong, but there are many wines that are made like this: broad, watery, not precise. If you work differently, with different vinification methods — using skins and also stems — it can be one of the most interesting. You can increase the perception of freshness, of sapidity, of complexity.
Südtirol-Alto Adige DOC (Trentino-Alto Adige)
Grapes: Pinot Grigio 100%
Alcohol: 12.5%
Practices:  (Demeter-certified biodynamic)
Rating: ★★★★★ (out of five)
Food-friendliness: Versatile
Value: Exceptional
Tasting notes: More reminiscent of Grand Cru Pinot Gris from Alsace than anything I've had from Italy, this robust and fascinating Pinot Grigio brings a lot to the table, with aromas recalling a fresh cut of kiwi, lime custard, honeysuckle flowers and a bit of brown sugar. It's enticing and supremely refreshing. The depth of the wine certainly comes from the various levels of long maceration that two portions undergo (see above), but the creamy texture from the malolactic fermentation that occurs is what drives the wine from one sip to the next. The first Italian Pinot Grigio that I've awarded my highest rating to.
---
2015 Alois Lageder Löwengang Chardonnay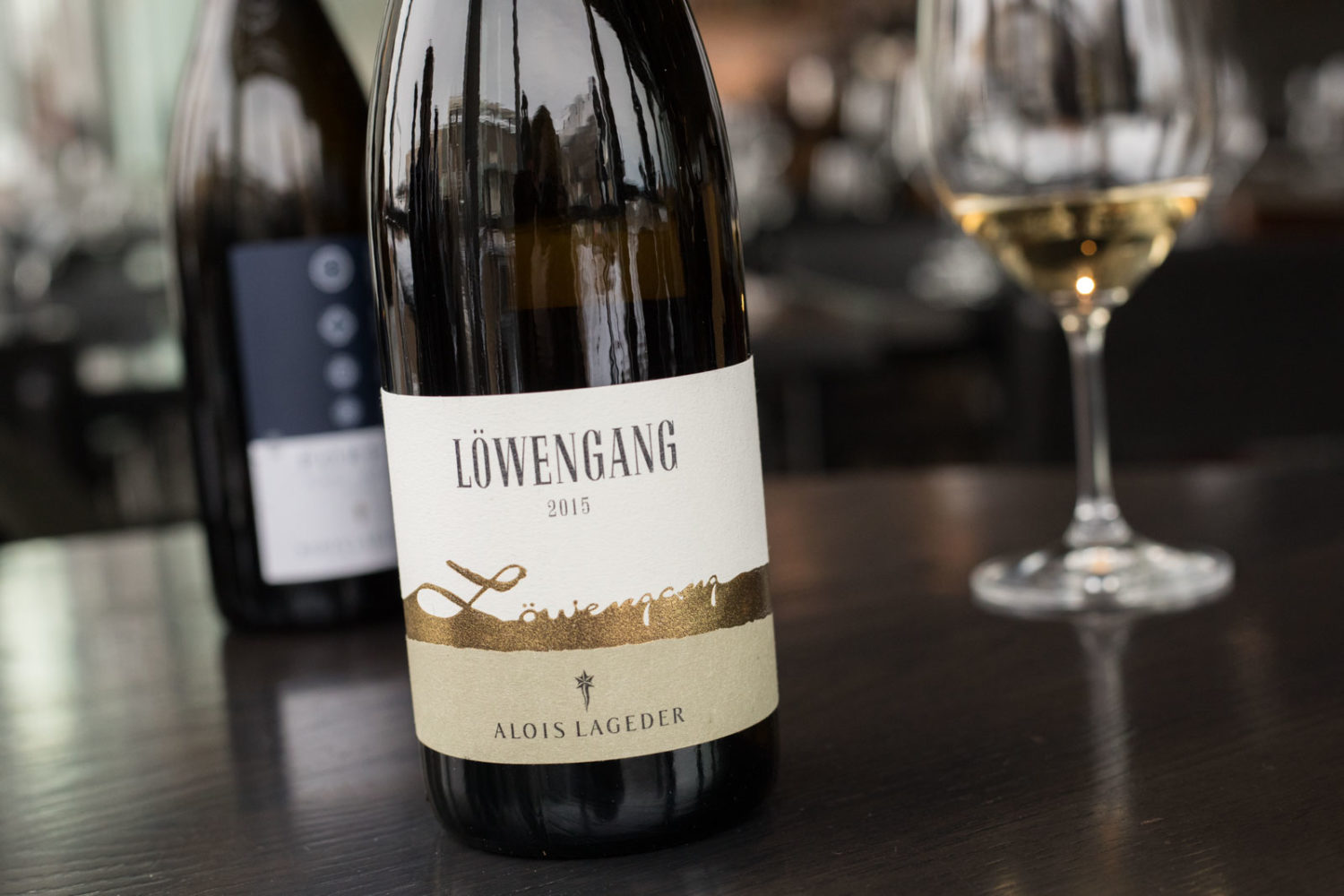 Chardonnay is the fourth-most widely planted variety in Alto Adige, but it is not known as the area's signature white grape. In fact, it is more associated with Trentino, to the south, where it is used in sparkling wine production with great success. Lageder's prime Chardonnay plot is a vineyard known as Löwengang, which sits in the valley floor at the entrance to a canyon. Even in the heat of summer, cool air rushes into this vineyard, helping to preserve acidity in the grape clusters.
Opening a Bottle: What differentiates Alto Adige's terroir for Chardonnay from other notable Chardonnay areas, such as Chablis, which is also on limestone?

Clemens Lageder: The only difference is the free amount of chalk in the Dolomitic limestone. It gives more structure … People say limestone gives wine a certain minerality. I agree, but higher minerality comes from volcanic soil — schist and quartz. [Dolomitic limestone] is a much harder rock … But terroir doesn't mean soil. Terroir means everything: human, soil, climate, exposures. A huge effect on terroir is the human, the winemaker … And Alto Adige is a different culture, a different geology and climate. But in a certain way [with Löwengang] we try to find our balance.
Südtirol-Alto Adige DOC (Trentino-Alto Adige)
Grapes: Chardonnay 100%
Alcohol: 13.5%
Practices:  (Demeter-certified biodynamic)
Rating: ★★★★ 3/4 (out of five)
Food-friendliness: Versatile
Value: As Expected
Tasting notes: This Chardonnay is fermented in oak, with less than 10% being in new barrels. The aromas are persistent and suggest crisp green apples, sweet lime custard, a welcome shot of fresh vanilla bean and white flowers. There are a lot of details on the palate that you could extract if you wanted to, but the overall sensation is one of harmony. This is a leaner style of Chardonnay, with just a bit of creaminess detected on the palate. The finish is energetic and long.
---
2017 Alois Lageder Schiava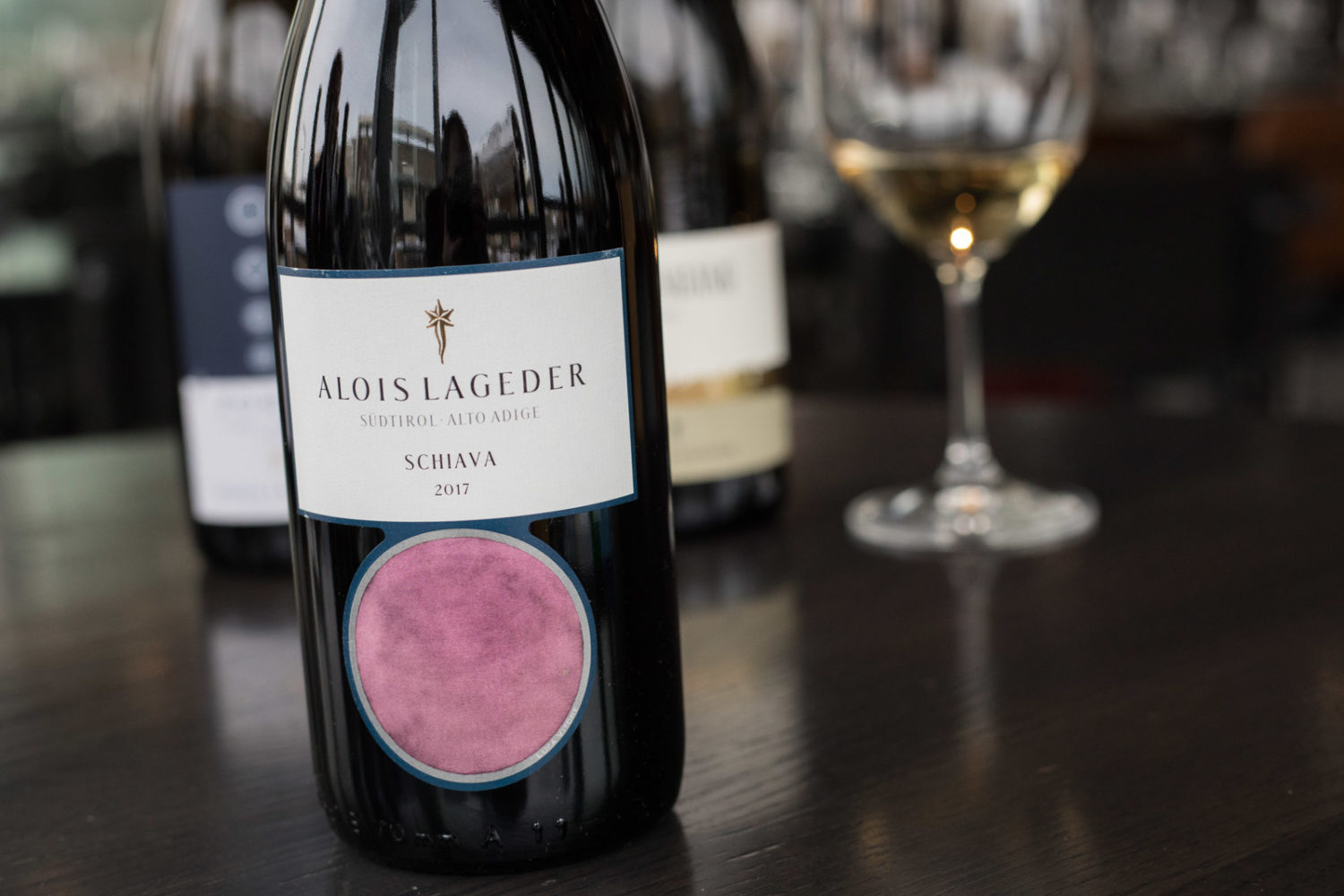 Alto Adige's most widely planted grape is Schiava, known locally as Vernatsch. Light and tart with ample swaths recalling red berries, this red wine's "tell" on the nose is a note reminiscent of almond extract. But here is where things get tricky: it is actually multiple varieties with several shared characteristics. The enormous diversity within this family of grapes wasn't fully appreciated until DNA studies were conducted, but by then, much of the diversity had been homogenized because, as Lageder puts it, winemakers were focused on "production, production, production."
Opening a Bottle: Schiava is such a localized variety. When I host a wine tastings here in Denver, nobody has heard of it. Can you explain what its local significance is and what role it plays at the table in Alto Adige?

Clemens Lageder: When Alto Adige was still part of Austria, it was the area known for red wines for the Austrian Empire — Schiava and Lagrein, but mainly Schiava. But we lost a lot of clonal diversity. It is similar to what happened to Gamay. You can have Grand Cru Gamay in Beaujolais, and then there's this mass production, too. To be very honest, we need to give Schiava its 'seriousity' [sic] back. It is a wine that we drink every day with charcuterie and speck and salami. It is a nice wine, but in many cases it is too banal. We have two Schiavas. One is called Römigberg, which is a single area where we keep some [of the wine] on whole clusters for six months. It is a component [of the wine] similar to Porer. We want to keep the style of our wines, the freshness and preciseness, but increase the 'seriousity' of Schiava.
Südtirol-Alto Adige DOC (Trentino-Alto Adige)
Grapes: Schiava (Vernatsch) 100%
Alcohol: 11%
Rating: ★★★★ 1/4 (out of five)
Food-friendliness: Versatile
Value: As Expected
Tasting notes: Lageder's entry-level Schiava fits the mold of an everyday wine for easy consumption. The aromas are approachable, if a little uncomplex, yielding reminders of red currants, orange peel and almond extract. On the palate, it is high-toned and refreshing, potent yet light, with quenching acidity. Flag for summer when you are craving a lean red wine with a little chill on it.
The conversations have been edited and condensed for clarity.