5
min read
It was almost 7am when I turned left onto NE Laughlin Road, mostly on a whim. It was far too early for wine (I just want to make that clear), but I was in pursuit of something else: photographs of vineyards in early morning light. In Europe, this is a piece of cake. Nothing is fenced off, and grapes grow right up to the side of the road. In the United States, however, the opposite is the issue. I could see the rolling hills of the Yamhill-Carlton AVA in the just-cresting sunshine — their tops blanketed with the emerald green weavings of vines. I just couldn't reach them.
That's when I came upon the entrance to WillaKenzie Estate. The gate was open, so I drove in, passing a scurrying flock of California quail along the road side. At the top of the hill I found an empty parking lot and the distant sound of tractors in the vines, which suggested the staff was present, just hard at work tending to the grapes.
I got out. "Hello?" I walked to the locked-up tasting room: "Hello?" I was on my own, and before me stretched out a scene I had been looking for all morning.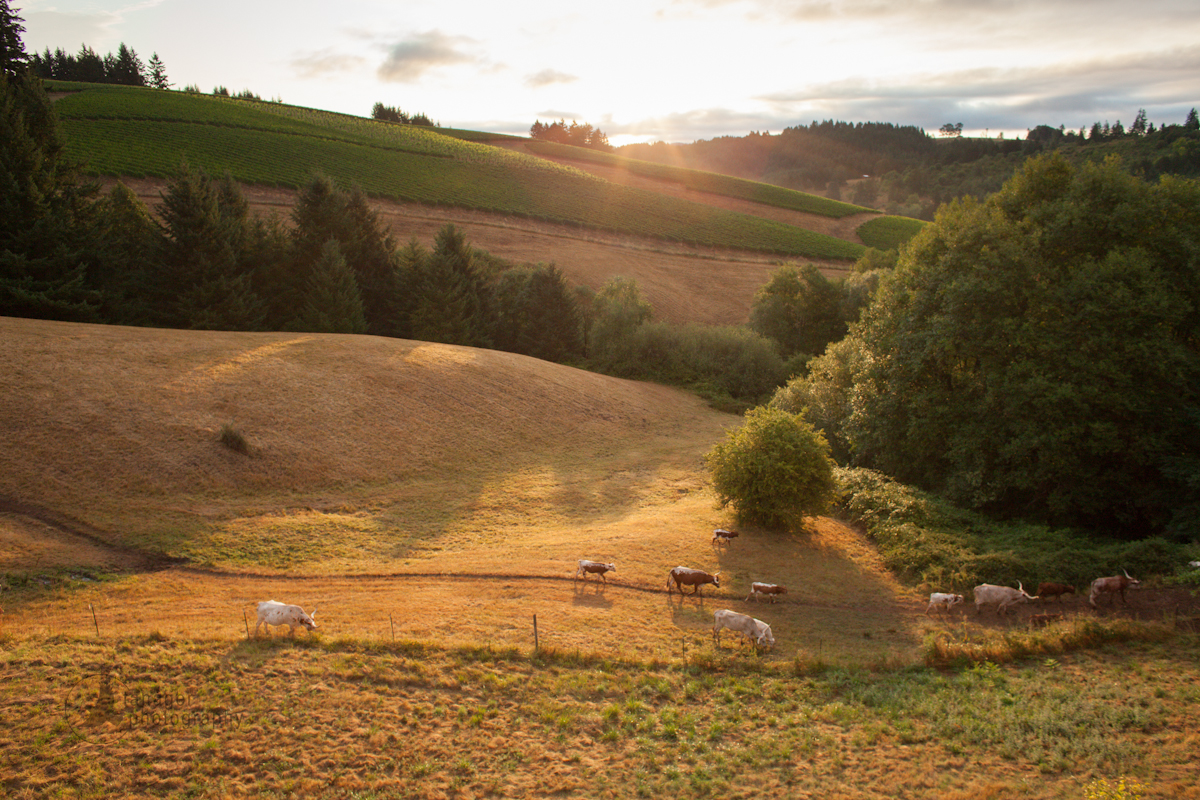 Without even so much as a taste of their wine, I was in love with WillaKenzie Estate.
I soon found a groundskeeper and asked if I could take pictures of the property and approach the grapes. His response was consistent with the vibe you find all over Oregon: a simple shrug and a smiling "sure." I was there for 45 minutes, and resolved to return in the afternoon for my daily wine tasting.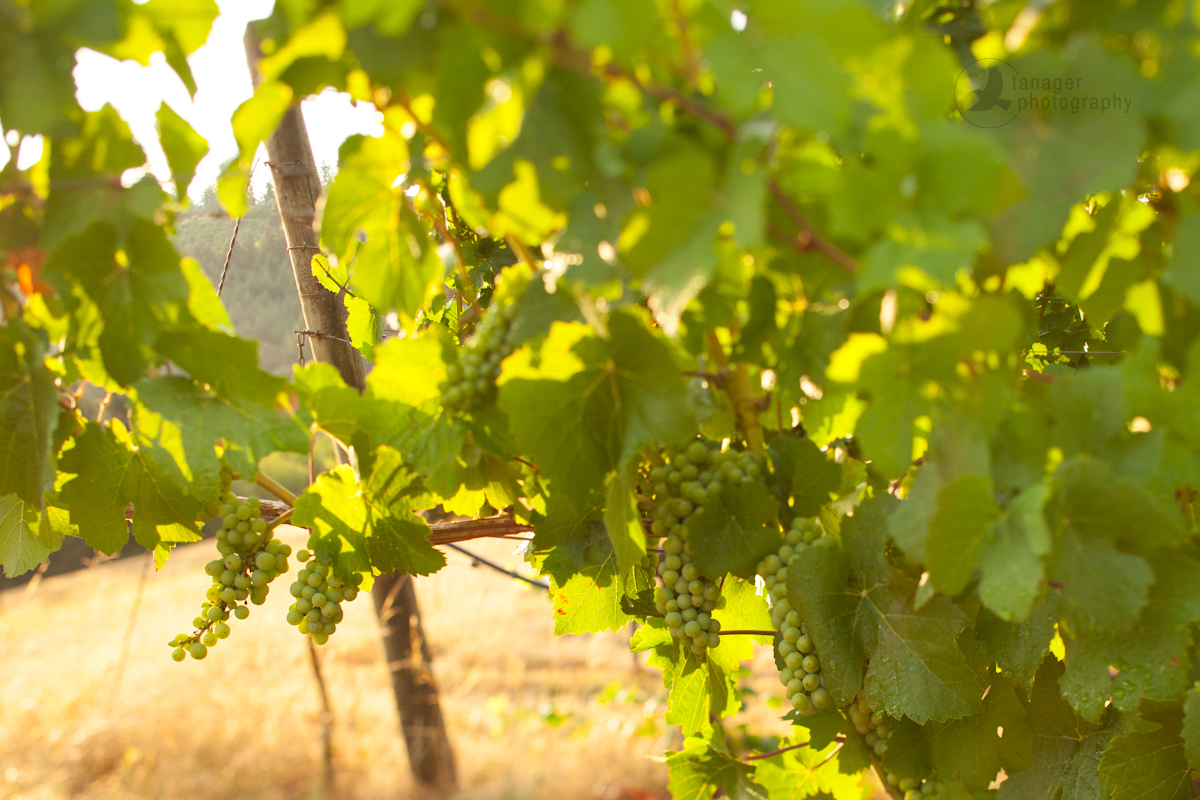 WillaKenzie Estate was founded in 1991 by Bernard Lacroute, a Burgundian looking for an ideal place to start his own Pinot Noir-focused winery in the United States. The land he and his wife, Ronni, bought was a cattle ranch — which explains the longhorns — but rather than wax poetic for the estate's name (Longhorn's Leap? Quail Hill?) they settled on what can only be described as the geological genus name for the estate's soil — WillaKenzie, an ancient marine sedimentary soil named after two of the area's rivers. From the start, they were hanging their reputation on Pinot Noir and the unique terroir of this locale.
After a somewhat rushed tasting at the winery that afternoon (I had promised my wife and daughter a stop at Republic of Jam before they closed) I opted to spend more time with three bottles later on the trip: the Pinot Meunier, the estate Pinot Noir (Gisèle) and the single-vineyard Pinot Noir (Aliette).
2012 WillaKenzie Estate Grown Pinot Meunier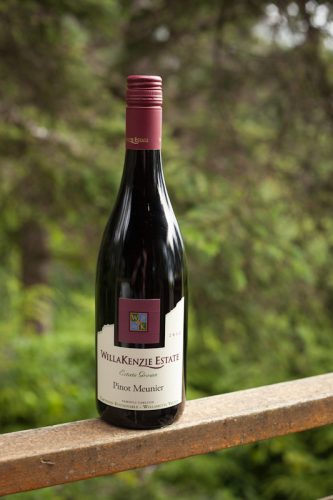 I love obscure grapes (see also Schiava, Aglianico, Carmenérè) so I was particularly eager to open the Pinot Meunier. This is a French grape that is used in Champagne, but takes a backseat to its blending partners Pinot Noir and Chardonnay. What Pinot Meunier contributes to Champagne is a lot of body and a touch of decadence. I was expecting something similar to a Pinot Noir, so I was surprised to discover that this wine was potent and brawny. We paired it with spaghetti, but it was a bit of a mismatch for its cranberry-blackberry and graphite flavors. Anything grilled, or a rich holiday meal would be a better counterpoint. Nonetheless, as far as a sipping wine goes, it was excellent.
Yamhill-Carlton AVA, Oregon
Grapes: 100% Pinot Meunier
Alcohol: 14.2%
Ratings: ★★★★ (out of five)
• Profile: ★★★★
Food-friendliness: ★★★ 1/2
• Value: ★★★
Recommended for: The holidays: Thanksgiving, Christmas dinner or a gift.

Tasting notes: Cherry colored, and vibrant on the nose with cran-raspberry, rose and caraway seed. The palate is bolder than expected, with a curious cranberry-blackberry juxtaposition, graphite, anise and red flowers. A very unique wine worth a second taste.
---
2012 WillaKenzie "Gisele" Estate Pinot Noir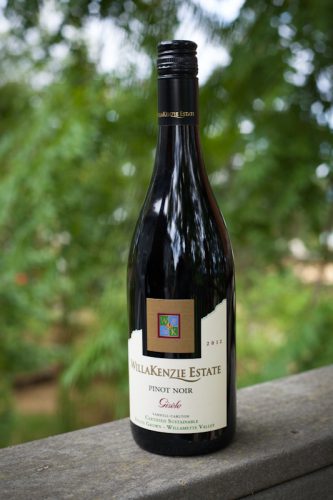 The Pinot Noirs were also an interesting study in contrast. The "Gisèle" is their estate wine, blended from grapes sourced across many vineyards, and at $30, its the entry-point to WillaKenzie's nine Pinot Noirs. That's a bit expensive for an entry-level Pinot Noir (elsewhere in the Willamette Valley and in the Anderson Valley, they usually hover around the $20 mark), but it is nonetheless an excellent wine that is better than most estate Pinots. Carrying a fair bit of alcohol (14.2%), the Gisèle offers a riper palate than either the Aliette or the Kiana (another single-vineyard Pinot Noir that I sampled).
Yamhill-Carlton AVA, Oregon
Grapes: 100% Pinot Noir
Alcohol: 14.2%
Ratings: ★★★★ 1/2 (out of five)
• Profile: ★★★★ 1/2
Food Friendliness: ★★★★
• Value: ★★ 1/2
Recommended for: Wood-oven pizza, slow sipping in an Adirondack chair.
Tasting notes: A real shape-shifter, always changing as it opens up with air. Ruby in color with a rush of black cherry, peppery spice and gamey aromas. Very juicy with a good amount of tannins across the mid-palate. Blackberry and cranberry, licorice, some baking spice and noticeable oak.
---
2011 WillaKenzie "Aliette" Pinot Noir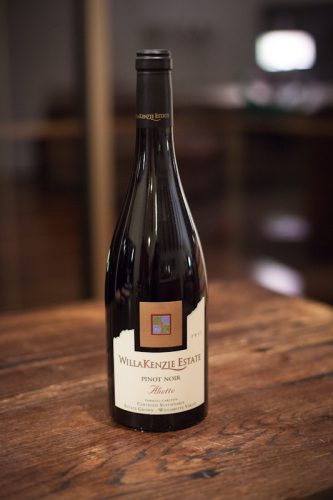 We saved the Aliette for our last night in Oregon. The kids had long since gone to bed, and it was just us grown-ups in the beach house living room chatting about life. One of those "sure, let's uncork another moments." There is not doubt that the Aliette is more subtle and stripped down than the Gisèle. Less ripeness will do that. "Pinotphiles" tend to prefer this style to the more ripe renditions of the grape. I'm not sure where I fall, but I found myself searching a great deal with the Aliette. In place of its ripeness, there was a lot of tobacco and earthy, slate-like flavors, making it an ideal food wine … but not necessarily a great casual sipper at 10pm.
Yamhill-Carlton AVA, Oregon
Grapes: 100% Pinot Noir
Alcohol: 13.5%
Ratings: ★★★★ (out of five)
• Profile: ★★★★
Food Friendliness: ★★★★ 1/2
• Value: ★★ 1/2
Recommended for: Roast chicken and cedar-planked salmon. A wine that needs food — the more buttery the better — to be best enjoyed.
Tasting notes: Ruby and light in color. The bouquet is elegant, like smelling a cigar box filled with roses. Blackberry-cherry fruit flavors are equally matched by tobacco, slate and great deal of oak.
---