2
min read
Last Wednesday night was like any normal Wednesday night in our household: speed and ease was the name of the game. We have two very young children, and dinner prep usually starts at 5pm on the nose.
On this night, I had defrosted some mahi mahi which I sautéed with blackening seasoning and lemon juice. I also simmered a simple cream sauce with a lot of black pepper which I added to day-old pasta.
(Yep: day-old pasta and defrosted fish. You do what you gotta do some nights.)
Normally, this would be box-wine territory. But on this night, I had the urge to open something up. Maybe it was the aroma of lemon juice sizzling in the pan. "What the hell," I thought, and grabbed a bottle of Mont Gravet Côtes de Gascogne.
Suddenly — and surprisingly — we had ourselves an amazing meal.
Comprised of 100% Colombard, which is a relative of Chenin Blanc, the wine had a paradoxically crisp yet creamy texture that added life to all of the flavors on the plate. The palate was bright and cheerful with touches of pineapple and mango, a faint "green note" reminiscent of kiwi, and a flinty mineral touch that hung on for a while. It was nicely dry and low in alcohol — a great companion to most any food I could think of.
Perhaps my surprise stems from what little fanfare wines from Côtes de Gascogne — or wines made of Colombard, for that matter — generate. Looking over my reference books, the region isn't even mentioned (The Concise World Atlas of Wine places Côtes de Gascogne on the map, but does not describe it at all), and further research confirmed that the grapes of this area are better known for Armagnac brandy. Colombard is also known as an occasional participant in white Bordeaux where it is "permitted" (like an unwelcome party guest?), but it is hardly the focal point.
All of which doesn't really matter. This is a no-fuss wine that complements simple meals perfectly. It'll brighten up a dark winter night, and when summer rolls around, it'll be right at home on the back porch for sipping while the crickets chirp.
2013 Mont Gravet Côtes de Gascogne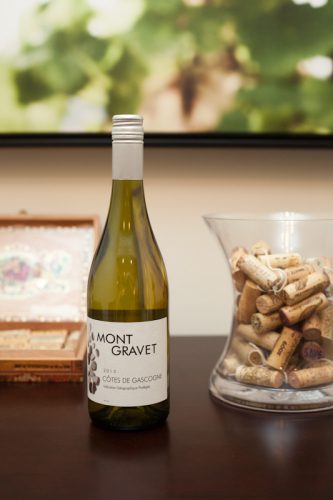 Côtes-de-Gascogne IGP
Grapes: Colombard (100%)
Alcohol: 11.5%
Rating: ★★★★ (out of five)
• Profile: ★★★★
• Food-Friendliness: ★★★★★
• Value: ★★★★★
Recommended for: Oysters, seafood pasta, spicy-and-light fare, holiday parties
Tasting notes: The Mont Gravet offers a perfect combination of tropical fruit, stony notes and low alcohol to make it highly versatile with food. Aromas are rich, fruity and floral. Texture is crisp yet creamy, with lingering notes of sweet pineapple and mango, a touch of tart kiwi, and a flinty character on the finish. Drink it up and drink it young.