9
min read
It was early September in the Dolomites, and the menacing fog was threatening snow. There was a familiar hush in the air, one I know well from hiking in the Colorado mountains as a winter storm approaches. However, in those circumstances back home, I don't normally have a glass of Sylvaner in hand to cheer my spirits. Nice touch, Wines of Alto Adige. Nice touch.
I was one of 200 or so wine professionals attending the region's annual Wine Summit, and the closing ceremonies were atop Seceda, an iconic mountain outpost in the Dolomites that I hear has lovely views of craggy, serrated peaks (that is, when the fog is elsewhere). Inside the restaurant Sofie, wine pros were opening bottles and making friends — two things that they are universally good at — but I took a moment to stand outside and let the alpine environment reinforce some perspective.
This was my second trip to Alto Adige this year, and while I felt better informed of its wines now than I did earlier in the year, there was a sense — there still is a sense — that I've only scratched the surface. What I did come away with were four story threads that will surely have me returning to the region.
What's the Vinous Identity Here?
Navigating your way across Alto Adige/Südtirol can be a confusing experience. That's because every road sign is in Italian and German, which can make for a lot of characters to read when you're driving a mountain road at 30km/hour.
"A right will take you to Termeno Sulla Strada del Vino/Tramin an der Weinstraße. A left will take you to Magré Sulla Strada del Vino/Margreid an der Weinstraße."
In general, the people of the region identify more with their Austrian heritage than they do with their Italian citizenship. German is more commonly heard on the streets of Bolzano/Bözen; even more so in Bressanone/Brixen. You would think that, because of this, German names would be given priority. But on the marketplace, these wines are always grouped with other Italian wines. So winery and grape names often defer to their Italian names on the label, although some print both names, such as Abbazia di Novacella/Stiftskelleri Neustift. (Of course, many of the most popular grapes are French in origin, so let's throw that linguistic nugget into the mix while we're at it).
At the vintage preview on the first day of the Wine Summit, there was some talk about how the region's dual identity is a stumbling block for consumers. The producers and government officials are well aware that "Brand Alto Adige/Südtirol" requires some explaining.
Which begs the question: do the wines require the same exhaustive description? Yes and no.
The wine industry is small in Alto Adige. Only Valle d'Aosta has a smaller output in Italy. There is only 5,300 hectares of vineyards across the province, which are farmed by 5,000 winegrowers —a remarkable ratio, which explains the dominance of co-operative wineries in Alto Adige.
However, the quality level is extremely high as the wines reflect the Germanic temperament of their makers: precise, fastidious, nothing out of place. There is also a market-savvy behind the industry that makes it less restrained by tradition and highly adaptable to what sells. As recently as the mid-20th century, red wines, lead by Schiava, accounted for a majority of the region's wine volume. When they realized that the market for high-caliber white wines could improve their prospects, they increased plantings for Pinot Bianco, Pinot Grigio, Chardonnay and Sauvignon Blanc. Today, Alto Adige is often thought to make the world's greatest Pinot Bianco.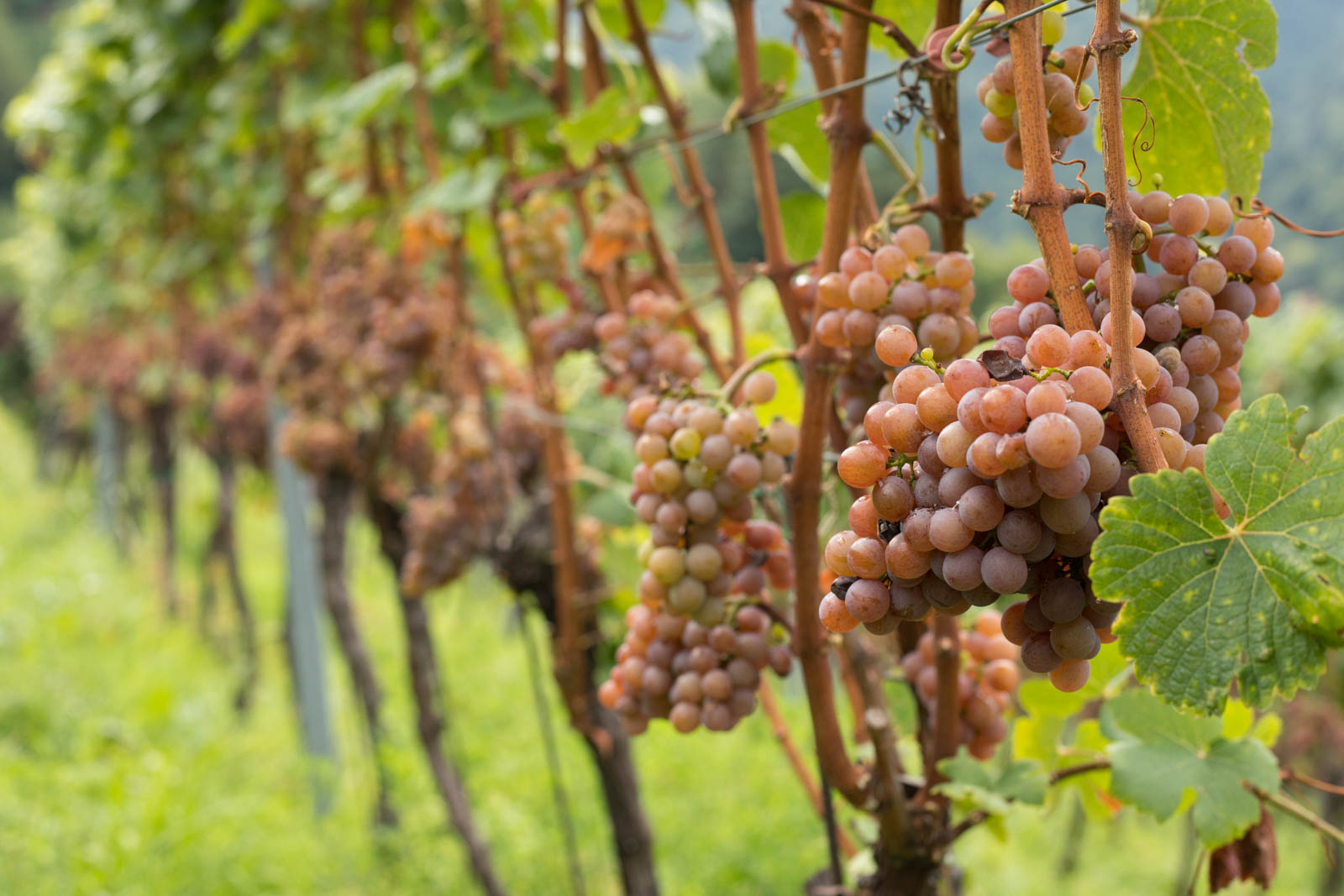 Even though Schiava is still the most widely planted variety, international grape varieties dominate the narrative, and a majority of the wines are labeled by variety. In this sense, the wines are easy to understand from a consumer standpoint. There is none of that match-the-grape-to-an-appellation game going on here.
But throughout my time in the region, I kept searching for a clue that could unite the wines together — a sense of identity in the glass. For instance, a tell that defines Alto Adige Pinot Grigio over Alsatian Pinot Gris, or a consistent attribute that arose in the nose for Alto Adige Sauvignon Blanc. I never found it.
That is not entirely a bad thing, but from a reporting standpoint, it requires a lot more digging to fully know what's going on from glass to glass, and from winery to winery. So be it.
I have a few favorites, which I've profiled in my report, 20 Wines That Define Alto Adige.
Valle Isarco: The Underrated Terroir
Anytime you study Italian wine and what makes it special, you end up hearing about microclimates. It is an unavoidable fact that this nation's panoply of indigenous grapes owes its very existence, and perseverance, to the isolated places where certain grapes thrive under precise climatic conditions.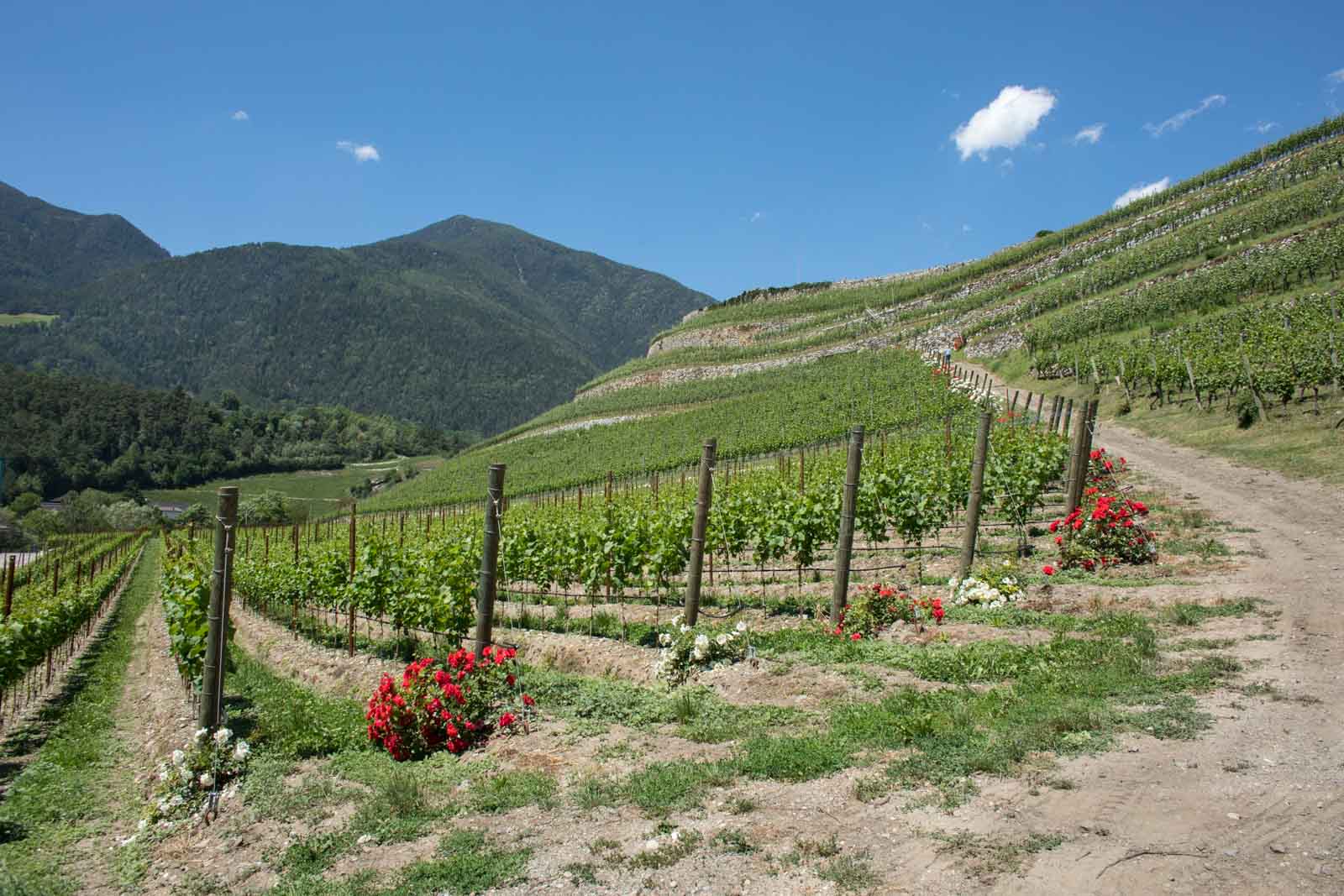 But there is another "microclimate" factored into Italian wine: the isolation of remote, detached microcultures. When you visit Alto Adige, you quickly get a sense for how far removed it is from Italy. When you drive up to the Valle Isarco, you quickly understand how far removed it is from Alto Adige.
Situated northeast of Bolzano and centered around the city of Bressanone, the Valle Isarco has an even stronger Tirolean identity. In fact, it is quite Austrian, and the wines reflect this fact: Grüner Veltliner thrives in the Valle Isarco, as does Riesling, Sylvaner and a specialized cross between Riesling and Schiava called Kerner. You might find a little bit of Riesling in the other valleys of Alto Adige, but you won't find the other three grapes at all.
However, it is the skill and craft of the region's winemakers, not the grapes, that make the Valle Isarco stand out. Earlier this year, I profiled Abbazia di Novacella — the second oldest winery in Italy, and a stalwart for reliable Riesling, Grüner Veltliner, Pinot Grigio and Kerner. But two other Valle Isarco wineries grabbed my attention during the Wine Summit: Pacher Hof and Cantina Valle Isarco.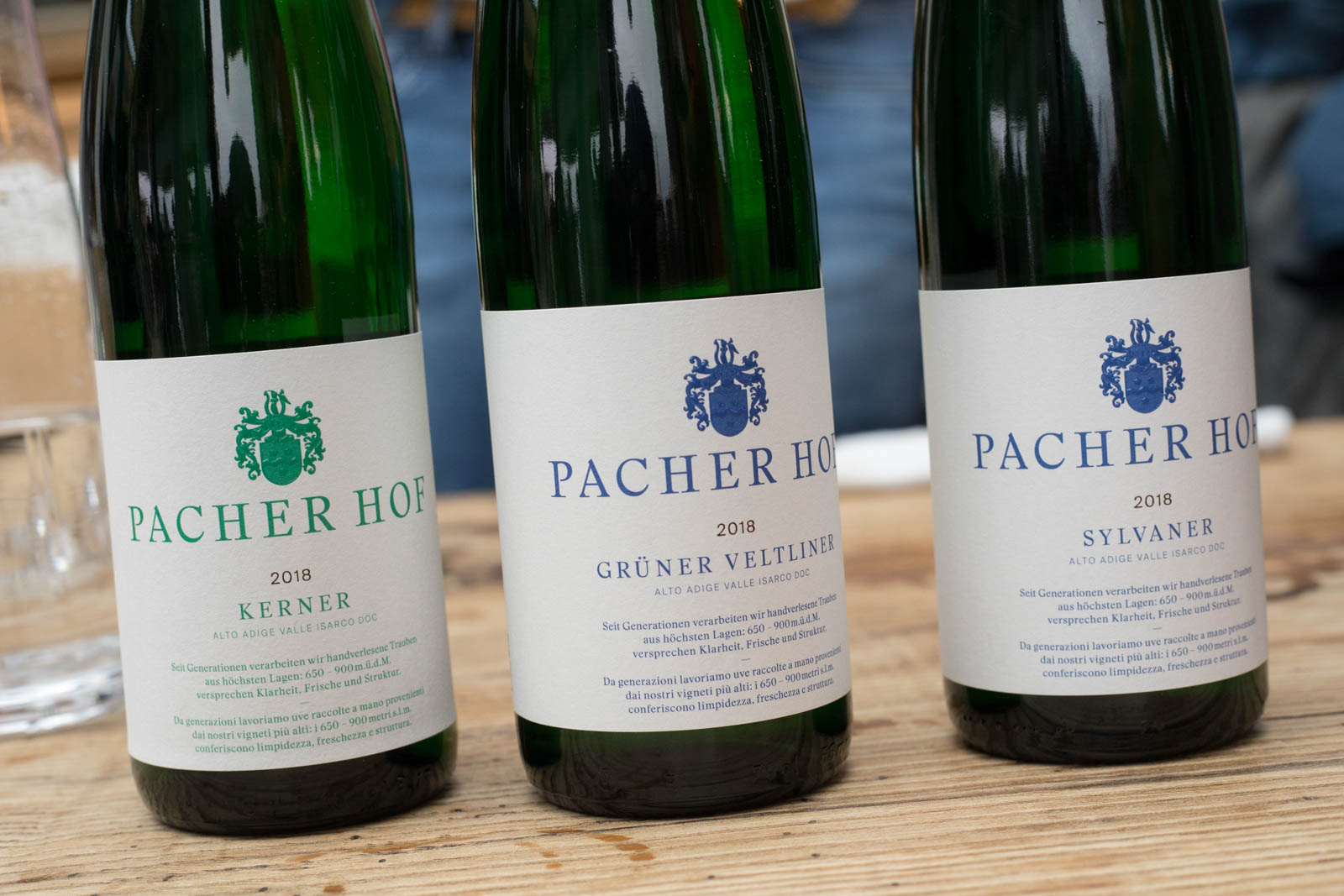 Pacher Hof is a family-run estate, while Cantina Valle Isarco is a co-operative winery. Both wineries presented a silky collection of white wines that quickly formed a crowd around their table. At Pacher Hof, I asked for a second taster-pour of their remarkable Kerner, while at Cantina Valle Isarco, it was the Grüner Veltliner that captivated me.
Learn more about the individual wines you should seek out from Alto Adige.
The high-altitude vineyards in this valley are often dramatically terraced. I wish I had an extra few days to photograph them more fully. That alone will pull me back to Valle Isarco. If you are a wine-seeking tourist, the enthralling Grüners, Kerners and Rieslings should ensure that the valley ends up on your itinerary.
The Pinot Noir Spectrum
In the Bassa Atesina subregion of Alto Adige, winegrowers have found Pinot Noir to be their lucky charm since the early 19th century. Plantings are concentrated on the eastern side of the valley, which means the severely steep mountains block the first rays of the sun, but allow midday ripening. Here, positioning of the vineyards is everything, as the notoriously impressionable grape picks up every nuance — from afternoon winds rushing out of a nearby canyon to the veins of volcanic subsoil that the roots tickle.
I spent an entire morning traversing the hills with a caravan of journalists and sommeliers, learning about site selection directly from three wineries who specialize in Pinot Noir: Franz Haas, Pfitscher and Cantina Girlan. With Franz Haas, we visited their highest altitude site: an exposure vineyard wedged between forest and pasture. Pfitscher's vineyard was bursting with plant life and was the most severely pitched. With Cantina Girlan, we toured the locally esteemed vineyard of Mazzone, which is crowned by a stately church (top photo). Afterwards, Castelfeder joined the other three wineries for a tasting.
Perhaps it was the romantic in me that was seeking commonality from the wines — a story of terroir spray-painted in obvious tones and ready for a convenient headline. But the truth is that the identity of Alto Adige's Pinot Noir is all over the place.
Perhaps this is as it should be. Pinot Noir is the most autobiographical grape in the world. Every detail of its upbringing is exposed in the glass. When you grow this grape in the mountains — a place of extreme variety in soil, sun, wind, rain and drainage — you are bound to have a broad spectrum.
Because of this, Pinot Noir from Alto Adige is a story of individuals. Pfitscher leads the pack for grace, complexity and subtlety. The three Pinot Noir they poured — ranging from a 2018 single vineyard to their riserva bottling from 2006 — demonstrated shape-shifting qualities defined by spice and flowers one moment, meatiness and berry fruit the next.
By comparison, Cantina Girlan's Pinot Noir wines are a monster truck rally. Bold, rich and decadent, it was as though they revved their engine with each sip. Castelfeder's Pinot Noir were lean, easy and straightforward, while Franz Haas' versions were philosophical and brooding.
Regrettably, Pfitscher is not imported into the United States at this time. If you are an importer, I'd look them up. If you are a wine connoisseur planning an Alto Adige trip, include their tasting room on your itinerary. It has a beautiful panoramic view of the Adige Valley, and you can stock up on rare Pinot Noir that you won't get back home.
Discover the 20 Wines That Define Alto Adige Right Now
An Incubator for Facing the Climate Crisis?
In the era of climate change, mountain regions are experiencing some of the most dramatic and dynamic changes on the planet. The Alps, in particular, are radically being altered by an increase in degree days throughout the region. Just last week, authorities in Valle d'Aosta ordered evacuations near the Planpincieux Glacier because its rapid melt was moving the ice 24 inches per day.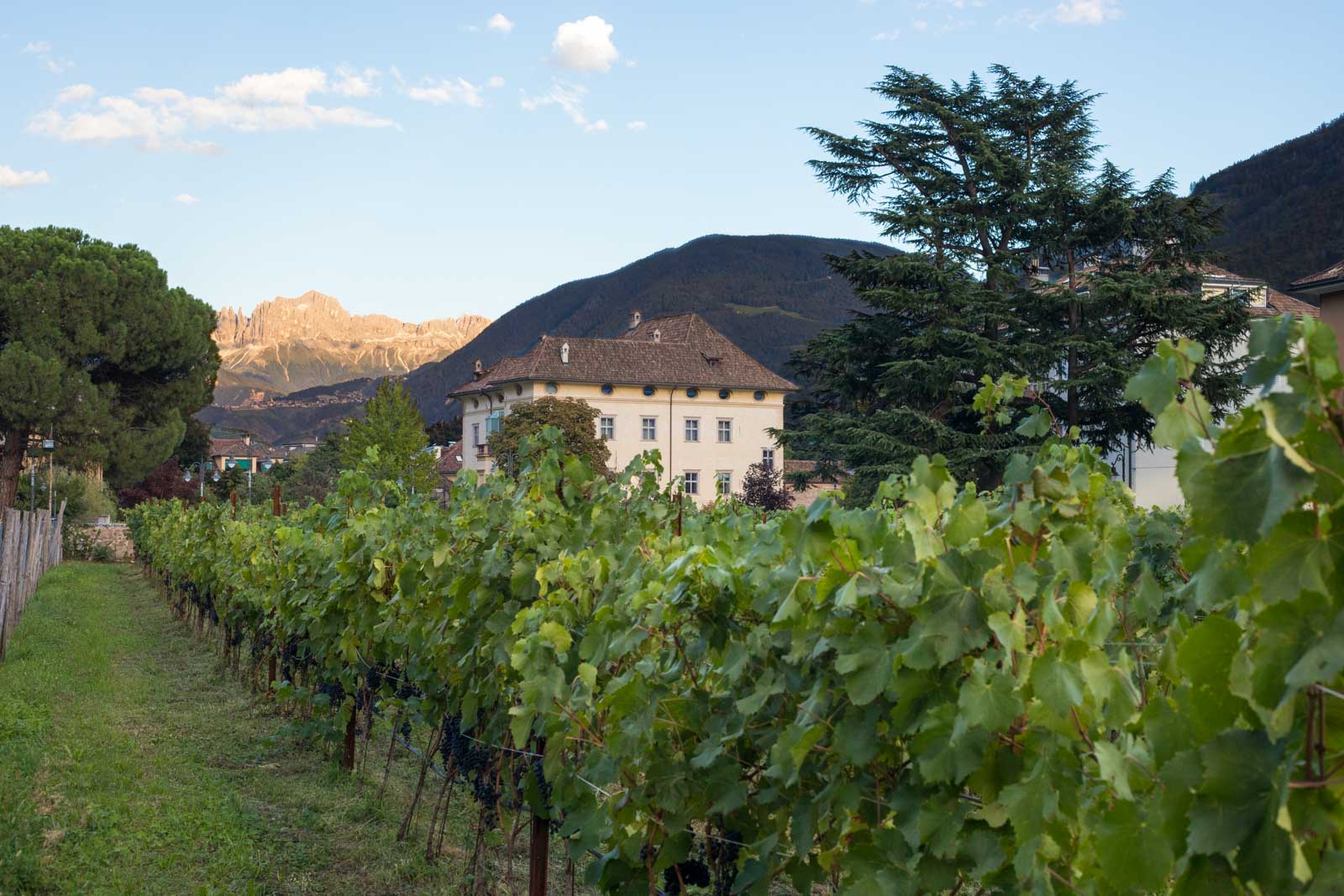 In Alto Adige's valleys, the changes are felt by growers in the form of severe hail storms, an unusual increase in late spring frosts, wider variations in moisture patterns from vintage to vintage, and again, warmer temperatures beginning earlier in the spring and lasting later into the fall. This last concern could mean a shift in the grape varieties used, as sites ideal for white wines today may become ideal for red wines tomorrow. For the wine industry, their brand for producing high-quality, precise white wines is at stake.
Many winemakers I met seemed willing to discuss moving vineyard sites higher up the mountains (something I heard in Trentodoc as well). But at the expense of what? Forest? Pasture land? That's where my questions hit a dead end of winced looks and uncertainty. Converting either to vineyard land — particularly forest — could hardly be seen as a responsible, sustainable endeavor.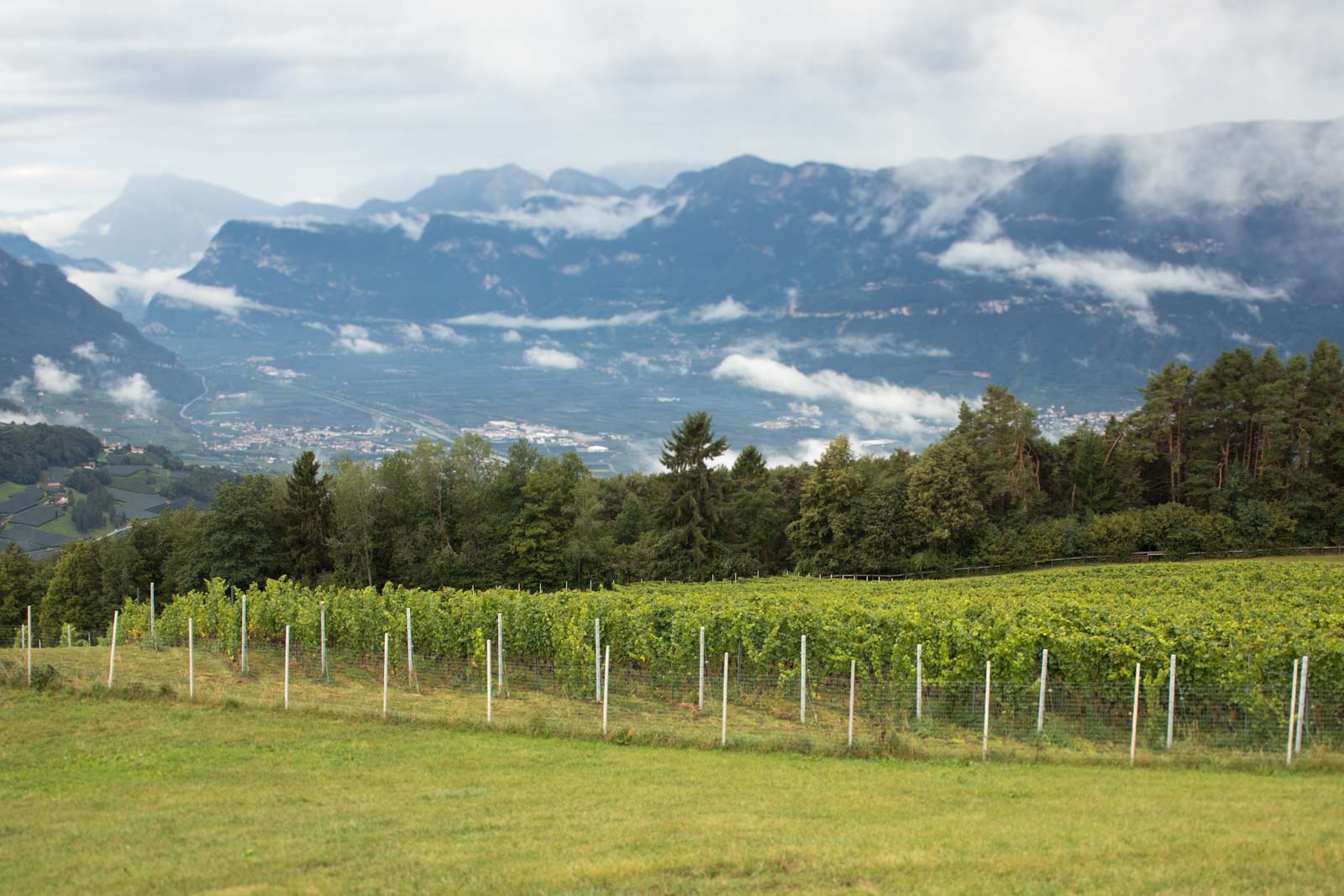 Alto Adige's winemakers will not be the alone in facing this crisis, but they might be among the leaders to innovate some solutions. Viticulturalists in the world's mountain regions will likely have to adapt faster than anyone, and given Alto Adige's wealth, resources and ingenuity — as well as its track-record for breaking the mold because the market demands it — I would not be surprised if the region becomes an important incubator for ideas in adaptive viticulture.
---
Note: This article was made possible by back-to-back press trips which paid for my travel: one by Wines of Alto Adige for their Wine Summit, and one from Trentodoc, who paid for the plane ticket. Learn more about my editorial and advertising policy.