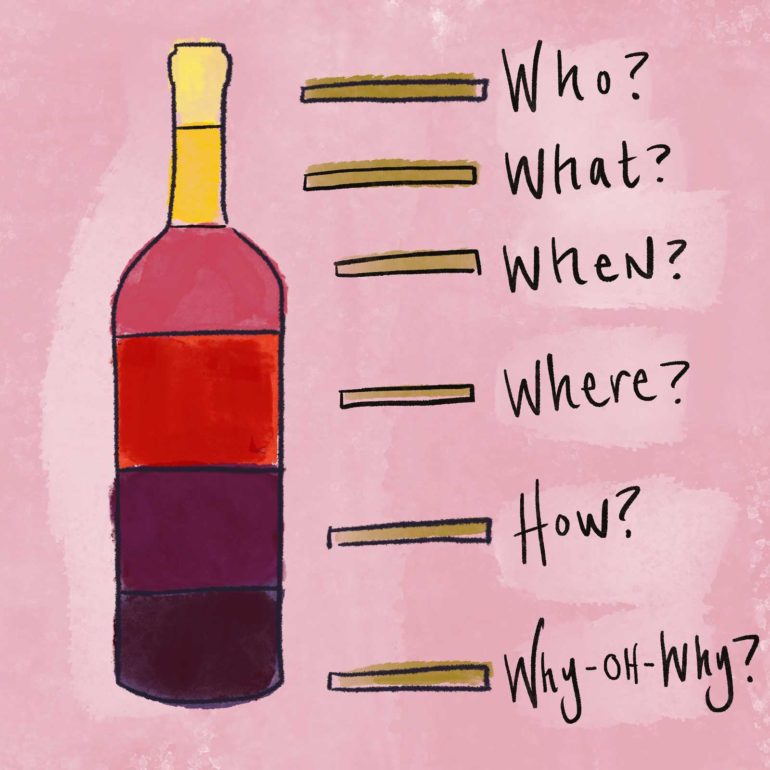 How We Rate Wine
by Kevin Day, Editor-in-Chief
If we had our druthers, we wouldn't even assess a rating on wines (it would be so much easier). But the truth is that some wines are better than others, and you ought to know how they all stack up.
Below we break down what we value most in a wine, how we arrive at our opinion ratings, what they ultimately mean, and how to interpret them, as well as provide a reference for our assessments on food-friendliness and value.
Illustration by Margaret McLain.
Our Process for Reviewing Wines
To understand how we rate wine, it is important to understand how a majority of wine industry publications score their wines, and contrast that with our process.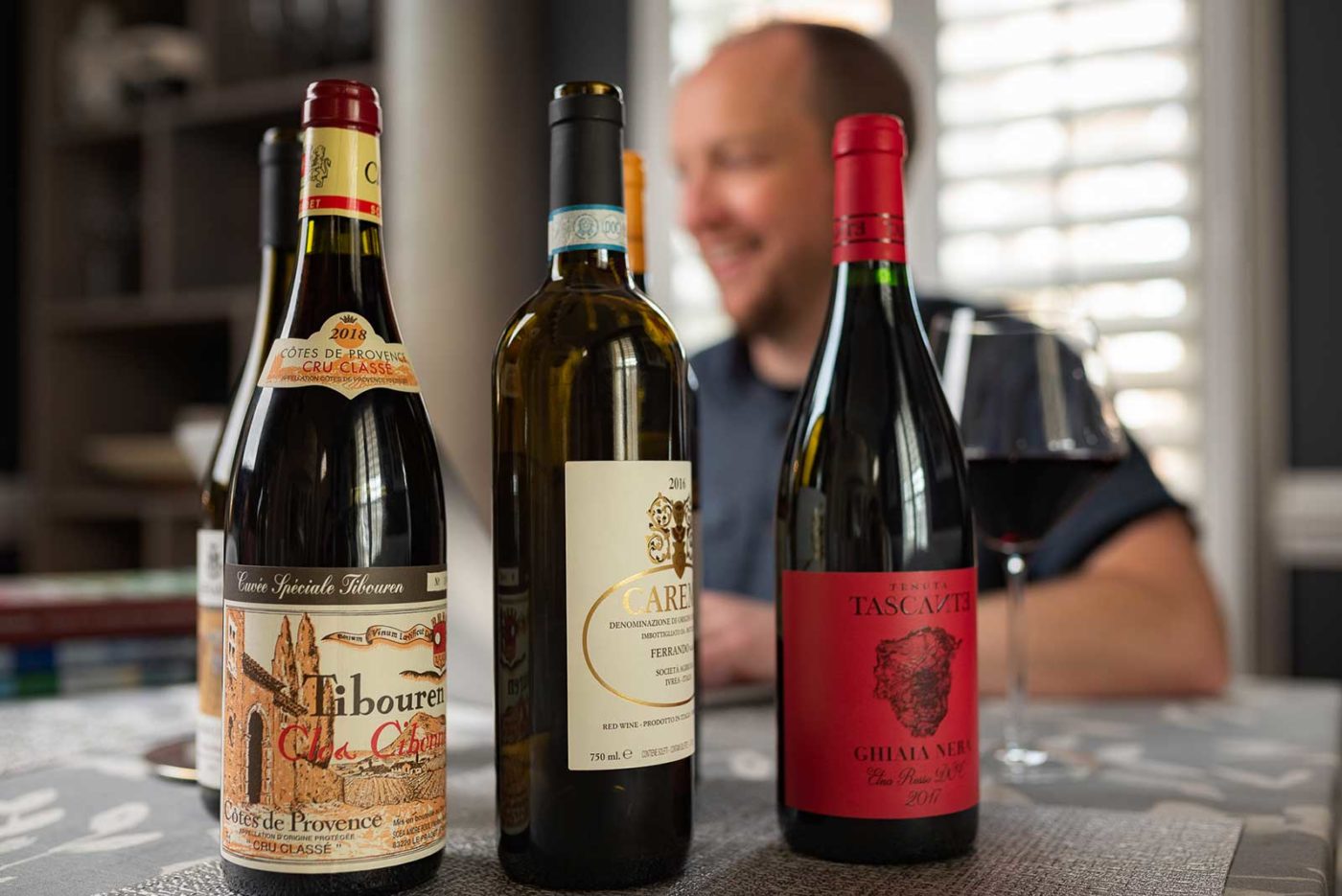 How They Do It
In the interest of scoring a breadth of wines, wine critics often taste wines en masse. Sometimes, this can mean up to 12 or 15 wines tasted at the winery with the producer. These tastings often yield great insight into the producer's philosophy, the whims of a vintage, and more.
But just as frequently, critics will taste wines in an organized tasting centered on a category of wines, usually in an even greater volume: such as 45 Chianti Classico Riserva from the 2019 vintage, or maybe 75-plus Châteauneuf-du-Pape from the same year. (This is also how competitions are conducted). Frequently, a publication's scores will be a mixture of these two types of scenarios. It should also be noted that the critic will be sipping and spitting 1- to 2-ounce pours for each wine to come up with their assessment. If they need more time with the wine, they may request another pour, but this varies from critic to critic.
Spitting is necessary to avoid intoxication, but it cannot avoid palate fatigue (i.e. the numbing of the palate's senses caused by the wine's acidity, tannin, alcohol, etc.). Professional critics are typically very good at managing their tastings in a way that provides a fair assessment for each wine, but every critic is philosophically and physiologically different on this front. Before you put any stock into a wine critic's scores, you owe it to yourself to become familiar with their process, as well as what they prize in a wine (it is much less universal than you might think).
Here is the rub: what you get from critics is an assessment of a wide variety of wines from a wide variety of categories. But these assessments are also conducted in a vacuum. In other words, a setting not at all similar to how you drink wine. While the wine is usually served at the right temperature and in the proper stemware, it is rarely given a few hours (or days) to evolve, and rarely served with a meal. Furthermore, as wine writer Andrew Jefford has pointed out, it is rarely even ingested, and digestibility could arguably be called the most important aspect of a wine. (Of course, there is no universal metric on such a thing given our widely ranging tolerances to wine).
The conclusion is this: a critical score can be valuable, but it must be seen in context — as a glimpse of a wine's potential. Wine critics would say much the same thing.
How We Do It
No single process is flawless, including ours. We do not see our wine reviews as any more righteous than a critic's score, but we do feel it covers aspects that they miss, and therefore, contributes an important perspective to your wine buying research.
When possible, we taste blind but in smaller batches (no more than a dozen). Usually this is done in a group setting as well, with (a) other wine professionals or (b) at a winery, where we can come back to a certain wine for more understanding.
But a good chunk of what we review is done at the table, to see how a wine evolves over at least an evening, and — with numerous categories of wines — even over multiple evenings. We frequently recork a wine, refrigerate it, then bring it back to proper temperature a day later to see what it says. This may be just a taste, or another glass. It all depends on what we're trying to learn.
This is how you likely drink wine, and because of that, our approach is more focused on the depth of review rather than the breadth of the review. If there was an analogy, it would be this: imagine this was a book review publication. Their goal is to skim as many books as possible to give you a brief, top-line summary of their merits. Our goal is to review fewer books per year within a niche category (e.g. "crime and spy novels" to our "Italian and French wine" focus). To do this, we read more pages and allow ourselves more time to get there.
In sum, we go for depth over breadth.
Guide to Our Opinion Ratings
Rather than a 100-point or 20-point scale, we simply place wines within a stratified star-rating system. That's because numbers are too definitive and iron-clad for what we want to convey. Wine is dynamic. Its elements fluctuate consistently. Think of these ratings as "tiers of possibility and potential" rather than "scores." Besides, it ain't a math test.
That said, if you were to convert our scores to a percentage of perfection, it would likely reflect the standard academic grading system found in the United States. (E.G. Five stars = A+; Four stars = B, Three stars = C, etc.)
Here is more on how to interpret our ratings:
The Top Tier
Wines at this level are so good, we hesitate to even compare them to one other. Oftentimes, we can tell if we're dealing with a five-star wine because it has defied our ability to pin words to it. But we try anyways.
So, what do we prize most in a wine? Complexity mixed with effortlessness. Distinctiveness mixed with typicity. Energy as well as endurance (the latter noted both on the finish, and completely separately, in its potential to age). Lastly: the ability to work well at the table with a wide variety of foods.
Note that this is not equivalent to a 100-point wine, nor do we consider these wines "perfect." This is simply the upper echelon of excitement for us as tasters.
Roughly 5% of the wines we taste, and 15% of the wines we write about.
A Thrilling Wine
These wines check so many boxes for us: energetic, shape-shifting, detailed, aromatic, complementary to a wide variety of occasions. The only hang up that prevents them from the top tier is either (a) an individual aspect that requires more maturity or balance, or (b) they're not quite "best in class" given their competitive set within their category. Regardless, these are memorable wines, and often noteworthy enough to get their own Wines to Admire column.
Roughly 10% of the wines we taste, but more than 60% of the wines we write about.
Solid and Recommended
These wines often appear in Tasting Reports and First-Taste Guides where we are analyzing a wider spectrum of wines, either from a specific producer or region. They are well made, indicative of their origin and variety, and often times, included because we have a high degree of confidence that our readers can find them when other, higher-ranked wines mentioned might require some searching. They only lack the magic needed to crack the levels above them.
Roughly 40% of the wines we taste, but only 15% of the wines we write about.
Average
Wines at this level live in a bit of a gray area. They are technically sound and serviceable, but oftentimes lacking in enough character to make them memorable. But not all wines need to be memorable to be worth purchasing. Sometimes a simple, refreshing "quaffer" is all you need, and if the price is right, it ends up here.
It is important to note that wines from this level up are in the "go ahead and buy" window for us. See below for "Overpriced" to learn more on how value is incorporated into our ratings.
Roughly 20% of the wines we taste, but only 5% of the wines we write about.
Below Average
Once we have reached this level, we are recommending against purchase of the wine. These wines are typically defined more by what they lack than what they are. Since our focus is on celebrating excellent wines — rather than being a comprehensive "buyer's guide" to wine — we typically do not include coverage of these wines. Behind the scenes, we do rate these wines and will provide feedback to the producer or importer if requested.
Roughly 15-20% of the wines we taste, and less than 1% of the wines we write about.
No Point in Writing About It
Wines at this level are very rarely included on Opening a Bottle. Here we come across poorly crafted wines that suffer from the mistakes of the producer. Over extraction, imbalanced alcohol, clumsy use of oak and under/overripe fruit are common issues in these wines. Again: it takes a special case for a wine at this level to be written about on Opening a Bottle, and it is never for a good reason.
Roughly 5% of the wines we taste, and much less than 1% of the wines we write about. Sadly, the percentage of wines that we would pin at this level is much higher, but our selection process of what we taste and review has mercifully worked to keep many of them off our table.
Flawed
There is a separate category here, and that is a flawed wine. This can range from a bad case of brett (learn more) to TCA (aka cork taint) and a host of other maladies. Some of these are a reflection on the winemaker. Others are a mixed bag. Some are the result of bad transit and handling long after the bottle has left the winery. We simply cannot score these wines. Flaws are reported back to the importer, and we often revisit the wine. However, we have dropped winemakers from the Essential Winemakers lists over issues with flaws we feel are part of their responsibility.
Food-Friendliness
Versatility in a wine — it's ability to partner with several different styles of food and/or occasions — should be celebrated. For one, it makes your wine shopping easier. If seeking "the perfect pairing" for an upcoming dish is intimidating to you (it was to me until I stopped seeking it), then buying a versatile wine can liberate you from worries.
But more importantly, excellent wines showcase different moods and expressions when placed in different culinary contexts. They are like actors in this way: the bad ones are typecast, the best ones can inhabit any supporting or leading role they are offered.
That said, some wines are intended to be consumed on their own. Italians call them vino da meditazione or "meditation wine," which is a pretty handy phrase. These wines deserve to be considered in such a light.
Either way, I have come up with five words to describe a wine's food-friendliness that I use throughout the site's wine reviews. It should be noted that these assessments account for the wine now, not at an advanced age:
Soloist – There is no shame in being who you are: an individual that needs the spotlight and no interference. A generally speaking example would be Amarone della Valpolicella.

Limited – This is sort of a purgatory rating. The wine's characteristics are typically so assertive that only a limited range of cuisine options would work well with it. Generalized example: Brunello di Montalcino or Bordeaux blends.

Selective – Slightly more broad than the limited assessment. Selective wines may have one element that requires a more fine-tuned choice of occasion/cuisine, such as heightened tannins that require something fatty. Generalized example: Barolo.

Versatile – We have all met someone who can fit in anywhere. These wines are similar. Their acidity, their weight, their aromatic/taste profile are strong enough to be noticed with a variety of dishes, but also docile enough to support the food's flavors. Generalized example: Cru Beaujolais.

Impeccable – These wines are masters of transformation. Everything outlined under "versatile," only with an even broader spectrum. Generalized example: champagne.
Value
We could write a book on value, but this page is already long enough.
You would think that value would be the most concrete aspect of assessment in wine, but I actually find it to be the most reliant on gut feeling. In our reviews, value is relative to the wine's competitive set. For instance, a relatively pricey Beaujolais Village could perform as well or even better than Cru Beaujolais wines twice or three-times the price. This would enhance its value, even if it is pricier than other Beaujolais Village wines. (Our review will likely provide this context).
For wines from smaller regional areas with a smaller market presence, the comparison is to other wines in that style, but still from that country of origin.
As a result, we use these simple phrases to categorize a wine's value. We do not quote prices because they vary so much from market to market
Overpriced – Just as it sounds. Odds are, if it fits into this category, we won't be writing about it.

A Little Pricey – Just as it sounds. This is not a "buyer beware" situation, but some caution may be required if you are more of a frugal shopper.

As Expected – The "no surprises here" category.

Very Good – Wines that — given the circumstances of their production and how they taste — we would expect to be priced higher.

Exceptional – Everybody's favorite value assessment.
Wine Icons
At a glance, we want to provide a context for what matters most in the wine: its origin, its production method, the people behind the wine, and quick buyer insights.
These are spelled out in great detail within our Wine Icons section.
There are two types of reviews conducted on Opening a Bottle: a comprehensive review, reserved for wines reviewed by the bottle, and tasting impressions, reserved for wines tasted by the glass.
Comprehensive Review
All wines with a vertical bottle shot are comprehensive reviews. They include:
key stats on the wine;

our opinion rating;

an overall star-rating (out of five, with fractions by the quarter); assessment on food-friendliness/versatility and value;

wine icons designating key attributes of the wine's production and origin (for an icon code, click the "hamburger" navigation — i.e. three stacked lines — in the upper right corner of the website);

and tasting notes broken down by what a beginner might like, and what would speak to a "wine obsessive."
An example:
2017 Domaine Joblot "L'Empreinte" Givry 1er Cru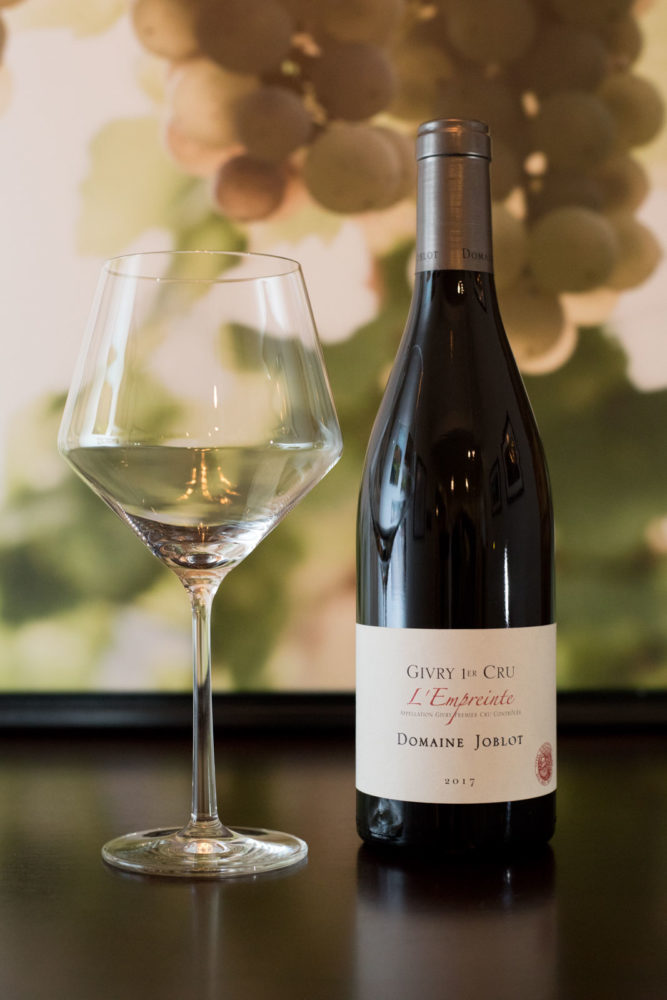 Grapes: Pinot Noir (100%)
Alcohol: 13%
Opinion: ★★★★ 3/4 (out of five)
• Food-friendliness: Versatile
• Value: Very good
Click on the wine icons to learn more
A beginner might like ... The pristine deliciousness of this wine. If you really don't want to analyze it, it will demand nothing from you and give plenty in return. If you do want to analyze it, it might play hide-and-seek.
A wine obsessive might like ... The juicy profile balanced by polished tannins and a nose with great depth: red berries, black currants, sassafras, leather and a hint of stoniness from Givry's limestone soil.
A Tasting Impression
These reviews often appear in the Tasting Reports articles whereby we visited a winery, or in which we are summarizing wines tasted at an event (such as a region-wide premiere of a new vintage). Designated by an overall star rating in parenthesis (out of five, with fractions by the quarter), and usually embedded in the narrative of the article, these reviews represent an overall impression of the wine's potential.
Example:
2015 ARPEPE ROSSO DI VALTELLINA DOC
The entry-level bottle from ARPEPE is a blend from the winery's various vineyards in the valley. It is unlike any other Nebbiolo I've tasted (★★★★★). On the nose, it conveys the essence of a soft vanilla bean that has just been sliced open and scraped apart. There are also deep undertones of cherry-like fruit, a bouquet of flowers, and two delicate notes that shine through only on the palate: watermelon and honeycomb. The tannins are so feathery on this wine — I wanted to savor it ever so slowly — and there was a tantalizing mineral feel to the finish.
Please note that, in some cases, we review wines by the bottle for a tasting report, yet still write the reviews in a narrative way as follows. However, these are clearly indicated within the text of the article so you can decipher the difference.