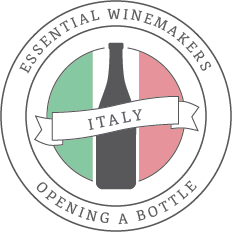 Essential Winemakers of Italy
What makes certain Italian wines so special? From Piedmont's hills to the Friuli-Slovenia border and right down to the arid southern tip of Sicily, we often think of those wild Italian grapes that are hardly grown anywhere else. Italy's best wines are, more often than not, the result of an indigenous grape expressing the character of a certain place. We can look to Nebbiolo showing off its delicate side in Valtellina, or Carricante's bizarre hide-and-seek aromas when sourced from the vineyards on Mount Etna.
The most essential winemakers of Italy, listed below, seem to intuitively translate this sense of place while maintaining a national identity of la dolce vita, as even the most complex, "serious" wines never seem to lose sight of pleasure.
The Essential Winemakers of Italy list is our ode to this amazing wine nation. Each representative belongs on this list for what they bring to the table. Once listed, we commit to re-evaluating their wines regularly, and we're not afraid to drop them if (a) someone else is making better wine, or (b) if their standards slip. From our experience, the latter rarely happens at this level.
Not all regions are represented at this time. The playing field is too level to add anyone of note from Emilia-Romagna, Umbria or Basilicata — at least from what we've encountered — and what's come from Puglia isn't quite up to the list's standards. Molise and Calabria's footprint on wine has been too small as well, but we continue to keep our eyes open for additional wineries.
Left off the list on purpose: Super Tuscan and Bordeaux-variety focused producers. I've yet to encounter one that says something that hasn't been said before, especially outside of Italy.
The bottom line: if you see any of these producers in your local wine shop, pick up a bottle. And if you love it, share it on Instagram and tag me @openingabottle.
What About Emilia-Romagna, Umbria, Puglia, Calabria & Molise?
At this time, the wines from these regions — while good — are not quite up to the same level as what we have featured here. Stay tuned, though. We always drink with an open mind, the world of wine in these regions is vast. An Essential Winemaker might be hiding in plain sight.