4
min read
I've always found it harder to interpret a wine in a restaurant. Whether its because I am more focused on conversation or generally more rushed, I don't know. Probably the former.
A friend asked me recently "where do you come up with these tasting notes?" Truth is, for me at least, it takes a lot of concentration. I have to tune out everything that's around me for a few seconds, and see what comes to my senses. Even then, I try to be careful by saying the wine "recalls" or is "reminiscent of" certain aromas or tastes. It's not a bulletproof process, and it's certainly not infallible. After all, others might pick up different sensations, and who is to say they are right or wrong?
The point is, it requires 10 to 15 seconds of focus for me to decode it. And in restaurants, I'm just not going to shush my companions so I can do that.
That's not to say wine is less enjoyable in a restaurant. No way. Far from it. I just might not get around to deciphering notes and committing them to words on my phone.
An Exception to the Rule
Well, this past weekend, while dining with that very same friend and his wife, we had a bottle that was so good, it demanded I pull out my phone and jot down some notes. Even at the table. Yes, I was that guy (but I really wanted to write about it later!).
We were at a tapas/small plates kind of place here in Denver called Milk & Honey Bar & Kitchen. Their format invites you to order a smorgasbord of dishes and share, which can make wine selection a real challenge. I asked for a bottle of a particular Côtes du Rhône, but they were out of stock. Instead, the sommelier recommended the 2012 Paul Jaboulet Aîné "Les Jalets" Crozes-Hermitage, a 100% Syrah from the large appellation that surrounds the more prestigious (and spendy) Hermitage.
"OK, let's give it a shot."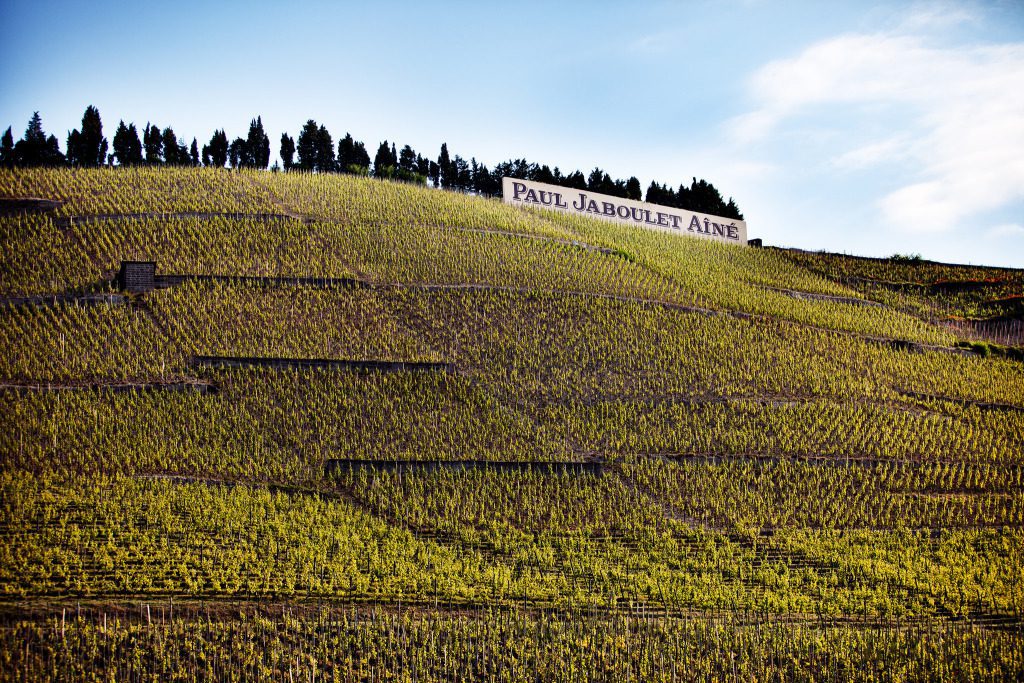 And I'm very glad we did, because it was a true crowd-pleaser. My first sip had me immediately nodding my head in approval, and without asking for an opinion (always the real test), our friends chimed in on how much they liked it as well, almost with a hint of surprise. I think we were all expecting something pleasant for the price — not something this good.
It was richly aromatic; one of those wines that tells you "you're not going to forget this" the moment its aromas reach you. It was complex yet accessible, with a perfectly calibrated amount of oak, acidity and fruit to complement the array of dishes set before us. And there were some tough pairings, too: blistered shishito peppers with bonito and ginger; blue crab cake with tequila and lime; "lacquered" lamb belly. Each of these pairings were like asking Bing Crosby and David Bowie to sing a Christmas song together. They shouldn't have worked, but they did.
About Crozes-Hermitage
Crozes-Hermitage is in the Northern Rhône region of France, and is far and away the area's largest defined region, producing the most amount of Syrah wine. Because of its size and variety, it is often dismissed in relation to its more revered counterparts: Hermitage, Côte-Rôtie and Cornas. With interest in Syrah peaking in the late '90s and early '00s — on account of Australia and California and their rich styles — Crozes-Hermitage was best suited to adapt and go bigger as a means to appeal to a more international audience. Many felt (and some continue to feel) that because of this, the region had lost its way — that any semblance of identity was drowned in a wave of plush purple fruit and oak.
But as often happens in the wine industry, things change. More and more, people want wines of regional character. Many of the wine writers that I respect and enjoy reading (and who have the ability to taste a lot more wine than I do) are once again praising a handful of Crozes-Hermitage wines for representing that Northern Rhône style, which is vivid, aromatic and more concerned with finesse than breadth.
Among those winemakers — and I only found this out after our dinner — Paul Jaboulet Aîné is one of the more esteemed, under the guidance of eonologist Caroline Frey (the company is actually owned by a Swiss family these days).
Duly noted: I'll be on the lookout for more from this producer. After all, they got me to interrupt our conversation at a restaurant so I could take notes on my damn phone.
2012 Paul Jaboulet Aîné "Les Jalets" Crozes-Hermitage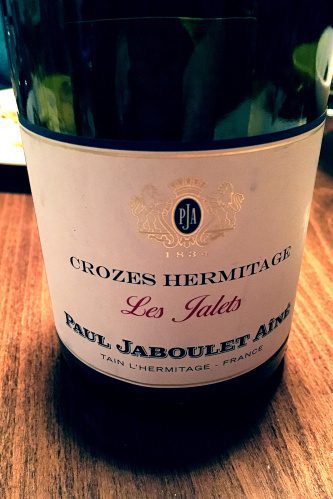 Crozes-Hermitage AOC, France
Grapes: Syrah (100%)
Alcohol: 13%
Ratings: ★★★★ 1/2 (out of five)
• Aromas, Flavor & Structure: ★★★★ 1/2
Food-friendliness: ★★★★
Value: ★★★★
Tasting notes: A wonderfully complex yet accessible and easy-to-drink Syrah. Vividly aromatic, rising from the glass in a very big way. Notes recall blackberry, cherry, olives, milk chocolate, licorice and swirls upon swirls of black pepper. Good levels of acidity ensure this is a wonderful food wine. Clean finish.
Recommended for: Because of its versatility, an ideal Syrah for small plates with contrasting flavors. Or just drinking by itself.