9
min read
There is no easy way to prepare yourself for a tasting at Domaine de la Romanée-Conti. From the very beginning, you know it is a big deal to be allowed in. The most hallowed winery on earth creates a wine so prized — so fiercely fought over by collectors and connoisseurs — that it understandably has the aura of a closed society. They keep a low profile because they have to, would be one way to summarize it.
Secondly, as a taster and critic, you have to battle the domaine's larger-than-life reputation if you plan to arrive at any original conclusion on their wines. "That is the best wine I have ever had," a close friend, who was lucky enough to drink a 1985 La Tâche, had told me. "It is proof that God exists."
And thirdly, a childish sense of fear creeps over you when you read other people's accounts of the experience. "The patron surveys each sip you take," recounted Hugh Johnson in his autobiography A Life Uncorked. "(And prefers you to tip back into the barrel the wine you have not spat or swallowed)."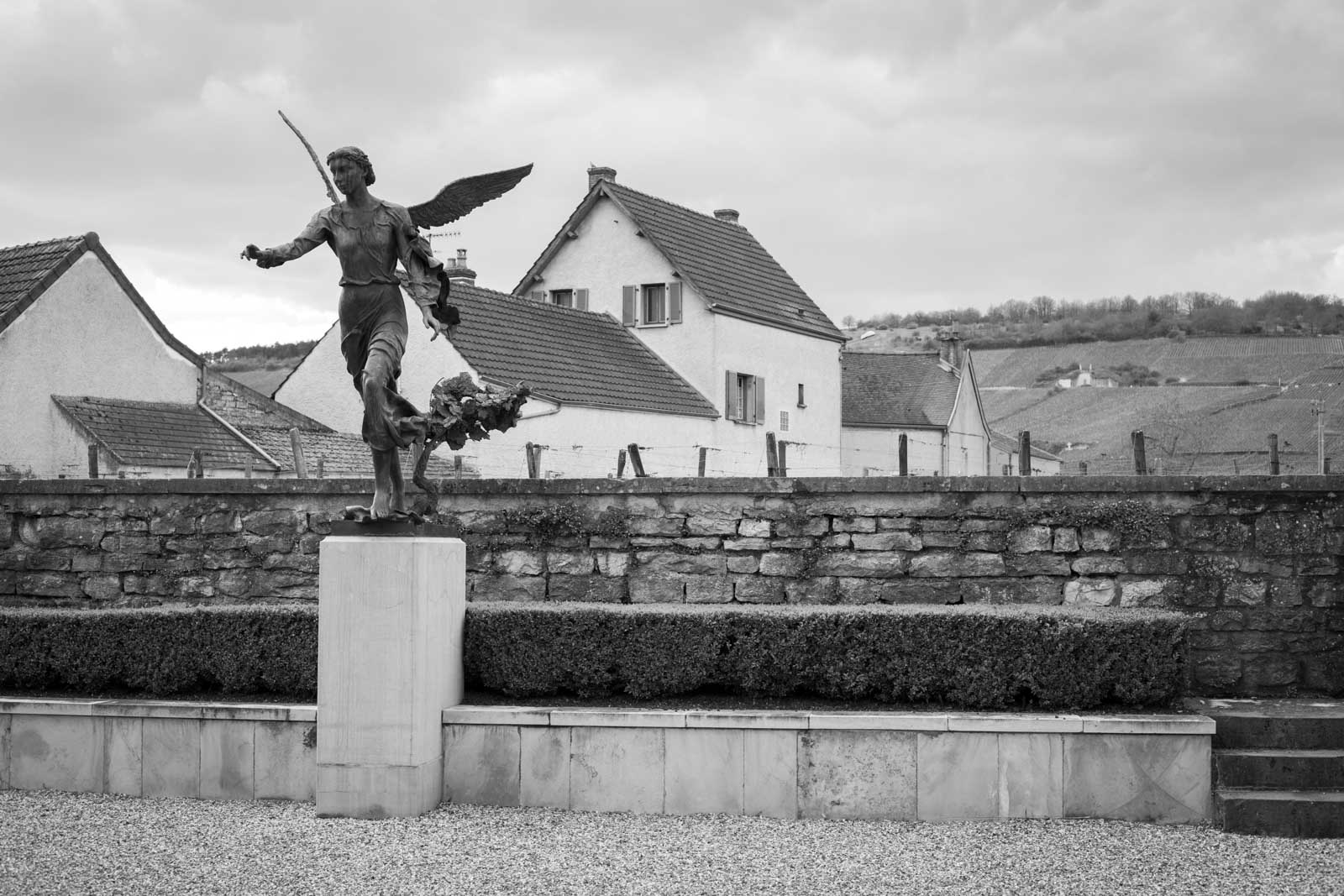 On the car ride into Vosne-Romanée, there was even debate on whether the popular acronym DRC — used by sommeliers, the wine trade and yes, wine writers like Hugh Johnson — is acceptable.
Apparently, it is not.
On this point, I cannot blame them. Nothing about Domaine de la Romanée-Conti is reductive. The pedigree of its vineyards stretches back 785 years, and it has consistently been regarded as one of the world's finest wines for well over a century. If it takes practice to say its name without stumbling, then you practice until you can say it right. Reducing it to an acronym shows a willingness to gloss over the details — and you just don't do that with this wine.
Besides, DRC sounds like a committee meeting you want to skip at the office.
Why All the Fuss
If all of this sounds like I was preparing to meet the Pope, it's because I kind of was.
Domaine de la Romanée-Conti dates from 1869, but the vineyards that it owns outright — the "monopoly" Grand Cru of La Tâche and Romanée-Conti — go much further back. Romanée-Conti was acquired by the Abbey of St-Vivant in 1232, and in 1631, it changed hands again — along with La Tâche — and became owned by the Croonembourg family. Ownership of the vineyards would shift several more times over the next three centuries (including forcible seizure during the French Revolution). But throughout their history, Romanée-Conti and La Tâche have always been prized and as a result, fawned over to a level that is quite possibly unmatched elsewhere in the world.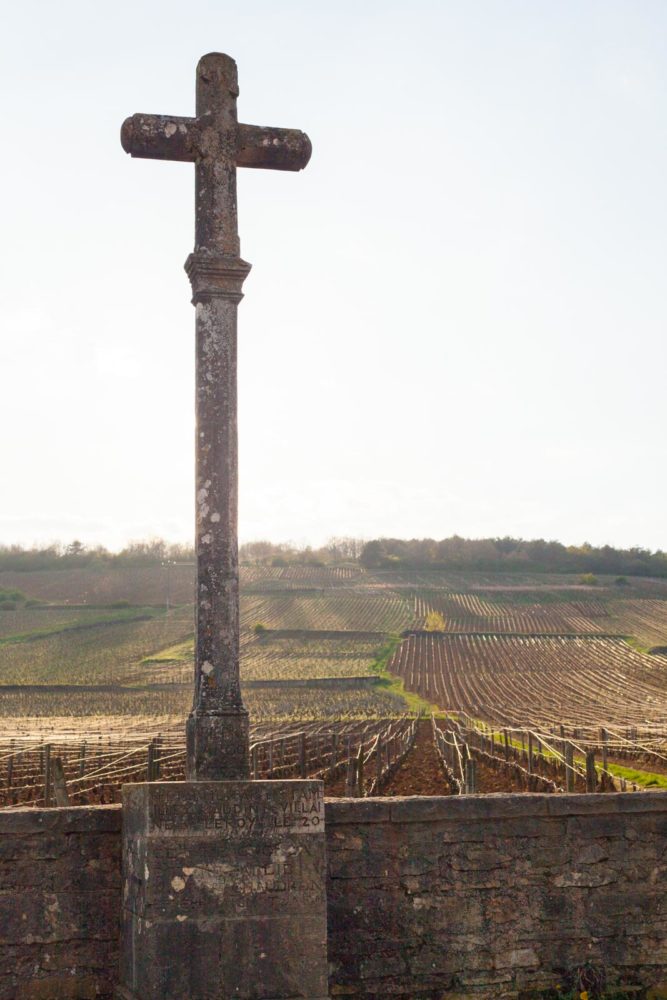 Since its founding, Domaine de la Romanée-Conti has produced the most consistently excellent Pinot Noir in the world. Holdings in the Richebourg, Romanée-St-Vivant, Grands Échezeaux and Échezeaux Grand Cru vineyards have further solidified the domaine's standing. The 2013 vintage of the winery's most coveted wine — from the domaine's namesake vineyard, Romanée-Conti — has an average price in the United States of $13,396. Older vintages sell for even more.
As for the most recent vintage, 2016, prices could sky rocket due to its miniscule supply. The ravages of frost and hail put a gigantic dent in the quantity of grapes from these vineyards, meaning the domaine will have less wine to sell.
And we were about to go into the cellar and taste the 2016s. I was staggered by my good fortune.
A Walk Through Vosne-Romanée
I had been invited to France by Domaine de la Romanée-Conti's importer, Wilson Daniels. The trip's itinerary had us traveling from Cognac to Champagne to Provence, and at the last-second, they managed an appointment at the domaine. Given that I write about wines that can be uncorked with dinner any night of the week, I felt giddy but perplexed: What would my story angle be?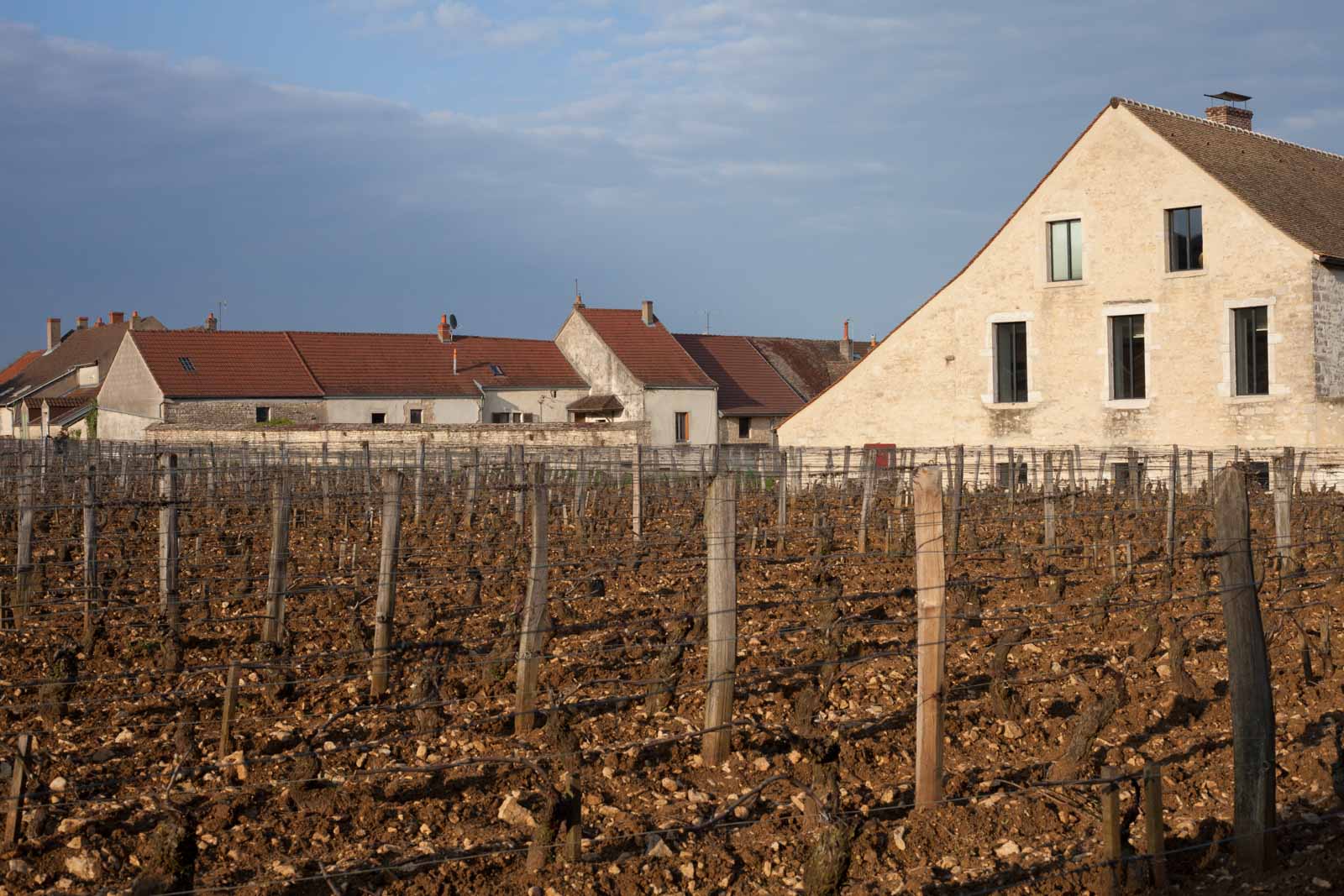 However, as soon as we arrived at the gate of the iconic domaine, it became clear: All I needed to do was soak up the experience, and I would have a story.
It should go without saying that Domaine de la Romanée-Conti does not have a tasting room. Nor do they sell logowear. Again: they keep a low profile because they have to.
Perhaps that is why everything about Domaine de la Romanée-Conti — and the village of Vosne-Romanée for that matter — is understated. It somehow feels right for a winery whose spirit began with Benedictine monks in the 1200s. There is no garish sign pointing the way into the village, and I don't even recall a placard on the front gate stating the domaine's name. The barrels of wine are located halfway across town, underneath a building located behind a red gate in what can only be described as "an undisclosed location." The only sign of life in Vosne-Romanée on that Tuesday afternoon was a construction site.
We soon met Bertrand de Villaine — the nephew of the estate's co-owner, Aubert de Villaine, and a man whose role is increasing at the domaine. Bertrand was cordial at first, but he was soon telling jokes and putting all of us at ease with his jovial personality. I was relieved. Tasting wine is better when you are relaxed.
Truthfully, the winery looked like any other. While the cellar was immaculately clean and tidy, it still felt historic and atmospheric in its own right. At every eighth barrel, there was a smaller half barrel filled with wood shavings, some of which were stained red. I guess that's where we spit, I concluded.
But besides these details, there was little visual evidence to suggest this cellar was any different than the hundreds of other cellars across Burgundy.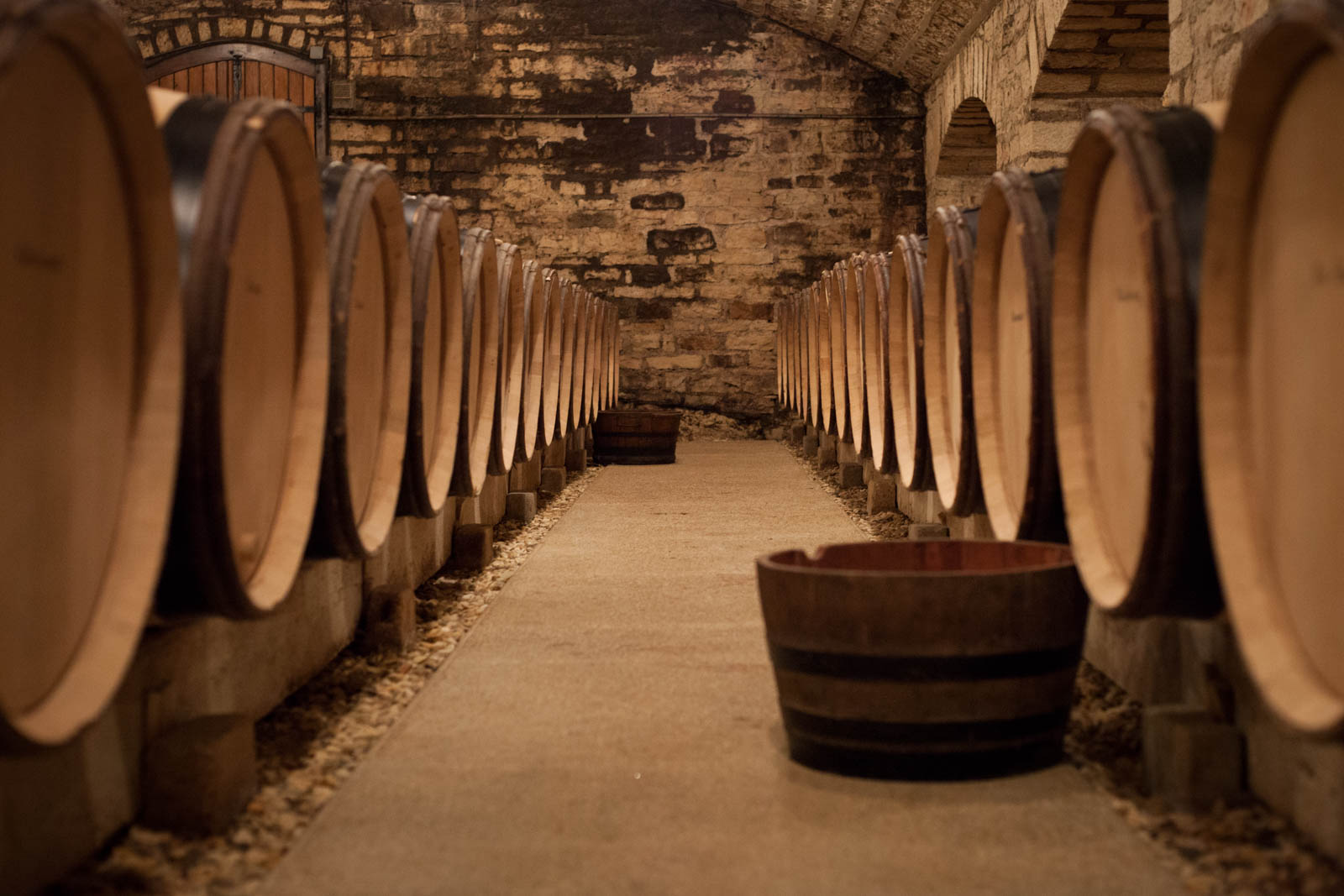 It wasn't until Bertrand de Villaine pulled the bung from a barrel of Corton, and withdrew a crimson juice of magnificent aromatic intensity, that my senses — rather than my intellect — knew we were someplace special.
"Imagine We Are In a Nursery…"
"Proof of God" may exist in a bottle from 1985, but drinking an aged wine and an impossibly young wine is a completely different matter. What was living inside the barrels was only a few months old.
"Imagine we are in a nursery," Bertrand said as he poured the Romanée-St-Vivant. "And each of these is a baby."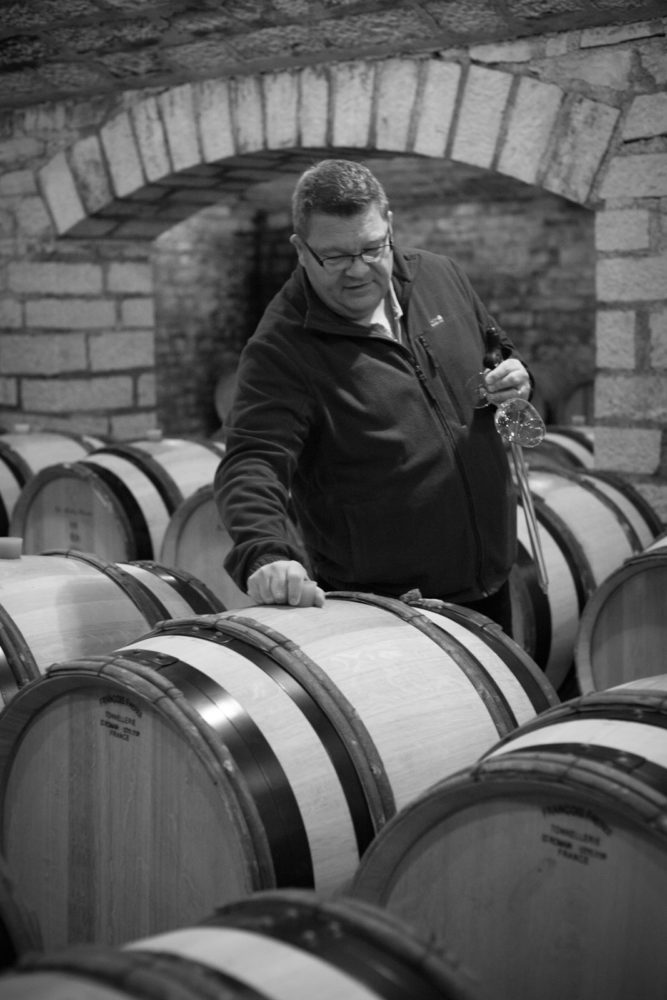 Since the wines were still undergoing malolactic fermentation, they were a work in progress. The malo was most noticeable in the texture: a sprightliness, as if the wines were energetically twitching on the palate. By the time these wines are bottled, the nervous energy will be gone, but the full complexity and character of the wine will require years, if not decades, to emerge.
So what was I assessing then? If I was familiar with older vintages of these wines, I could make conclusions on potential for aging, but even that is an exercise fraught with flaws. So instead, I tried to look for signs of each Grand Cru's identity in the neonate juice. At most wineries, finding terroir at this stage would be a ridiculously tall order. Incredibly, it was no problem here.
To me, some Grand Cru — such as Grands-Echézeaux and Romanée-St-Vivant — had a distinct black-pepper edge. Richebourg was the most structured: a wine that woke up every nerve ending on my palate. (What I wrote in my notebook: "Pow!"). La Tâche was the prettiest of all, decked head-to-toe in red tea and mint, with an intensity of fruit that was already showing.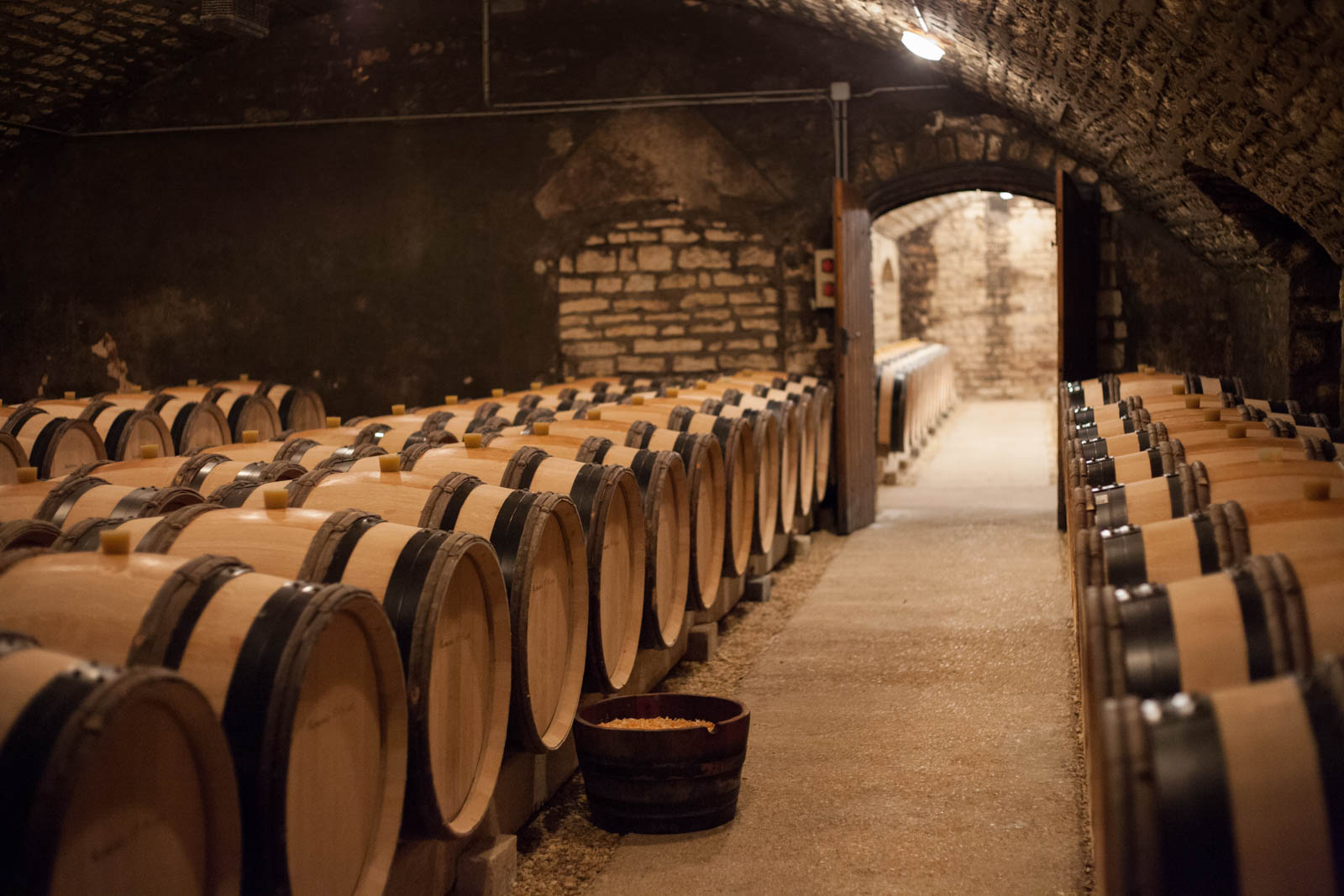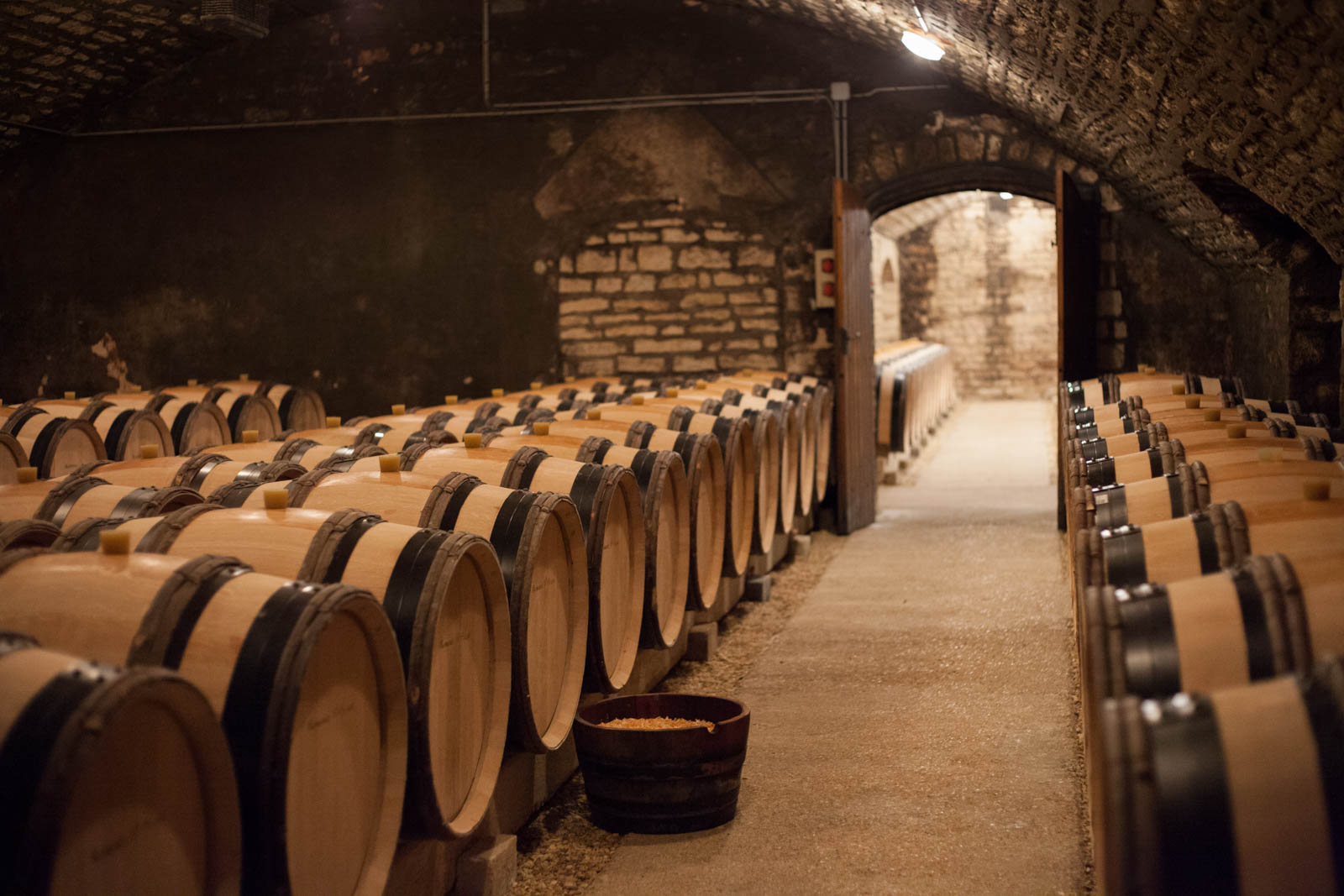 If there was a common thread that united every Grand Cru, it was herbs. Each wine had an ethereal note that reminded me of mint, or thyme, or sage, or even lavender. They all had a delicate sweetness and an edge of savory. They were animated and shape-shifting.
At the back of the cellar where it's coldest, Bertrand finished the tasting with the most prized wine of all — Romanée-Conti. "We call this the Queen's Wall," he said. "Because this is where the Queen sits."
Everyone in my group was showing various signs of giddiness as he poured the wine. "It's the length of this wine, not the power," he told us. I inhaled. Cranberries, cherries, mint, thyme, red tea, smoke? By now, my mind was exhausted. Or maybe the wine was just so extraordinary that it was elusive.
So I did what I had to: I gave into the moment and drank.
Any human being — whether they are a super-taster or a newbie — cannot taste individual notes properly when they are overwhelmed, and I was feeling strong emotions by this time. On how I got here, on how much work I had put into Opening a Bottle, and on everything I'd been through in recent years (both terrible and terrific).
The wine was excellent; the moment, an unfathomable honor. I saved a little Romanée-Conti to tip back into the barrel.
Why Domaine de la Romanée-Conti Matters
After saying goodbye to Bertrand, we walked along the stone walls that line Romanée-St-Vivant Grand Cru, and found our way to the cross that marks the boundary of the Romanée-Conti Grand Cru. A small apple tree bloomed nearby. The sun cut through a thin haze. Things were greening all around us, but the soil's rich red-brown was the overwhelming color of the scene.
Sometimes, when you travel in Europe, you experience a moment that utterly humbles you. It could be a fresco by Titian, a Gothic bell tower or a silent battlefield. The long arc of history stares you in the face, and you realize how small the present moment is. And there's a strange solace because of it.
For the first time, I felt humbled by the sight of a vineyard.
You and I will not be pouring Domaine de la Romanée-Conti with dinner tonight. If we're lucky, we might get a taste at a later date, but it will likely be because someone else was nice enough to share.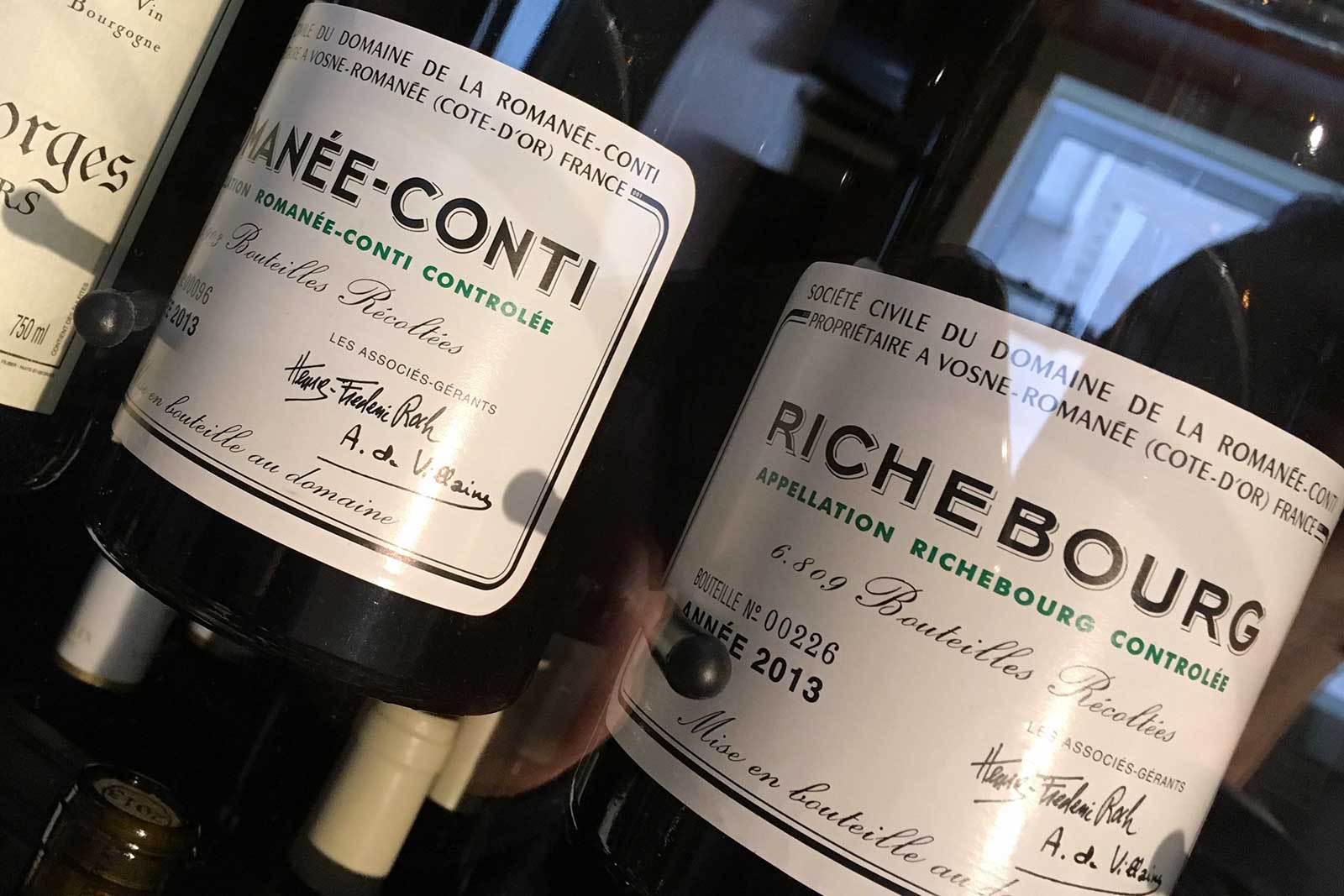 I have read that Aubert de Villaine has openly lamented how the domaine's wines have become the ultimate luxury. (In fact, part of their business plan with the allocation system is to make the wines available to connoisseurs, and not just investors). The supply is very small, and the demand is very high, and thankfully they won't compromise on quality. It is what it is. Bottles of Domaine de la Romanée-Conti will always fetch high sums.
But I am telling you: this domaine is special, and it deserves the attention it gets. They manage the vineyards mostly how the monks did over 700 years ago: without pesticides and with the advanced technology of a horse and plow. Their understatement — in the vineyard, at the domaine, and even on the label — is emblematic of their philosophy: wines that allow nature to speak in her truest, purest voice.
In terms of wine, I can't think of anything holier than that.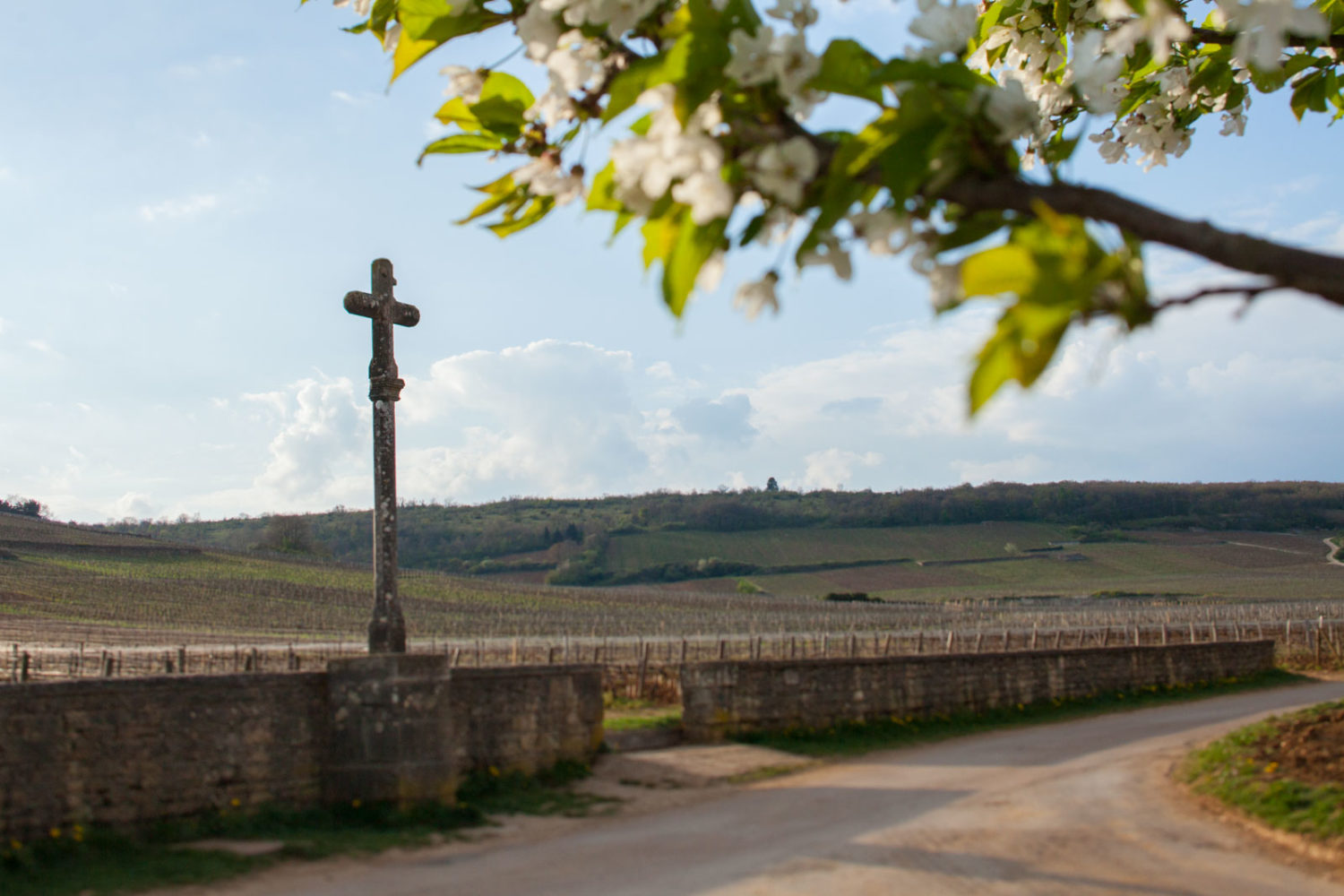 ---
Editor's Note: I would like to thank Wilson Daniels for inviting me on the press trip which made this article possible. Learn more about our editorial policy.