8
min read
Valtellina is not a new phenomenon. Winemaking in this alpine valley in northern Italy has been fruitful for millennia, dating back to pre-Roman inhabitants — the Etruscans and the Ligurians.
Fruitful that is, but not easy.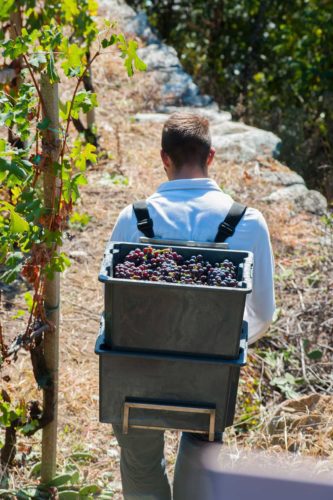 The valley's steep hillsides require a great deal of manual labor, particularly at harvest time. Compounding these difficulties is a complex soil structure and dozens of micro-climates, which create unimaginable variability and challenge for winemakers. And let's not forget that these vineyards are planted almost exclusively with Nebbiolo, one of the world's most stubborn grapes.
In short, Valtellina is not a place where newcomers can easily set up shop, plant some vines, and be successful in a few years. It is a place where making wine is a generational endeavor.
I have been writing a lot about Valtellina these days, sometimes in a tone that must sound like I'm saying gosh, what a new and wonderful wine this is! But I am well aware that the magic happening in these bottles is nothing new.
What feels new is the sense of adventure these wines present. With each bottle I open, the line between one winemaking family's roots and those of the vines they tend, becomes more and more indistinguishable.
Such is the case with a small, three-hectare parcel of vines underneath the Grumello Castle, which is owned by the Pelizzatti Perego family — better know by their wine labels: ARPEPE.
A Brief History of ARPEPE
For the Pelizzatti Perego family, their winemaking knowledge of Valtellina stretches back more than 150 years — to before the unification of Italy. Their first company — called Arturo Pelizzatti — was quite successful. Almost too successful, according to them. By the 1960s, they were producing oceans of red wine from the valley's slopes, but with diminishing quality each vintage.
That company was sold off to a Swiss brand in 1973, much of it being consolidated with Nino Negri. But the unceremonious end to the family business would ultimately give rise to a new company in 1984 led by Arturo Pelizzatti's grandson.
Arturo Pelizzatti Perego decided to name the fledgling label ARPEPE From a marketing standpoint, the abbreviation was genius. In one move, it was a reclamation of the family's reputation, plus a subtle dig at the new regime that owned the family name.
Furthermore, the days of making 160,000 cases of wine per year would be a thing of the past. It appears that from its founding, ARPEPE was about smaller quantities and higher quality.
Today, these wines have earned a cult status among Italian wine lovers because of this approach. Success hasn't resulted in more wine; it has merely resulted in more clamoring for their bottles. (Only a modest 5,000 cases are produced each year).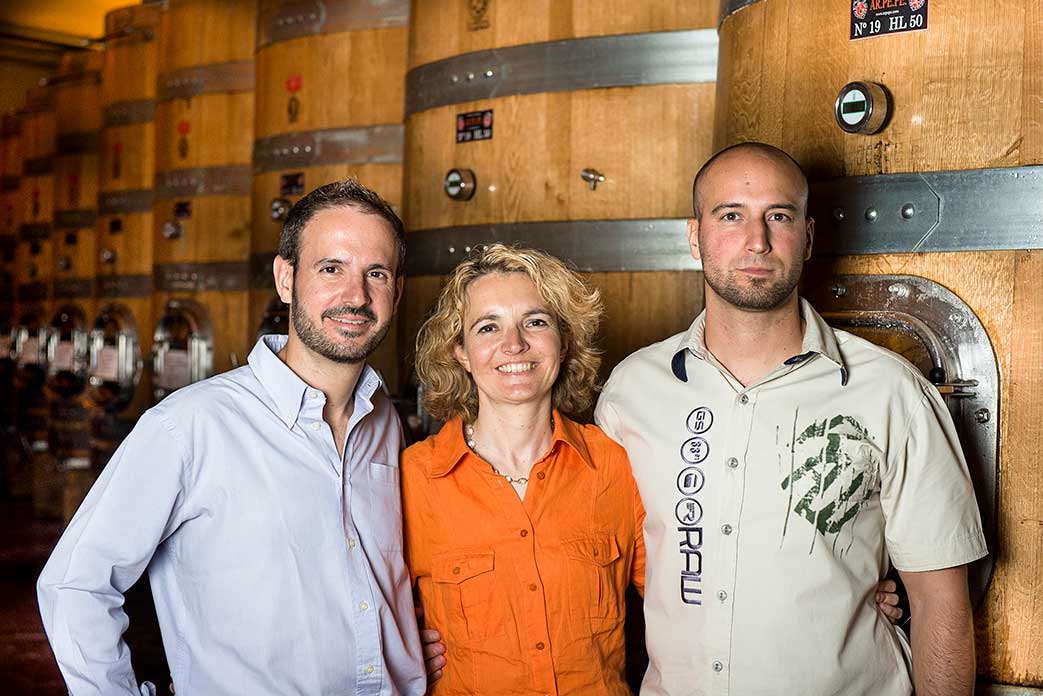 Winemaking is now a function of the sixth generation: siblings Isabella, Emanuele and Guido. In any given year, they will make a combination of wines depending on the quality of the vintage. All of their wines are Nebbiolo, and they are all made in the traditional method: favoring native-yeast fermentation in conical wood vats with extended aging in large chestnut barrels.
Their "entry-point" wine is a Rosso di Valtellina, and in below-average vintages, this is the only wine they will make.
In better vintages, the door opens to site-specific Nebbiolo with the potential for complex character and enough longevity to cellar for decades.
One such wine — and my first taste of ARPEPE — is the Grumello "Rocca de Piro" Valtellina Superiore Riserva. 
The Identity of Grumello
After serving this excellent wine to my family at Christmas, I decided to contact ARPEPE directly and learn more about the Grumello zone, the castle on the label, and ARPEPE's connection to the vineyard. Within a few days, I heard back from Isabella.
The grapes that go into the "Rocca de Piro" come from a vineyard located directly above their winery, which is burrowed into the hillside beneath the Grumello Castle. The photo at the top of this article shows the vantage point one has looking down from the castle at the vines. Below, the view from the winery looking up.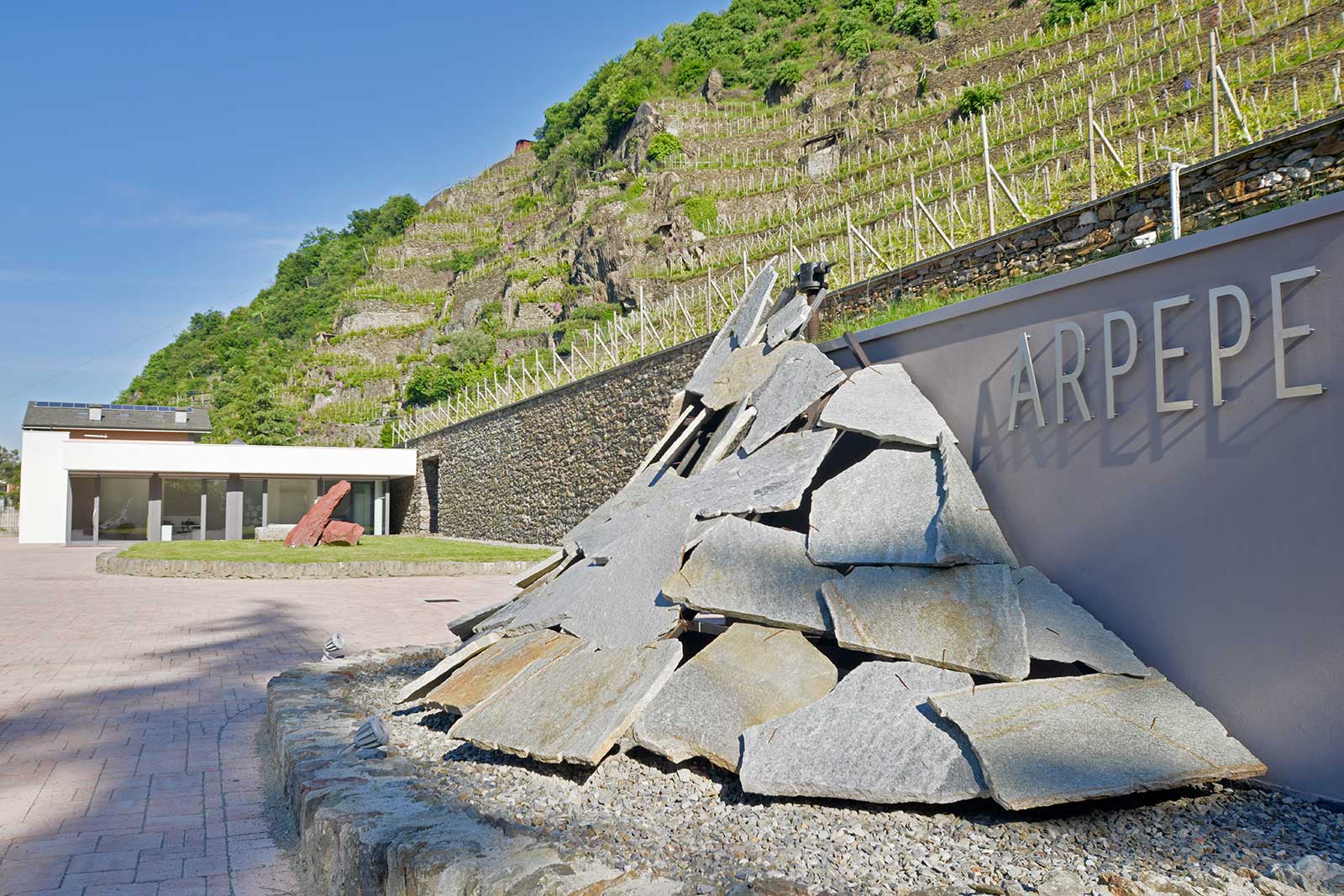 "The soil is technically franco sabbioso," Isabelle told me. "[It is] very sandy with fragmented rocks and high acidity."
This isn't unusual for Grumello, which is one of five subzones in Valtellina (the others being Inferno, Sassella, Valgella and Maroggia). In addition to being sandy, the soil is deeper than other zones, meaning the wines have a softer and more delicate structure than those vineyards with shallower soil and more granitic influence.
"Grumello is the area normally harvested first," she continued, "always providing wines [that are] very expressive and ready to be enjoyed young."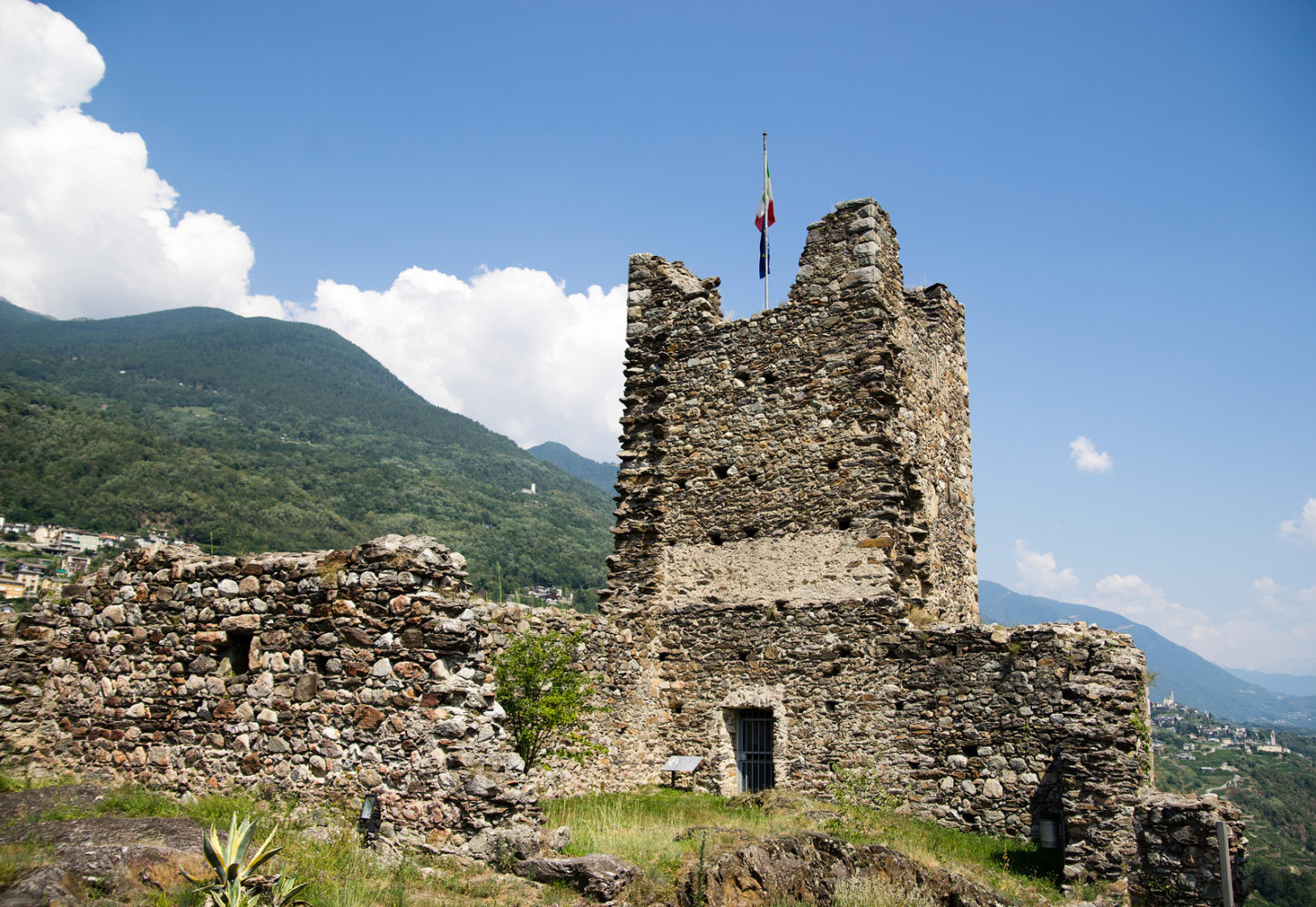 As for the castle which graces the wine's label, it has a history that is as lively as the wine. It was built in the late 13th century by Corrado de Piro, a noble who supported the Holy Roman Emperor against the Pope. It was this allegiance that forced him to leave his home city of Como and seek fortified shelter in Valtellina. Over many generations, the castle was retained by the de Piro family, but ultimately the Bishop of Como would take ownership. The castle was laid to waste in 1526 by the Grigionis of modern-day Switzerland, and it has stood as a beautiful ruin —  with an unsurpassed view of the valley — ever since.
Tasting and the Question of Longevity
About a year ago — as I started to investigate Valtellina a little further — ARPEPE's name regularly appeared in articles and blogs as the region's upper echelon. This, combined with the fact that my daughter is named after a nearby town, gave me the incentive to buy three bottles of the 2010 ARPEPE Grumello "Rocca de Piro" Valtellina Superiore Riserva. I would drink one now, and the other two — with a heap of starry-eyed romanticism — I would cellar for her. That year is her birth vintage. At the moment, she is more interested in animals and fairies than far-flung places in Europe, but the idea of giving her those bottles as a gift when she graduates from college …
Like I said: starry-eyed romanticism.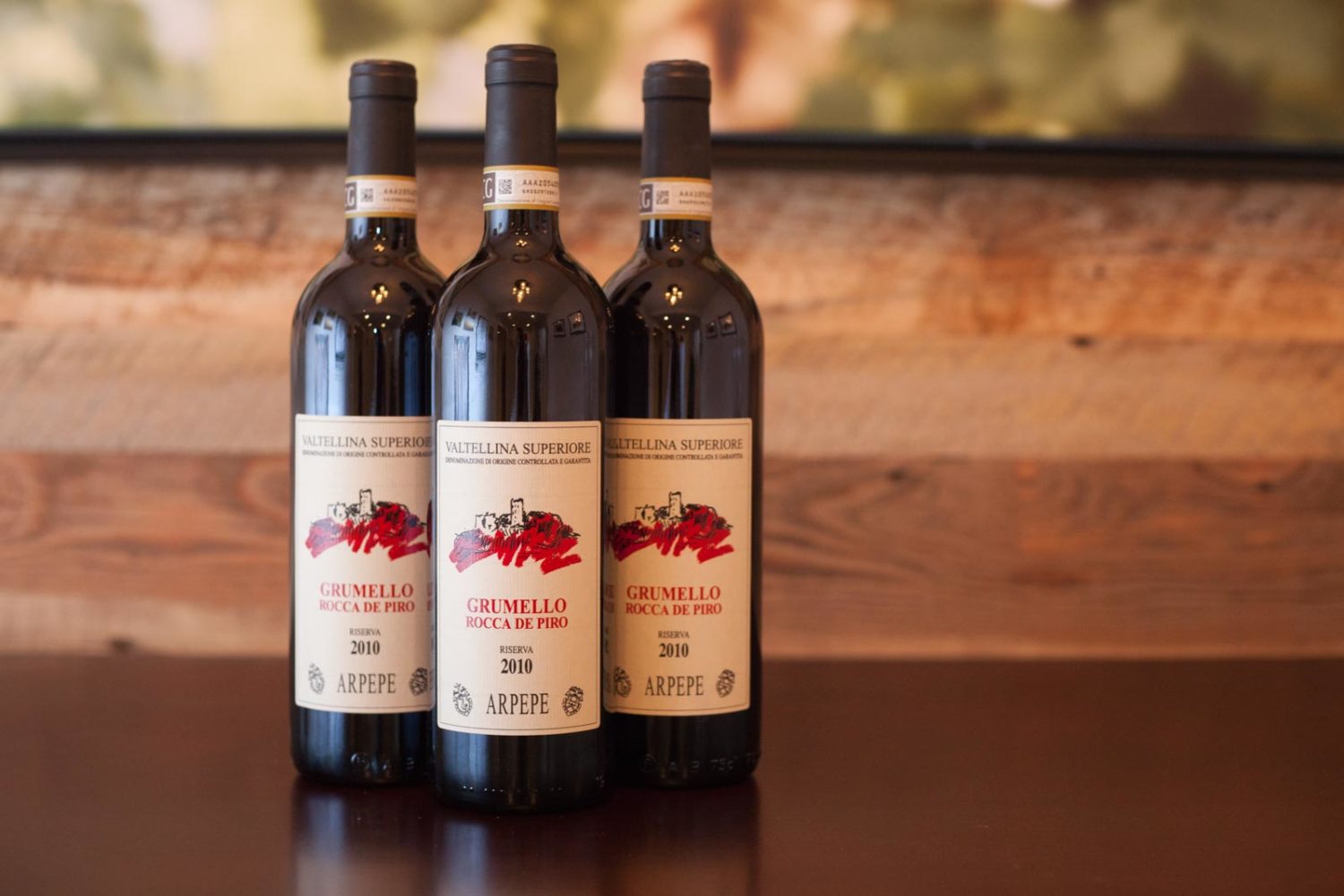 The wines went into my climate-controlled wine cabinet, and for the whole year I left them alone. The right occasion to open the first one never seemed to arrive.
But after discovering that other Valtellina Superiore seemed more approachable and light in youth, I began to wonder whether placing Barolo-like aging expectations on these wines was wise. Should I have stocked up on a trio of Sforzato di Valtellina instead, which is made with partially dried grapes and has a more pronounced acidic and tannic wallop to preserve through the ages?
To find out, I thought I would do two things: (1) open a bottle and give it a taste, and (2) ask Isabella.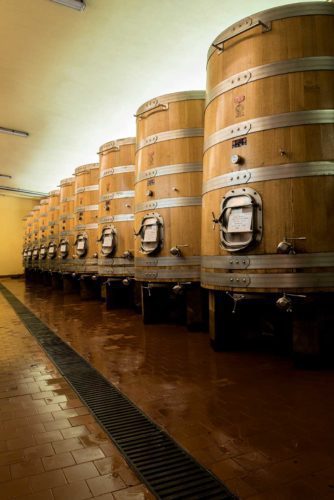 So as we prepped chicken saltimbocca for a pre-Christmas dinner with extended family, I opened the wine. The first sign that the "Rocca de Piro" might live on for decades came in its color. Nebbiolo shifts into a gauzy, orange-brick hue as it ages, and at six years, it wasn't unreasonable to expect some of this transition. But as I poured it into my decanter, any trace of this color was confined to the edges. Visually, it seemed like it had some maturing to do.
The aromas were beautiful and vast, as though six years of development had been unleashed from the wine's surface. I passed the decanter around with our guests just to inhale the heavenly bouquet.
With each sip, I wondered more about the aging question. True, it was decidedly lighter and more approachable in its youth than a six-year-old Barolo would be, but the structure was so solid. I couldn't help but be hopeful for that final taste in 2031.
A few days later, I emailed Isabella and asked what its track-record for aging was. If anyone would know, it was the Pelizzatti Perego family.
"If you have a good cellar, you are very welcome to store this wine for 20, 30, or 40 years without any problem," she told me. "[It ages] very well due to [the] freshness and strong minerality. The eldest bottle we ever experienced tasting was a 1942 bottle — the year of birth of our father, Arturo. And he opened his last bottle in 2002 … only 60 years old. It was magnificent, still young and vibrant."
A liquid time capsule from beneath an ancient castle in the Alps. Laugh all you want about cellaring wine for a six-year-old — but when that day comes, opening that bottle together will be an amazing moment.
2010 ARPEPE Grumello "Rocca de Piro" Valtellina Superiore Riserva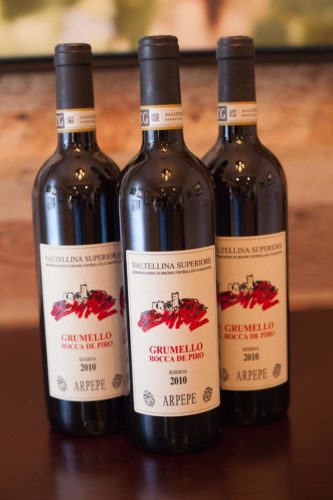 Valtellina Superiore DOCG (Italy)
Grapes: Nebbiolo (100%)
Alcohol: 13.5%
Ratings: ★★★★★ (out of five)
• Aromas, Flavor & Structure: ★★★★★
Food-friendliness: ★★★★★
Value: ★★★
Tasting notes: A wine with excellent color, just barely shifting to an orangish tinge with age, but still very much garnet at its core. Aromas are classic and as expected (recalling tart dark cherries, roses, licorice and some earthiness), but wonderfully pronounced. The aromas are so upright and rich, it is as though the wine is uncaged when poured. Clean, balanced, smooth, elegant and assertive on the palate. It also recalls a bit of graham cracker on the edges of its core Nebbiolo profile — perhaps a softer note lent from Grumello's deeper soil? The wine seems to have excellent potential. Let's hope so. I decanted it for one hour before serving to let it breathe.
Recommended for: Served with chicken saltimbocca, cacio e pepe pasta, and a pear-walnut salad. Usually, this kind of dish would be overpowered by a Nebbiolo — especially one with so much life and energy to it — but this vintage of the Grumello "Rocca de Piro" has mellowed enough to partner exceedingly well with poultry. But don't be shy: there is also enough backbone here to pair it with beef, lamb and venison. Better yet: toss in some earthy ingredients and herbs to really complement the wine's complex character.
Note: In exceptional vintages, this wine is called ARPEPE Grumello Buon Consiglio. This subtle difference is unusual for Italian winemakers from my experience. The "Rocca de Piro" is essentially a Premier Cru (or a second vin as Isabelle has referred to it), with the Buon Consiglio akin to a Grand Cru. Both come from the same vines.
A special thank you to Isabella Pelizzatti Perego for her assistance in researching this article, and for providing many of the photos!
Additional Reading
---