4
min read
I can't seem to get my head out of Italy and France. You'll have to pardon me for the clear favoritism I've shown lately for these two magnificent wine countries, but their depth and aura of endless possibility make them fertile ground for astonishing discoveries.
Take for instance, this past weekend, when my brother and I brought our families together in Steamboat Springs, Colorado for a short, spring-break vacay in the mountains. Ben's developing a taste for Italian wines, and he was eager to bring along a handful of options. He even sent me a text on Friday night with a photo of them, captioned "Education?"
Among them, was a Rosso Veronese IGT, a wine that seemed ambiguous by name, but turned out to be quite stellar. Upon looking into this particular blend and how it was made, it made me wonder if there is such a thing as "baby Amarone."
About Amarone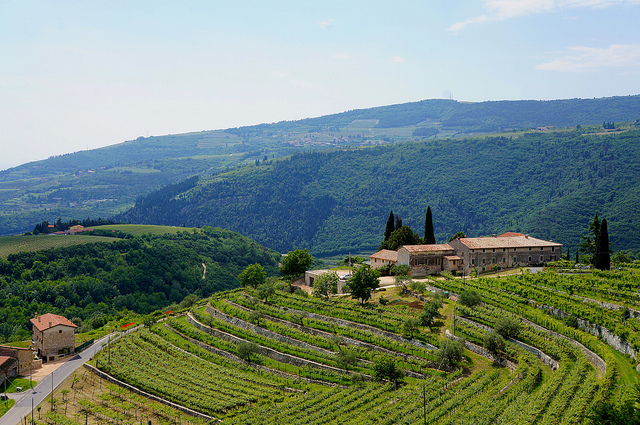 Normally well out of my price range, Amarone della Valpolicella DOCG is among Italy's most revered wines. Made in the appassimento style (in which grapes are harvested as late as possible then dried to concentrate sugars before pressing), Amarone is one of the more labor-intensive Italian wines. Only the grape clusters with ideal ripeness and even spacing (to improve airflow for drying) are harvested. Then the grapes need to be stored in climate-controlled rooms for up to 120 days. Not only is the yield from the vineyard low, but so is the juice from the berries, because much of it has evaporated during the process.
The end result is a dark, rich, low-acid/high-alcohol wine that broods with a wild mix of raisin and fig, baked cherries and tobacco.
Now, On To Its Cousin
I didn't immediately connect the 2012 Zenato "Alanera" Rosso Veronese to Amarone right away, but its heady aromas, slightly extracted flavors and velvety structure were so distinctive, I had to drop everything and read up on it.
Zenato is among Valpolicella's top producers, offering a fleet of 12 wines stateside (via The Winebow Group), and the "Alanera" bends the rules a bit of a traditional Amarone (which is why its labeled as a Rosso Veronese IGT). The grapes are largely the same used in Amarone — Corvina, Rondinella and Corvinone — but with the addition of a little Merlot and Cabernet Sauvignon to add roundness and structure (or perhaps, a more marketable, familiar profile). Secondly, the grapes are only partially dried for 45-60 days, saving a bit on cost and making the wine less alcoholic and more accessible at a young age. The "Alanera" then ages in oak for 12 months to give it an added touch of tannin, and since the 2012 is the first vintage of this blend, we're only just now getting a taste of it.
My first impression was that it was clearly an Italian wine on the nose (ripe fruit, herbs and a hint of dusty oak), but on the palate I kept thinking of the deep berry flavors of Domaine de Pallus Chinon and the distinct clay note of a memorable Chilean wine I had last year, Alka Carmenérè. I imagine what its missing from a true Amarone is a bit more austerity (Amarone is well-known for improving with age) and deeper, more extracted flavors. But among the four of us tasting, it was unequivocal: "This is a great wine." And at $20, a great glimpse of what Corvina and its friends are capable of.
So is it fair to call it a "baby Amarone?" Who's to say? It's clearly inspired by its cousins in the valley, but the creativity and craft that goes into this blend is worth pursuing on its own accord. And it just goes to show that every now and then, us traditionalist drinkers need to break out of our rut in Italy, and pick up a creative bottle of juice.
2012 Zenato "Alanera" Rosso Veronese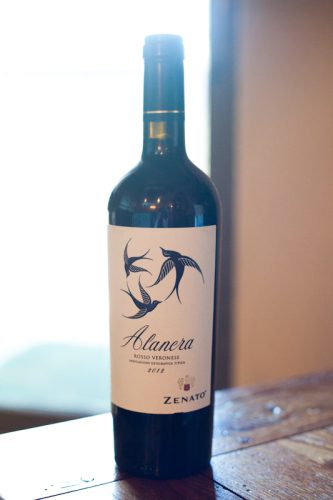 Rosso Veronese IGT
Grapes: Corvina (55%), Rondinella (25%), Corvinone (10%), Merlot (5%), Cabernet Sauvignon (5%)
Alcohol: 13.5%
Ratings: ★★★★ 1/2 (out of five)
• Profile: ★★★★ 1/2
Food-friendliness: ★★★★
• Value: ★★★★★
Tasting notes: Excellent wine for the value. Dark, inky color, but not an overly robust experience. Aromas are rich and focused, with ripe berries, dusty oak and a precise note of waxy vanilla bean. But then it rests on the palate and presents an entirely different experience: extracted flavors of cherries, strawberry, clay and even a hint of crushed mint. Soft tannins, rounded finish.
Recommended for: Sipping on its own while it snows, or braised meats and hearty stews.
---