2
min read
I'm only eight posts in to Opening a Bottle, and here I am writing about Opening a Box. It doesn't have the same ring to it, does it? (Then again, neither does Opening a Goat Bladder).
But the truth is, I don't always want to open a bottle for every meal I cook at home, and I certainly don't want to pass on wine at all other times. And since box wines can last up to four weeks after they are opened, they make a hell of a lot of sense.
Unfortunately, most of them are flaccid, one-note alternatives. Like listening to Creed instead of Arcade Fire.
Of the ones I've tried, the undisputed king is the Rosso Toscano from Casina di Cornia. It runs a good $30–$35 a box, but since it can hold its own against almost any young Chianti Classico (and you get four bottles worth) it is a freaking steal. Plus, it is unmistakably Italian: try it blind, and you'll probably guess where it comes from. Great wines should be like that.
Casina di Cornia Rosso Toscano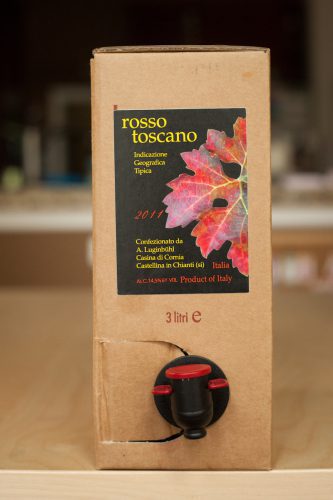 Tuscany
Grapes: Sangiovese (70%), Canaiolo (20%), Ciliegiolo (10%)
Alcohol: 14.5%
Rating: ★★★★ (out of five)
Tasting notes: A red wine that lasts and lasts. Fragrant nose with cherry, rose and nettles; grippy on the palate with tart flavors of cherry, rosemary and stone. Pairs well with almost any weeknight Italian standard (pizza, spaghetti, grilled sausages).