12
min read
The faded fingerprints of the Roman Empire are all over Europe, but especially the world of viticulture. The wine industries of Italy, France, Spain and Germany owe a large part of their existence to Rome's thirst for wine. Wherever Roman trade routes went, the planting of vines soon followed. In wine education texts today, we read about the historic Roman roots of Veneto, Bordeaux, Beaujolais, Galicia and the Rhein. Yet the empire's own backyard of Lazio? Many of us don't have the faintest idea about its viticultural history or even what grows and thrives there today.
It might be easy to assume that Lazio's missing-in-action status in the global fine wine discussion is due to urbanization. While only accounting for 5% of Italy's land mass, Lazio is home to 10% of the country's population. Yet Lazio actually makes plenty of wine: by one estimate, 2020 resulted in 16.1 million cases. While that is a little more than half of what Tuscany produces, it is a smidge more than the celebrated wine industry of neighboring Campania.
However, bulk wine has long been the driving force of the Lazio wine sector, and since wine-education bodies prioritize appellations of origin as the main thrust of any syllabus, Lazio has been largely relegated to a footnote in the Italian wine conversation.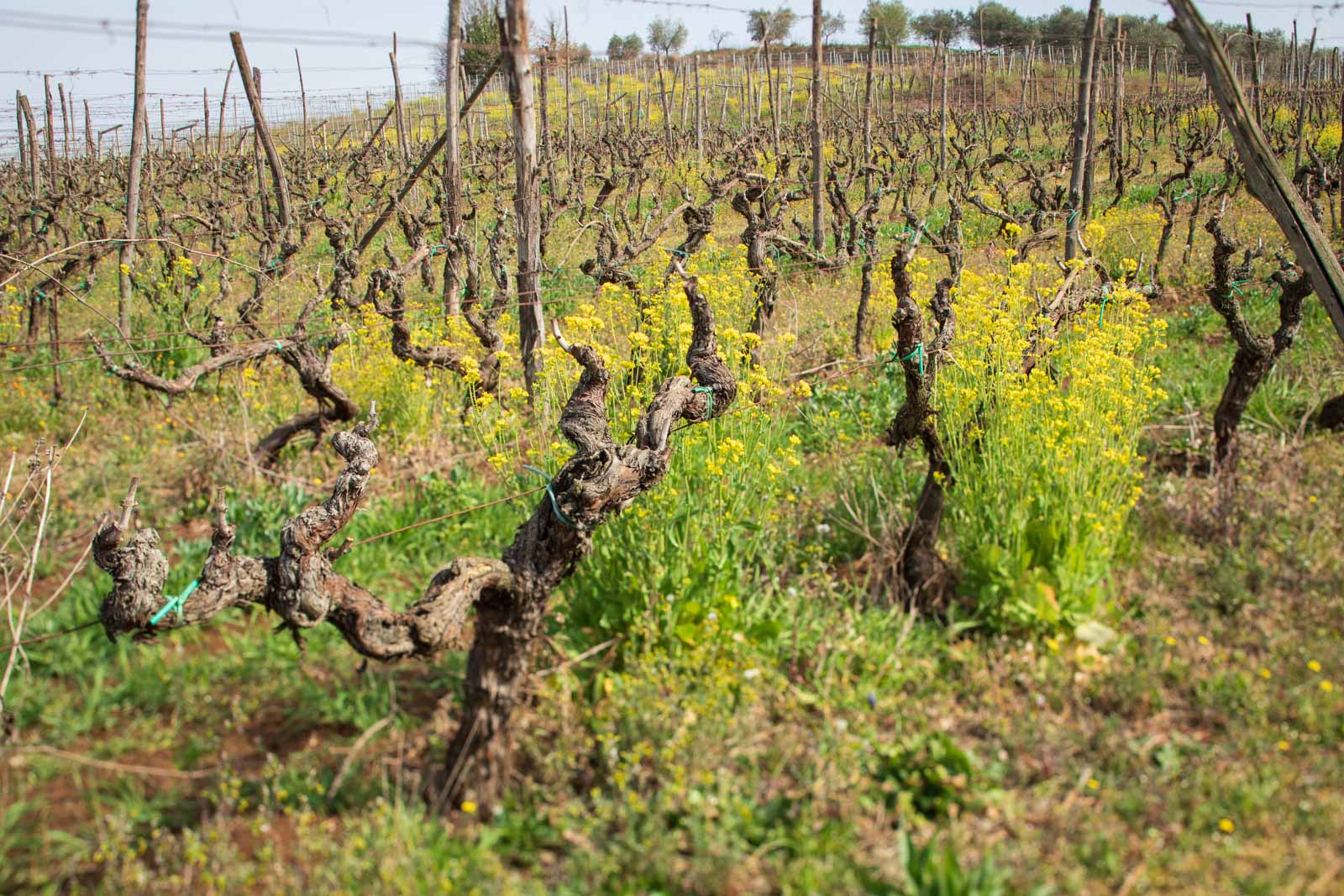 Yet, things are changing. How could they not? The last 20 years of Italian wine has seen a monumental evolution toward an embrace of local varieties, minimal-intervention, and the worldwide push for personality and distinction in place.
Sommelier and author Joe Campanale accurately calls this "vino vero," or real wine. In his new book, Vino: The Essential Guide to Italian Wine, he sums up the sea change in Lazio better than I could:
Though the return to vino vero takes place in the fields, the demand actually starts in urban centers, which have both the market and the mania for great wine. Certainly, that is what I found over the last twenty years in New York City. Rome is not immune, and as global tastes grew more aligned with the principles of vini veri, the horsepower of Romans' consumer engine began to influence Lazian winemakers.
Lazio's hills are every bit as capable as those in Tuscany and Campania of yielding something fresh, unique and delicious. But transitioning from quantity to quality, and from chemical agriculture to a more natural approach, takes years if not decades. In many ways, Lazio's shift is still a work in progress.
Last spring, I carved out two days in Rome, primarily to visit my dear friend and cousin, Nicola, but also to visit a producer who is doing his very best to honor the promise of vino vero in Lazio: Damiano Ciolli.
(Note: Quotes that follow are based on my cousin's translation.)

The Symbolism of a Road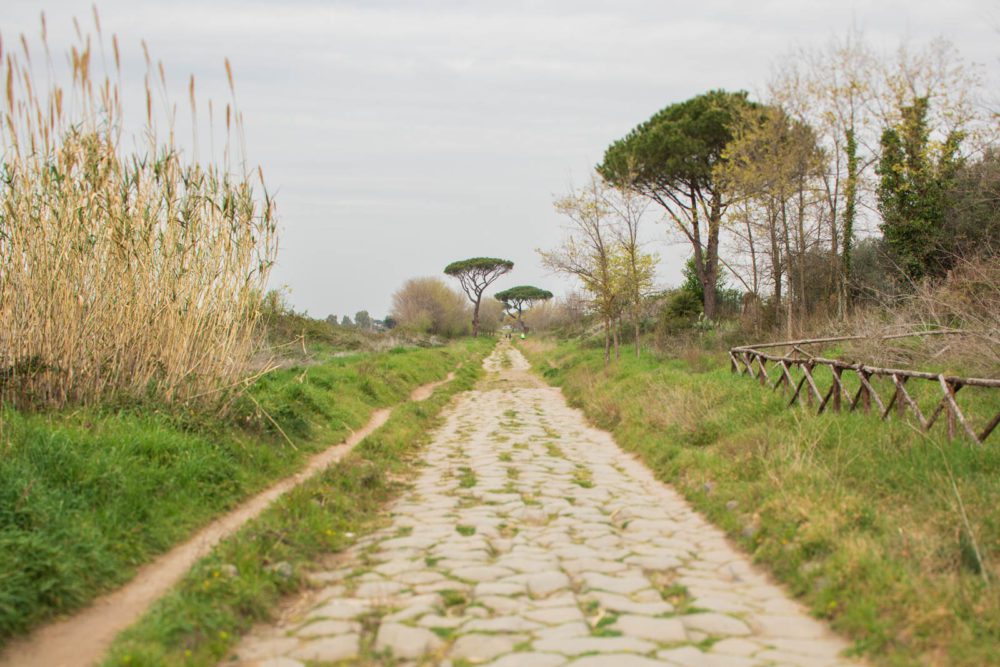 My doorway into the world of Lazio was through Nick, the second-oldest of 21 cousins on my mother's side. Adopting Nicola as his name (the Italian variation of Nicolas), he is tall, blonde, and as Germanic-looking as me. Three decades of living in and around Rome made him the perfect travel companion for my two days in the area.
A passionate cyclist, Nicola suggested that we spend our first day enjoying his favorite hometown amenity: the Via Appia Antica, the most famous of the ancient Roman roads, which runs directly behind his garden wall. Perched on his teenage son's mountain bike, I followed him into the city on what amounted to a dirt path that quickly gave way to the inlaid, ancient Roman cobbles which the Appia Antica is famous for.
Everything related to time seemed to blur on the sharp edges of the Appia Antica, and this would prove true a day later out in Lazio's countryside.
This novel highway was built largely to transport the Roman military south for conquest. However, its effect on commerce was enormous. Like all roads that led to Rome, it was a conduit for wine and viticultural knowledge as well.
Our progress was slow because of how photogenic the mise en scène was: archaeological ruins, stately umbrella pines, brittle grasses, the clawing colors of spring. When our stomach's started to grumble, we detoured toward some tennis courts (where Nicola and his wife had their first date), and found ourselves at a gas station. Mi consigliate un ristorante? Nicola asked a local, and we were directed to a tucked-away bar for a 3-Euro dish of carbonara that validated every Roman food fantasy I ever had.
As we returned to the Appia Antica, we got caught in a traffic jam of goats, who were being shepherded to their springtime grazing grounds. Were we in a magical city or some sort of pastoral hinterland? Were we in the present or the distant past? Everything related to time seemed to blur on the sharp edges of the Appia Antica, and this would prove true a day later out in Lazio's countryside.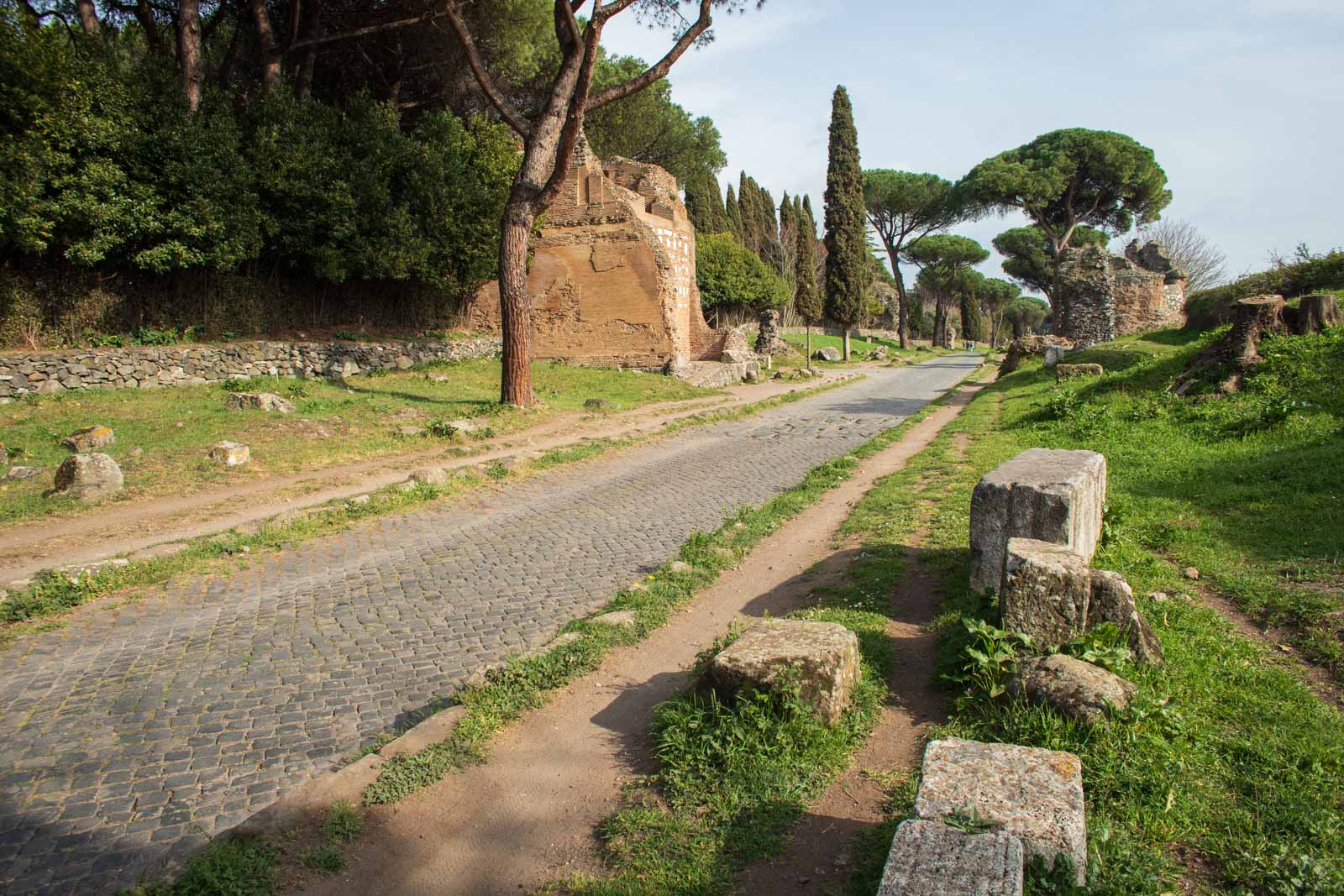 The Hunt for Cesanese d'Affile
Day two in Italy saw Nicola and I going the other way: out into the mountains east of the city, a place that is regularly ignored by tourists and wine lovers alike, but which my cousin knows well from his long-distance cycling.
My time was limited, as I was due in Florence by nightfall. While not a wine enthusiast, Nicola was curious enough to learn about Lazio's native grapes along with me. The most intriguing of which is Cesanese, a grape that likely thrived in ancient Rome's vineyards, based on its name appearing in texts by Pliny the Elder. Cesanese was also lauded by popes in the 12th and 13th centuries.
Whether those iterations of Cesanese resemble the ones of today is the subject of fervent debate, especially since we now know that there are two Cesanese grapes: Cesanese Comune and Cesanese d'Affile. Despite the common name, similar appearance of the fruit bunches, and somewhat similar taste profile, the two grapes are actually genetically distinct varieties. (A potential third variety, Cesanese di Castelfranco, has yet to be scientifically described). Of the two, only one is worth traveling half-way around the world to explore: Cesanese d'Affile, which yields more distinctive, aromatic wines.
Like the Appia Antica, there's been 2,000 years for Cesanese* to disappear from the face of the earth, and yet it has persisted. This is no small miracle given the threats of modern times to a grape like Cesanese: phylloxera, two World Wars, and finally, the craze for Bordeaux wannabes in the late 20th century, which Cesanese — with its light-and-spicy nature — could never live up to. Furthermore, its susceptibility to downy mildew made it a prime candidate for uprooting in favor of higher yielding, easier-to-tend-to grapes. The EU's vine-pulling schemes also placed a bullseye on Cesanese.
Yet Cesanese has held on.
From what I had read, Damiano Ciolli embodied most of what I was looking for in my education. He oversees a small, independent operation that prides itself on old vines, sustainable viticulture and minimal intervention in the cellar. The fact that his village — Olevano Romano — is spectacular in its own right, only fueled my desire to go.
Olevano Romano: "Olive Trees and Wine of the Romans"
Like many rural towns in Southern Italy, Olevano Romano has had its ups and its considerable downs. Yet a recent revival is underway, partly because of ex-patriot artists taking a shine to its beauty, but mostly because of a reborn olive oil and wine industry.
"You see the hills above Olevano are where the olive trees are. Here we make olive oil and wine. Olevi [olive trees] e vino [wine]. Olevano."
Damiano Ciolli
Winemaker
"You see the hills above Olevano are where the olive trees are," Ciolli told us in Italian as we drove out to see one of his vineyards. "Here we make olive oil and wine. Olevi [olive trees] e vino [wine]. Olevano."
As we rumbled down the road, Ciolli told us about his family's history with wine. After World War II, his grandfather and father pulled up many of the Cesanese vines in favor of Trebbiano, Malvasia and Bambino Bianco — grapes that could provide ample yield. They had an eager customer in Rome: Ciolli's great uncle had moved into the city and established an olive oil and wine shop near Termini station.
Times were very different in Lazio. The devastation of World War II necessitated a quantity-over-quality approach just to survive economically. And wine drinking was still considered a matter of hydration. "Back then, families used to drink 40 liters of wine per week at 10% alcohol," he told us. "The same amount of land then produced three times as much wine."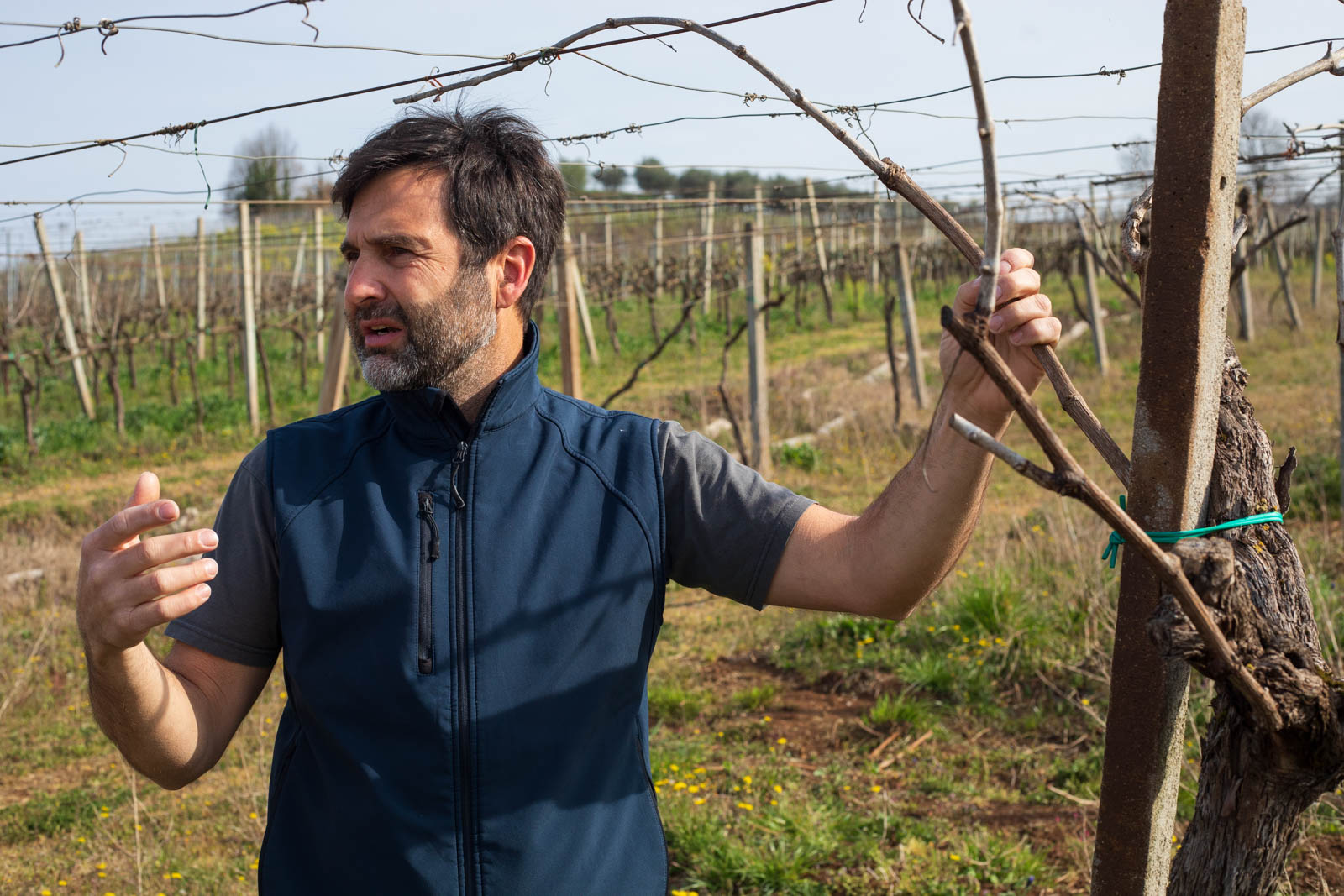 In his early adulthood, Ciolli had little interest in following the approach of his grandfather and father. But after a friend introduced him to the quality-driven approaches being taken in Tuscany, Umbria and Piedmont, he decided to return to the family business, which he eventually took over in 2001. He immediately turned toward organic practices and reducing yield through vine management.
Along with training the vines in a tendone fashion (high off the ground to maximize photosynthesis and volume), his father and grandfather — like many 20th century Lazio producers — gravitated to new technologies to make their jobs easier. This included the use of herbicides, pesticides and other chemical treatments.
But it would come at a cost, Ciolli told us. In 2012, his father passed away from a stomach tumor, which Ciolli suspects came from all of those years using industrial chemicals. He knew of others who met a similar fate.
"They didn't know that they needed to wear protection when applying chemicals," he told us. "They thought they were lucky compared to their parents who had to do things the traditional way. Their job was easier."
Understandably, Ciolli's day-to-day labor in the vineyard more closely resembles that from three generations ago. Much of the work is done by hand, and he looks to nature for answers. But he also has the advantage of a more connected global wine industry to learn from, as well as an advanced enologist in his partner and spouse, Letizia Rocchi.
Rocchi has a PhD in grapevine physiology, and her studies of soil fertility had brought the couple closer and closer to biodynamic principles. They are in the sixth year of their conversion, but it wasn't just the improvement in soil that spurred on their decision. "It is the quality of wine from biodynamic producers around the world, too," he told me.
A Treasure Underfoot: Volcanic Soils
Getting to Ciolli's vineyard was a time-blur in its own right. Between the stone buildings of the Lazio countryside, the ancient mountains in the distance, and the sudden riot of yellow blooms between the vine rows, my visual sense of place was on overload. It also felt like we were the only individuals for miles.
Underfoot in the vineyard, the earth resembled coffee grounds. Olevano Romano's unique soil is the product of bygone volcanos, and on this March day, according to Ciolli, it was in a state more typical of August: hard-packed and cracked. An atypically dry winter had left Lazio parched heading into the most crucial season for winegrowers.
But Ciolli wasn't concerned, at least not yet. Their approach fosters plant life of all kinds: grasses, flowers, seven different types of herbs, and fava beans, which were already gaining considerable height. With industrial winemaking, this ground cover would be seen as competition in need of suppression, but for a quality minded-producer like Ciolli, it is vital to success. Ground cover not only retains precious moisture, but it also improves the soil's health and functionality to the benefit of the vines.
Standing amidst his little trees of Cesanese d'Affile, Ciolli pointed out the horizon's features, and how mountains shelter Olevano Romano from the worst weather on three sides. The one opening is to the west, towards the Tyrrhenian Sea, which provides warm winds to balance the cooler influences of the Appenine Mountains. Such climatic tension naturally fosters aromatic development in the grapes, which Cesanese happily provides in spades.
Into the Cellar
Lazio's potential has been here all along. We just need to be paying better attention to it.
Ciolli produces two Olevano Romano Cesanese DOC wines with varying degrees of structure.
"Silene" Olevano Romano Cesanese Superiore (★★★★ 3/4) is a blend of three different vineyard plots, which spends no time in oak, one year in cement, and then three months in bottle before release. I had the pleasure of tasting three different tank samples of the 2021 vintage (one from each vineyard plot: Nuova, Raniero and Cerreto), and then later in the year, the final blend from a bottle now imported to Denver, where I live. I also purchased the 2020 directly from Ciolli, and tasted it in Siena with a friend later in the trip. The vintage variation was substantial, but a common soul could be found in each wine.
Each taste of "Silene" seemed to emphasize Cesanese d'Affile's freshness, which translates on the nose with a lovely tinge of sour plum — sometimes red currant — as well as peppercorn spice and heighten violet-like aromas. On the palate, the citric-like acidity waltzes across the palate with ease but it always finishes cleanly — a trait of every sip I've enjoyed over the past year.
Meanwhile, the 2021 and 2020 "Cirsium" Olevano Romano Cesanese Riserva (★★★★★) emphasizes the variety's depth and unique tannins (both wines were tasted before bottling). Sourced from the vineyard's old vines and named after a kind of thistle that grows there, the wine spends its first year aging in oak botti casks, which is followed by a year in cement and another year in bottle.
I was distinctly reminded of Friuli's Schioppettino, especially those from Ronchi di Cialla: both wines have a spice-forward presence that is complemented by the leanest, most taut red fruit you can imagine. But then the depth seems to come in a wave after that with Cirsium. There are shades of every season in this wine — spring's flowers, summer's fruit, autumn's earthiness, winter's briskness — and sneaky tannins that work overtime without you even knowing it. In fact, I had to come back for a second sip just to see that they were there, finely holding the whole wine together, and whispering an invitation to go get lunch.
With that, Nicola and I (and our stomaches) realized we'd taken up enough of Damiano Ciolli's time. Besides, I had a Florence-bound train to catch back in Rome, and another winery to visit — Cincinnato — in early afternoon.
That on-the-clock anxiety was a bit upsetting: this was my first visit to a Lazio winery, and it was clear how much of the story I was missing. But in those two Cesanese wines, as well as an exciting Trebbiano we tasted, it was clear from Ciolli's work that Lazio's potential has been here all along. We just need to be paying better attention to it.
*Because the identification of two distinct varieties is a modern development, I am referring to the historic grape merely as Cesanese.
---

This story was self-funded and made possible by Opening a Bottle subscribers. Join Opening a Bottle for virtual wine classes and access to all wine reviews for just $5/month.