6
min read
Of Bordeaux's many appellations, Pauillac has the biggest swagger, both in terms of the wine's character, and the prestige of its estates. It is here — in the vineyards surrounding the largest town of the Médoc — that you will find three of the original five first-growth estates from the 1855 classification: Latour, Lafite-Rothschild, and Mouton Rothschild.
For many of us, that is a fact that will have no bearing on our wine buying. These estates produce an enormous amount of wine, but despite abundant supply, they still fetch north of $500/bottle for the latest vintages.
So if we can't afford it, why are these wines relevant? I'm not sure, to be honest.
But I do know this: a recent bottle from a less prestigious estate in Pauillac had this Cabernet Sauvignon skeptic smacking his lips. The wines of Pauillac — minus the big three — are worth knowing.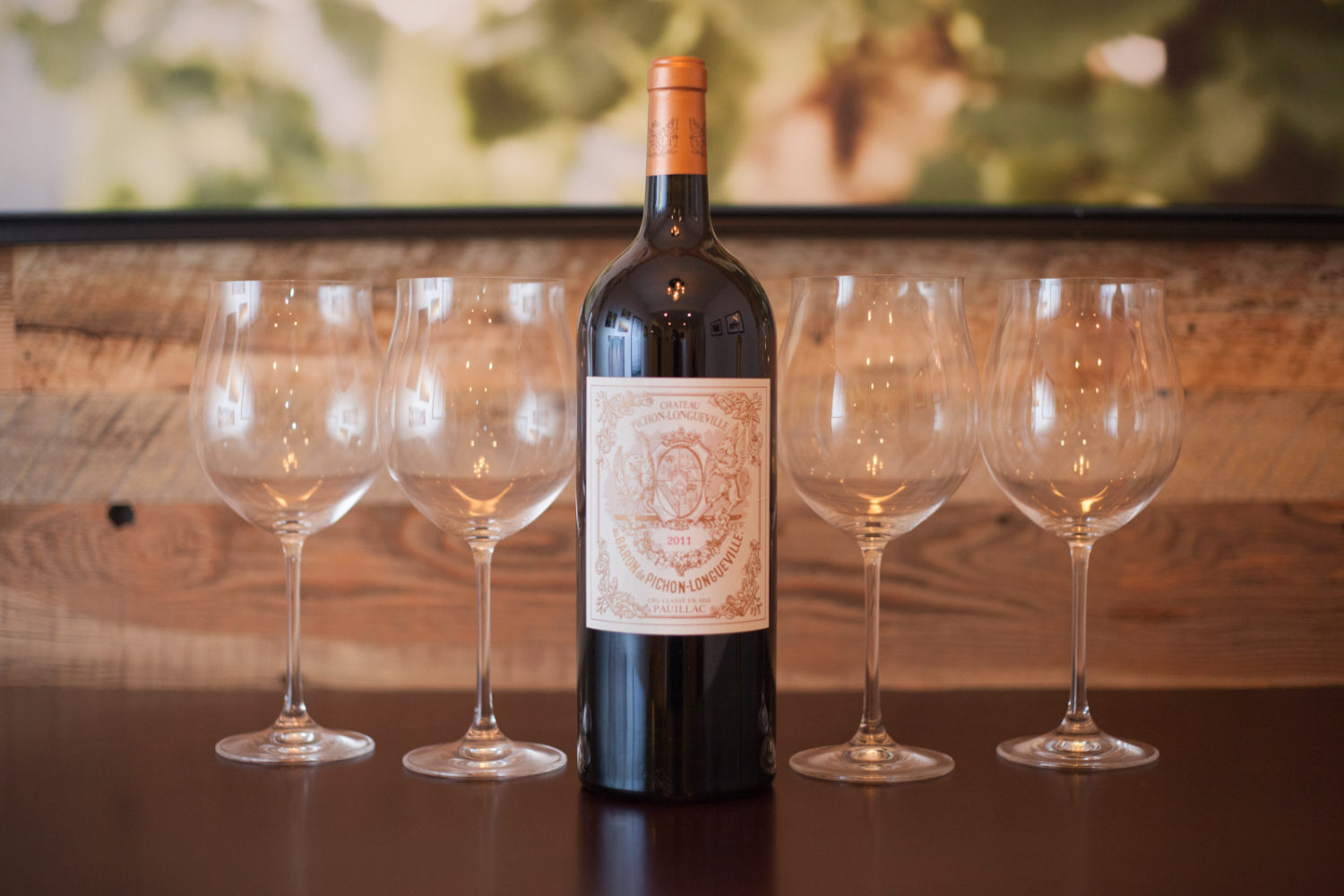 3 Reasons to Try Pauillac
You Love Classic Cabernet Sauvignon – You could argue that Cabernet Sauvignon as we know it — with a bit of Merlot blended in for roundness — was perfected in Pauillac. If you are a lover of Cabs, you owe it to yourself to find a bottle.
You Like Manly Wines – No matter how hard I try to stay away from assigning a gender to wines, this one certainly warrants it. Perfect pairings for Pauillac include cigars, watching sports and poker games.
Lamb is for Dinner – When it comes to food pairings, Pauillac's power makes it limited to mostly red meats. Of them, lamb seems to be the ideal partner.
About the Appellation and Its Wines
The lead actor in a bottle of Pauillac will always be Cabernet Sauvignon, with supporting parts played dutifully by Merlot, Cabernet Franc, Petit Verdot and/or Malbec. Depending on the estate's holdings, you may find more or less Merlot, or no Cabernet Franc or Petit Verdot to speak of. Malbec is increasingly rare, and when used, makes up only a small fraction of the blend.

Today, most Pauillac is comprised of at least 70% Cabernet Sauvignon. And why not? Because of the maritime climate, gravelly soil and centuries of winemaking pedigree, many of the world's most praised Cabernet Sauvignon comes from here. In many ways, the worldwide fame and popularity of Cabernet Sauvignon can be credited to the 8.8 square miles of Pauillac.
More so than other Bordeaux appellations — namely Margaux — the vineyard holdings of Pauillac's estates more closely resemble the New World than the Old World (or, I should say, it is the other way around: the New World took after Pauillac). Here, large contiguous vineyards belong to a single estate, rather than a patchwork of vines divvied up to winemakers in a seemingly chaotic fashion.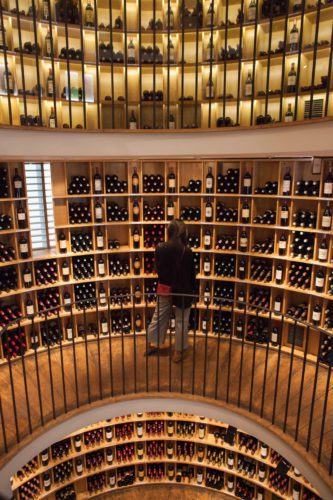 This is important to know because in Pauillac, the terroir of these contiguous vineyards can define the estate's style of wine. For the most part, those with vineyards closer to the river can work with grapes that yield a deeper, fuller wine. Those that are further away, could have a lighter touch.
As mentioned earlier, Pauillac has three of Bordeaux's five classified first-growth estates, but the pedigree from that 1855 classification permeates the entire area. In addition to Latour, Lafite-Rothschild and Mouton Rothschild, there are also two second-growth estates — Château Pichon-Longueville and Château Pichon-Longueville-Lalande (which is confusing) — as well as one fourth-growth estate and 12 fifth-growth estates.
But does any of this matter?
Apparently not. According to many Bordeaux insiders, some of Pauillac's most interesting wine comes from the fifth-growth estates. While that might sound like an equation for snooping out a solid value bottle, it's not. Fifth-growth estates can be pricey, too.
Which begs the question: after the first-growth estates, why do any of the classifications matter? Why have five tiers (plus several unclassified estates), if the price of the bottle has no correlation to the wine's status? Better yet, why maintain a system from 1855?
For modern times, Pauillac's stratification would seem to be merely a historic fact, rather than a helpful guide.
My First Taste
My first taste of Pauillac was from one of these fifth-growth estates: Château Grand-Puy-Lacoste.
Unlike so many of Bordeaux's estates, the château remains a family-owned and operated enterprise. While researching Pauillac, it was startling to read — over and over again — how many estates are owned by massive corporations, many of which have little or nothing to do with wine. The Borie family, however, have a long history of winemaking in Bordeaux, going back to the establishment of a négociant firm in 1886. In 1978, they took over Château Grand-Puy-Lacoste, where François-Xavier Borie and his wife Marie-Hélène Borie have lived ever since. Their daughter, Emeline is involved in communications for the estate, and her youngest brother, Pierre-Antoine, owns and manages a wine shop in Bordeaux.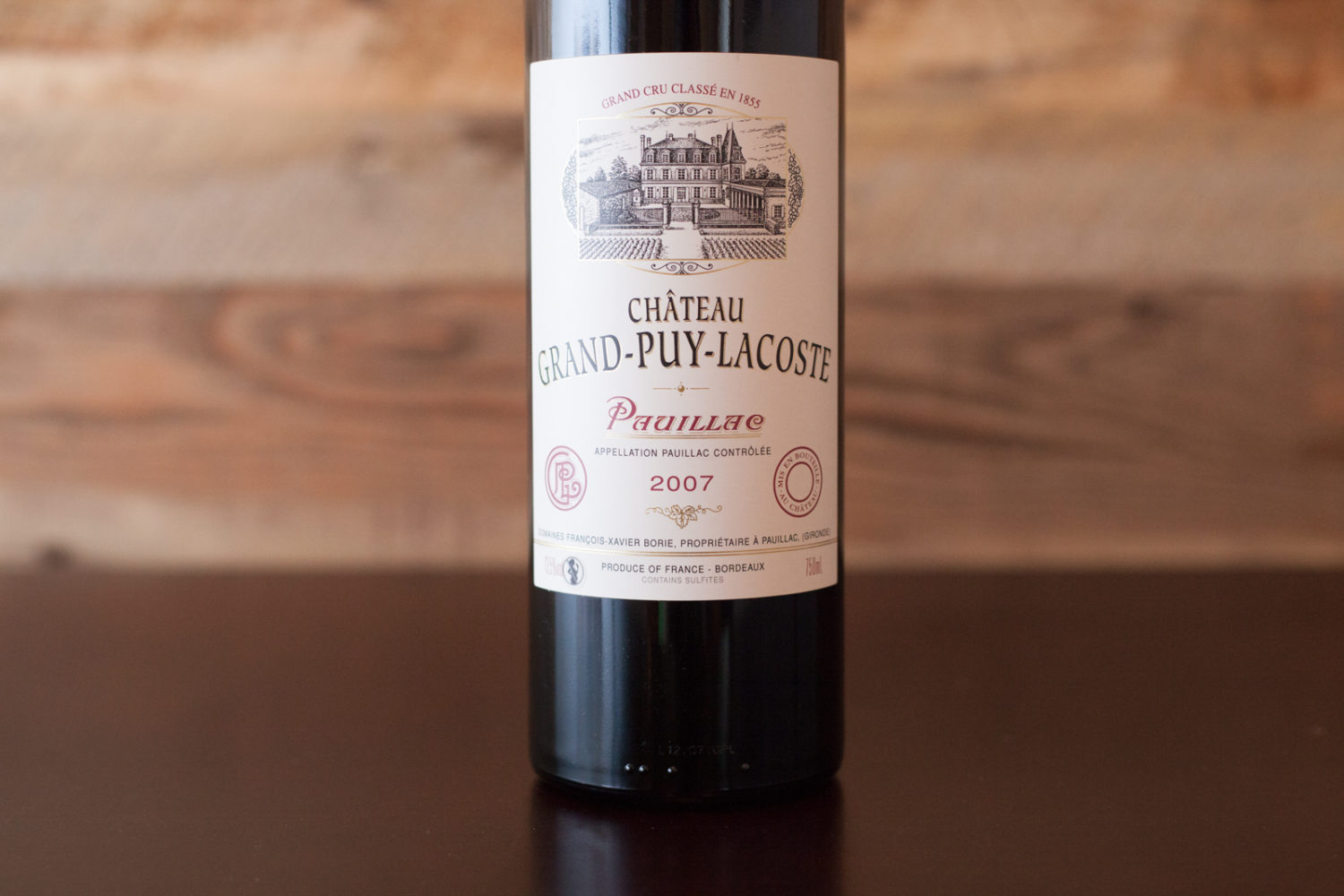 So opening a bottle of their Pauillac is an increasingly rare act: with each sip, you are taking part in a Bordeaux family's history.
Bought while in the city of Bordeaux at the famed all-Bordeaux wine shop L'Intendant, my original intent with this bottle of Pauillac was to drink it back at the hotel as an aperitif. Fortunately, it ended up on my dinner table at home instead. And what a relief: I thought it was one of the most compelling, food-friendly Cabernet Sauvignon blends I've ever sampled.
Much of this fact has to do with age. At its 10-year mark, the wine's power had not diminished but its tannins had clearly mellowed, allowing other elements of the wine — such as a distinctive mocha note — to shine. Having considered more than a dozen different Pauillac selections at L'Intendant, it would appear that aiming for an older vintage — that's still somehow within your budget — is the way to go when shopping for these wines. But that's a tall order: I bought this bottle for around 50 Euros.
But the rewards of drinking aged Pauillac are many. Consumed within six or seven years of vintage, they have a reputation for being coarse, gruff and aggressive with food. Given time, aggressiveness transforms into confidence.
As someone who decries how dull Cabernet Sauvignon and its respective blends can be, this wine demonstrated that the world's most popular red wine can still surprise. I just happened to find that surprise in the place that rocket-launched Cabernet Sauvignon to fame.
2007 Château Grand-Puy-Lacoste Pauillac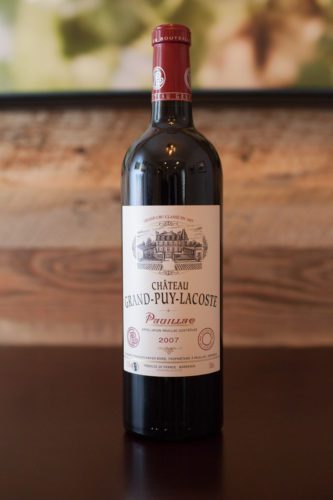 Pauillac AOC, France
Grapes: Cabernet Sauvignon (72%), Merlot (28%)
Alcohol: 13.5%
Ratings: ★★★★ 3/4 (out of five)
• Aromas, Flavor & Structure: ★★★★ 3/4
Food-friendliness: ★★★★ 1/2
• Value: ★★ 3/4
Tasting Notes: An intensely aromatic wine with a great deal of swagger. The nose recalls black currant, coffee and cedar, with faint whiffs bringing to mind roasted meat, which eventually fade. Because of its age, the tannins have begun to integrate nicely into the wine, but the acidity and fruit components certainly have a lot more life to them. Easily could age another 10 years. On the finish, has subtleties that recall prune and mocha. A very nice Cabernet Sauvignon blend.
Recommended for: As mentioned earlier, roasted or grilled rack of lamb is an obvious choice for this wine. However, I was surprised to see it handle a spicy cumin-rubbed pork loin so well.