3
min read
It's funny to sip a wine with an inherently modest personality, then read that its owner once refused inclusion in a local appellation because he believed — rather, he knew — that his vines were better than everybody else's.
Such is the paradox of this week's weekend wine, a beautiful but aromatically reserved Chenin Blanc from Château de Brézé.
In the 1950s, the owner of Château de Brézé scoffed at a proposal to include his estate within the fledgling Saumur-Champigny AOC. He wanted his wine to be classified as just Brézé AOC, which is pretty much Romanée-Conti-level specific. However, his claim was not entirely without merit. In the 1600s, the estate's wine was known all over France as merely Chenin de Brézé, a wine held in equal regard with Chateau d'Yquem.
But in 1957, Château de Brézé's proposal was rejected — possibly because the wines weren't what they used to be — and the estate was placed within the Saumur AOC. Indeed, the vines then fell into a chemical fog of mismanagement that they are only now recovering from thanks to the work of the father-and-son tandem of Yves and Arnaud Lambert, who have slowly but surely resurrected the vineyards and converted the estate to organic viticulture.
Now, of course, the appellation behind this wine should only matter to you if you are neck-deep in the study of the Loire's wines, which lately, I have not been. I've been figuratively traversing northern Italy in a quest to earn an Italian Wine Scholar degree, but because of that, I have frequently needed a break from Italian wine. When that happens, I've been reaching for France's whites, especially the Chenin Blanc from the Loire. If the world's white wines were planets orbiting a sun, Loire Chenin Blanc would be a comet on its own trajectory. These wines are unpredictable and beguiling in their uniqueness.
The Chenin Blanc from Clos du Midi is particularly good, even with its reserved aromas. Sourced from the base of the château's hill where it is coolest, the wine benefits from a mixture of sand, silt and clay in the topsoil, with a bedrock of limestone beneath. Again, unless you are studying the Loire's wines for an exam, that might not be essential information, but it likely accounts for Clos du Midi's sublime texture. Twice during our meal, I lost my train of thought because the wine was so silky and sensational on the palate.
The return of Château de Brézé appears to be one of the most exciting comeback stories in French wine today. They won't be selling this wine for $18 for much longer.
2016 Château de Brézé Clos du Midi Saumur Blanc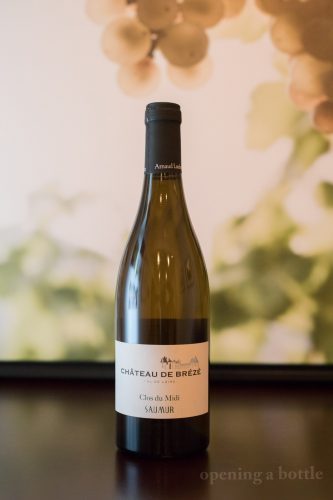 Saumur AOC, France
Grapes: Chenin Blanc (100%)
Alcohol: 13.5%
Ratings: ★★★★ 3/4 (out of five)
• Aromas, Taste & Structure: ★★★★ 1/2
Food-friendliness: ★★★★★
• Value: ★★★★★
Tasting notes: Thoroughly satisfying and decidedly unique, Château de Brézé's Saumur Blanc from the Clos du Midi section of the vineyard is a steal at $18. The wine was surprisingly restrained on the nose, revealing only trace whiffs reminiscent of white flowers and yellow fruit. Perhaps this was the only area where I was wanting more from it. But with each sip it was silky and sensuous, reminding me — if anything — of crisp pears, orange peel and thyme. Overall, the wine's texture is stunning.
Serving suggestion: Be good and pair it with a spinach salad with pears, goat cheese and nuts. Then, be bad and pair it with lobster mac and cheese. Because it holds back on to its aromas, I would not chill this wine too much. Let it shine by letting it warm up a bit.