3
min read
I had plenty of time to think about what kind of wine I was in the mood for the other day. That's because I was in Québec City, where independent, boutique wine shops don't exist because of the monopolistic provincial crown corporation called SAQ (Société des alcools du Québec), which is solely responsible for the sale and distribution of alcoholic beverages. The nearest SAQ to our rented apartment — where we had the perfect balcony for a slowly drunk bottle of wine — was 2 kilometers on the other side of the old town. But such is the pursuit of a wine obsessive like me: I walked.
Undoubtedly, French wine was on my mind. How could it not be? Québec City is the beating heart of French Canada, a fact that permeates everything from the Arrêt signs at intersections to the preponderance of rillettes on the mounted menus.
In the coming days, I would learn that Québec's wine itself can be fantastic, but on night one, my mind was ultimately focused on one French classic: Chablis.
Chablis has the remarkable ability to hold on to a quenching chill without sacrificing its soul. Québec City was not gripped by a heatwave, but several days of thunderstorms had made conditions humid. As I picked out Charlène & Laurent Pinson's 2020 Chablis from the shelf of the SAQ, I gave a passing thought to an Alsatian Pinot Gris, but nope: having Chablis in July is an annual rite of passage for me. I have to open a Chablis at least once in July.
And what a fabulous wine this is. For all of its stature, you don't need to step up into Chablis' Premier Cru — let alone Grand Cru — categories to have a magical experience. Suffused with that famous salinity that Chablis is well-known for, Pinson's 2020 vintage glides across the palate like a professional ballroom dancer. There is so much ease to the texture, so much potency to the aromas, and a lovely streak of rocky terrain through the middle — yes, the smell of wet rocks. I ultimately came to the conclusion that this wine was not going to last. It was simply too delicious.
As for Québec City, I will say this: go. At least once in your life. It is perhaps my favorite city in North America, with a soul and character unlike anything else on the continent. And its most underrated feature? The St. Lawrence River, which is beautiful to look at and whose ferries are entertaining to watch.
2020 Charlène & Laurent Pinson Chablis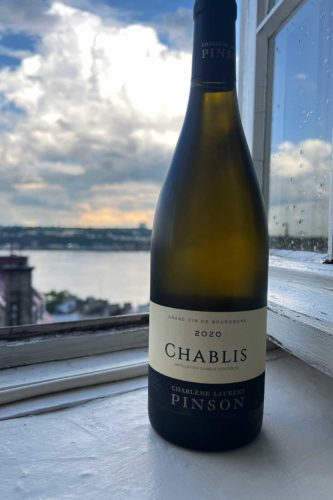 Chablis AOC, Burgundy  
Grapes: Chardonnay (100%)
Alcohol: 12.5%
Opinion: ★★★★ 3/4 (out of five)
Food-friendliness: Impeccable
Value: Very Good
A beginner might like … knowing that the starting point for Chablis sets a standard this high. If you are not familiar with Chablis' version of Chardonnay — unlike any other in the world — then check out our First-Taste Guide to Chablis. This wine is a pitch-perfect version: textural, saline, rich with pear and stone fruit, and a bright, mineral finish.
A wine obsessive might like … tasting wine from one of Chablis' most historic families, with a lineage in the area stretching back to 1640. The main takeaway for a wine obsessive, however, is the texture on this Chablis: an immediately familiar and comforting return to what this slice of Burgundy does best.
Note: This wine was purchased with funds generated from subscriptions like yours. Thank you.