6
min read
Chianti Classico is not the only Chianti. Just ask Federico Giuntini Masseti of the estate Fattoria Selvapiana.
"In the wine world, the Chianti that is good and expensive for the consumer is the Chianti Classico," he told me over lunch, as we sipped his exquisite and criminally underpriced single-vineyard Chianti Rufina called Vigneto Bucerchiale. "All the rest must be cheap, simple and you drink it when you are at university and you have no money."
There was a sly smile at the corner of his lips, but I'm sure the perception problem he was describing is not entirely a laughing matter.

Located just east and a little north of Florence, Fattoria Selvapiana is located in Chianti Rufina, a small appellation that is considered a subregion of the larger Chianti DOCG (Denominazione di Origine Controllata Garantita). Now, Italy's system for governing the origins and methods of the nation's finest wines is notorious for its wrinkles, and here is one of them. The Chianti Classico DOCG — which includes some of Tuscany's most prestigious and sought-after wines — is a separate designation. Separate terroir, separate history, separate tradition. That makes sense.
But the same can be said for the eight other "Chianti" appellations, including Chianti Rufina, Chianti Colli Senesi or Chianti Montespertoli — yet they are all wedged together under a Chianti catch-all which catches very little of the area's nuances.
"In a perfect world," Federico added. "Rufina wouldn't be Chianti Rufina, it would just be Rufina." Perhaps then, he alluded, the independent identity of the region's wines could be better understood.
Where this becomes an issue for winemakers like Fattoria Selvapiana is in price. Without Chianti Classico's iconic black rooster on the label, his Chianti is seen as "cheap and simple" merely because it is one of the "other Chiantis."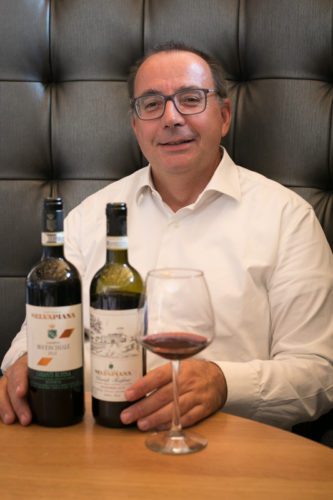 But his wine is anything but simple. Over lunch and a leisurely conversation at Denver's Il Posto, Federico poured me a taste of five of his wines, beginning with the two that represent Rufina's terroir the most: the 2015 Selvapiana Chianti Rufina and the single-vineyard 2012 Selvapiana Vigneto Bucerchiale. In my mind, both wines could go toe-to-toe with any Chianti Classico, yet they cost a fraction of the price ($15 and $30 respectively).
The Vigneto Bucerchiale, in particular, is a standout wine. If someone asked me to assemble a "best of Tuscany" mixed case, it would certainly be represented. Each sip seems to take over the senses with detailed fruit notes recalling cherry and sour strawberry. But it is the caressing texture of this wine that really stands out to me. It has a personality that is more feminine than masculine — not something you see often in Sangiovese wine.
"Where are those coarse, Sangiovese tannins?" I asked him after my first sip.
He chuckled. "The old joke was, when you had strong tannins, you could feel it here," he said, pointing to his cheeks. "You would say 'oh, the wine is young, it will be good in five years.' But it's not true. When the tannins are not the right tannins, they will never settle. They will never become fine. The tannins in the grapes of Bucerchiale are just the right tannins from the start."
I was also struck by how accessible all of Selvapiana's wines are in their youth.
"Yes. Our wines are good when they are young and they are good when they are old," Federico noted.
It was at this point that I tried to think of another $15 bottle of wine that I would cellar for 10, perhaps 15 years. It seems like a silly idea, to put so much waiting into something you spent so little on. But wouldn't it be fun to pull the cork on it in the year 2030, fawn over it, and then tell everyone it only cost $15?
Perhaps those university students with no money are drinking better than many of us after all.
---
Below are my impressions and notes from the five wines Federico sampled for me. Because of their exquisite quality and affordability, I've also added Fattoria Selvapiana to my list of Essential Winemakers in Italy.
Tasting Impressions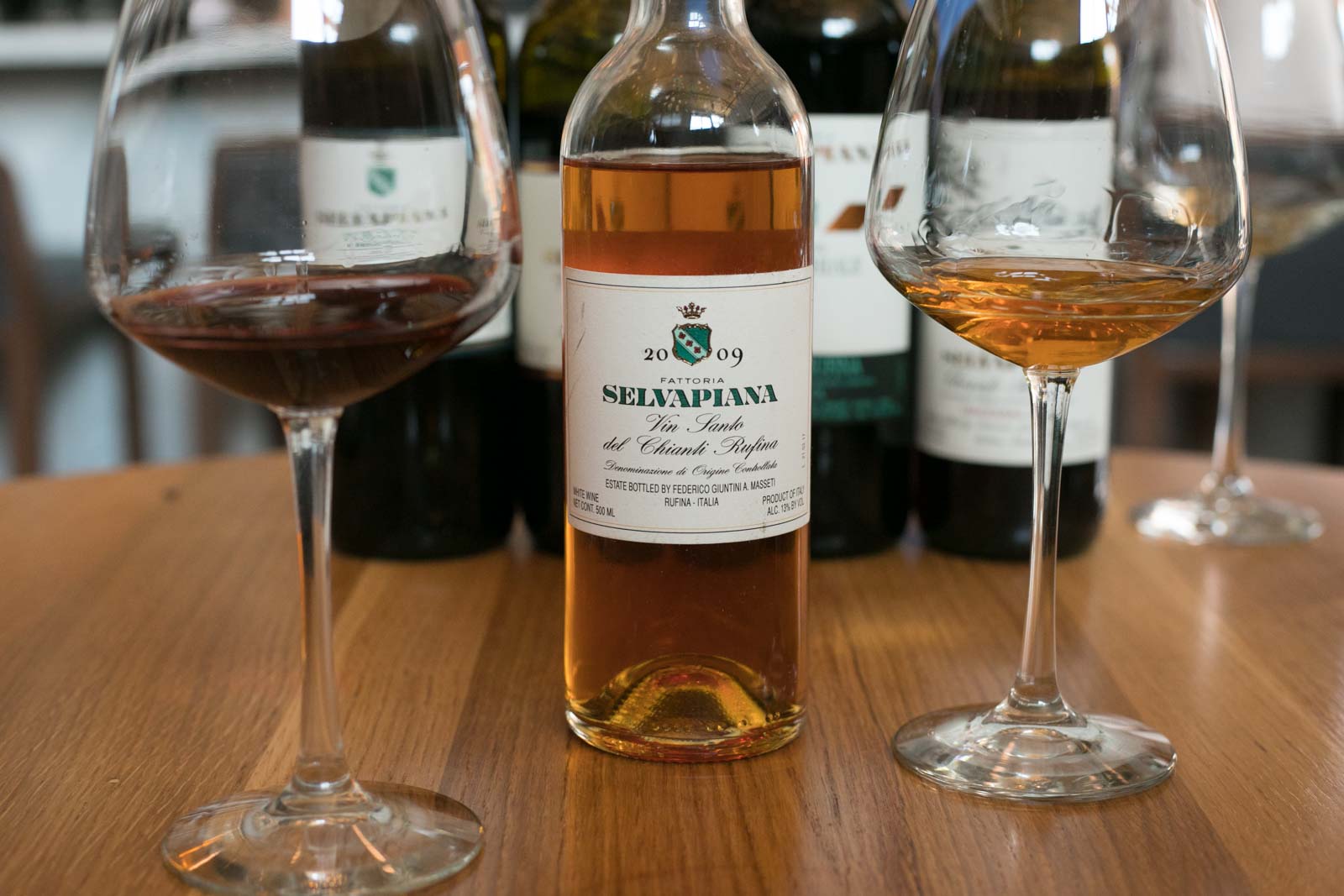 2015 Selvapiana Chianti Rufina
Impressions: The Chianti Rufina (★★★★ 3/4) is a blend of the entire estate's vineyards, minus the single plot with the best exposure, which is known as Bucerchiale (see below). The Chianti Rufina experiences a shorter maceration and is aged in large oak casks, while the Bucerchiale macerates for a longer period and is aged in smaller oak barrels.
For a young Sangiovese, the Chianti Rufina is remarkably elegant, with sharp and meaty aromas that transition into a leaner profile on the palate. You could enjoy it with pizza delivery on a random Wednesday night, or with a roast at Christmas dinner. Either way it impresses.
2012 Selvapiana Vigneto Bucerchiale
Impressions: The Vigneto Bucerchiale (★★★★★) is a Reserva wine made only in the best years — usually seven out of every 10 vintages. The benefits of its longer maceration in the winery come through with its surprisingly supple texture. A simply gorgeous wine conveying an awesome range of savory and fruity characteristics — some sweet, some sour, all of them in perfect agreement.
2012 Selvapiana "Fornace"
Impressions: The Fornace (★★★★ 1/4) is a Bordeaux blend of Merlot, Cabernet Sauvignon and Cabernet Franc, which on the surface, may not be very interesting. I've always agreed with the notion that Italy's best wines demonstrate a sense of place, and while Super Tuscan's can be delicious, they rarely convey anything unique to Tuscany.
But the Fornace is at the very least, an unusually wild wine. Its core of sweet dark fruit, chocolate and pepper were nicely complemented by aromas that reminded me of cut hay and earth — two notes I have never noticed in a Bordeaux blend before. "Gorgeous and easy," was how I described it in my notes, a recurring theme for Selvapiana's wines: you can drink them casually on a weeknight, or when you need a big-deal wine to handle a large feast.
2012 Selvapiana Pomino
Impressions: I've had the Pomino (★★★★ 1/2) before at home, and it was just as powerful and focused as I remembered it. Hailing from the tiny Pomino DOC appellation within Chianti Rufina, the wine is mostly made up of Sangiovese that is aged in large Slovenian oak casks, but it also includes sizeable proportions of Cabernet Sauvignon and Merlot, both of which are aged in small oak barrels. The aromas on this wine brought to mind blueberries with a slight bitterness to them, as well as violets, leather and vanilla bean. A dry, tannic finish. To my taste, the driest and most tannic of Selvapiana's wines.
2009 Selvapiana Vin Santo del Chianti Rufina
Impressions: Made from 100% Trebbiano grapes, Selvapiana's Vin Santo del Chianti Rufina (★★★★ 3/4) is a brilliant sip of sunshine, fresh air and dried fruit. I found that it hit me on an emotional level more than a critical one. Delicately sweet like a handful of soft raisins, it also conveyed a note that reminded me of dried apricots, hazelnuts and hay. For a dessert wine, it retains a remarkable acidity and freshness. Not particularly oxidative.
"In Chianti, Vin Santo is actually the welcoming drink," Federico noted. "You give a small glass of it to your guest when they arrive."
I can see why.