2
min read
In order to describe the 2017 Domaine Joblot "L'Empreinte" Givry 1er Cru, please indulge me for a minute while I embrace a rather ridiculous wine adjective of my own procurement: slippery.
slip•er•y (slip-uh-ree) adjective – difficult to hold firmly or stand on because it is smooth, wet.
Yes, this wine writer is doing something that wine writer's are notorious for: taking liberty with the sensible boundaries of modern English — in this case, praising a liquid for its goddamn slipperiness. "How helpful," you might harumph before closing this browser window and moving on.
But bear with me for a second. Because slippery also means
(of a person) evasive and unpredictable.
And it is these two definitions together that seem well-suited in describing Joblot's "L'Empreinte," for it is a Pinot Noir that manages to be both smooth yet evasive.
The wine's polished tannins glide easily over the palate, rolling around like a slippery stone in the current. Meanwhile, the shape-shifting aromas exhausted my ability to take notes. (e.g. Is that note reminiscent of black raspberry now, because it seemed like black currant right after the cork pull?)
Great wines demand that you unpack them as you go — to jot down each thing triggered in the senses. "L'Empreinte" certainly did that for me.
2017 Domaine Joblot "L'Empreinte" Givry 1er Cru
Joblot's "L'Empreinte" (the footprint in French) is a blend of top-quality parcels around the Côte Chalonnaise village of Givry, including the 1er cru of Bois Chevaux, Cellier Aux Moines, Marole and Servoisine. The estate is often credited as one of the captains of Givry's resurgence. Winemaker Juliette Joblot had big shoes to fill when she took over the domaine from her father and guided her first vintage, in 2012. I am new to this estate, but what I tasted with "L'Empreinte" will have me searching out more Joblot, such as their Chardonnay.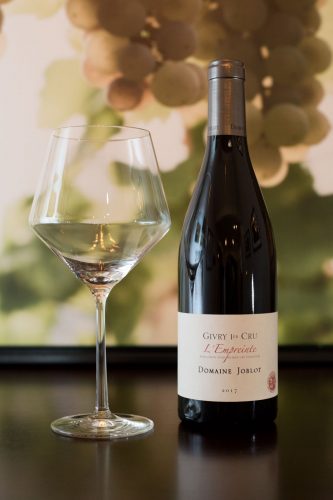 Givry AOC (Bourgogne)
Grapes: Pinot Noir (100%)
Alcohol: 13%
Opinion: ★★★★ 3/4 (out of five)
Food-friendliness: Versatile
Value: Very good
A beginner might like … The pristine deliciousness of this wine. If you really don't want to analyze it, it will demand nothing from you and give plenty in return. If you do want to analyze it, it might play hide-and-seek.
A wine obsessive might like … The juicy profile balanced by polished tannins and a nose with great depth: red berries, black currants, sassafras, leather and a hint of stoniness from Givry's limestone soil.
---
Note: This wine was provided as a sample by Joblot's importer, Polaner Selections. Learn more about our editorial policy.