3
min read
One of my favorite wine debates is a hyper-local smackdown on which Piedmont grape produces the greatest of white wines. Some might say Timorasso for its substance and complexity, others might lean toward Nascetta for its brilliance and distinctiveness. There are even holdouts still touting Arneis (but even some of them have begun to lean toward Timorasso). And then there is Erbaluce. Rare and isolated on a glacial moraine northeast of Turin, its minuscule but potent plantings offer up a resounding counterpoint to the debate.
Part of Erbaluce's charm lies within its name, as erbe may be a reference to the cut-grass aromas present in the grape's wines. Luce, of course, refers to sunlight, which naturally has the poet in me musing on the radiance within a glass of Erbaluce.
That's nice and all, but Erbaluce's place at the debate table stems from the grape's versatility in winemaking. They not only offer lovely still wines capable of aging, but also racy sparkling and decadent passito-style sweet wines.
The winemaker best known for showing the range of Erbaluce is Luigi Ferrando, whose "lights out" Nebbiolo wines from Carema are tops on my wishlist from Santa this year.
Ferrando's work with Erbaluce includes two single-vineyard still wines, a spumante and a passito. I recently zeroed in on a bottle of "Torrazza," a single-parcel cru white wine from the village of Borgomasino. The grape's famously high natural acidity presented itself immediately — one of those moments where your mind immediately shifts to the most acidic fruit you can think of, lemons. But pretty quickly, I noticed other details: a botanical streak similar to the smell of juniper needles, an isolated aroma like lilies, and a flaky-pastry crust touch as well. The nose could not have been more inviting, and once my palate adjusted to the acidity, I started to notice how multifaceted it was as well: quick-footed and eager, yes, but also caressing and indulgent, too. The paradoxes of this wine were captivating.
I don't know where I come out on the great debate about Piedmont's top white wine grape. I do love Timorasso whole-heartedly, and would need to taste more aged versions of both Timorasso and Erbaluce to see what they say. (Arneis and Nascetta are a tier below, however). In the end, it doesn't matter. What I find compelling is that we have them both, and that Piedmont — quite possibly the greatest wine region on Earth — can continue to surprise and delight after all this time engaging with it.
2019 Ferrando "Torrazza" Erbaluce di Caluso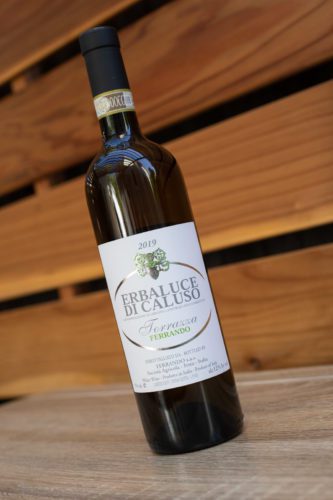 Erbaluce di Caluso DOCG (Piedmont)  
Grapes: Erbaluce (100%)
Alcohol: 12%
Opinion: ★★★★ 3/4 (out of five)
Food-friendliness: Versatile
Value: As expected
Learn more about our wine icons.
A beginner might like … the textural properties of this glossy white wine. With a few months "on the lees" (whereby the fermented wine rests on the yeast cells spent from fermentation), the Torrazza has a wonderful feel on the palate — like something you just want to hold on to.
A wine obsessive might like … comparing Torrazza to the Timorasso wines of Walter Massa or Ezio Poggio, the Nascetta from Elvio Cogno or even the Arneis from Vietti or Bruno Giacosa. These are the greatest white wines of Piedmont, a place better known for its reds. As to which lays claim to best in class, that's up to you, but I do feel Torrazza belongs in the conversation.
Note: This wine was purchased with funds from our editorial budget, thanks to subscribers like you. Learn more about gift subscriptions so we can keep a good thing going. Thank you!