3
min read
For many Thanksgivings now, I have declined the post-dinner pie, reaching instead for one last glass of wine — usually whatever white is open. It is not about calories, or moderating indulgence. (If it was, I'd reach for a glass of water). But instead, it has become a ritual of what the Italian's call vino da meditazione. A time for quiet contemplation with a favorite flavor.
Oh to be a bumblebee with this wine. I'd probably crawl into the bottle and drown blissfully.
This year, I already have a wine set aside for such a moment. Earlier today, I was reviewing samples when I came to Caruso & Minini's "Tagós," a late-harvest Grillo wine from the Marsala area of Sicily. One whiff and I knew we needed to keep this wine around for Thursday night.
Hedonistic layers of drunken fruits recall apricots, which are nicely countered by sensations of zesty orange peel, delicate baking spice and crunchy honeycomb. Oh to be a bumblebee with this wine. I'd probably crawl into the bottle and drown blissfully.
From gelato to cassata to cannoli, nobody in Italy does sweetness better than the Sicilians, and that consistently carries over to sweet wines. Perhaps its the climate, and the desire to indulge without feeling leaden in the heat, but they have long mastered the art of balance when its comes to dessert flavor profiles.
We have covered Grillo a bunch of times on Opening a Bottle. It is a grape of generous aroma and extreme versatility. A few years ago, I wrote a profile on Sicilian sweet wines — a geeky compendium on a class of vino that is unfortunately overlooked by, well, seemingly everyone. In it, I mentioned Gorghi Tondi's Grillodoro, which is made from a small sector of their vineyard which bathes in seaspray and, as a result, develops botrytis. It's an exotic wine, but while this sweet Grillo is merely a late-harvest affair, I like it even more. In fact, it more closely resembles the great "Ben Ryé" from Donnafugata, in that its quick-footed acidity keeps the whole experience lifted and tidy on the finish.
If you can't find this wine in time for Thanksgiving, flag it for the holidays ahead. It'll warm your soul on any winter night.
2018 Caruso & Minini "Tagós" Sicilia Grillo Vendemmia Tardiva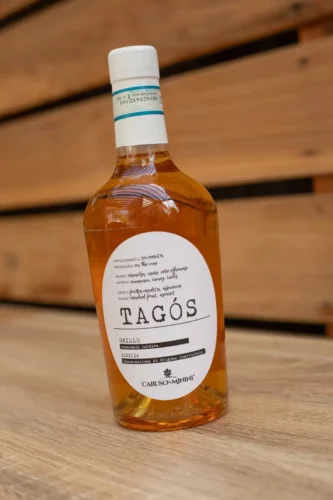 Sicilia DOC (Sicily )
Grapes: Grillo (100%)
Alcohol: 13%
Opinion: ★★★★★ (out of five)
Food friendliness: Soloist
Value: Very Good
A beginner might like … pairing this wine with Sicilian almonds or pistachios and a few hunks of aged cheese.
A wine obsessive might like … he glorious fruit and honey flavors and how they never get stuck in cloying territory. This wine is a hedonistic delight because of its ample acidity, which cuts through the residual sugar, lends sapidity, and leaves the palate ringing like a bell.
Note: This wine was provided as a sample by Colangelo & Partners on behalf of the Sicilia DOC Consorzio. Learn more about our editorial policy.