2
min read
But I must warn you, it goes by a ridiculously long name: 2014 Clos Du Moulin Aux Moines Auxey-Duressess "Moulin aux Moines" Blanc.
It hardly rolls off the tongue (unless you are French), and the repetition might seem particularly puzzling. Clos du Moulin Aux Moines is the name of the winery (or domaine, in this case). Auxey-Duresses is the village where this wine comes from (located in the Côte de Beaune, right next to Meursault). "Moulin aux Moines" (again?) is the estate vineyard where the grapes come from, and oh yeah, Blanc means its white. This is not to be confused with the 2014 Clos Du Moulin Aux Moines Auxey-Duressess "Moulin aux Moines" Rouge. That's a Pinot Noir.
Goddamn. Burgundy is exhausting.
This was another wine that Annette Scratch-to-Table introduced to me (the one we had before the Cab Franc I wrote about last week). It was about as crystalline as an oaky Chardonnay can be, with none of that stick-to-the-sides-of-your-mouth, Velcro-like action we are sadly accustom to in this country. It comes from a monopole vineyard that borders the exalted appellation of Meursault, and as a result, it shares some of the same soil traits.
Yet it costs one-fourth the price of Meursault. Get some.
2014 Clos du Moulin Aux Moines Auxey-Duresses "Moulin aux Moines" Blanc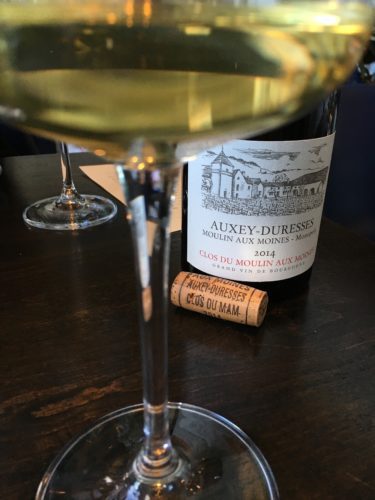 Auxey-Duresses AOC, France
Grape: Chardonnay (100%)
Alcohol: 12.5%
Ratings:  ★★★★ 3/4 (out of five)
• Aromas & Structure: ★★★★★
• Food-friendliness: ★★★★ 1/2
• Value: ★★★ 3/4
Tasting notes: Presenting gorgeous aromas that will bring to mind apples, honeysuckle and lemon zest, this elegant and even-handed Chardonnay is a great introduction to the wonderful (and often out-of-reach) world of white Burgundy. On the palate, there was none of the coarseness so many often associate with Chardonnay, and I even detected a bit of greenness, as though the fruit was just barely ripe. Low alcohol and plenty of acidity to make it versatile with a variety of dishes. Supple and very clean finish.
Recommended for: Spring vegetables, gnocchi, and roasted chicken come to mind. But best of all is the indulgent, this-should-not-work-but-it-totally-does pairing of white Burgundy and greasy French fries.