3
min read
North of Verona, things turn Teutonic fairly quickly. Even before you reach the autonomous region of Alto Adige (or Südtirol, as they prefer), viticulture becomes more scientific, more international and more precise in Trentino.
For hundreds of years, this enclave has looked north more than south for its viticultural inspiration, as well as where to ship its wines. During the 18th and early 19th centuries, Trentino was under the rule of the Austrian Empire, and to this day, that period of history bares weight in the vineyards and cellars. Wines have been highly focused, sometimes at the expense of expressing the area's unique terroir, according to some. Reds have typically been light, with the exception of Teroldego, and whites — which have taken over since the 1980s — are often of the international sort. Dominating these vineyards are Chardonnay (largely for sparkling purposes) and Pinot Grigio (largely for mass- market sipping).
I recently got an opportunity to sample two white wines from the Istituto Agrario di San Michele all'Adige, an agricultural school in Trentino. The institute dates back to 1874 when the Tyrolean Parliament realized there was a need for in-depth agricultural research, and the former Augustinian monastery of San Michele all'Adige was the perfect place to do it. Viticulture is one of many areas that the institute studies, but it is certainly one of its most important fields given the weight it pulls for the local economy. Under the guidance of winemaker Enrico Paternoster, the program creates a series of wines from traditional and indigenous varieties.
I sampled the school's Nosiola and Müller Thurgau, and it was interesting to see just how similar these two wines are, despite their lack of genetic relation. Nosiola is an ancient variety that dates back to the 15th century. When grown for dessert wine purposes, it can make one of Italy's most highly sought-after Vin Santo, but dry versions are catching people's attention, too.
However, I enjoyed the Müller Thurgau a little more. Despite the grape's reputation for uninspired wines, Trentino seems to give Müller Thurgau the stage it needs to sing on key. Made from vines planted in 1981,  the wine stood out for its glycerin, inviting texture, which glided across the palate with ease. Perhaps I had springtime on the brain, but its notes of lime pith, white flowers, green grass, herbs and nuts felt seasonally appropriate.
2016 Istituto Agrario di San Michele all'Adige Müller Thurgau Trentino DOC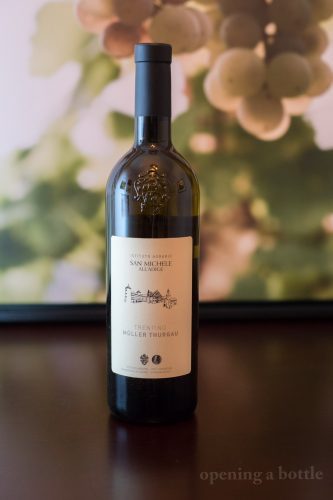 Trentino DOC, Italy
Grapes: Müller Thurgau (100%)
Alcohol: 12%
Ratings:  ★★★★ 1/2 (out of five)
• Aromas, Flavors & Structure: ★★★★ 1/4
• Food-friendliness: ★★★★ 3/4
• Value: ★★★★ 1/4
Tasting notes: While the color of this wine was unremarkable, it's aromas of lime pith, white flowers, green grass, herbs and nuts were inviting and put me in a relaxed mood. Although, like many white wines, these aromas were very temperature sensitive: barely there when the wine was too cold; fat and sweet when it was too warm. Regardless, where this wine really shines is on the palate. Expect a glycerin texture, smooth finish and a nice surprise of lifted aromatics on the back palate with each sip.
Serving suggestion: Ceviche, barbecue shrimp or pesto pasta all seem like a perfect fit for this delicate white wine. We served it with a Trentino-inspired recipe of green apple and speck risotto, which was not only a killer dish, but an incredible pairing.
Note: This wine was provided as a sample by VIAS Wine. Learn more about our editorial policy.