5
min read
Have you ever fallen in love with a singer's voice only because it reminded you of another singer? This has happened to me a few times with music and other art forms — this judging of a new thing through the entrenched bias of the familiar — but it is a far more frequent occurrence when tasting a wine that's outside my comfort zone. The other night, this came to the fore with a glass of Agiorgitiko, which sure as hell reminded me (at least aromatically) of my beloved Nebbiolo.
I wish I could have entered the world of Greek wines without an Italian frame of reference first. Everyone has an origin story with their sense of taste, yet we are suppose to suppress it so we can be virtuous and objective in our assessments. But that is nearly an impossible task. The brain acquires knowledge through connections, and try as hard as we might to be agnostic to comparison, we cannot.
Italy is where the wine bug bit me first. I know its wines as well as any. Say what you will about the biases that preference has created, but there really is a kinship between the wines of Italy and Greece, at least on a sensory level. The reds often have a welcomed amaro bite, and the whites race across the palate like a sprinter, thanks to their high acidity.
However, what's funny about Agiorgitiko — the most prominent red grape in Greece — is that it does not lend itself easily to comparisons because it is such a chameleon.
Agiorgitiko can be a dry red wine, a rosé or a sweet wine. Here in the United States, we are most likely to find the former on our shelves and wine lists. Yet even within the red wine spectrum, terroir plus style equals a huge swing in profile.
Shortly after I made my ultimately dubious Nebbiolo comparison with Nasiakos' 2019 Agriogitiko (its lower acidity and softer tannins ultimately killed that comparison), I opened my database of wine-tasting notes and searched for other Agiorgitiko wines that had crossed my palate over the years.
Huh, that's interesting, I thought. I had either compared it to Grenache or Bordeaux blends. Say what?
But There is Something to That
The Grenache comparison makes sense only in that both grapes offer a fruit-forward handshake on the palate, and that fruit can sometimes taste similar to strawberries. Agiorgitiko lacks Grenache's big alcohol, though.
And like Bordeaux blends, Agiorgitiko can easily fall victim to anonymity when oak usage is careless.
I am not alone in fumbling for reference. Sleuth out other profiles on Agiorgitiko and you see the comparisons ranging from Beaujolais to Port. True, the grape can be handled with carbonic maceration (hello Bojo) and at times winemakers will over-extract it (leading to a richness that suggests Port). But that middle ground? What one might call the "true Agiorgitiko?" That takes a lot of tasting and triangulating to discover. But I am intrigued, and you should be too. A common trait among the wines listed in my notes was an enthusiasm for a second glass.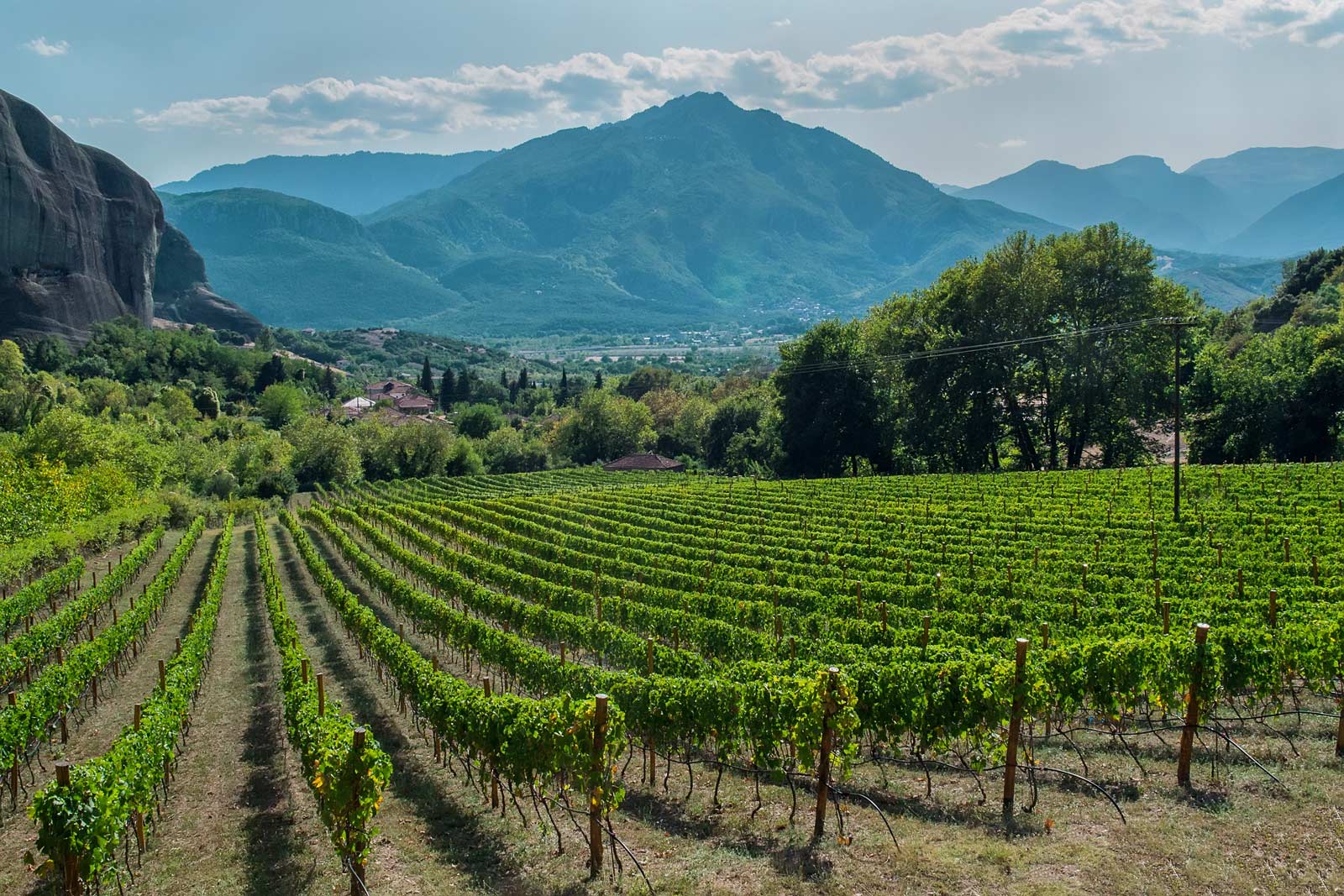 Agiorgitiko's Future
Where you will find Agiorgitiko thriving is on the Peloponnese Peninsula. There, at higher elevations where cool mountain air can retain the grape's light acidity, it performs with the most aplomb. It is the only grape allowed in the dry red wines of the Nemea PDO appellation, which is the largest red wine appellation in Greece.
As the quality of Agiorgitiko wines has increased, so has interest in the grape beyond the Peloponnese. With the acceleration of climate change patterns — and a heightened spirit of experimentation because of it — it is fair to wonder whether Agiorgitiko might have a future starring in other high-altitude vineyards that are perhaps struggling more with rising temperatures (think Alto Adige or some of the mountainous terrain in and around Napa). As Greek grapes command more and more respect internationally, and as consumers show a willingness for new adventures, it is easy to see this grape on an upward trajectory.
And that's where things will get even more exciting. But until then, find the highly affordable, highly drinkable version from Nasiakos below. It carries the aromatic black fruit-meets-anise seed tones that recall Nebbiolo, yet embraces the senses with an amiability that is decidedly Greek.
---

Agiorgitiko at a Glance
Origin: Greece
Appellations: Most associated with Nemea PDO
Aromatic intensity: High
Acidity: Low to medium
Body: Medium
Tannin: Medium
Alcohol: Low to medium
---
2019 Nasiakos Agiorgitiko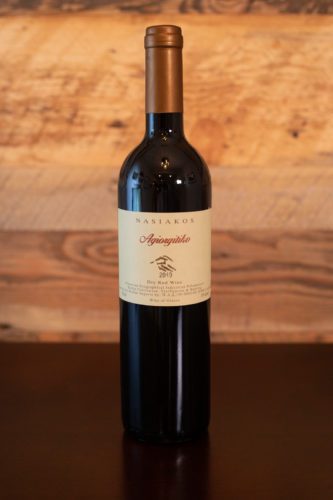 Peloponnese PGI (Peloponnese )
Grape: Agiorgitiko (100%)
Alcohol: 13%
Opinion: ★★★★ 1/2 (out of five)
Food-friendliness: Versatile
Value: Exceptional
A beginner might like … a softer dry red wine that still has a spine. This Agiorgitiko is undeniably fruity, but it is a black fruit that seems to be seasoned with nice anise seed-like edges. Save this Agiorgitiko for a barbecue, where it will shine.
A wine obsessive might like … getting to know the Agiorgitiko profile for body, acidity and tannins (which is fairly medium across the board). Nasiakos' version demonstrates it very well, making this a great wine for a Greek wine blind tasting.
Note: This wine was purchased with our editorial budget which is independently funded by our paying subscribers, who gain access to all live and recorded wine classes and all wine reviews.