8
min read
Heading into last week's trip to the Collio hills of Friuli, Italy, I had editorial plans for four different wine articles. But after just two days of touring wineries, it was clear another story was emerging: what I was eating in between visits. The crescent-shaped region that hugs the Italian-Slovenian border is gastronomically fascinating, complex and deeply focused on comfort food. Perhaps this last trait was merely accentuated by the November weather and the late fall bounty of the region. All I know is, whenever the question "where to eat?" came up, it was always answered "anywhere … you'll be fine."
Below is a round-up of where to eat in the Collio Hills, and while I can vouch for all 10 of these restaurants, I am sure I missed another ten that would prompt a return visit.
First, a few travel tips on visiting this region.
Visiting Collio
Collio is a crescent-shaped wine region stretching roughly from Dolegna del Collio to Oslavia. The area's wines are mostly white (e.g. Friulano, Ribolla Gialla, Sauvignon and Pinot Grigio as well as blends taking the center stage), with a few epic Merlot sprinkled in. This is also the epicenter of macerated white wines, better known as "orange" or "amber" wines. I'll be covering these wines a great deal in the coming weeks. Collio's sibling wine region, Brda, is just over the border in Slovenia, and many of the cultural and gastronomical things you will encounter take in both Italian and Slovenian influences.
Reaching the area is fairly straightforward from Venice Marco Polo Airport: roughly an hour and twenty minute drive to the east. The country roads are popular with cyclists on the weekend (Sunday lunch reservations are a must), and on a clear day, the views of the snowcapped Carnic Alps can be awe-inspiring. I stayed in Capriva del Friuli, but the region is small enough to explore from any of the region's towns, as there are a multitude of accommodations. Take note, however, that many of these close on November 1.
Where to Eat in Collio
Full disclosure: many of these meals were part of a press tour, so I have largely left off any commentary about service. However, I am a wine writer, not a food critic. It takes a lot to get me to write notes on the food as well as the wine, which I did immediately with the first meal.
Also note that the menus in Friuli are highly seasonal and the called-out dishes below reflect what was in season in mid-November. They are meant to give you an idea of the restaurant's creativity and ethos as much as anything.
Ronchi Rò
Località Cime di Dolegna 12, Lonzano
Visit website
The vibe: Tucked into the woods off the winding road that climbs to the tiny and achingly beautiful village of Scriò, Ronchi Rò is unlike any other dining experience I have had. Chef Fares Issa (pictured above) seamlessly mixes a locavore ethos and ambitious creativity with genuine warmth and care. It is a fine line that many upper echelon restaurants miss entirely: making the guest feel as though the food is providing as much care and nourishment as it is offering aesthetic pleasure. Issa nails that balance.
My meal started with a smoked trout on salad with peach sorbet and mint, and was followed by ear-shaped pasta in light broth, then salàm tal aset — a seared salami with star anise and chicken consommé. To keep us grounded, he followed these dizzying dishes with a simple roasted chicory salad and potato baked in charcoal to cleanse the palate before dessert. His tiramisu (playfully called "Friuli o Veneto?" because of the dessert's unsettled origin) was a simple take on a potted rosemary plant.
I told Issa after the meal that this would have been the perfect "last meal on earth" before being launched into space, never to be heard from again. He took it as a complement, I think.
The dish: Smoked trout on salad with peach sorbet and mint with a glass of Friulano.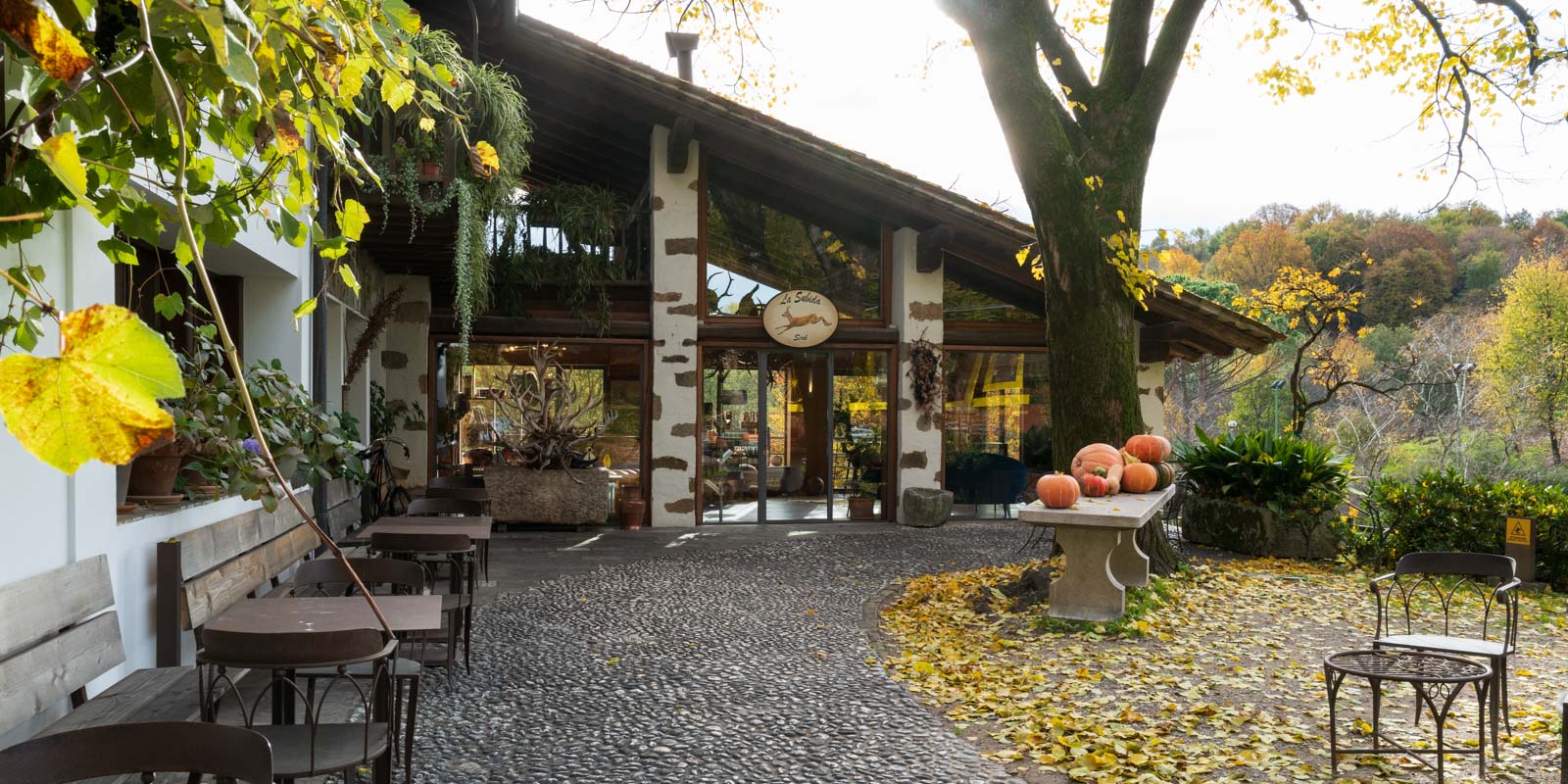 Trattoria al Cacciatore at La Subida
Via Subida, 52, 34071 Cormons
Visit website
The vibe: This former roadside tavern has steadily become the point of reference for Friulian cuisine and wine the world over. For good reason: the dining experience here is every bit as immersive as it is sensual. Yet somehow, that doesn't fully describe the La Subida experience.
For one, the dining room possesses a playful whimsy that takes an entire evening to fully absorb. It is like a fantasy forest, where anthropomorphized animals lend the whole place a Friulian Alice in Wonderland feel. As I sat at my table, sipping a Bianco from Marco Sara and awaiting the next course, I would discover a new detail to the room I hadn't seen yet. A new course would arrive — like a frico lollipop, or Durum wheat pasta with romanesco broccoli and venison — and suddenly my attention was turned to the details on the plate. Finished, corners of my mouth wiped clean, I would go back to examining the decor from my seat. Round and round I went.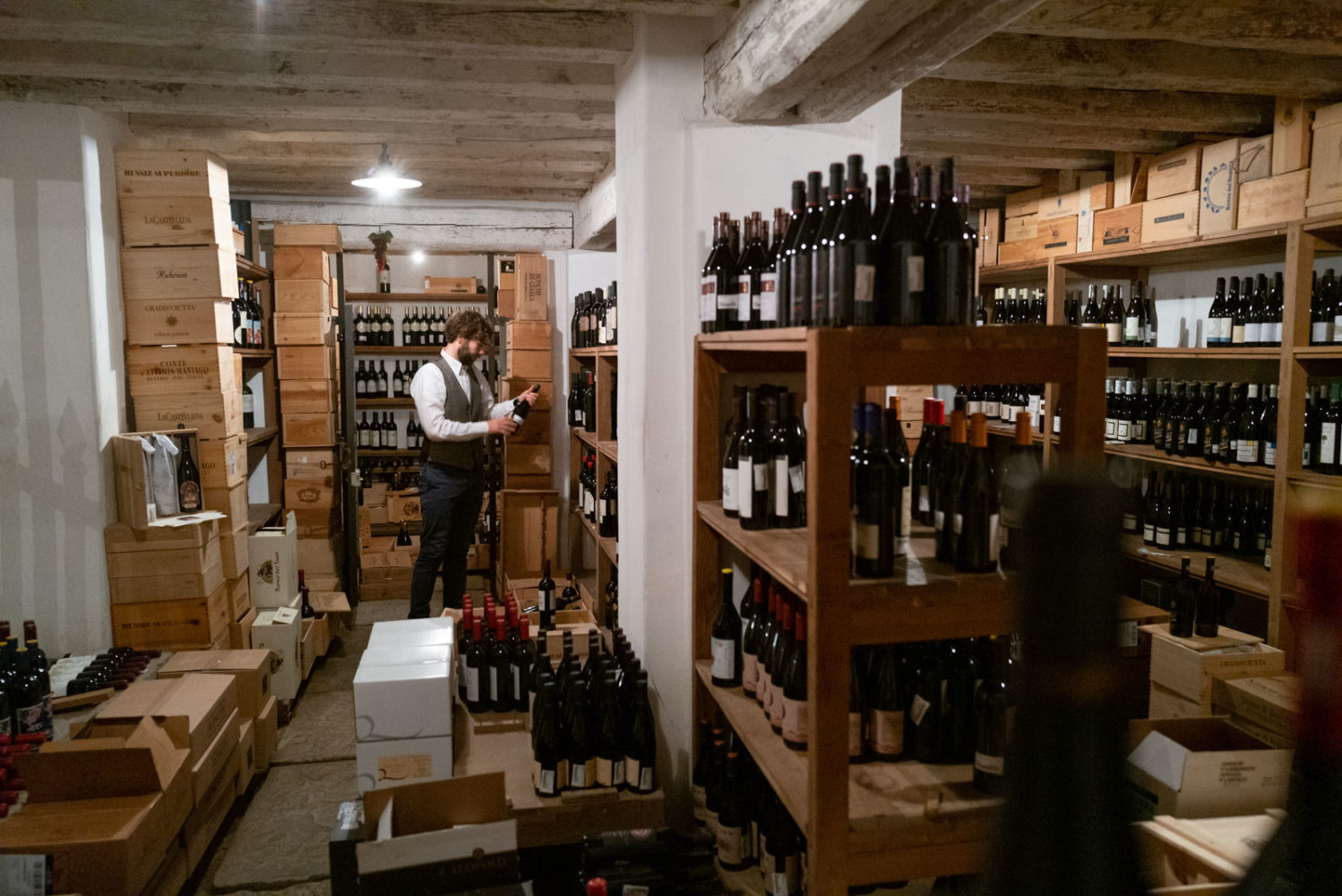 The Sirk family has owned the house since 1947, and today, Trattoria al Cacciatore boasts a Michelin star. Despite that, I felt that my final bill was completely reasonable given all of the tastes I explored. Sommelier Mitja Sirk manages an extensive wine list that introduces guests to the many personalities of Friuli's diverse wine scene, each noteworthy producer encapsulated with a biography and playful caricature drawing. The trattoria is just one part of La Subida, as there is a casual osteria up the road (see below) as well as accommodations in the woods.
The dish: Guinea fowl with a delicate sauce of forest berries — if I could have duplicated that sauce for Thanksgiving, I would have.
Osteria de la Preda at La Subida
Via Subida, 53a, 34071 Cormons
Visit website
The vibe: If Trattoria al Cacciatore is the Sirk family's temple to Friulian gastronomy, then Osteria de la Preda is the cozy warming hut they've set up for your journey there. I did things in reverse: dining at the trattoria first, then concluding my trip at the osteria when I needed a quick dinner before an early bedtime for the flight home.
It ended up being the perfect send-off. Welcoming and convivial, the casual restaurant with its wooded patio and homey, lofted dining area upstairs feels like the perfect place to lose track of time.
The dish: Fresh tagliolino pasta with porcini mushrooms, prosciutto crudo and crispy black cabbage … the best pasta dish I had in Friuli.
Osteria della Ribolla
Via Forum Julii, 2, 33040 Corno di Rosazzo
Visit website
The vibe: In need of a quick lunch between winery appointments, I absolutely lucked out by stumbling across Osteria della Ribolla in the town of Corno di Rosazzo. Named after one of Collio's most important wine grapes — the thick-skinned Ribolla Gialla that colors the area's famous orange wines — the modest, countryside dining room radiates warm tavern vibes throughout.
Coming in from the rain, I was welcomed with enthusiasm by the staff and offered a riveting plate of polenta that was nutty, creamy and thoroughly satisfying. I then doubled-down with pumpkin gnocchi served in an edible bowl of crispy frico (the iconic Friulian dish centered on Montasio cheese). My conversion to Friulian cuisine was complete.
The dish: Toc' in braide, the local take on polenta with stewed meat.
Klanjscek Wine & Stay
Località Ossario, 13c, 34170 Gorizia
Visit website
The vibe: As you get closer to Gorizia, the Slovenian influences seem to get stronger, which Klanjscek Wine & Stay fully embraces. Located off the road that eventually leads to La Castellada, Gravner and Radikon, this restaurant and inn faces north and looks over the rolling-hill vineyards of Oslavia and spies beautiful San Floriano del Collio in the distance. The terrace view is spectacular.
The Klanjscek family also makes a small amount of macerated wine, but the restaurant's focus is to offer a modern and innovative interpretation of the country cooking of the area. One example of this would be the pasta flour made from Ribolla Gialla pomace, which was accentuated by sausage and black cabbage. Filling? You bet, but deeply satisfying. This is the perfect place to see how the area's white wines can better suit hearty cuisine than normal red wine pairings.
The dish: The jota, a bean and potato soup cut with a delicate sour note from local sauerkraut.
Osteria Gostilna Koršič
Località Sovenza 7, 34070 San Floriano del Collio
Visit website
The vibe: This local gathering point in San Floriano del Collio is a stone's throw from the border crossing, and its cuisine nicely reflects this duality. But there is little that is stuffy about Koršič's convivial atmosphere. Come here for lunch after exploring the beautiful driving route that connects Mossa to San Floriano del Collio.
The dish: Casarecci, a rough-cut pasta served with prosciutto crudo, onions and rosemary.
La Tavernetta al Castello
Via Spessa 7, 34070 Capriva del Friuli
Visit website
The vibe: With the decadent, pink-colored Castello di Spessa crowning the distant hill (on the other side of a golf course's driving range), La Tavernetta al Castello's location is unique among those on this list. But inside, its intimate, come-in-from-the-cold ambiance is downright homey.
The dish: Gnocchetti soffiati, little dumplings served with pumpkin, porcini mushrooms, Castelmagno cheese and sage.
Osteria Agli Antenati
Via Udine 18, 34070 San Lorenzo Isontino
Visit website
The vibe: This local haunt in San Lorenzo Isontino is devoted to Slow Food and excellent wine, with the extensive, damn-I-don't-know-what-to-order menu written on the chalkboard daily.
The dish: The orzotto with sausage, endive and formadi frant, a cheese typical of the nearby Carnic Alps.
Locanda Orologio
Via XXIV Maggio 34, 34071 Brazzano
Visit website
The vibe: Brazzano boasts some of Collio's most esteemed vineyards and wineries, and there is a good chance that if you are visiting one of them in the late afternoon, you'll be looking for a nearby place for dinner — and Locanda Orologio ought to be it. Set in a small, but lovingly decorated dining room off the main road, the restaurant is yet another ambassador of Friulian cuisine, but with a few influences from the nearby Venetian Lagoon as well.
The dish: Veal hock with vinegar reduction and tarragon.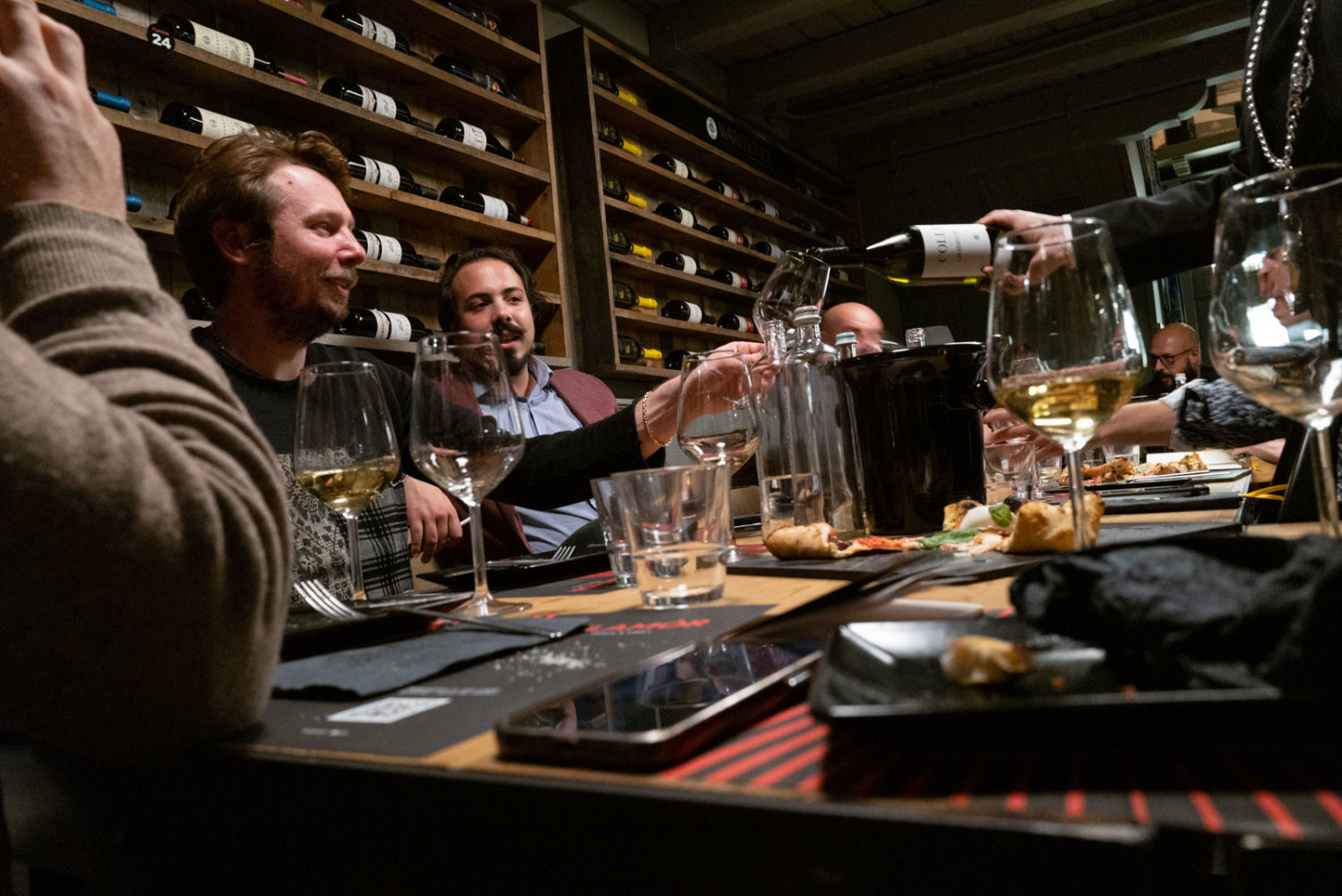 Flamòr
Via Fausto Coppi, 33048 Chiopris-Viscone
Visit website
The vibe: You have to drive outside Collio a bit to visit this palace of pizza, but if you are visiting for a few days and need a change-up to the polenta-pasta-stewed-meat routine of the area's cuisine, you'll be willing to make the 15-minute drive. For pizza purists, the creativity behind Flamòr's menu is just on the right side of admissible, and the modern, genial environment is a welcome departure from the homey taverna ambiance you find all over the region.
The dish: The glorious Mortazza pizza, with "o km" fiordilatte mozzarella, pistachio pesto, buffalo stracciatella, basil and a little pistachio crumble to add texture.