14
min read
Don't lose faith." After a year in which tariffs, a global pandemic, mass industry unemployment, record-breaking natural disasters, and social upheaval rattled the wine industry to its core, these were the sage words Steve Matthiasson — one of Napa's most treasured winemakers — had to offer me. But I realized, listening to him, that maybe those words were meant as much for himself as they were for his customers and colleagues. No one escaped 2020 without at least a little reflection. For even Matthiasson, an eternal optimist, couldn't help but muse: "sometimes you have to wonder if we are being punished for a hundred years of greed."
Despite a momentary indulgence in gallow's humor, he seemed genuinely inspired when we spoke, and I was moved by how thoughtfully he and his family adapted in the face of uncertainty. And looking ahead, he sees more than a silver lining. He sees hope and opportunity for the wine industry stepping out of 2020.
To read Ashley's review of three wines from Matthiasson, jump ahead.
Napa's Beloved Nonconformist
When I first met Steve and Jill Matthiasson, they were passing through Colorado, where I lived and worked at the time. Many in the industry pulled out their Sunday best, shined their shoes, and proudly poured the wines one might expect: Pinots from Willamette, Sauvignon Blanc from New Zealand. But Schioppettino from Napa? Here was this couple — eyes shining, smiles comforting — in casual clothes reminiscent of rural life. Their labels said Napa, but these were no Napa wines I had ever known.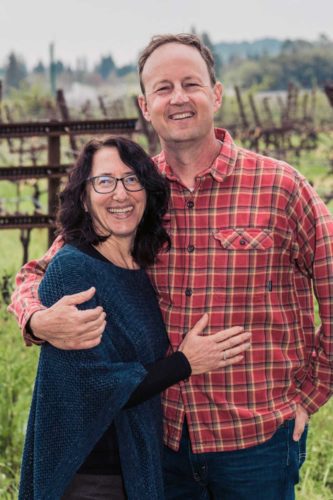 While the Matthiassons embrace the region's beloved Cabernet, they have always seen more for this corner of California. They were — and still are — champions of obscure grapes like Ribolla Gialla, Schioppettino, and Friulano, three grapes rarely seen outside their ancestral home of Friuli, Italy.
"At first, it felt like a big gamble to market these oddball varieties" Steve admitted. "But we built a business around being unique, so as the years go on, it seems like less and less risky to try new things."
It seemed for a while in Napa that bigger meant better (and more points), but the Matthiassons have held firm to their conviction that less is more. That includes minimal inputs in the vineyard, less additions to the winemaking process, and more subtlety in the overall expression. Where many Napa Cabs are rich and robust, Matthiasson offers a more restrained, high-toned, remarkably pretty interpretation of this region's hallmark variety. It's a way of communicating identity.
"The beauty is that since most wine drinkers know these varieties, they can quickly understand our point of view through these wines," Steve said.
This willingness to ask questions and get curious is precisely why the Matthiassons have won over so many hearts and palates. They also have a striking sense of dedication to their community — both in Napa as well as those who support their hard work in various markets across America.
Sustainability: More Than Just a Buzzword
Sustainability has been the fulcrum through which the Matthiassons have approached the industry. Steve literally helped write the book on it with the Lodi Winegrower's Workbook back in the 1990s, which is still a fundamental textbook for grape growers seeking guidance in sustainable vineyard management.
"Being organic is simple. Truly being sustainable is not — it is an ongoing effort with no end in sight."

Steve Matthiasson
Winemaker, Matthiasson
But what is sustainability? This elusive, overused word has started to glaze over even its most enthusiastic supporters. I asked Steve to put it in his own words, so that we could understand what he means when he discusses it. But Steve was momentarily distracted. As he looked out the window, he shook his head. "It's just not right," he said, referring to the dry north winds blowing through in February.
It's moments like this when he knows sustainability is the answer. And so he attempts to explain, "Sustainability is about repairing the climate, the soils, the oceans; our sick and broken culture of racism, classism, homophobia. A type of agriculture that can continue indefinitely while steadily improving the lives of people, plants and animals — and the ecosystem and planet — as a whole."
He doesn't claim to have it perfected. In fact, he explains: "Being organic is simple. Truly being sustainable is not — it is an ongoing effort with no end in sight." But that doesn't stop him from believing it's the fight we should all be engaging in right now.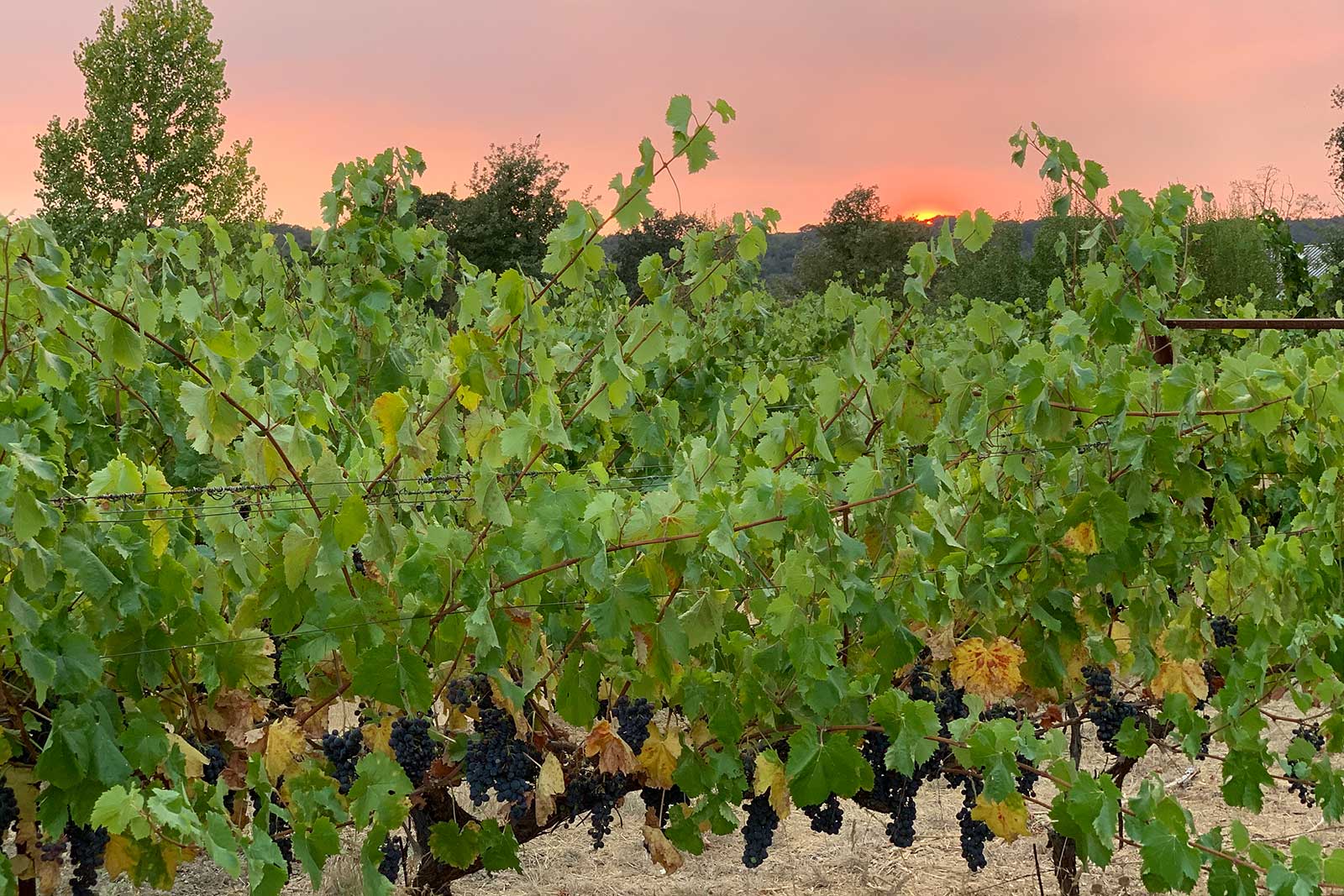 How Does One Sustain Through a Year Like 2020?
This past year, it seemed like every environmental and cultural fissure finally gave way and produced eye-opening awareness and discussion in the wine industry. Some businesses froze, some fell apart despite their best efforts, and others persevered, finding new meaning. It is often said that how one responds to crisis says a lot about one's perseverance. Through this lens, it is clear that cultivating creative solutions was the best means of survival for the Matthiassons.
Reflecting on those early days when the pandemic was settling in, the only word Steve could pull to describe the feeling was "panic." He repeated this word about five different times, reliving the trauma. He needed to pivot quickly to sustain the health and livelihood of his employees, his vineyards, and his business. But the people were first.
For his team, he secured 75-gallon drums of 170-proof alcohol and all the squirt bottles he could for sanitizing at home and work. He distributed N95 masks, and educated everyone on how to minimize the risk of getting and spreading the virus. He was grateful to learn they were an essential business, therefore his vineyards would not suffer as long as he could keep his workers healthy.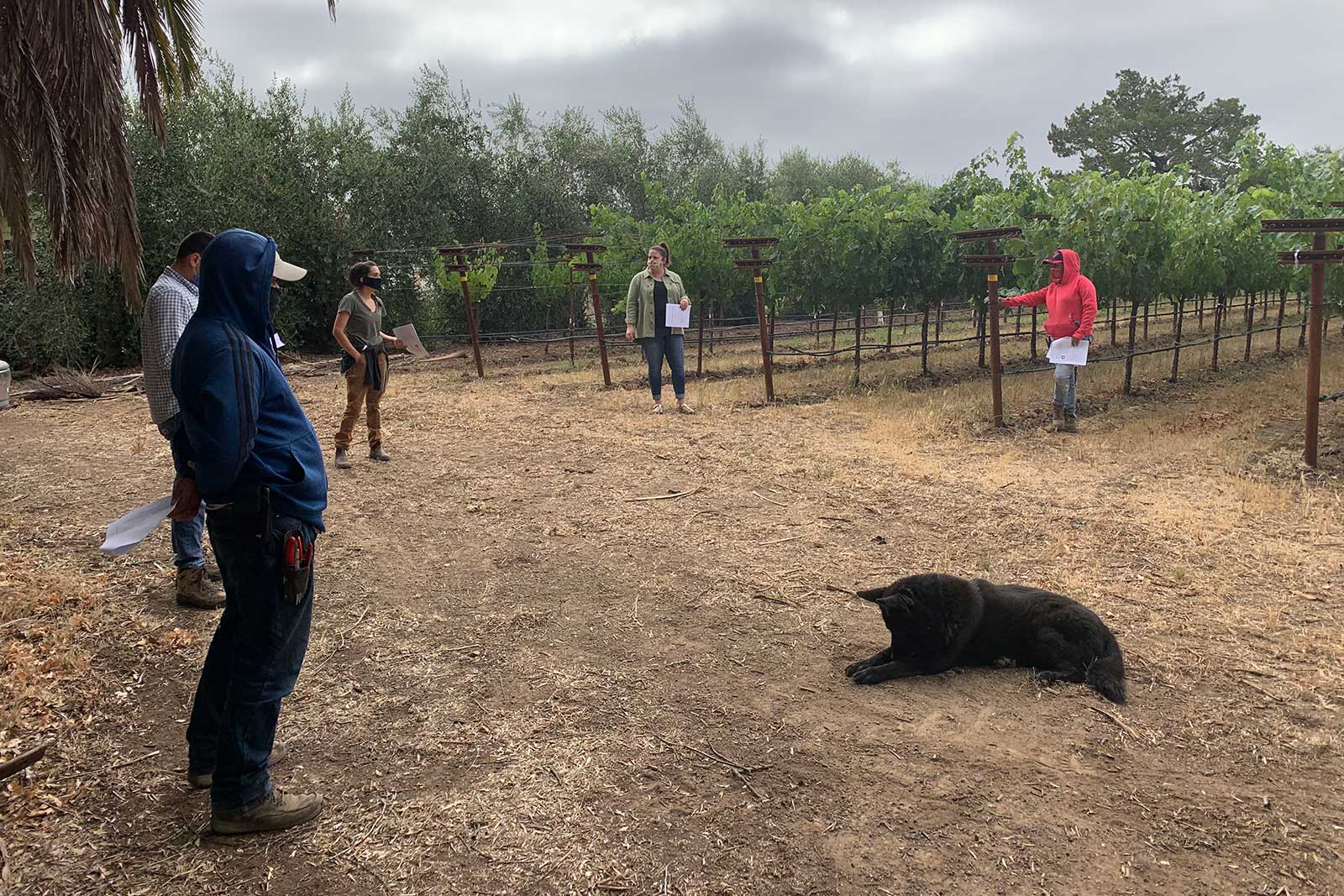 In hindsight, this was one of the many silver linings. With nowhere to go but his own backyard, his vines benefitted from the added attention, as did his team. He is certain the 2020 vintage from all over the world will benefit from that closer interaction of people and place. Steve was even able to form better relationships with salespeople in distribution, retail, and restaurants via normalized Zoom communication. The pandemic gave everyone in the supply chain more access to one another.
I wanted to understand if certain decisions the Matthiassons made in the vineyard — and with their business operations — helped him weather the storm. "In farming and winemaking," Steve explained, "just like any business, minimizing and mitigating risk is a core process." Healthy soils support more resilient vines. Taking time to train your team and empower them to identify and manage issues keeps the farm, and its people, happy and purposeful.
"Much of the Napa model requires swinging for the fences in terms of winemaking — harvesting small crops of grapes very late in the season for maximum ripeness and flavor impact. If you play that game you can't harvest earlier, there is no middle ground. You go all the way or you fail."

Steve Matthiasson
Winemaker, Matthiasson
In 2020, it was also an advantage that Matthiasson typically harvests much sooner than the rest in the valley: "Much of the Napa model requires swinging for the fences in terms of winemaking — harvesting small crops of grapes very late in the season for maximum ripeness and flavor impact. If you play that game you can't harvest earlier, there is no middle ground. You go all the way or you fail," he said. "We opted out of that pressure. Our wines are idiosyncratic to us, and that gives us a lot of freedom to adapt to lots of perturbations, from weather and fires to market-taste changes to pandemics."
Adaptation is the key word here for the Matthiassons. It was this ability to make changes that gave them an edge on the multiple crises of 2020. They didn't enter this pandemic with a mind to merely save themselves, their family, team, and winery. They recognized everyone was suffering. Their distributors, for example, were suffering under the weight of overbuying suddenly-tariffed European wine — only to lose half their business to restaurants closures because of COVID-19. The Matthiassons extended repayment terms just to keep the juice moving and shelves full. Steve and Jill also donated 350 cases of wine to the Independent Restaurant Coalition (IRC), a newly formed advocacy group that successfully lobbied Congress for restaurant relief. Steve explains, "We didn't want our wine to just sit around, so we felt we should put it to a good cause and get it out — move it along and raise some money." One-hundred percent of the proceeds went to IRC, bringing in $53,000. "We are truly in this together with the restaurants. We need them to succeed," he added.
As tastings shut down in April through government mandate, Jill successfully used Zoom to connect with their customers online. Where wineries with elaborate food and beverage programs took a hit, the Matthiassons had a simpler model than many in the valley, so their losses weren't as severe.
A Year of Reckoning on All Fronts
2020 wasn't just about a pandemic. It was a year that cracked open many issues concerning race and equity, not the least of which within the historically white, elitist wine profession.
"Tackling diversity, equity, and inclusion are not only the right thing to do, but they are really important for growing good grapes [and] making good wine."

Steve Matthiasson
Winemaker, Matthiasson
Steve couldn't be more relieved to see it going this direction: "2020 presented an industry reckoning. So much is out in the open now, getting discussed. People are really making things happen that will have long-lasting transformative effects in the industry."
One way their winery has gotten involved is through working with Chris Renfro and Alemany Farm in San Francisco, along with Beth Forrestel PhD from University of California-Davis, to develop a hands-on viticulture internship program for urban BIPOC youth.
"We need to grow new participants and leaders in our industry," Steve explains. He admits he could always be doing better — we all can. But he tries to keep this at the forefront of his mind and find more ways he can invest in his team and help them achieve personal and professional goals that grow far beyond his farm. "Tackling diversity, equity, and inclusion are not only the right thing to do, but they are really important for growing good grapes [and] making good wine."
What Does 2020 Mean for the Future of Napa?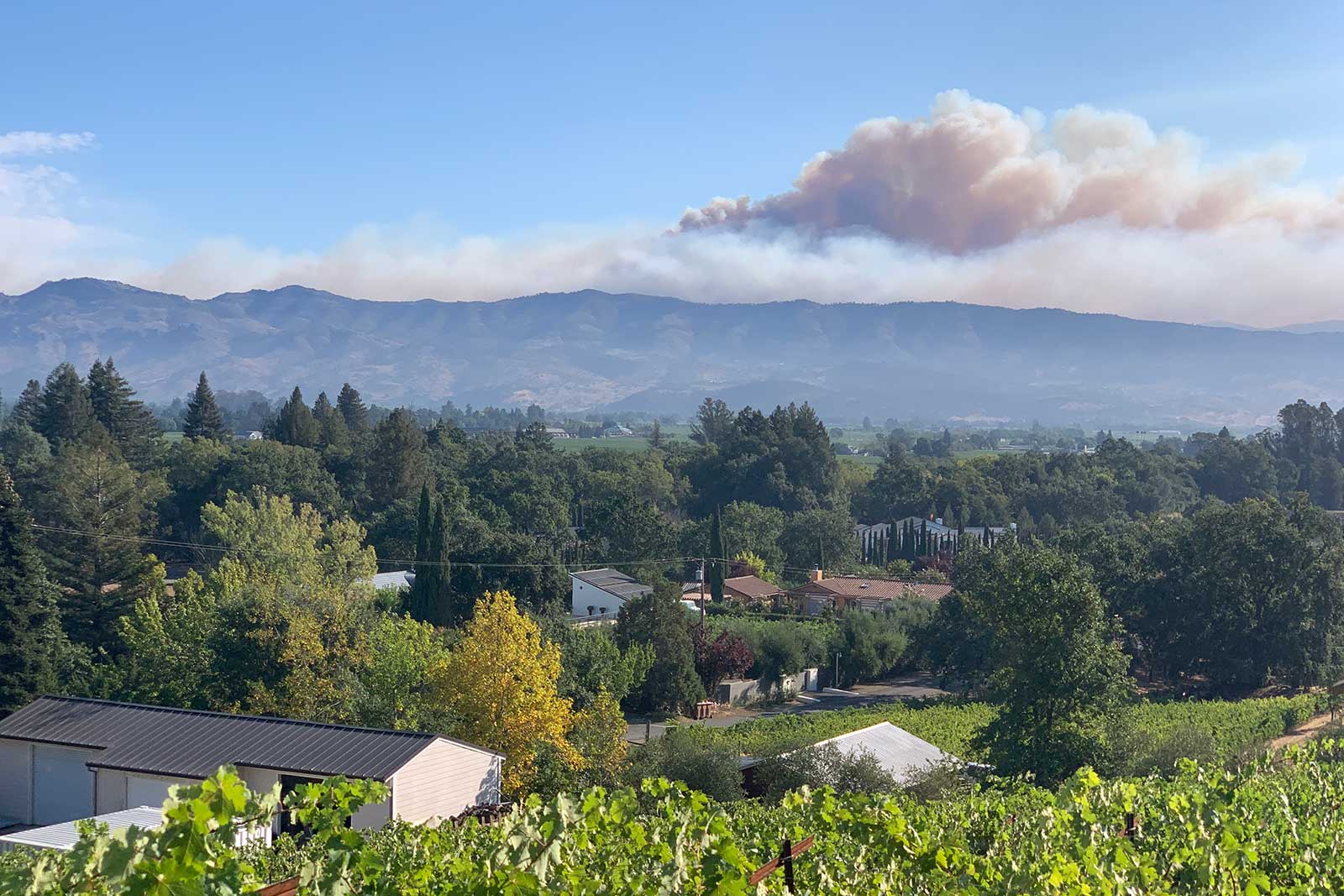 Of course, few topics present a bigger existential threat to wine in California than the increasingly arid climate and the devastating fires they bring. In 2020, nearly 4.4 million acres burned in California alone, accounting for more than 4% of the state's land. Another million acres burned in Oregon, and smoke plumes reached as far as New England. The resulting damages (nearly $20 billion across the American West) and tragic loss of life (an estimated 37 deaths) made climate change viscerally real for those who endured it.
Napa got hit twice leading up to and during harvest months. The LNU Lightning Complex fires were the first to strike in August followed by the Glass Fire that came at the end of September and raged well into October. It was this last fire, igniting in the heart of Napa wine country, that will be remembered for generations.
"I grew up in Tucson, Arizona and there's crazy lightning storms from weather moving up from Mexico. But it doesn't make it to Northern California. You never see lightning. Never, never, never… We saw the lightning and just thought 'oh, shit.'" He laughed as someone who knows when they are powerless to nature.
He immediately scheduled harvest for the most important parcels and then: "Boom … the whole place lit up."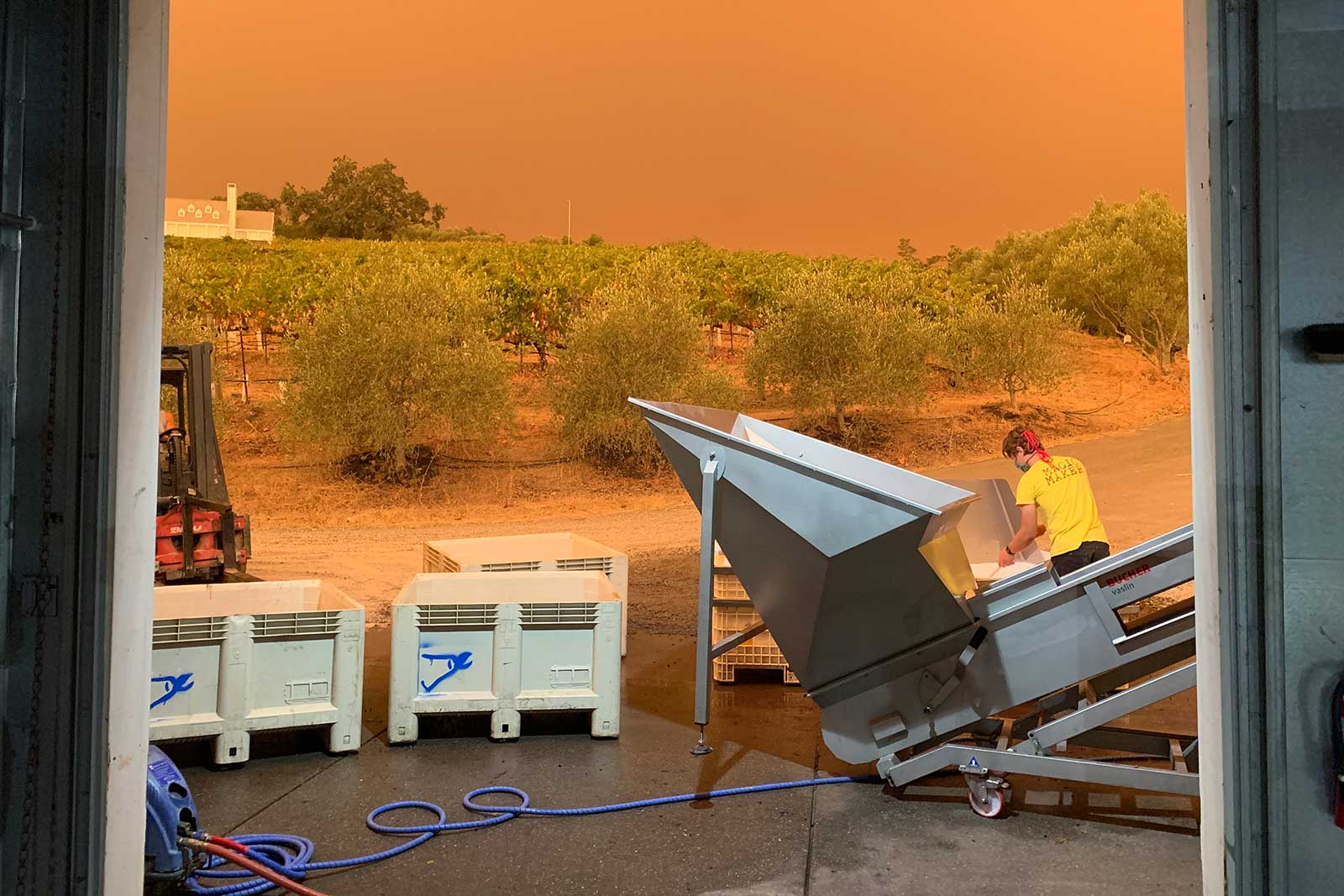 A freak lightning storm to the south helped push some of the initial smoke away, so he and some others in the valley were spared from too much damage.
When discussing Napa and the viability of Cabernet Sauvignon with Steve, he countered with a more important question. "It's kind of like rearranging chairs on the Titanic, right? Who cares?"
Amid all the conversations surrounding sustainability in 2020, the topic of alternative grape varieties for a warmer future — especially in light of the drought and its fiery consequences — kept coming up. When discussing Napa and the viability of Cabernet Sauvignon with Steve, he countered with a more important question. "It's kind of like rearranging chairs on the Titanic, right? Who cares?"
Thankfully, he is more hopeful than that and feels there is a lot more the industry can be doing in the vineyard to adapt to a changing climate.
"In the vineyards, that includes building healthier soil so the vines are more resilient, encouraging root growth and vine health, trellising and training the vines to protect the fruit from problems — like heat, disease. Training employees to notice problems and micromanage the vines, and of course harvesting on the early side, before lots of bad environmental events happen."
However, despite the fact that he feels Cabernet has a long, healthy future in Napa — should its relevance persist — this king of grapes isn't the stuff of Steve's dreams for Napa's future. In fact, it has little to do with grapes and more to do with people. Not for a minute does Steve take for granted the fortune he and Jill stepped into when they had the opportunity to buy their home in 2006. There is a real split in the valley. Back in the 1960s, there was good foresight to preserve the land agriculturally but not culturally. Wealth, Steve notes, is Napa's greatest threat — at least when it comes to the Napa he and Jill met over 30 years ago. It's almost impossible for young growers and winemakers to realize success in Napa anymore. Many wineries are owned by those who rarely hold their own fruit in their hands.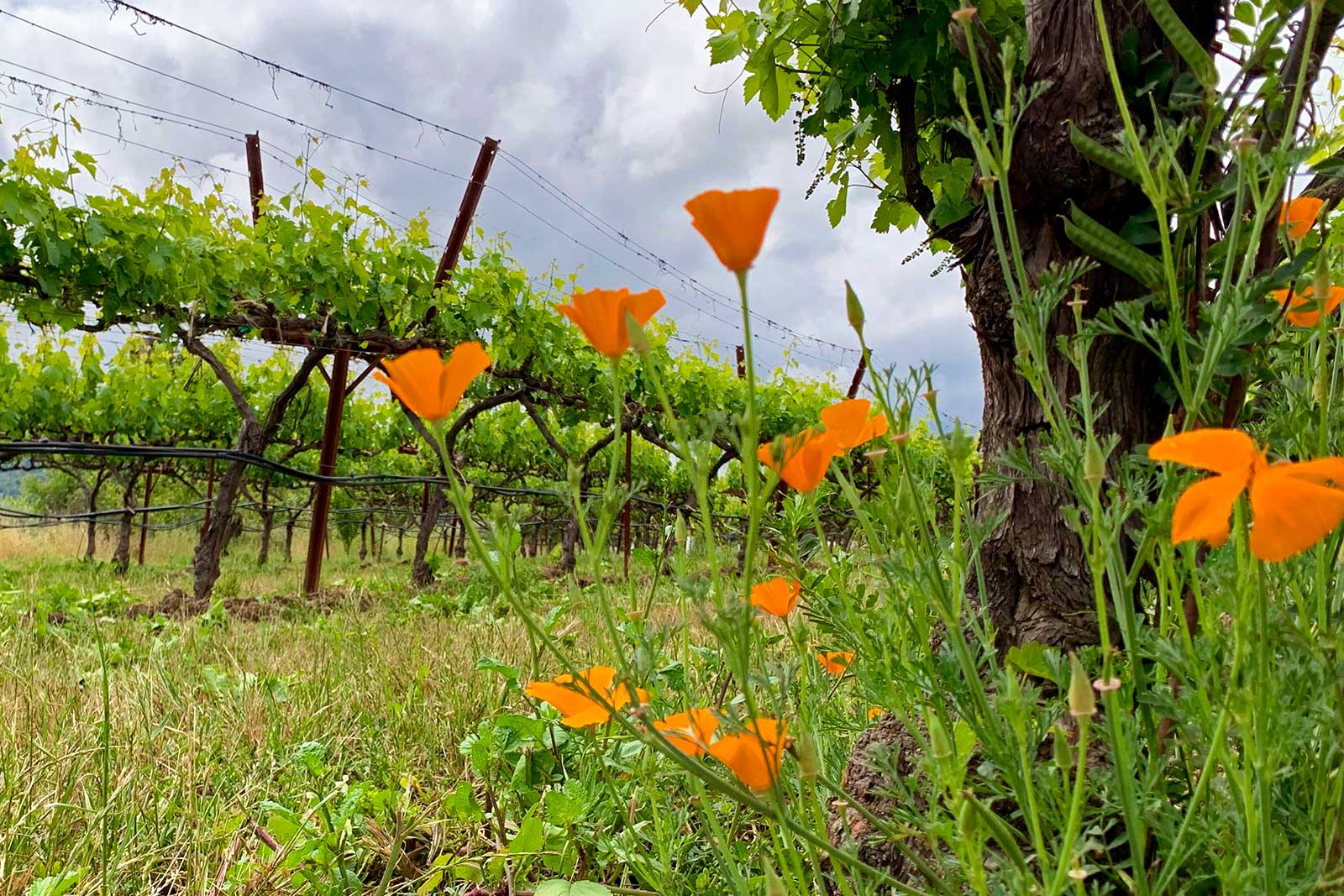 When I asked Steve what Napa will look like in 25 years, he instead tells me what he hopes it looks like in 25 years: "It's going to be a diverse wine region, making lots of styles of delicious wine — both Cabernet and non-Cabernet. Really passionate people farming organically. The big wineries will be broken up into smaller wineries. Lots of families on vineyards — the ownership of the wineries will be diverse. Lots of the people that are farm workers now are going to be winery owners in 25 years doing really interesting and cool wines. And the forests will be managed by Indigenous peoples."
At first, my cynical side responds too quickly, and I am certain that he and I both know that won't happen. I almost laugh and ask him to tell me what he thinks for real. But then I pause for a moment. Maybe he isn't exaggerating. Perhaps this isn't a far-fetched pipe dream. Maybe this was the point of it all — the point of 2020. Did we all need a hard reset? A timeout in our bedroom to contemplate the state of the world twenty years into a new century? Was this the warning call we all needed?
I, for one, won't lose faith. I can't. And I thank the Matthiassons for restoring that hope after a year that seemed relentless in its ability to keep us in a reflective state of mind.
Three Wines from Matthiasson
Matthiasson produces a range of wines encompassing familiar Napa Valley varieties (Cabernet Sauvignon, Cabernet Franc and Chardonnay) as well as unorthodox varieties typical of Northeastern Italy's region of Friuli-Venezia Giulia. They also produce a sweet Vermouth from Flora, a cross between Gewürztraminer and Sémillon. Production is small, and some wines — such as the Cabernet Franc listed below — are available via the wine club only.
2017 Matthiasson Napa Valley White Wine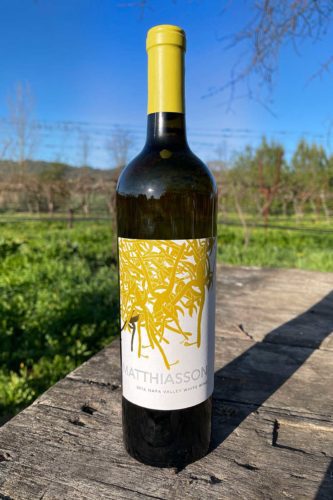 Napa Valley AVA (California)
Grapes: Sauvignon Blanc (50%), Ribolla Gialla (25%), Sémillon (20%), and Friulano (5%)
Alcohol: 12.1%
Opinion: ★★★★ 3/4 stars (out of five)
Food Friendliness: Highly Versatile
Value: As expected
A beginner might like … The playfulness of this wine. Each grape brings a different element to the rim from Sauvignon Blanc's sassy citrus to the waxy chamomile salve of Sémillon. Friulano always has a floral, orange oil note to it, while Ribolla Gialla brings a more serious note of umami and saline minerality that lifts up its whole demeanor with freshness and verve. This was the wine that really put Matthiasson on the map.
A wine obsessive might like … The off-the-hook geek factor in this wine. Where most Napa whites reflect classic Bordeaux blends of Sauvignon Blanc and Sémillon, this white invited Italian varieties to the party as well. California is nothing if not adventurous, rule-bending and open-minded. This white wine celebrates the rewards of curiosity.
2018 Matthiasson Vineyard Cabernet Franc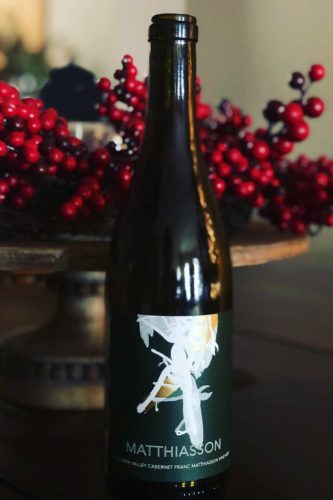 Napa Valley AVA (California)
Grapes: Cabernet Franc (100%)
Alcohol: 12.2%
Opinion: ★★★★★ (out of five)
Food Friendliness: Versatile
Value: As expected
A beginner might like … To know that this is one of the few wines the Matthiassons grow in their backyard home vineyard. These vines hold a special place for them and are part of the family. This wine is pure and easy-going, ready to drink now with supple tannins and fresh, talkative fruit.
A wine obsessive might like … That this Cabernet Franc is more Loire, less Right Bank Bordeaux. Leafy, savory aromas, red juicy fruit, sour huckleberries, crunchy acid, and bright white pepper. Whole-cluster fermentation (50%) brings levity to this wine, making it an ideal alternative to Pinot Noir — if you are seeking something more rustic and herbal with a grounded, earth-inspired dish.
2016 Matthiasson Napa Valley Cabernet Sauvignon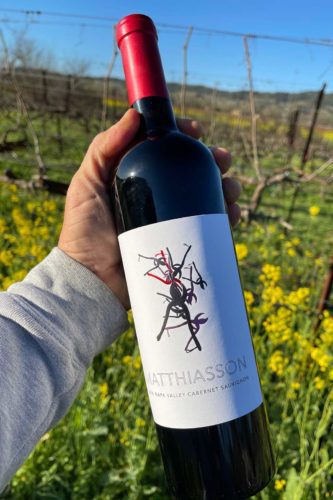 Napa Valley AVA (California)
Grapes: Cabernet Sauvignon (86%), Petit Verdot (7%), Merlot (5%), Cabernet Franc (2%)
Alcohol: 13.3%
Opinion: ★★★★★ (out of five)
Food friendliness: Versatile
Value: Very good
A beginner might like … That Matthiasson is hardly a one-trick pony. While his Cabernet Sauvignon is by no means the brawny, over-the-top style that we sometimes see out of Napa, it also isn't lacking for generous fruit or body. This wine boasts classic hallmark Cabernet traits of black currant, cedar and pencil shavings. There is a lovely duet between red and black fruits that dance on the palate. The tannins are sturdy but more approachable than most Napa Cabs fresh to market.
A wine obsessive might like … To be proven wrong, if up to this point, you've felt that Napa Cab isn't for you. This wine is not a fruit bomb by any means. Matthiasson is not a fan of extreme extraction — rather light handling of the grapes during fermentation to preserve high-toned aromatics and energy on the palate. This wine is classy and a refreshing change of pace.
---
Note: Wines were purchased by the writer, with the exception of the white, which was tasted during a winery visit. Learn more about our editorial policy and support our independent wine writing by attending a virtual tasting.