6
min read
I love fruity wines.
I don't care for jammy ones.
Fruity is the sensation in a wine where fruit flavor is highlighted by acidity, which brightens the whole equation. The clear distinction between fruity and jammy is that a fruity wine is mouthwatering, a jammy wine is mouthcoating, and to me, that's the rub: The former encourages continuous sipping, the latter stifles it. It's the difference between a bowl of fresh blueberries and baked blueberry pie filling. Both are fine, but if you gave me a spoon, I would have a lot more endurance eating the fresh blueberries than the pie filling.
And in the end, that's what it comes down to for me. "Endurance" is another word for food friendly, because if a wine exhausts your palate — as I find jammy wines do — than I can't taste my food.
This is a big reason why I profile Old World red wines more often than New World red wines: I find them to be better with food more often. Obviously, that's an oversimplification riddled with flaws, and there are hundreds of exceptions to this rule, but in so many cases, New World red wines that earn accolades do so because of their power and concentration, even their "jamminess."
I bring all of this up because of the following five red wines which have passed through our kitchen recently. Every one of them screamed "that's fruity." Every one of them was "highly drinkable" (a phrase that would be laughable if it weren't so accurate). And every one of them, as a result, had great endurance alongside the dishes we were serving.
If you are an at-home chef like me, find these bottles.
---
2013 Eric Texier Domaine de Pergault St.-Julien en St.-Alban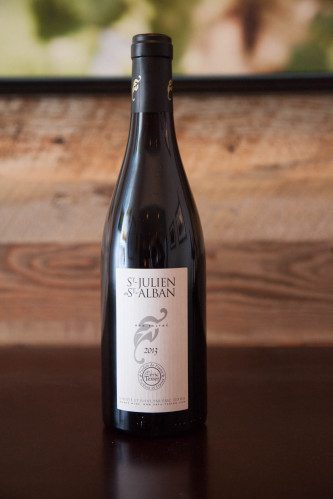 Eric Texier is a name that's at the center of my radar screen right now. His Côtes du Rhône Blanc — an entry-level bottle to his fleet of wines — was my highest rated white wine of 2015. His second act with me — a special clone of Syrah from the Northern Rhône called "Serine" — was an agile wine that shifted shapes repeated over the night. It offered aromas that recalled both strawberry and blackberry on the nose, as well as some citrus — fruits that lie on the opposite ends of the spectrum. And on the palate, this fruitiness and its underlying acidity made it a great foil for braised meats. Unfiltered and without sulfur, this wine has an unadulterated and wild character.
St-Julien en St-Alban, Côtes du Rhône, France
Grapes: Serine clone of Syrah (100%)
Alcohol: 13%
Ratings: ★★★★ 1/2 (out of five)
Aromas, Flavors and Structure: ★★★★ 1/2
Food friendliness: ★★★★ 1/2
Value: ★★★★
---
2013 Joan d'Anguera Altaroses Montsant Grenache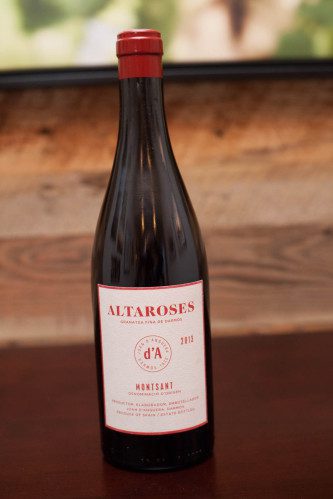 Another winemaker I've been following is Joan d'Anguera of Catalonia's Montsant region. His Syrah-Carignan-Grenache blend called "Planella" also ended up on our year's best list, in part because of the intensity and complexity of its wonderful aromas.
So I was surprised to find that his Altaroses bottling was so delicate and soft — almost a polar opposite. Here, the grapes are all Grenache (or Garnatxa in Catalan), which of course lends this wine its distinct juiciness reminiscent of cherries and strawberries. A trace of rose in the aroma gave it some distinction, and its milder notes and clear acidity would make it an excellent partner with spicy foods such as Indian cuisine. Just don't do what I did: serve it with sweet-and-savory chicken pie. (Fruit overload!).
Montsant, Spain
Grapes: Grenache (100%)
Alcohol: 14%
Ratings: ★★★ 1/2 (out of five)
Aromas, Flavors and Structure: ★★★ 1/2
Food friendliness: ★★★★
Value: ★★★ 1/2
---
2014 Altés Herencia Garnatxa Negra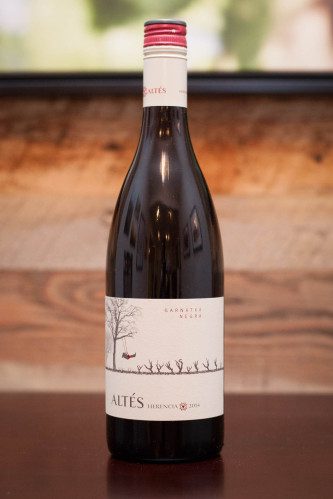 Apparently, one Grenache on this list wasn't enough. But if we are talking about juicy, fruity wines, you really can't go wrong with them.
Another "Garnatxa" from Catalonia— and an excellent value at just $10 — this version from Altés Herencia is filled with juxtaposition. On the one hand, I picked up flavors of black cherry and licorice that were swirled together with strawberry sauce and caramel as well as some woodiness on the finish. All of this was presented on a light body with refreshingly clear acidity. It almost sounds like an overbearing combination of notes that could never work together, but they do, and given this wine's ridiculous value (especially from 100-year-old vines), its worth having a half-case on hand so you can enjoy fine wine any night of the week.
Terra Alta, Spain
Grapes: Grenache (100%)
Alcohol: 14%
Ratings: ★★★★ 1/2 (out of five)
Aromas, Flavors and Structure: ★★★★ 1/2
Food friendliness: ★★★★ 1/2
Value: ★★★★★
---
2014 Georges Descombes Brouilly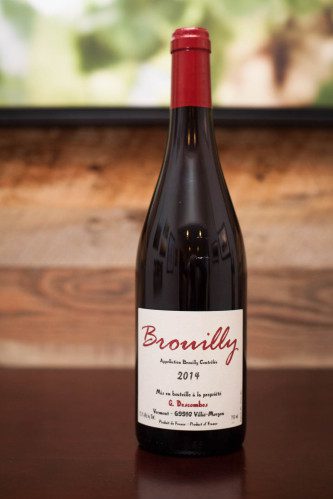 It doesn't get any fruitier than Beaujolais — and sometimes, that's the problem with the region's wines. All you notice is the fruit, which can have a candied cherry and ripe banana vibe to it.
The 10 Crus of Beaujolais rarely have this problem. Excellent soil and more careful winemaking methods give the wines from these villages great depth and character. One of these Cru — Brouilly — seems to amplify the fruit over all others. Whether this can be attributed to its warmer, more southern locale or its black volcanic soil, remains to be seen, but the G. Descombes Brouilly is a great ambassador of this particular Cru. It's a fun, vibrant and fresh-tasting wine, yet with enough backbone to hold up alongside seared ahi tuna.
Brouilly, France
Grapes: Gamay Noir (100%)
Alcohol: 12.5%
Ratings: ★★★★ (out of five)
• Aromas, Flavors and Structure: ★★★★
Food friendliness: ★★★★ 1/2
Value: ★★★★
---
2013 Judith Beck "Beck Ink"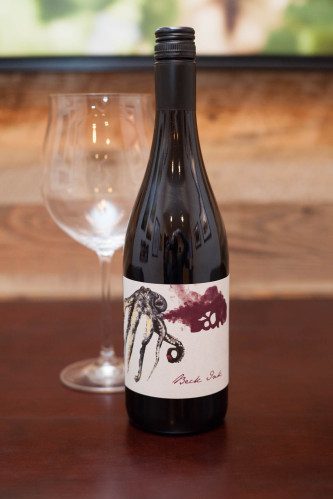 My last fruit-driven red wine to recommend hails from Austria, and while you may not be familiar with the two grapes on this one — Zweitgelt and St. Laurent — it has all the hallmarks of a comforting and soulful wine, making it familiar in many contexts.
It's deep flavors of sour black cherry and raspberry are somehow juxtaposed by a light body and light, flinty tannins, making it pure and wonderfully refreshing. There were also aromas reminiscent of violets and baking spice, so even if you don't serve it with food, it offers a lot to absorb on its own.
Zweigelt is a cross between the St. Laurent and Blaufränkisch grapes. Yet very few Americans (myself excluded) are familiar with these widely planted Austrian grapes. If you can track down this bottle, and you like fruity wines for their ability to complement food, you'll be like me: looking up more Austrian reds the next time you need to stock up.
Burgenland, Austria
Grapes: Zweigelt (80%), St. Laurent (20%)
Alcohol: 12.5%
Ratings: ★★★★ (out of five)
• Aromas, Flavors and Structure: ★★★★
Food friendliness: ★★★★ 1/2
Value: ★★★★★