7
min read
Throughout the wine trade, evaluating a wine generally means following a systematic checklist of components, and rating the wine's levels on a spectrum. For instance, the sweetness levels, the degree of tannin, the intensity of a wine's acidity, etc.
In my tasting group, we have an on-going joke about acidity. Whether it is a Master Sommelier doing a video series on blind tasting Pinot Noir, or a wine critic summarizing a flight of Malbec wines with all the tedious technical details of a Consumer Reports chart, most professional evaluators seem to settle on "medium-plus acidity."
They land there because it is the safest place to land. Claim a wine has high acidity? You are saying it is out of balance. Note that it is medium acidity? You are really saying it is boring.
So medium-plus it is.
I get that the Systematic Approach to Tasting — a helpful tool developed by the Wine & Spirits Education Trust, or WSET — helps professionals deconstruct a wine and learn why it is the way it is. But as a writer, I don't find the output very interesting to read. I'd wager that the ordinary consumers doesn't either.
Acidity is a particularly tricky component to discuss because many wine drinkers pay little attention to it. Mention the word at dinner, and people are just as likely to think of battery acid as lemon juice. But it is such an essential component to a wine's character.
Acidity lends momentum to the palate. It cuts through food and scours the corners of your mouth. It makes the wine dance. It brings it all together.
Acidity in Italian Wine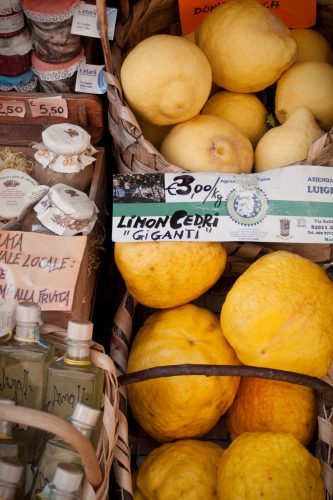 Yet, I'll admit that I struggle to describe it every time, particularly since I specialize in Italian wines. Because of this focus, my scale for what's high and what's low is skewed by a nation that thinks this is a normal lemon.
Take for instance, the four Italian wines listed below. Each one shined for me in part because of its acidity. One wine — the Terrano from Castello di Rubbia — was downright aggressive with its acidity. But would I call it out of balance? That's a matter of taste, but no, I wouldn't.
Another wine — the Rosso di Valtellina from Barbacàn — was enjoyed at lunch with a California winemaker, who commented "you don't get acidity like that in California."
All of this serves as a reminder that, as an Italian wine advocate, I have to remember that people's baseline for acidity tolerance is likely different than mine. The question becomes, how do I adequately describe acidity levels in order to accurately prepare you without scaring you away?
The answer may lie in verbs. In the end, that's what acidity lends to a wine: action. Certain types of high-acidity wines feel like they are sprinting somewhere. Others feel like they are attacking you. On the other end of the spectrum, lower acidity wines can have a mellowing effect.
So let's try something out. The following wines are worth seeking out and buying, and therefore, worth writing about. For each, I've chosen a verb to describe their acidity. Does this work for you? If so, which wine would you reach for first and why? Share your thoughts in the comments below.
---
2017 Mastroberardino Lacryma Christi del Vesuvio Rosso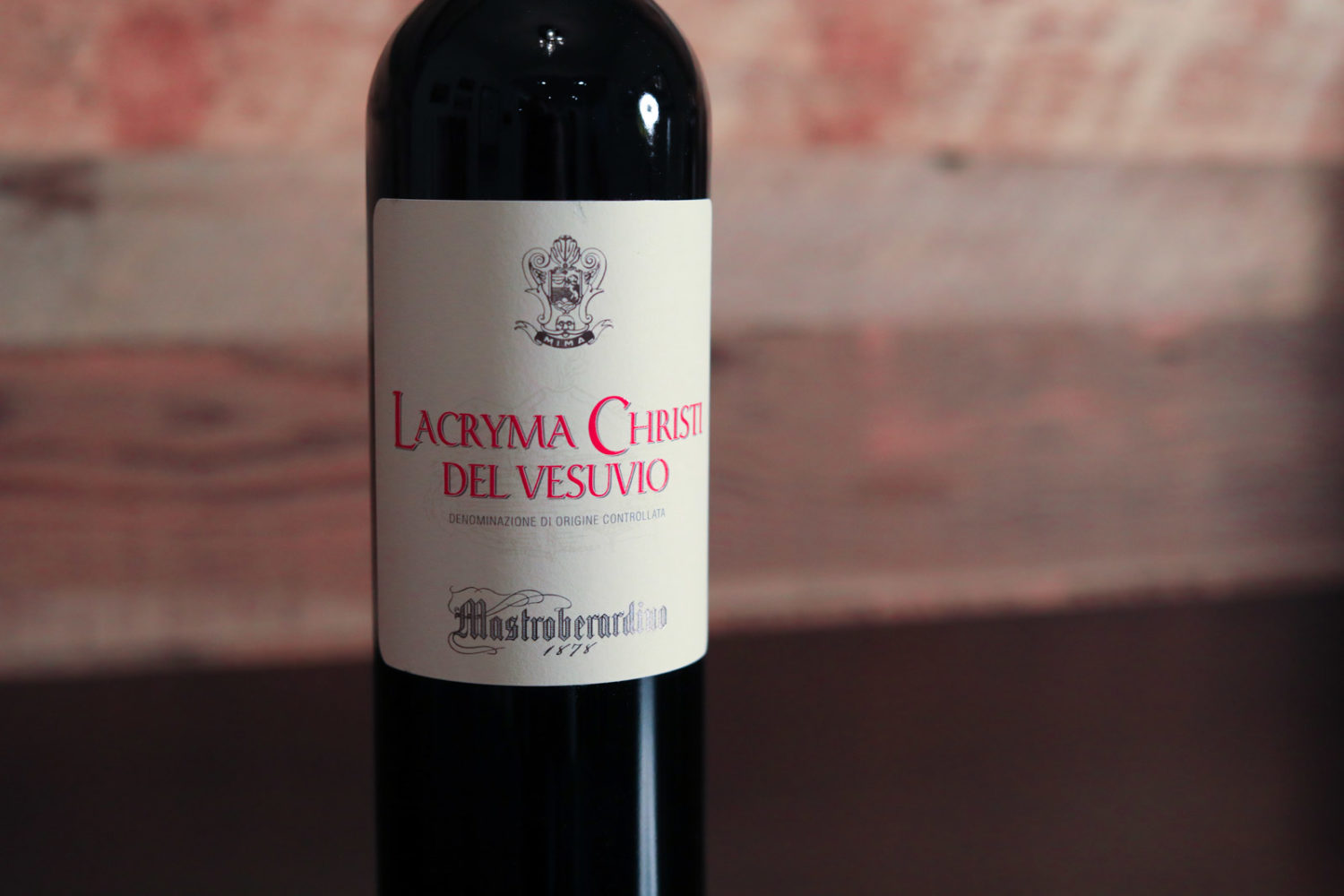 Lacryma Christi del Vesuvio DOC (Campania)
Grapes: Piedirosso (100%)
Alcohol: 12.5%
Ratings: ★★★★ 3/4 (out of five)
• Food-friendliness: Impeccable*
Value: Exceptional*

Acidity: Dancing
Tasting notes: As the name evokes ("Christ's tears of Vesuvius"), this wine comes from the volcanic terrain of Campania's landmark volcano. Made from one-hundred percent Piedirosso — an indigenous red grape that is hardly seen outside the region — I found this wine to have numerous similarities to Dolcetto, Frappato and Petit Rouge. The dusky fruit tones of the wine are slightly sour, with aromas suggesting bing cherries, plums, violets, ash and a little tinge of bacon. This is not Campania's most astringent red grape (that honor goes to Aglianico, which Piedirosso is often blended with), but the acidity, combined with a mineral textural quality, gives the wine a lilting feel on the palate. Long and satisfying finish.
Note above the great value and food-friendliness. Wines this good don't come at this price
often.
Serving suggestion: Slight chill; delicately spiced pork tenderloin with cannellini beans.
Importer: Winebow (sample)
---
2017 Giovanni Montisci "Barrosu" Cannonau di Sardegna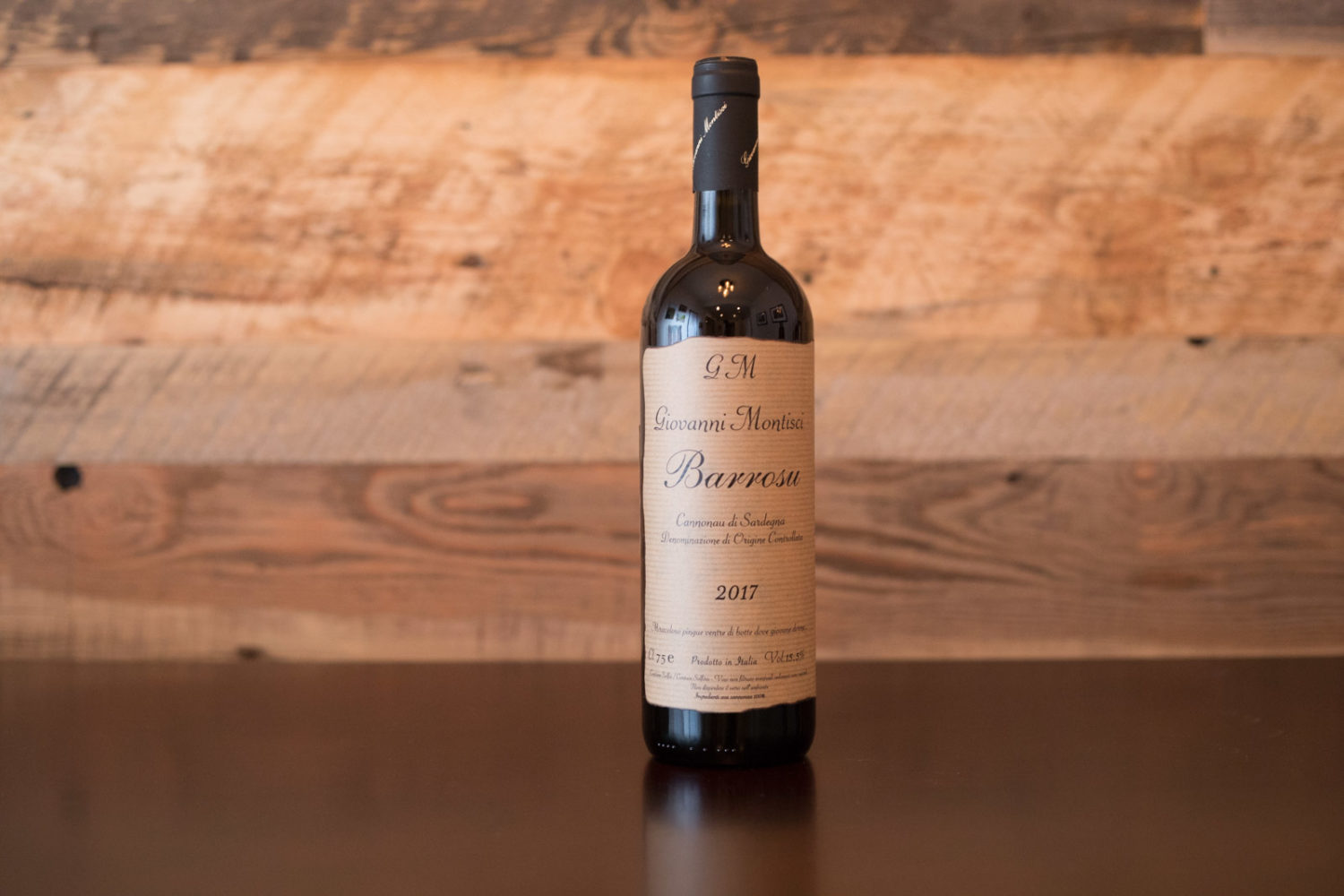 Cannonau di Sardegna DOC (Sardinia)
Grapes: Cannonau (100%)
Alcohol: 12.5%
Practices: (practicing organic)
Ratings: ★★★★ 3/4 (out of five)
• Food-friendliness: Versatile
Value: A little pricey

Acidity: Gripping
Tasting notes: This high-alcohol Cannonau di Sardegna has moderate clarity and a rich garnet color that is very inviting. Somewhat shy at first on the nose, it eventually roars to life with aromas bringing to mind cherries, menthol and herbs. With my first sip, I wrote down "oh-so-good." The acidity and tannins work together to form an assertive strike that eventually gives way to a beautiful mineral feeling. But the fruit remains supple through it all, and the herbaceous notes hold the whole wine together in brilliant fashion. This is a wine that says "pay attention to me" with each sip.
Serving suggestion: Thirty minutes of air; grilled rack of lamb.
Importer: Kermit Lynch Wine Merchants (sample)
---
2016 Azienda Agricola Barbacàn Rosso di Valtellina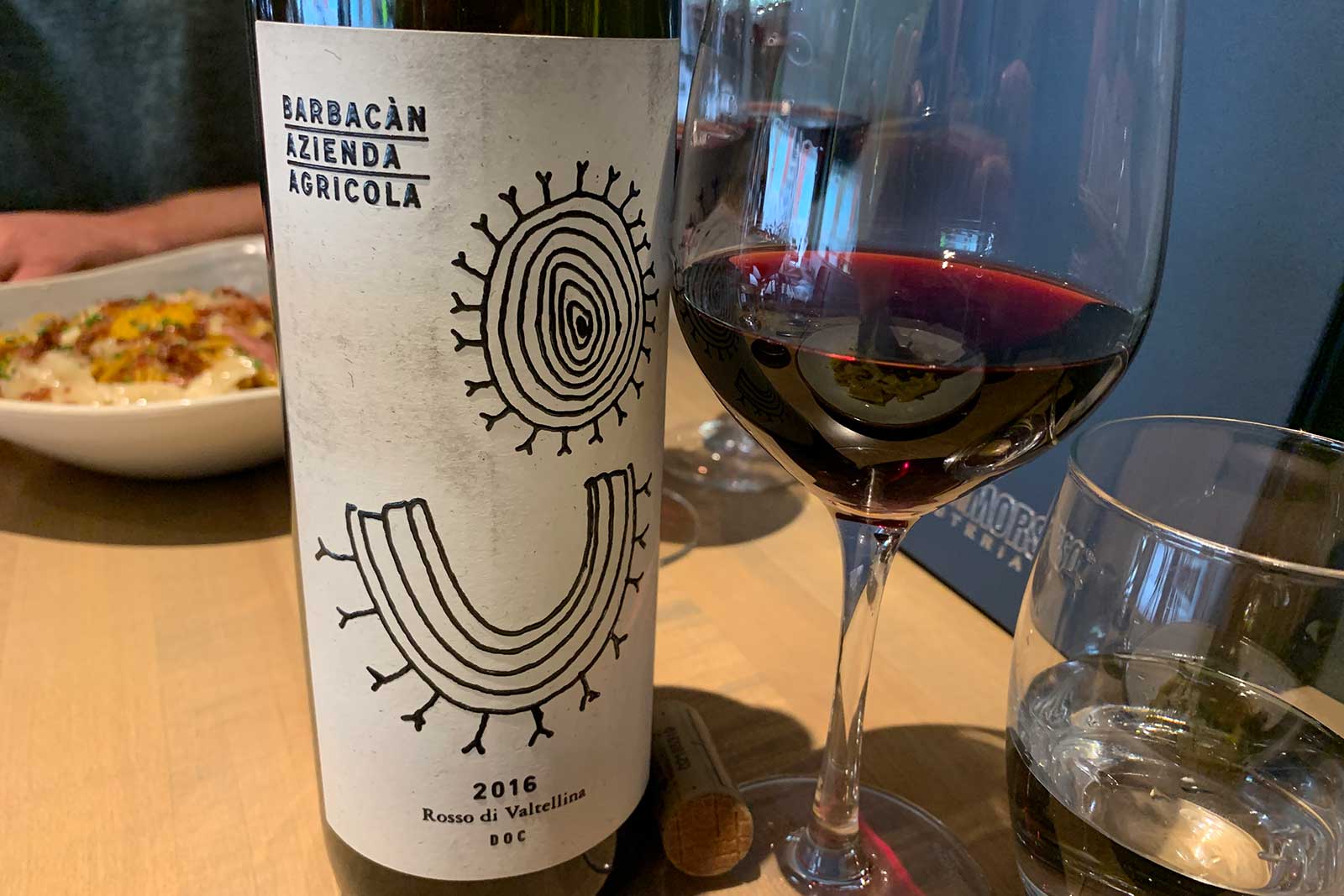 Rosso di Valtellina DOC (Lombardy)
Grapes: Nebbiolo (100%)
Alcohol: 13.5%
Ratings: ★★★★ 3/4 (out of five)
• Food-friendliness: Impeccable
Value: As expected

Acidity: Enveloping
Tasting notes: Barbacàn is emerging as my second-favorite Valtellina producer, which in my book, makes them one of Italy's best at Nebbiolo. The big difference between Valtellina wines and those of better-known Barolo, is in the way the acidity and tannins present themselves. In terms of acidity, Barolo cuts, Valtellina envelops, at least when the wines are young. This fresh and vital Rosso di Valtellina was a little reductive after first, but then it revealed that intoxicating wild animal aroma of Nebbiolo. If this wine were an athlete, it would be a track star, taking off in a sprint with considerable momentum. Aromas suggested cranberry, potting soil, roses and black licorice. Only lacking in the complexity department, but a worthy rival to the best Langhe Nebbiolo.
Serving suggestion: One to two hours of air; sage-butter ravioli.
Importer: Matchvino
---
2013 Castello di Rubbia Terrano Carso-Kras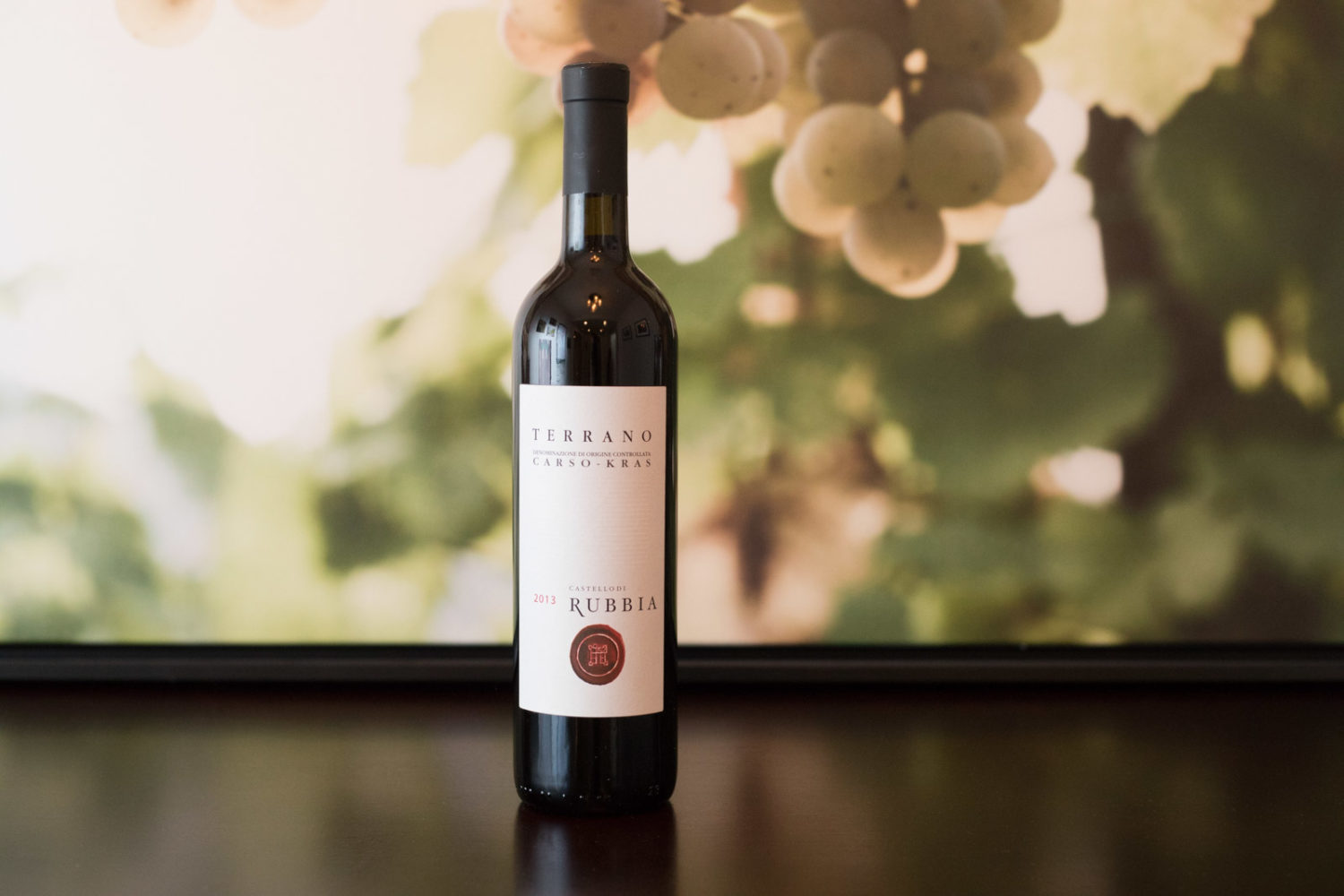 Carso-Kras DOC (Friuli-Venezia Giulia)
Grapes: Terrano (100%)
Alcohol: 12.5%
Practices:  (practicing biodynamic)
Ratings: ★★★★ 3/4 (out of five)
• Food-friendliness: Selective
Value: A little pricey

Acidity: Karate-chopping
Tasting notes: Nobody knows Italian grapes as well as writer Ian d'Agata, whose seminal encyclopedia Native Wine Grapes of Italy
* has been a stalwart in my research library. He notes that a "good Terrano" has "almost painful acidity and strong minerality." I present to you, Exhibit A of that painful acidity. Despite this, I found the wine to be utterly delicious and satisfying. In fact, it was the impetus for this article. Like a Merlot with a vendetta, it offered up bursting aromas of blueberries and raspberries, violets and baking spice. On the palate, these fruits were complex and compelling, riding a line between sweet, sour and tart. While the acidity was borderline sadistic, it was countered by mild tannins that allowed the wine to glide across the palate easily. For every action, a reaction. Or maybe it was just the wine equivalent of good cop/bad cop. Either way, it gets the job done.
One final warning: this wine was unfiltered and had the biggest glob of sediment I've seen in a young wine. Careful with that last glass.
Serving suggestion: Thirty minutes of air; pairs with an ice bath to nurse your wounds.
* – commission-based link
---
Top illustration background: © JR Korpa Unsplash community.