4
min read
It is my firm opinion that any wine grape can be coaxed into excellent form if given the right vineyard conditions and the care it needs in the winery. There are, however, plenty of grape varieties who stand above the rest because even their middle-of-the-road wines are delicious, compelling and unique. My question continues to be, is Vermentino one of them? I'm not so sure.
Does the average Vermentino have enough of an identity to become a mainstay of your table?
Plenty of wine professionals, particularly Italian specialists, would argue that it is. Vermentino is a breezy grape, yielding wines that never take themselves too seriously, and which — at the top tier at least — can be conversational and engrossing from first sip to last drop.
But what is the flavor of Vermentino? Or its core sensation? Its mood? Whether one's tasting notes are fruit-driven (green apple, pineapple, grapefruit) or textural descriptors (mineral, salty, refreshing), they're often not enough to scream this is Vermentino! I've had versions as salty as an ocean breeze on one side, while others that were so glycerin-like that they skewed into German Riesling territory with a faint petrol tone. Getting to the bottom of Vermentino character can be tricky. From a blind-tasting standpoint, it is a nightmare.
But the real question becomes, does the average Vermentino have enough of an identity to become a mainstay of your table? Or is it a producer-driven grape variety that requires some insider knowledge of who is who and what they're doing?
Troon Vineyard & Farm's Applegate Valley Vermentino from Southern Oregon has me asking these questions, but one thing is for certain: this is one of the great Vermentino wines. It is explosive on the nose, creamy yet mineral, and has a long and silky finish. As I said earlier, "conversational and engrossing from first sip to last drop." File under: Producers Making Great Vermentino, and call it a day.
Vermentino's origin isn't clear. It could be from Italy, it could be from Spain, but what is clear is that Vermentino's reputation is largely linked to Italy. (After all, we don't call it Rolle unless its from France, now do we?) It is, through and through, at home in a Mediterranean climate, where the summers are hot and dry, the winters cool and humid.  Winemaker Nate Wall takes a minimal-intervention approach to this wine, using only native yeast and neutral French oak barrels for fermentation. He does allow malolactic fermentation, which probably accounts for the lovely creaminess of this wine, a trait not often found in Vermentino wines.
If you haven't read my interview with Troon Vineyard & Farm's General Manager, Craig Camp, please give it a read. This is one of the most forward-thinking estates in American, with a Regenerative Organic Gold™ certification that covers the entire operation's embrace of organic and biodynamic viticulture, improved biodiversity and carbon sequestration. It is a glimpse on how wineries can and should operate in the age of climate change, and it gives us consumers a better understanding on the role wine can play in this future.
2021 Troon Vineyard Applegate Valley Vermentino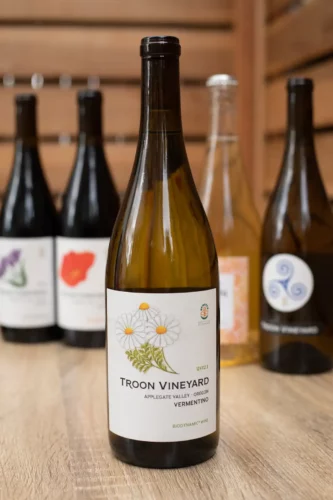 Applegate Valley AVA (Oregon )
Grapes: Vermentino (100%)
Alcohol: 12.6%
Opinion: ★★★★★ (out of five)
Food-friendliness: Impeccable
Value: Exceptional
A beginner might like … the low alcohol and yet firmly structured nature of this wine. Sometimes low-alcohol white wines can feel flimsy over time, but this fantastic Vermentino held my attention over each glass (over two nights) with its mineral-meets-creamy character and profuse aromas.
A wine obsessive might like … seeing what Vermentino does with a little malolactic fermentation. This process seems to divide wine lovers, with those in the negative camp saying it obscures terroir. That's a debate for another day, but even if it does, to that I say: so what? In a wine like this, that creaminess gives the senses something to hold onto, and in my opinion, makes this wine much more memorable than the dozens of other Vermentino I taste throughout the year. See what you think.
Note: The 2022 vintage was just released as the 2021 is no longer available. Wine was provided as a sample by the winery. Learn more about our editorial policy.