3
min read
I've written quite a bit lately about Italy. For this, I am in no way apologetic.
There is something about Italy that grabs you by the collar, kisses both of your cheeks, and then leaves you in a cloud of perfume. Most anything they make for consumption — cars, fashion, cheese, cured meats, pasta, and yes, especially wine — is not only refined and carefully crafted, it is unique to Italy. Efforts to duplicate these products in other countries has had mixed results.
I recently wrote at length about what I called Italy's homebody grapes when I reviewed a Schiava recently. I've been introduced to yet another worth seeking out: Roero Arneis. If you love Chardonnay, you should change it up and buy a few bottles of Roero Arneis instead. You might need to hunt for it, but like all good treasure hunts, it'll end well for you.
Here's what you need to know about Roero Arneis:
The first part of its name is a splendid and overshadowed region north of the Tanaro River near Alba. Roero makes plenty of Nebbiolo, and even blends up to 5% of Arneis into its version of this storied red wine. The region is just as close to Alba as Barolo, but will remain in its shadow for decades to come. Translation: What it lacks in reputation, it makes up for in value.
The second part of the wine's name comes from the grape, which in Italian translates as "little rascal." This is a grape that is a pain to grow — very low yields, prone to mildew, prefers the same growing conditions as Nebbiolo — but it rewards hardworking vintners with rich, aromatic white wines the color of golden straw.
Roero Arneis, as a wine, was teetering on extinction in the 1960s. Only a small few were still making the wine because of its difficulty, as well as increased demand for Nebbiolo. In fact, its been noted that Arneis was still being grown so that the birds had something to devour instead of the prized clusters of Nebbiolo nearby.
I bought a bottle of 2012 Paitin di Pasquero "Elisa" because of the producer. If you want an introduction to the seduction of Piedmont's wine, Paitin di Pasquero is a good label to seek out. Their Barbaresco goes for less than $30 (and its fantastic), and just a week ago I was espousing the virtues of their Langhe Nebbiolo.
The Roero Arneis did not disappoint. It had sat on the shelf for three months waiting for its moment, and that moment came when we decided to make eggs for dinner — just gussy them up a whole lot like the Piemontese do. Our eggs were fried over easy and served over polenta cakes with pancetta, white corn, tomato, fresh mozzarella, balsamic syrup and leftover chimichurri sauce we'd made the night before. It was off the wall, but a great pair.
In fact, I'm not sure I've ever had eggs and wine together. You may read that they don't pair well, like wine and asparagus. I'd kindly suggest that you ignore this advise.
 2012 Paitin di Pasquero-Elia "Elisa" Roero Arneis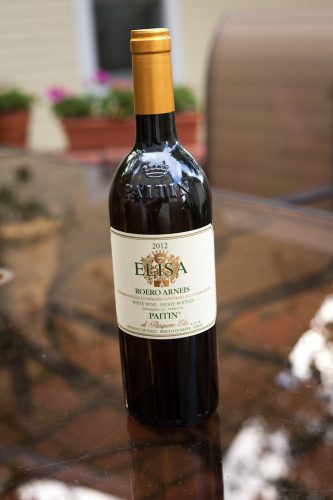 Roero Arneis DOCG
Grapes: Arneis 100%
Alcohol: 12.5%
Ratings: ★★★★ 1/2 (out of 5)
• Profile: ★★★★ 1/2
• Food-Friendliness: ★★★★
• Value: ★★★
Recommended for: Pairing with egg entrees. And turning the heads of both Riesling and Chardonnay enthusiasts.
Tasting notes: Golden straw-colored with surprisingly thick tears given that this isn't a high alcohol wine. Elegant nose with aromas of citrus and honey. A very bright first impression on the palate and quite unique: most noticeable is pear and lemon, but then comes a hard-to-place note that I wrote down as "butterscotch." Reminiscent of a German Riesling in flavor, and of Chardonnay in body.