3
min read
Piedmont's greatest grape comes in many forms, with many price tags. You could easily drop more than $100 for a premier "sori" Barolo or Barbaresco (four times that in a restaurant), or you could pay just $25 for a funky-shaped bottle of Travaglini Gattinara. Three wines from three different corners of Piedmont, made mostly the same way, and delivering different experiences in subtle and not so subtle ways. Nebbiolo, like Pinot Noir, is very expressive of terroir, meaning you could say something as ridiculous as "I prefer my Barolos from sandier soils" and you would actually see people nod knowingly.
A step lower than these wines is the straight-up, less stringently fawned-over — but often-times just as satisfying — Langhe Nebbiolo, a bottle of wine that can be found at nearly every wine shop. Not only are these wines cheaper, they are easier to drink young, and they still manage to carry the cherry-and-roses profile that is the hallmark of any good Nebbiolo-based wine.
After visiting this corner of Piedmont, I've become slightly obsessed with Langhe Nebbiolos, partially because they work on more occasions than Barolos or Barbarescos. Aaaaand because I'm not made of money, either. Their bouquet is intoxicating — you can pick up their familiar, earthy, berry-patch aroma from a few inches above the glass — and they won't kick your ass with tannins. Pizza, spaghetti, rotisserie chicken from the grocery store deli counter: a Langhe Nebbiolo won't judge you.
Of the many Langhe Nebbiolos to seek out, the Paitin di Pasquero is pretty choice. Per the rules of the Denominazione di Origine Controllata (DOC) — a stringent set of guidelines that these wines have to adhere to claim the name "Langhe Nebbiolo" —  winemakers are allowed to blend other indigenous red grapes into the wine (up to 15%). The Paitin di Pasquero stays at 100% Nebbiolo, preserving a lot of the qualities that give this wine such a firm sense of place. In fact, since the grapes were harvested near Nieve in the Barbaresco area, it is fairly safe to say that the wine doesn't need any other grapes to soften the impact, as perhaps a Langhe Nebbiolo from Serralunga d'Alba, Barolo or Monforte d'Alba might. Barbarescos are famously more floral and less gruff than the Barolo villages in the higher hills — again, because of the soil, incline and the microclimate of the area.
Over the weekend, we made meatballs from scratch from the chain of a beef tenderloin, and then served them with fettucini in a spicy marinara sauce. The Langhe Nebbiolo said "fine, I can work with that." And work with it, it did.
2012 Paitin di Pasquero Langhe Nebbiolo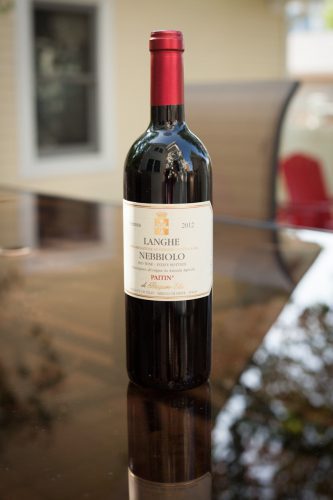 Langhe Nebbiolo DOC
Grapes: Nebbiolo 100%
Alcohol: 13.5%
Ratings: ★★★★ 1/2 (out of 5)
• Profile: ★★★★ 1/2
Food Friendliness: ★★★★ 1/2
• Value: ★★★★ 1/2
Perfect for: Decadent dinners or shoestring potatoes. It really doesn't fuss. 

Tasting Notes: A classic Langhe Nebbiolo. Garnet red, highly aromatic with cherry, roses, cigar box and cedar. On the palate, triggers thoughts of black cherry, ripe plum, rose water and unsmoked tobacco with an extraordinarily smooth texture and no sign of oak. Tremendous balance and an incredible finish for a $15 wine.