6
min read
Dolcetto is the kind of grape that shows up to a summer party in a collared pink shirt, shorts and cheap sunglasses. Nebbiolo arrives in Ray-Bans and an Armani suit — his opened top-button the only sign that he's ready to party.
The personality of Piedmont's three main red-wine grape varieties — the aforementioned, plus Barbera — will always captivate me. You won't find them in the New World; heck, you won't find them elsewhere in Italy. They are clearly defined characters, yet somehow, still full of surprises.
Take for instance, a lesson I learned last week.
The Langhe Catch-All
I was drinking a wine from Piedmont — one of those absent-minded moments where you grab a bottle, glance at the label, and think you know what you are dealing with. I saw  "Langhe" and assumed the word "Nebbiolo" followed it. (Heck … it drank like one.)
But then I started paying attention and Bricco del Drago was swerving in unusual directions. Where was that tannic uppercut? How come it was so fruity? Why was I experiencing (dare I say it?) so much pleasure?
That's not to say that Nebbiolo lacks pleasure. It just takes time to arrive. If you open a Nebbiolo and start drinking it right away, it tends to be a gruff bastard. Even Langhe Nebbiolo — which sees shorter oak aging — takes an hour or two to reveal its delights. But when they arrive, those delights are substantial.
This wine … it was fun from the start.
Eventually, it dawned on me to double-check the label. LANGHE it said. That was it. Checking the tech sheet online, I discovered that it was actually a blend of Nebbiolo and Dolcetto, with 85% of it comprised of the latter. That would explain the amiable tannins, the bright and juicy fruits — but not the structure.
It's always surprising to see how much — or how little — a grape contributes to a blend. Blending wine to exacting proportions is practically a science. But I would have guessed that 15% Nebbiolo would have propped up this wine's body like welded iron. Instead, it had a supple strength that compelled one sip after another.
I was also spellbound by the wine's strong aromatic note of roses, another "tell" of Nebbiolo. I've never found Dolcetto to be particularly floral, so was this coming just from the Nebbiolo side? And if so, why was that coming through and not more of Nebbiolo's tannic grip?
And then the bottle was empty. My wife was apparently just as intrigued by it as I was.
A Grand Cru for Dolcetto
Perhaps some of the mystery comes from the bricco where the Dolcetto vines grow. In the local dialect, a bricco is a hilltop, and the Bricco del Drago near San Rocco Seno d'Elvio south of Alba has long possessed special qualities. For one, the hills here are among the steepest in the Langhe. They also catch quite a bit of wind from the south, which on some days carries a little saltiness from the Mediterranean Sea, some 30 miles away.
However, since the region falls outside of the Barolo DOCG and Barbaresco DOCG zones it has missed out on veneration. In fact, Barbaresco's border is just across the valley.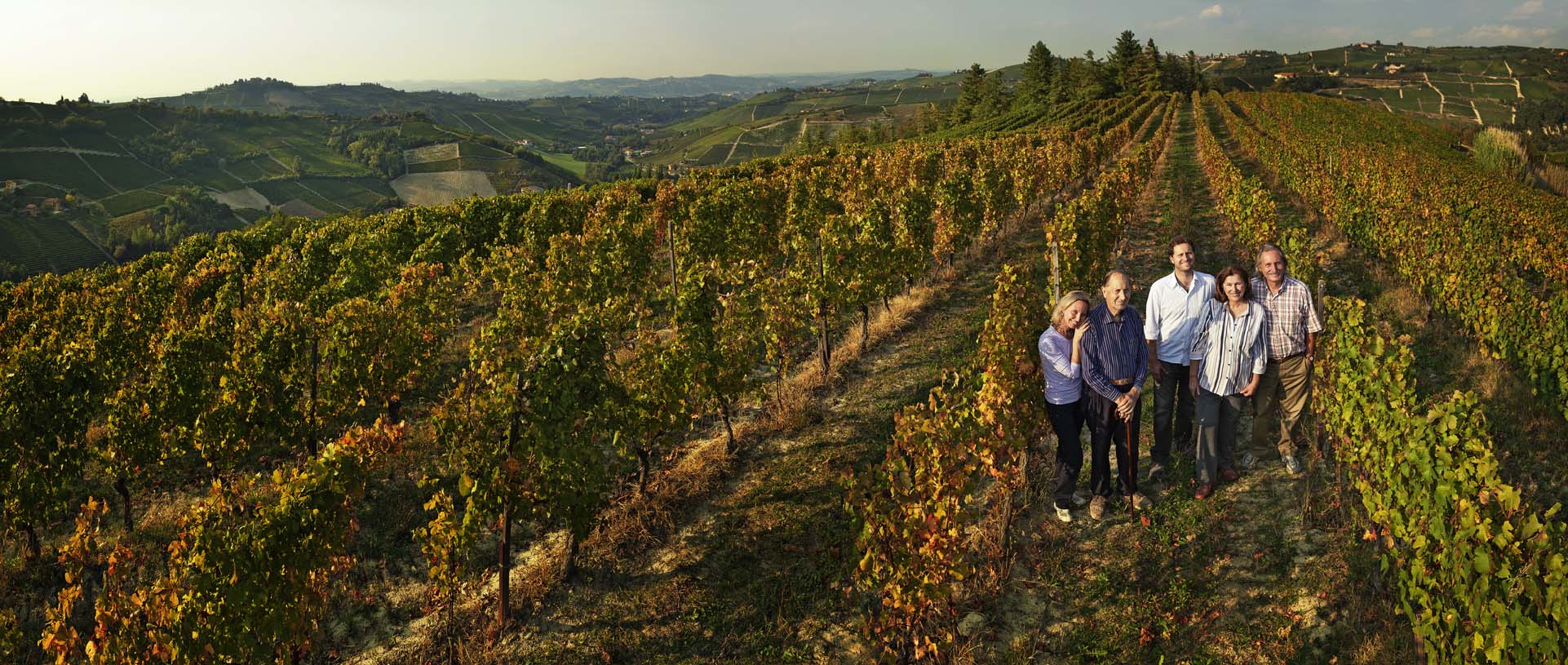 The vines on Bricco del Drago — a mix of Dolcetto and Nebbiolo — grow low to the ground to fend off the wind, and in spring time, orchids grow wild in the rows between them. According to winemaker Tino Colla, the soil is a chaotic mix of sand, "skeletal structure and tuff," which in the local dialect they refer to as vigna delle macie, or a "stained vineyard."
First planted in the mid-1960s by Luciano Degiacomi, the Dolcetto vines quickly showed a unique character that stood apart, and over a succession of vintages, Degiacomi fine-tuned the resulting wine to its current proportions. When Colla took over the vineyard with his brother — Beppe — in 1994, their respect for the wine lended itself to fanatical devotion: Bricco del Drago has always been, and will likely always be, an 85/15 split of Dolcetto and Nebbiolo. Because of this, it is the first wine in Italy to use an obscure appellation designation called a denominazione di origine semplice — a denomination of simple origins.
The two varieties are vinified separately since Nebbiolo requires a longer maceration time, and once in oak, they age for 12 to 18 months in barrel depending on the vintage.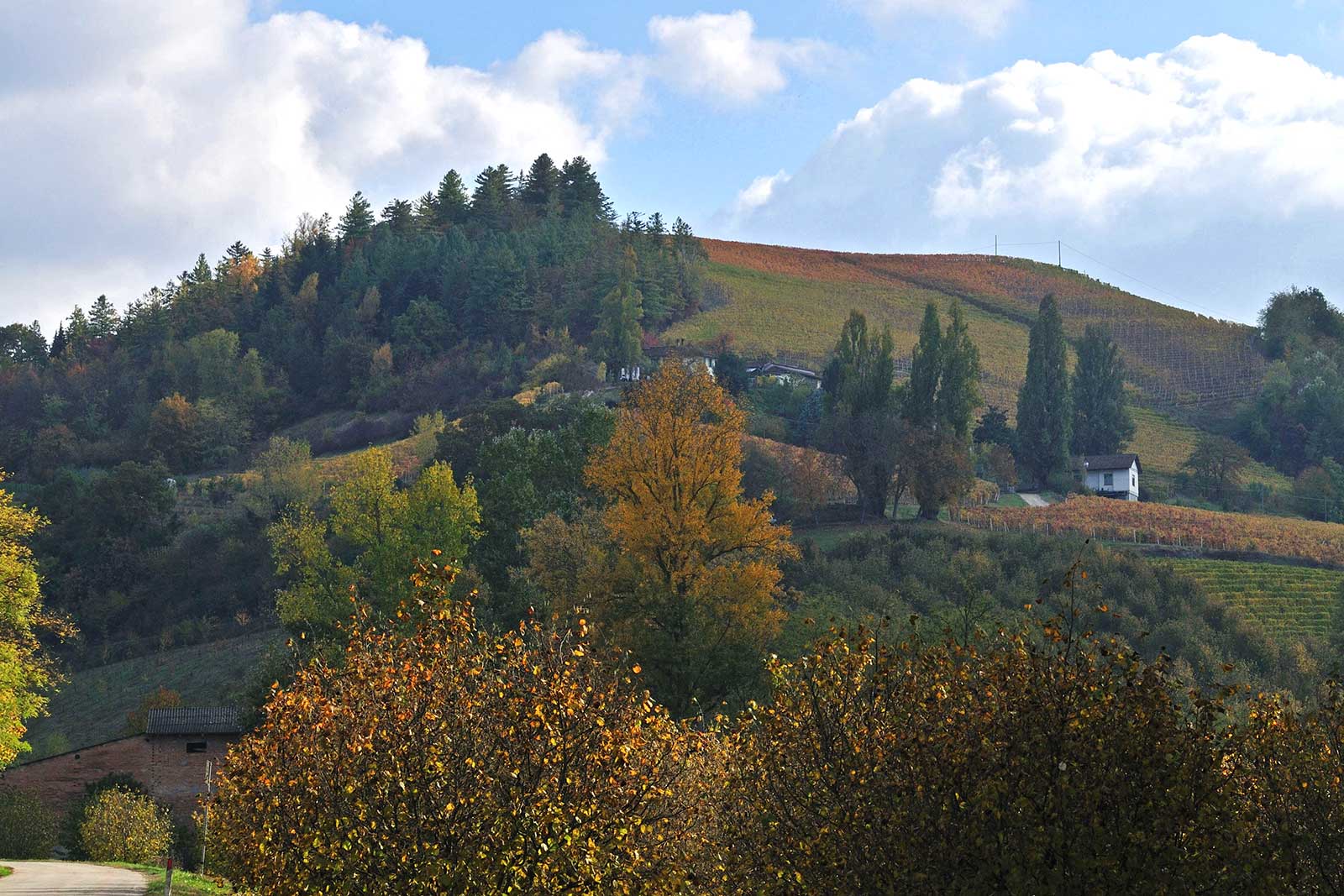 "It is an unusual and extraordinary wine," Colla has noted in the past. "Completely unexpected, neither dolcetto nor nebbiolo. As it ages, it resembles a Bordeaux blend, with which it's often confused during blind tastings when it has been aged."
And despite producing a Barbaresco and a Barolo from the Bussia vineyard, Bricco del Drago is among Poderi Colla's signature fine wines.
Of all my wine studies, the largest amount of time has been spent on Piedmont's fascinating wines. However, it has been all-too-easy to corner myself into a DOCG box, drinking the carefully regulated varietals of Barolo, Barbaresco, Barbera d'Asti and Dolcetto di Dogliani. They have their wild charms, but once you scratch enough of the Langhe Hills' surface you start to see that the varietal wines don't have a monopoly on expressing terroir. The potential of unusual blended wines like this one (or GD Vajra's beautiful Langhe Rosso) lies in their ability to tell a new story about a landscape we so often think we know already.
2012 Poderi Colla Bricco del Drago Langhe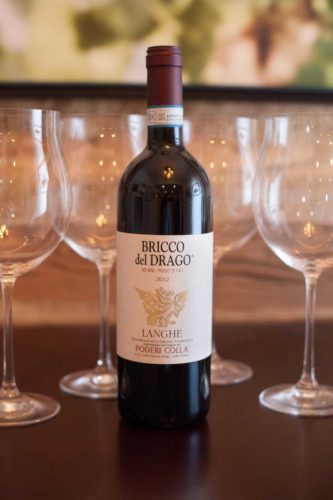 Langhe DOC, Italy
Grapes: Dolcetto (85%); Nebbiolo (15%)
Alcohol: 13.5%
Ratings: ★★★★ 1/2 (out of five)
• Aromas, Flavor & Structure: ★★★★ 1/2
Food-friendliness: ★★★★
• Value: ★★★★
Tasting notes: A fascinating wine that I would have never guessed is 85% Dolcetto because of its structure and poise. Has a tinge of that cherry-rust color we often associate with Nebbiolo on its edges, too. Aromas are very fresh and fruit-centric, centered on notes recalling black currant and black cherry, pencil shavings and a distinct, wonderful scent of roses. Superb energy on the palate with the perfect amount of oak. Drink it in one night, however. It's still mostly Dolcetto and I found that its structure was diminished on a second night after re-corking a glass' worth.
Recommended for: We served it alongside steak tartines with capers and spinach and it worked exceedingly well. However, I think an even better match might be a game bird such as pheasant or quail. I'd love to serve this at a Piedmont wine-tasting party to see how it compares to Dolcetto d'Alba and a Nebbiolo Langhe.
---
Note: This wine was provided as a sample by WELL COM and Poderi Colla. Learn more about our editorial policy.
Top image: The Bricco del Drago vineyard above San Rocco Seno d'Elvio. ©Poderi Colla