3
min read
The mood of fruit has left the atmosphere. It is autumn, and things feel brittle and difficult again. But the bounty of the last season has been replaced by a different gift: earthy smells, golden light and the desire to roast something.
When I tasted Maxime Magnon's "La Bégou" Corbières Blanc on August 26 — also known as Peach Season where I live — I immediately regretted my timing. This feels like October, I wrote in my notes. Or perhaps, it was fortuitous: nobody likes to be surprised by autumn's arrival. It's best to brace yourself ahead of time.
What lent the wine such a feel was how it buried the lead of fruit and flowers under a rigid veil of anise seed and roasted-almond like aromas and flavors. Unified by a tandem of orange-like acidity and quasi-creamy texture, I found the wine ultimately beguiling yet familiar. I'd tasted something like this before, and recently: Clos Mogador's Nelin, a white Priorat that also celebrates the lighter mutations of Grenache, as well as the practice of barrel-aging a white wine (something I wish was more common).
In a sentence:

"Unified by a tandem of orange-like acidity and quasi-creamy texture."
Magnon is a young vigneron from Burgundy, making a name for himself in the arid, squelching south. His stomping grounds are dominated by high-yielding co-operatives, but he prefers to work higher up in the mountains of Corbières where the pitch is steeper, the soil poorer, the vines older, the rewards more profound. I'm going to see about tracking down his wines based on 100-year-old Carignan vines in the coming months, if I can.
I will say this. There is a drawback to this wine: the wax capsule. It looks pleasant, and its more eco-friendly than the harsh metals of a foil capsule, but this one was particularly crumbly and I wasn't able to keep its little bits from falling into the wine. It's unpleasant to have to fish out little yellow wax crumbles from such a golden-tinged elixir, but that's what I found myself doing. I am not part of the Anti-Wax brigade that loves to moan and groan on twitter, but a better quality wax is needed for future vintages.
Is that wax enough to keep me from buying this wine? No, not really. This is a thrilling white wine with loads of character, and getting to know the Languedoc through intrepid producers like Magnon is the kind of arm-chair travel I prefer.
2020 Maxime Magnon "La Bégou" Corbières Blanc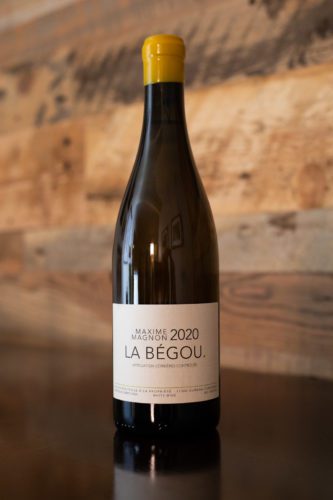 Corbières AOC (Languedoc )
Grapes: Grenache Gris (50%), Grenache Blanc (35%), Carignan Gris (15%)
Alcohol: 13%
Opinion: ★★★★ 3/4 (out of five)
Food-friendliness: Versatile
Value: A Little Pricey
A beginner might like … the unexpected pleasures of this wine. While you eventually find a fruitiness deep within, the lead of this wine's story is decidedly nutty. Any sweet tones (the wine is fully dry) seem more akin to a vanilla bean than anything on a fruit spectrum, yet the quenching acidity and vivid brightness of the finish might make you realize that "fruit-forward wines" don't need all the attention.
A wine obsessive might like … Grenache Gris. I have seen and tasted Grenache Blanc-forward wines for years, and have come to prefer their upright nature over those lead by Marsanne and Roussanne. But Grenache Gris, like other "gray" clones of popular grapes, seems to have a heightened sense of self with the potential for greater depth and precision. Half of this wine is Grenache Gris, so this is hardly a master class on the variety. In fact, 15% is from another gray variety, Carignan Gris (which I really want to know more about). I am certainly intrigued to pull on that gray thread a little more in the future.
Note: This wine was provided as a sample by Maxime Magnon's American importer. Learn more about our editorial policy.