3
min read
A year ago, Hailey and I traveled to the Anderson Valley for a quick, three-night getaway in California Wine Country. One of the great personal discoveries of that trip — and I use the word personal deliberately — was beets. No, I didn't discover that they exist, or that people occasionally eat them. I knew that. What I discovered was … I really like them.
Beets, feta cheese, spinach, some nuts: that's a meal. And a really good, healthy, colon-blasting one at that.
To me, they taste like the earth, and that's why I've grown to love them. There is a wholesomeness to their flavor and texture.
Last weekend, Hailey asked me how I wanted to spend Father's Day. I offered a planned-out day with her and the girls that included a nature walk, lunch outdoors at a new Italian deli in Denver, and me in the kitchen at day's end, cooking dinner. We had a large package of fresh beets in the fridge, and I thought: "hey, since beets evoke dirty thoughts, they pair well with earthy wines." I went and fetched a "Jamsheed" Pinot Noir from Maysara.
I've been diving into Oregon's pinot a little more, ever since we booked a vacation there for this August. Erath, Chehalem and especially Lenné have all brought to mind the richness of soil when I've sipped them. Even if you can't pin down what makes the Willamette Valley's terroir special — is that sedimentary seabed I'm tasting? — you can taste something that's unique. That something is earthiness.
The Maysara "Jamsheed" Pinot Noir — one of six pinot noirs they make — may very well be the best of the lot so far. From first splash to final sip, it transformed from a cranberry-packed sonnet to a raspberry limmerick.
Meanwhile, dinner got a little wacky.
For one: the food. I opted to fold the beets into a simple risotto (it worked!), which was served alongside pan-fried halibut (that didn't) and whole grain bread with figgy butter (which also worked). Hailey — who is ever-so-patient with my experiments — passed along words of encouragement.
But the best part was that this was Father's Day, and my two little girls were putting on a show of rambunctiousness.
Our littlest daughter, Lamorra, sat in a Bumbo on the top of the patio table. Varenna, in her usual way, moved in circles all around, eating her dinner by fistfuls from behind me, under the table, curled up on her chair, by the raspberry bushes …
They're a whirlwind, and perhaps the reason I'm loving wine so much is that it naturally slows me down.
2009 Maysara Pinot Noir "Jamsheed"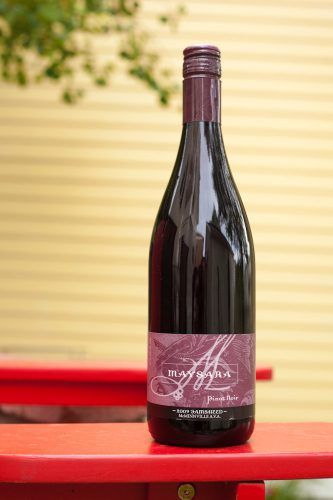 McMinnville AVA, Oregon
Grapes: Pinot Noir 100%
Alcohol: 13.7%
Rating: ★★★★ 1/2 (out of five)
• Profile ★★★★ 1/2
• Food-friendliness ★★★★ 1/2
• Value ★★★ 1/2
Tasting Notes: Ruby with thick legs on the glass. Expressive and floral on the nose with cherry and pine. Very forward flavors, ringing out with cranberry, a hint of strawberry, nettles and a deep mineral quality. Over time, transformed from cranberry tones to rich raspberry. A living, breathing wine that wouldn't stop talking.