4
min read
If a wine article could have blood, sweat and tears in it, then look no further than this week's First-Taste Guide to Chianti Classico. For months, I've been steadily working on that piece: researching, tasting, acquiring photos, writing, revising, polishing, tasting again. To explain this appellation adequately without diving into its lengthy, complex history is — I found — impossible.
I was at least taking comfort in the notion that Chianti Classico's wines are all red with some Vino Santo. That part was easy to explain and at least saved me on the word count … or so I thought.
Villa Calcinaia
Then I came across two wines from Villa Calcinaia, that were Sangiovese-free. One was a Rosato dei Colli della Toscana Centrale IGT made entirely from Canaiolo. The other was called "Comitale" — a Bianco dei Colli della Toscana Centrale IGT made from 90% Grechetto and 10% Vernaccia.
Villa Calcinaia is a 30-hectare estate near Greve in Chianti that also makes eight different Chianti Classico — three Annata, two Riserva as well as three single-vineyard Gran Selezione. None of which I could find in time for the First-Taste Guide, but I'm certainly going to hunt them down now. The rosato and bianco were magnificent and fun, the types of wines that completely change the story you had in your head about a certain place and what it does best. This is my kind of winemaker.
The Rosato
The estate has been in the Capponi family since 1524. Long before it was en vogue to do so, the family began converting the vineyards to organic viticulture in 1992, earning certification with the 2014 vintage. Their approach to Chianti Classico is to produce a 100% varietal Sangiovese, which is interesting because the rosato is their sole use for Canaiolo, a grape that is often Sangiovese's best friends in the Chianti Classico blend. Here, it demonstrates a playful demeanor. It's like seeing Roger from Accounting clear the dance floor during happy hour — damn, Roger has some moves! The wine features a little light gas to keep your palate engaged, as well as rich and distinctive aromas reminiscent of sour plum, cherry blossom and the dark citric tang of blood oranges.
The Bianco
The bianco was intended for dinner. Needless to say, with four thirsty adults floating around the kitchen, it didn't make it. Rather than insepid Trebbiano, flat Malvasia or anonymous Vermentino — where my mind usually goes with Tuscan whites — this wine leans on ripe Grechetto to conjure vivid tropical tones and an intense textural quality.
Natural wine writers and natty-focused somms tend to overlook Chianti Classico, possibly because the wines come from large, established family estates, and it doesn't conform to the story arc of a grassroots revolution. That's fine. But if winemakers such as Villa Calcinaia can find new ways to express terroir inside and outside the Chianti Classico DOCG — the greater hills of Chianti Storico — than they will be impossible to ignore. The terroir is just too good to pass up.
2017 Conti Capponi Villa Calcinaia Rosato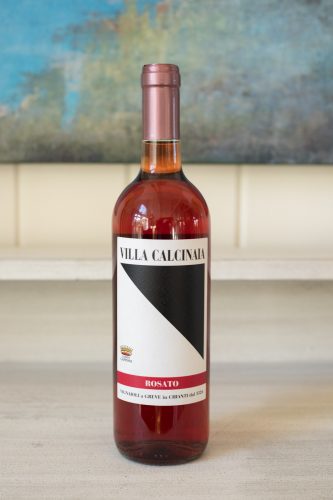 Colli della Toscana Centrale IGT (Tuscany)
Grapes: Canaiolo (100%)
Alcohol: 13%
Practices: (certified organic)
Ratings: ★★★★★ (out of five)
Food-friendliness: Versatile
Value: Very Good
Tasting notes: Hot damn! A rosé that even I can love! It's been years since I was swayed enough by a rosé to give it a top-tier ranking, but there you go. This wine is at once unexpected yet clearly defined. I've never met a wine like this, but right away I understood its point of view.
The color is dark like Tavel, and the vibrant aromas burst from the glass recalling sour plum, cherry blossoms and blood oranges. A rare wine where the nose translates exactly to the flavors and textures. The plumey notes add a plushness to the texture that is cut by the perfume of the floral notes and the acidic tang of the blood orange notes. Not quite frizzante, but with some gas. Almost no tannin.
If you like oddball natural wines, you'll love this wine. But if you love conventional rosé, you'll love it, too. A wine that strikes a happy medium.
Serving suggestion: Poached salmon with risotto or pasta carbonara. Don't overchill. You will want to experience these aromas.
2017 Conti Capponi Villa Calcinaia "Comitale" Bianco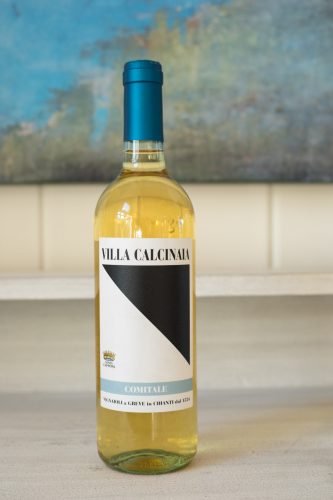 Colli della Toscana Centrale IGT (Tuscany)
Grapes: Grechetto (90%), Vernaccia (10%)
Alcohol: 13%
Practices: (certified organic)
Ratings: ★★★★ 1/2 (out of five)
Food-friendliness: Versatile
Value: Very Good
Tasting notes: This exotic and rich white wine is full of surprises, demonstrating the awesome potential of Grechetto when its allowed to shine.
Vivid deep yellow color. On the nose, it reminded me of pineapples, eucalyptus, white flowers and a delicate amount of butterscotch. There is a precision to the acidity that makes the wine seem purposeful and on point. The texture is layered and almost rich, and at times, I was reminded of Viognier from the Rhône Valley in France. Refreshing and clean on the finish.
Serving suggestion: Fish tacos with cabbage slaw, or an herb-coated pork tenderloin with cacio e pepe pasta.