4
min read
I've been ignoring New World wines on Opening a Bottle lately, probably because I'm going through a roots phase with France and Italy at the moment. I would liken it to a rock musician who puts away the synthesizer for a time and goes on a blues-listening bender to rediscover his soul … but that assumes that wine drinking leads to some sort of creative output.
So … bad analogy.
However, there is something to be said for a French and Italian "roots phase" in one's wine-drinking career. By becoming well-versed in the classics (one hopes), you can make sense of New World wines: how they bend the rules to beneficial — or sometimes tragic — effect. What does Syrah actually taste like when you subtract the New World's love of ripe fruit and heavy oak? Or Pinot Noir for that matter? Or Chardonnay? After such a phase, can you return to the realm of anything-goes New World wines and be a wiser connoisseur?
With all of this in mind, I decided to flirt with a handful of California reds that are credited with a more toned-down, Old World style. Specifically, wines influenced by the greats of the Rhône River in France. To generalize about New World wine is dangerous (even though I just did a whole bunch of it in the preceding paragraph) so I wanted to see if a little research could turn up New World reds that embrace the classics while showing their own creative spark.
In the coming weeks, I'll be coming back to this as we open up a few of these wines, but for now, let's look at Bonny Doon Vineyard's Black & White & Red All Over, a Syrah-Viognier blend that is inspired by the great Côte Rotie (for 20% the price).
Bonny Doon & the Rhone Ranger
While researching "New World wines that celebrate Old World style," Bonny Doon Vineyard's name routinely surfaced. It's founder — the vintner philosopher of Santa Cruz, Randall Grahm — is so closely associated with Rhône-style wines that he is still referred to as the "Rhône Ranger," a nickname from a 1989 Wine Spectator cover. Grahm's blog posts and wine labels read like Liberal Arts essays, filled with words I once knew between the ages of 18 and 22 when I had a thesaurus on my hip. (For example: "Call it a conceit of antiquity that once the soul of the Platonic Grape enjoyed a mystical unity of self-sufficiency…").
Esoteric, funny, light-hearted, perhaps a bit obtuse, the whole Bonny Doon experience — from reading the label to uncorking and polishing off the bottle — is meant to remind us that wine-drinking is fun.
And the Black & White & Red All Over is just that. As mentioned earlier, it takes its cues from the great French appellation of Côte Rôtie where Syrah and Viognier are grown, and often, fermented together. It is one of the rare instances where red and white grapes are blended in such ample proportion (roughly an 80/20 split), and it is certainly the most celebrated red-and-white combo, producing excellent variations in Australia as well. The Syrah contributes the depth, robustness and dark fruit flavors, while Viognier adds floral fragrance and a softer texture. It is a yin-yang wine.
In full disclosure, I haven't had Côte Rôtie (something about ponying up $100+ for a bottle … I just haven't gotten around to it). Which is all the more reason to celebrate a wine like Black & White & Red All Over. At 12%, it's low in alcohol, which lends a bit more balance of acidity-to-fruit than you might find elsewhere in the CALIFORNIA aisle of your liquor store. And while the typical "tell" of Syrah is present in this wine — dark fruit mixed with a hearty, savory quality akin to cured meat — it is toned down, awash in a plummy, raspberry goodness that suits my American palate just fine.
Old World meets New? Yeah, I can see that. Old World wines are often so damn serious, and that goes beyond just the packaging. This one was lively and bright and seemed to get lighter as it opened up. But a "mystical unity of self-sufficiency?"
Well, if wine is meant to be fun and you get a kick out of poetry, then knock yourself out.
2011 Bonny Doon Black & White & Red All Over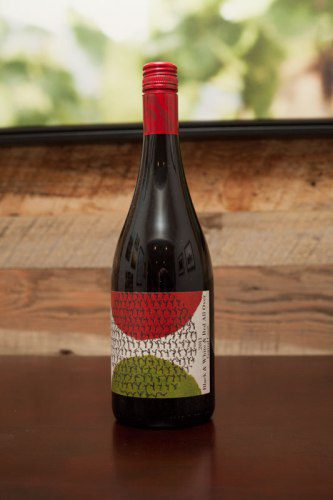 Central Coast AVA
Grapes: Syrah (81%), Viognier (16%), Grenache (3%)
Alcohol: 12%
Rating: ★★★★ (out of five)
• Profile: ★★★★
• Food-friendliness: ★★★ 1/2
• Value: ★★★ 1/2
Tasting notes: A gorgeous wine with a lot of grace, elegance and complexity. The typical gamey notes of Syrah are present, but mostly masked by loads of red fruit and floral aromas. Plum, raspberry, cinnamon bark, cured meat and honeysuckle all make themselves known at some point during the life of the wine. With integrated tannins and a nice smooth texture, although it faded a bit quicker than other quality Syrah wines I have had.
Recommended for: Fall-harvest cuisine and stews; hamburger with a pungent cheese.