3
min read
We have a contender for Top Wine of the Year: the 2015 Borgo del Tiglio Collio Chardonnay. There is so much right with this wine, I don't even know where to begin. But since this is the quintessential French white wine grape variety (grown in Northeastern Italy's Collio region), let's get the comparisons to Burgundy out of the way first. With this precise, delicate yet palate-filling wine, you can embrace Chablis and the Côte de Beaune, and forget about the Mâconnais entirely. This wine has what we Chardonnay lovers crave.
But increasingly, such comparisons need to be mothballed. Long ago, places like the Collio proved that they can make complex, juxtaposition-rich white wines that can stand on their own. The grapes to look for from this region are the local Friuliano and Ribolla Gialla, but the Sauvignon Blanc and Chardonnay are special, too, and they have a long history that predates the respective SB and Chard crazes of the 1980s and '90s.
Much of the area's magic stems from its geographical position — a climatic nexus between the Carnic Alps and the Adriatic Sea that seems to give these wines added tension and endurance. And then there is Collio's special soil, known locally as ponca, which is comprised of sandstone and marl, and contains the fossilized remnants of marine life. I have yet to find a Collio white wine that has lost its structure after a few days open — a boon for at-home wine lover's like you and me, and for sommeliers with a by-the-glass program.
If you have not encountered their wines, Borgo del Tiglio warrants a close look. The brainchild of a pharmacist-turned-vignaiolo named Nicola Manferrari, the winery has garnered an avid following because of its parcels, which are some of the best in Collio, as well as Manferrari's fastidious concern for every aspect of vine-growing and winemaking. This Chardonnay — an "entry point" to the portfolio, but by no means a cheap wine — evokes golden apples, chamomile tea, dried hay and lemon verbena with just a hint of toasted coconut. It's presentation on the palate is so precise, I could find nothing wrong with it at any stage. And perhaps that's why, with all due respect to Manferrari and his Collio compatriots, Burgundy sprung to my mind. This is benchmark stuff.
2015 Borgo del Tiglio Collio Chardonnay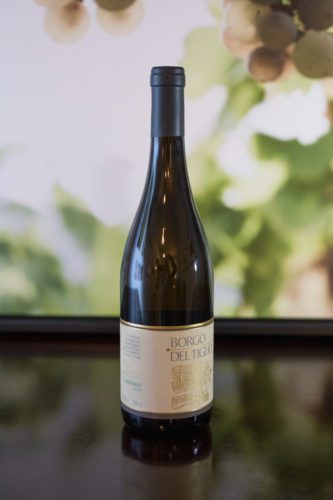 Collio DOC (Friuli-Venezia Giulia) 
Grapes: Chardonnay (100%)
Alcohol: 13.5%
Opinion: ★★★★★ (out of five)
Food-friendliness: Impeccable
Value: As expected
A beginner might like … I want to take a moment to speak directly to those of you who "don't like Chardonnay." My hunch is that you've never encountered a Chardonnay like this: one predicated on subtlety and richness, complexity and simple pleasures. "Are you sure you don't like me?" this wine seems to ask. Outside of Burgundy, this is Chardonnay nearing its apex. Settle the question once and for all, and if you still "don't like Chardonnay," that's totally fine. You're always welcome here.
A wine obsessive might like … Want to be Peak Geek? Get out a stop-watch and time the finish on this wine. I didn't quite time it — because I was with my wife and I still want her to respect me — but it seemed to last for minutes, each sip holding on delicately and lingering. But beyond that, there is also a faintly saline quality to this wine, which lends it a mouthwatering character and helps it hold on for so long.
Note: This wine was provided as a sample by Borgo del Tiglio's importer. Learn more about our sample and editorial policy.