4
min read
Us wine people waste a lot of time. Some of it is spent on circuitous debates on twitter, like whether we are allowed to say minerality (seriously), or taking a stand against decanters (no, seriously). One of the wine world's biggest time sucks is fretting over aged wines and their "optimal windows" for drinking them. You'll often see critics say "drinking beautifully now." Or my favorite: "hold until X" (as if they have a crystal ball that reveals a prescient sensation of when those stubborn tannins will "fully integrate").
But it is natural to ask the question when should I open this? Especially if you've gone to the trouble and expense of properly cellaring a wine. The truly great wines (in other words, the only ones worth aging) simply say different things at different time intervals. The question isn't exactly when you ought to drink it, as much as which window of time you might want to experience it. If a wine is only good for a couple of years — even if that's 10 years after vintage — its not a "great" wine.
So which time interval suits Grenache best? I'd say wait until they're at least out of their preschool years. Those early, hyperactive years can be rough.
To be clear, I am not talking about straightforward Côte du Rhône Villages Grenache or Crianza Garnacha from Spain, which can be juicy, fresh and easy in their early years. Rather, we're talking about the Grenache you might be tempted to lay down, like Châteauneuf-du-Pape and its ambitious brethren: those wines that, when drunk young, are a vision of exuberant fruit but suffer from a caustic nature that renders them anonymous early on.
There is hope for those of us who are too impatient to properly cellar these wines for four to 15 years (or, people like me, who only have two shelves capable of reliable storage and they're all taken up by Nebbiolo). It comes in the form of delayed-release Grenache.
I recently tasted the 2012 Chêne Bleu "Abelard," which in America is in its "current release" stage a full nine years after vintage. Something didn't add up when I saw this: Chêne Bleu ages this wine for 18 months in oak, 12 months in concrete, and then another two years in bottle. Why was the 2012 current? When I followed up with their importer, Wilson Daniels, they told me it was because of inventory reasons. It happens: sometimes importer have to get through previous vintages before they can release a new one. And since Grenache can benefit from age, it actually works out well for us.
Offering dark raspberry and tobacco tones with a wonderful thyme edge to the nose, Abelard was a rare reminder of what I like — no, love — about Grenache. And frankly, I didn't "get" this wine fully until now. It had been too forceful at earlier tastings, both in barrel at the winery and in bottle with more youth. A 2007 (sampled in 2017) revealed its potential for aging, but was still heavy-handed thanks to that year's warm late summer and autumn, which provided the Southern Rhône's Grenache with added bombast. There seems to be more grace in the 2012, which had more even weather.
Either way, what may have been a simple inventory concern for the importer turns out to be a great opportunity for us in this vintage. And if you have the cellar space (and patience), go a step further than me and see what a later window says. I'll be curious.
2012 Chêne Bleu "Abelard"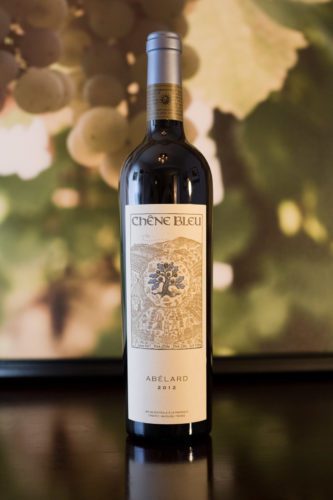 Ventoux AOC  
Grapes: Grenache (85%), Syrah (15%)
Alcohol: 14.2%
Opinion: ★★★★ 1/2 (out of five)
Food-friendliness: Selective
Value: A bit pricey
Learn more about our wine icons.
A beginner might like … The impact of the nose. At this stage, the wine manages to reveal the best attributes of Grenache from Southern France — the oft-talked about but frankly rarely revealed garrigue, a herbal aroma akin to the local plant life. It's supple fruit tones are bolstered by tannins that have melded nicely into the wine.
A wine obsessive might like … Having a Southern Rhône red blend released in its prime. Wine obsessives can fret about aging their CdPs and Gigondas for another day.
Note: This wine was provided as a sample by Chêne Bleu. I also visited the winery on a press trip funded by their importer in 2017. Two other wines were sampled which I chose not to write about. Learn more about our editorial policy.