3
min read
There is no greater joy for a wine enthusiast than opening up a long-anticipated bottle that was brought back from foreign shores. The joy is further amplified if that bottle isn't imported to your home country.
Last night, we pulled the cork on a such a wine. Procured a year ago at the Walter J. Oster tasting room in the town of Sankt Aldegund, Germany, the Cuvée 1891 is a blend of Spätburgunder (also known as Pinot Noir) and Dornfelder that has been aged in oak barriques for 24 months. On that day a year ago, I had tasted a small glass, and was a bit baffled by its flavor profile. It was quite good, and unlike anything I had ever tasted. It had no other comparison from which to frame my expectation.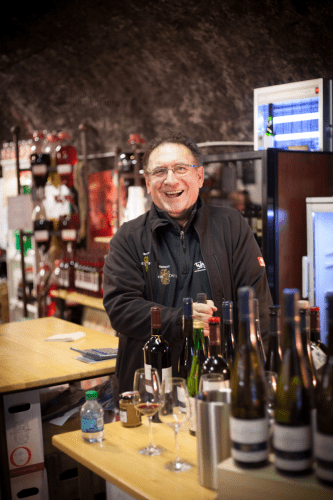 "Will this age well?" I asked the man at the counter.
"Oh yes, of course," he replied, not surprisingly.
But I wasn't quite sure how long I wanted to sit on it. After all, it was enjoyable at first sip: what more would be gained by waiting?
Perhaps I wanted to rest this one knowing that Spätburgunder-Dornfelder blends are so uncommon. Perhaps it was also the knowledge that none of Walter J. Oster's wines are sold stateside (and this was my last bottle from them). These two factors made me hesitate on pulling it from the cellar.
But where I didn't hesitate was in pouring a second glass. Simply put, this is an awesome wine, possessing some of the most complex aromas of any wine I've had this year. The Spätburgunder delivered a lovely cherry and rose aroma, while the Dornfelder brought spice and heft. There was a faint whisper of something else. "Do you know what it smells like?" Hailey asked. "I can't believe I'm going to say this … "
"A barnyard?"
"Yes, a barnyard. Yet not in a bad way." There was certainly a funky edge to the wine's aroma — chalk it up to brettanomyces, which Wine Folly can elaborate on for you. It didn't last long, and it was hardly overwhelming. If anything, it added character to this hard-to-pin-down wine.
The surprisingly full body was layered with flavors of black cherry, flowers, vanilla and nutmeg. By the second glass, I was beginning to see similarities to a lightly oaked Sangiovese. By the third glass, I stopped paying attention: my focus shifted to dragging out the experience as long as I could.
I left the Walter J. Oster tasting room with three bottles that day: a Bremmer Calmont Riesling, an Ediger Elzhofberg Riesling (which is still among the best Rieslings I've ever tasted), and the Cuvée 1891. The first two were masterworks in expressing the unique terroir of single-vineyard Mosel River Rieslings. But the latter one may end up as the best wine of the trifecta. If you are touring the Mosel River someday, I highly recommend a stop in Sankt Aldegund and the Walter J. Oster wine room.
And pick me up a bottle or two, will ya?
2009 Walter J. Oster Cuvée 1891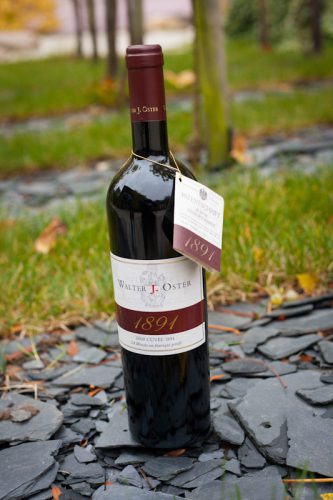 Mosel River, Germany
Grapes: Spätburgunder (Pinot Noir) & Dornfelder
Alcohol: 14%
Ratings: ★★★★★ (out of five)
• Profile: ★★★★★
• Food friendliness: ★★★★
• Value: ★★★ 1/2
Recommended for: Stroganoff, hearty stews or herb-laden pork roasts.
Tasting notes: A striking and wholly unique wine that hovers between a fuller Pinot Noir and a lightly oaked Sangiovese. Highly aromatic with scents of black cherry, rose, hay and a gentle touch of "barnyard" which goes away quickly. Palate is much the same, with additional notes of vanilla and baking spice on a medium to full body. The oak level is just right, with no trace of furry tannins.