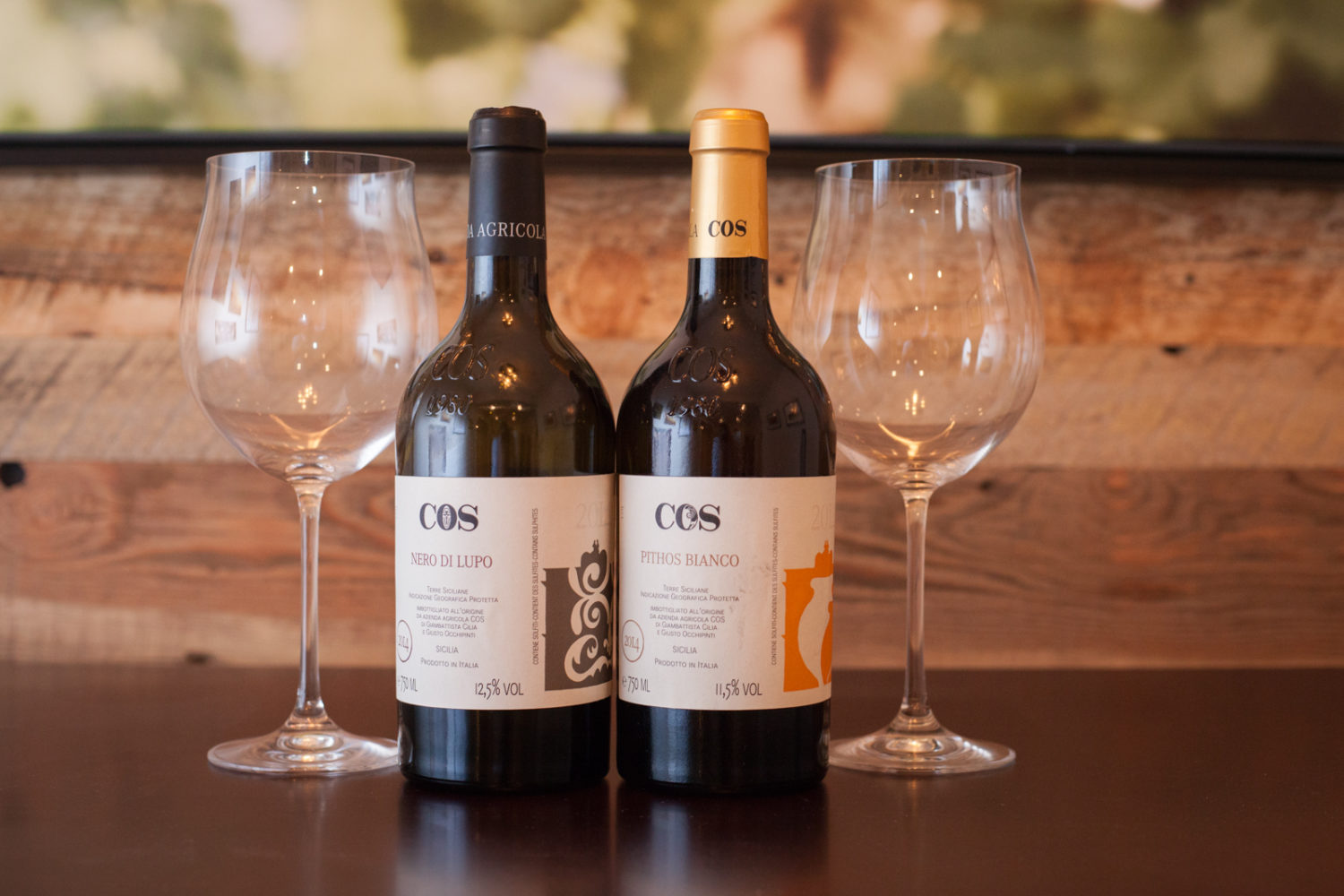 Why
Azienda Agricola COS

is Essential

Founded by Giambattista Cilia, Giusto Occhipinti and Cirino Strano (C.O.S.), Azienda Agricola COS has been one of Italy's most forward- (and oddly, backward-) thinking wineries since its inception in 1980: forward-thinking in the sense that they had a compelling vision for what Sicilian fine wine could be before anyone else; and "backward-looking" because they embrace one of the oldest vessels for aging wine — the clay amphorae — in some of their wines. They also practice biodynamics, an agricultural school/belief system which emerged in the mid-19th century.

Few in Italy can walk the tightrope between chaos and control quite like these guys. Vintage variation swings wildly, easy frames of reference disappear, and what ends up in your glass can be a "love it or hate it" situation. I've poured COS for guests at my home and had them ask for something else — the aromas too intense and startling for their tastes. I've also had guests empty a bottle of COS with surprising speed.

These daring and limber wines have no interest in offering the same story each year; they're "natural" to the core, with very low, if not zero, sulphur added thanks to extended macerations. Yet I've never found them to be flawed or so off-the-wall as to be objectionable. They simply challenge us to taste new sensations and question our response, a stance that is reflective of the wild place from which they come: southern Sicily.
Vittoria, Sicily
Grapes: Nero d'Avola, Frappato, Grecanico, Zibibbo
Appellations/Cru: Cerasuolo di Vittoria DOCG, Vittoria DOC, Terre Siciliane IGT
American Importer: Polaner Selections
Originally listed: June 2017
Renewed: May 2021
Wines to Seek Out
Azienda Agricola COS "Zibibbo in Pithos" Terre Siciliane
The grape known in Sicily as Zibibbo (aka Moscato di Alessandria) has a lengthy history on the island which transcends wine. Delicious off the vine, their yields were often used for raisin production until seedless grape production emerged in the 20th century. COS's amphora-fermented Zibibbo brings forth the apricot, orange blossom and grassiness of this compelling grape, but with an iron-like edge of minerality that is distinctive.
Azienda Agricola COS "Pithos Bianco" Terre Siciliane
Appearances can be deceiving. With COS's Pithos Bianco — a skin-contact Grecanico that sees time in amphorae — the amber color betrays the cherry and red tea aromas that one normally associates with a light red wine. The alcohol levels here (and in the "Zibibbo in Pithos") can be absurdly low, which gives these wines less structure than some may want. But that power is made up for with assertive aromas and flavors.
Azienda Agricola COS Frappato Terre Siciliane
This was my first ever taste of COS and Frappato, and I frankly didn't know what I was tasting. Well, I did: cooked strawberries and herbs, or at least, that's what it reminded me of. It was certainly unlike any other wine I'd had until that point. Fast-forward a decade and I've since come to appreciate the diversity of Frappato, and now recognize that COS's version is truly a benchmark.
Azienda Agricola COS "Nero di Lupo" Terre Siciliane
My favorite COS wine is the racy, brooding yet somehow light "Nero di Lupo," which puts a whole new spin on Nero d'Avola by offering agility and a mineral texture on the finish. If you enjoy Cru Beaujolais, this wine will likely hit the sweet spot for you.
Azienda Agricola COS Cerasuolo di Vittoria
COS's most internationally styled wine is also its most serious, the Cerasuolo di Vittoria DOCG. Mandated to be a blend of Frappato and Nero d'Avola that is aged in oak, COS also makes a companion, the Pithos Rosso, which is aged in clay amphorae, but labeled as a Terre Siciliane IGT. Here on the Cerasuolo di Vittoria, the raspberry-like tones offer a good balance of sweet and sour, while a peppery tinge adds life to a profile of exuberant acidity.