5
min read
Every lover of fine wine has a singular moment that represents the birthplace of their passion. The proverbial "a-ha moment."
Whether its an aged bottle at a restaurant, or a vacation to a wine-producing region, these moments are important because they hang around in our unconscious with every glass of wine thereafter. In ways obvious as well as minuscule, our opinions can sometimes be swayed not by objective analysis, but by nostalgia. A desire to go back to the palate's homeland and re-encounter that first taste.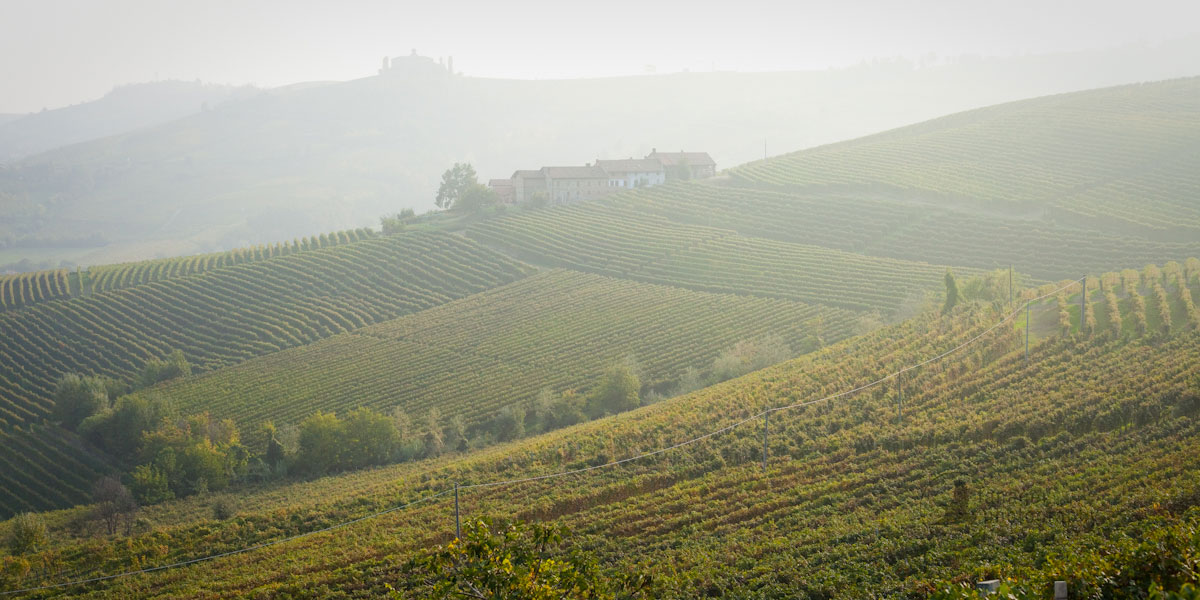 It should be this way. Wine is a sensory pleasure, prone to the influence of foggy memories and illusive desires just as much as food, or anything else, really. What's wrong with knowing what you like and pursuing more of it? As long as you keep an open mind to new grapes, new regions and new experiences, I don't see any problem with staying loyal to the wines that got you into this messy passion in the first place.
For me, that home base is the Langhe Hills surrounding Alba — the land of Barolo, Barbaresco, Nebbiolo Langhe and to a lesser extent, Barbera d'Alba and Dolcetto d'Alba. Before I visited this pocket of Italy, I loved wine but had never really dived into "fine wine." I was (OK, I still am) obsessed with Italy as a destination, but I had already visited Chianti and Montepulciano as a tourist. Neither one grabbed me and throttled me more than the Langhe Hills did. And so, I arrived liking wine, and left loving it. It wasn't so much as a first kiss, but a rapid acceleration — kind of like discovering you're in love with a friend.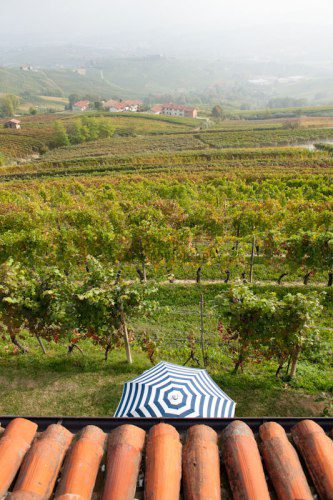 The inn we stayed at — Villa Carita — was owned by a local couple, Eugenio and Cinzia Bocchino. Eugenio (pictured at the top of this post) made the wine, she ran the inn. During the last day of our stay, they accommodated our request for a private wine tasting at their winery downhill in Santa Maria. From that intimate session in their kitchen, I brought back two bottles that would be the seeds for my at-home wine cellar: Their 2006 Barolo (called "Lu"), and a bottle of their 2006 Langhe Rosso, a blend of Nebbiolo and Barbera entitled Suo di Giacomo.
While Barbera and (especially) Nebbiolo have the ability to age for long periods of time, that is often dependent on the quality of the grapes in the first place. Barolo and Barbaresco are not only made from Nebbiolo, they are made from Nebbiolo grapes grown in the most ideal places, which fosters that wonderful complexity.
Nebbiolo grown in other areas can still create a lovely bottle of wine, but whether it is as developed and complex to improve with age remains to be seen. Once you step off the Barolo and Barbaresco scale  — for a Nebbiolo Langhe or Langhe Rosso, for instance —the standards become a little more free form, giving wine makers more latitude to make the wines as they see fit. Can you age these bottles? I suppose, but why would you? If the wine is perfectly fine young, the process of laying down a bottle has just as much potential for diminished returns as increased rewards.
Reading about Nebbiolo Langhe and Langhe Rosso in Matt Kramer's excellent book, Making Sense of Italian Wine, I couldn't help but think of the Suo di Giacomo I was sitting on. Would it stand up to 10 years of aging? Maybe. Or maybe it was time to just open it and enjoy it for God's sake.
So as Christmas approached and we made plans to host my parents, we planned our Christmas Eve menu around the Suo di Giacomo. After an uplifting church service at the cathedral of St. John of the Wilderness here in Denver, we returned home, fired up the stove, preheated the oven, and made chicken saltimbocca, pear-ricotta stuffed ravioli and over-roasted carrots with thyme.
Since I last had the Suo di Giacomo at that tasting in 2012, I've sought out many a bottle of Nebbiolo Langhe. Call it nostalgia or just plain old experience, but I had an expectation with this wine — more than most. However, this was a Langhe Rosso (remember: a blend with Nebbiolo), which is a bit of a harder find in wine shops where I live. What I noticed with the Suo di Giacomo was a distinct edge of cocoa and anise seed that I normally don't associate with the sometimes floral, tarry, red-berry flavor of Nebbiolo. It was probably the Barbera talking, and it demonstrated how the wines of the Langhe Hills have so much depth and potential beyond the area's famous heavyweights.
Eugenio Bocchino does import into the United States. In fact, during the wine tasting, when he discovered we were from Denver, he noted that one of his importers is based here.
That Christmas Eve dinner all but confirmed that his wines are definitely worth seeking out.
NOTE: As of late 2015, Villa Carita is no longer in business.
2006 Eugenio Bocchino Suo di Giacomo Langhe Rosso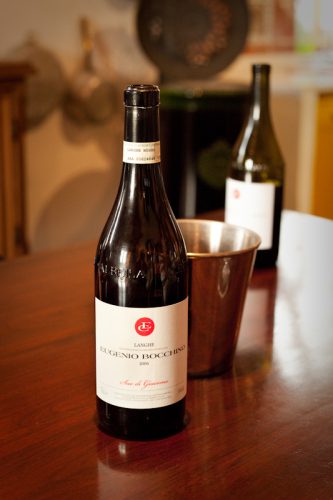 Langhe DOC, Italy
Grapes: Nebbiolo and Barbera
Alcohol: 14%
Rating: ★★★★ 1/2 (out of five)
• Profile: ★★★★ 1/2
• Food-Friendliness: ★★★★
Value: ★★★★
Recommended for: Braised meats, hearty polentas, rustic pizzas
Tasting notes: Incredibly complex, shape-shifting aromas of cherry and foresty mushroom transforming into a cherries-and-chocolate scent over time. Full bodied and nicely balanced between fruit and oaky tannins. Cherry, raspberry, cocoa, and quite a bit of anise seed and cedar on the finish. Mellow notes over time. A wonderful wine to savor ever-so-slowly on a cold winter night.