3
min read
Sometimes, a wine's magic lies in the price tag. Consider this: the 2011 Martin Sarmiento "Cuatro Pasos" Bierzo — an elegant wine made from fickle grapes grown on the precipitous, labor-intensive slopes surrounding the remote outpost town of Bierzo in northwest Spain — can be bought online for $8. If there was a "tip jar" next to this wine, I'd gladly put a $10 bill in it, because it really would be a good value at $18. It almost seems unfair to get such a good wine at such a cheap price.
So where is Bierzo? What does Mencia taste like?
I hadn't heard of either the region or the grape until I stumbled upon Descendientes de J. Palacios Bierzo Pétalos a couple of years ago. It emerged as one of the best wines I had all year, in part because it couldn't be pinned down. Black fruit and nuts one moment, raspberry and herbs another. Throughout, I detected a venison flavor that was wild and exotic. Yet for all these masculine traits, it was a soft and supple wine that was far from overpowering.
Some aspire to describe Bierzo as Spain's version of Burgundy. I can't fully buy into this comparison, in part because Bierzo's recent Renaissance makes it largely a modern phenomenon, something you obviously can't say about Burgundy. In fact, the Palacios family helped spearhead a rebirth of Bierzo's wine in the early part of the last decade. In Old World wine terms, it is still in its infancy.
Perhaps the comparison to Burgundy has more to do with Bierzo wines being feminine, with Rioja's oaky reds playing the masculine counterpart like Bordeaux's legendary blends. But even then, the comparison overstates Bierzo's prominence. You have to look for these wines, especially labels beyond the now ubiquitous Descendientes de J. Palacios Bierzo Pétalos.
The Martin Sarmiento "Cuatro Pasos" isn't quite as memorable as Descendientes de J. Palacios Bierzo Pétalos, but it is an excellent wine to buy by the case if you are a home chef who loves having an elegant, food-friendly red wine on hand at all times. At $8 per bottle, I may just do that.
2011 Martin Sarmiento "Cuatro Pasos" Bierzo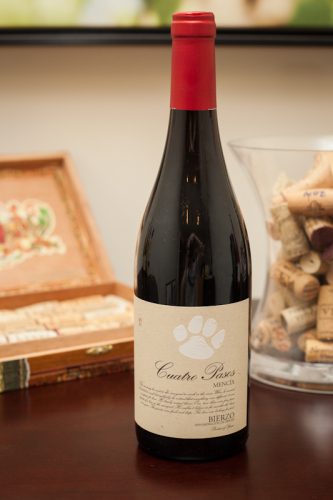 Bierzo DO (Castilla y León)
Grapes: 100% Mencia
Alcohol: 14%
Ratings: ★★★★ 1/2 (out of five)
• Profile: ★★★★
Food Friendliness: ★★★★ 1/2
• Value: ★★★★★
Tasting notes: With its wonderfully inky-purple color, this Bierzo would appear to be powerful and aggressive, but appearances are deceiving. With its black currant and gamey aromas, and mellow flavors of black fruit and walnut, it works as the perfect companion to spicy tagines or rustic and flavorful stews. I noticed that with each sip, it accentuated the cinnamon, turmeric and basil in the Moroccan dish we enjoyed alongside it. About as good as an "everyday wine" gets.
Recommended for: Spicy, earthy dishes such as Moroccan or other North African cuisine