6
min read
Drinking Old World wine is usually an exercise in discovering a place: the identity of a village, a rolling chain of hills, a unique climate, and the pedigree of grapes that showcase it best.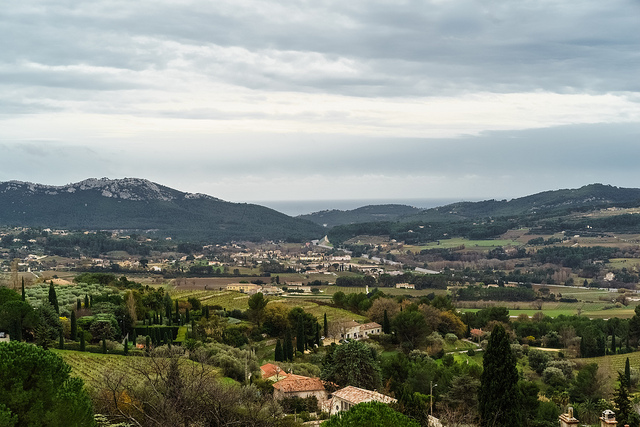 Some places are more unique and defined than others. In Provence, I've found it more difficult to link a wine's character to its place than other parts of France. Rosés vary widely and red wines are often an amalgam of Grenache, Syrah, Mourvèdre and Cabernet Sauvignon in some proportion. Sure, these wines can be incredible (such as this one, this one and this one), but are they the result of a region's multi-generational identity? Or are they more about a winemaker's skill?
I ask without fully knowing.
Bandol — an appellation located on the sunny Provençal coast just east and south of Marseille — defies these conventions a bit. My first taste of it offered a glimpse of what I'm always seeking: a singular identity. Here, the red wines are all about Mourvèdre (aka Monastrell), a blazingly tannic and slow-to-ripen grape that is usually used in a supporting role of GSM blends.
Bandol has charmed the likes of Kermit Lynch, Jancis Robinson, Oz Clarke and — most importantly for money matters — wine collectors the world over. Let's have our first taste and learn a little more about it.
3 Reasons to Try Bandol Rouge
You are hunting for a bold, food-friendly red – Bandol Rouge comes from a hot place, and a majority of it is made from the tannic red grape Mourvèdre (also known as Monastrell in Spain). While alcohol levels can be high, Bandol Rouge is more versatile than it may appear.
You are looking for a Malbec alternative – If you love Malbec but find that it has caused a bit of a rut in your wine-drinking habits, give Bandol Rouge a try. It is large, dark, smokey and complex.
You've enjoyed Priorat in the past – On the surface, Bandol Rouge doesn't share a whole lot with Spain's celebrated Priorat region; however, they both recall a similar fruit profile, match similar foods, and have the same kind of swagger.
About the Appellation and Its Wines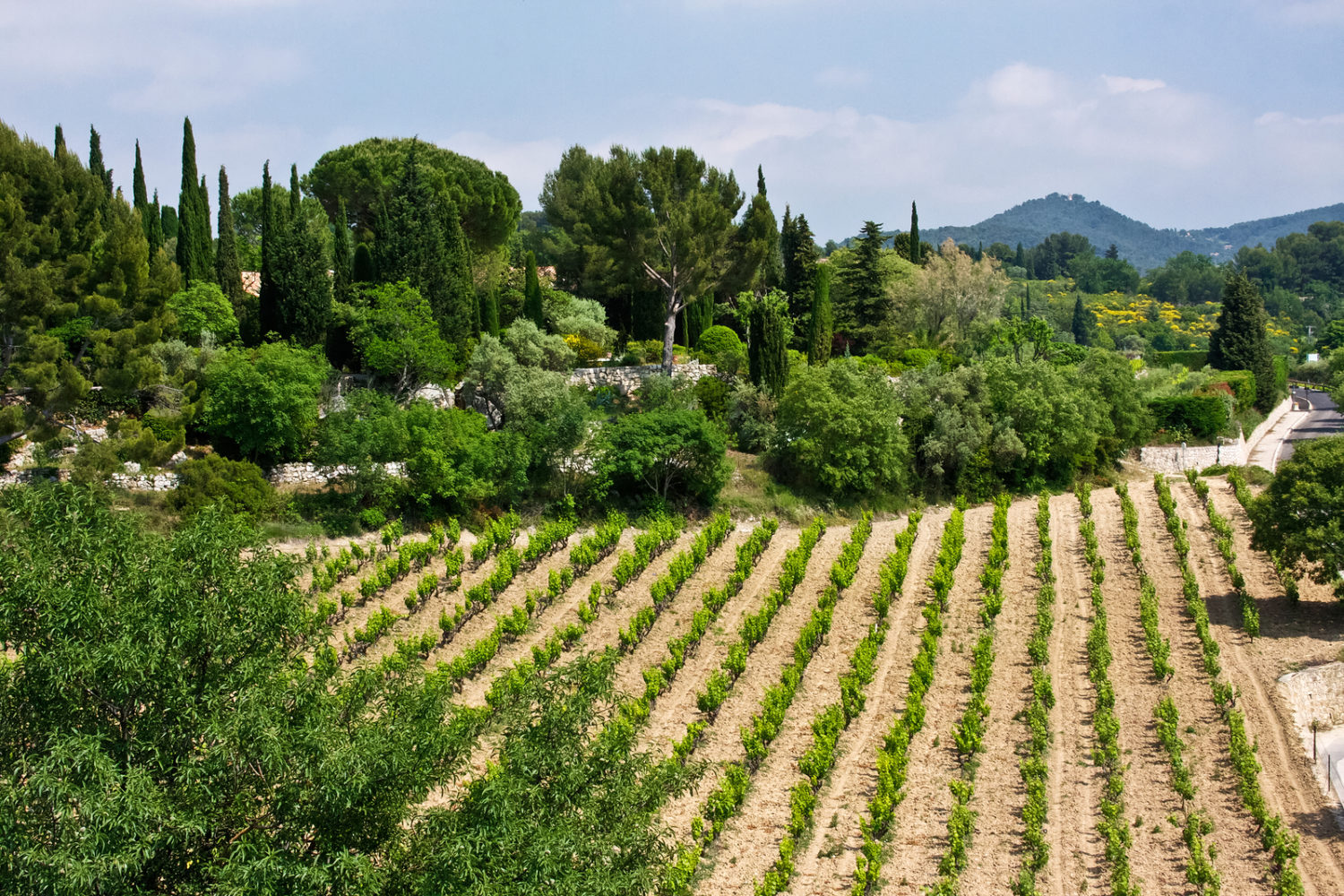 Bandol takes its name from the touristy Provençal port town of the same name, located east and a little south of Marseille. Here, the mountains are laden with pines and come right down to the sea, and the vineyards on these slopes are mostly comprised of Mourvèdre with some Grenache, Cinsault, Clairette and Ugni Blanc mixed in.
Bandol is hot. The average summer temperatures consistently range between 80º and 90º F, and its arid, amphitheater-like slopes — a mixture of limestone and sandy soils — reflect a lot of this heat, making it even hotter at vine-level. Only certain grapes can handle the region's climate, and of those that do, Mourvèdre — not Grenache, not Syrah, not Cabernet Sauvignon — takes center stage.
This is France's only appellation to focus so heavily on Mourvèdre. There is good reason for this — it is a difficult grape to grow and vinify, and only in Bandol does it produce results exquisite enough to warrant the effort.
Mourvèdre has one of the longest growing cycles of any wine grape, so while it is ideally suited to the region's sunny, evenly warm climate, it requires a great deal of patience. In the cellar, winemakers have to deal with its low acidity, which requires careful handling so that it does not spoil. And because it has an exceedingly high amount of tannin, maturation in large oak casks is preferred — no need to impart even more tannin than it already has with small oak casks.
To be called Bandol, a red wine from this appellation needs to include at least 50% Mourvèdre, with the remaining balance commonly comprised of Grenache, Cinsault and Syrah in some combination. It's common to see Mourvèdre comprising 90 to 95% of the wine. Further requirements dictate at least 18 months of oak aging, and the wine can be cellared for 10 to 20 years.
My First Taste
Dark, smokey, rich yet not overbearing or fatiguing. These were some of the first impressions I had with my first few sips of Bandol, which was courtesy of a glass of Domaine la Bastide Blanche served alongside pappardelle and ragú, a surprising and close-to-perfect match.
Got a snap of the label. Heavens to Moigatroid this #Bandol is fantastic. All dark berries, tobacco & dryness pic.twitter.com/wmprmgvq2N

— Opening a Bottle (@openingabottle) April 14, 2016
On my next run to the wine shop, I wasn't able to find la Bastide Blanche. Instead, I discovered one of the more affordable bottles of Bandol Rouge — Domaine le Galantin. Both are made from grapes grown on the red soils near the commune of Le Castellet, where many of Bandol's most prestigious domaines are clustered. On these soils, Mourvèdre tends to be more tannic, more concentrated, more upfront and aggressive. And because of this, they can (and probably should) be aged for 10 to 20 years.
But who has time to wait for a first taste?
Despite all of the advice to let Bandol age — or to decant it for a few hours — we uncorked-and-poured, and ultimately, I found Le Galantin to be pretty accessible. Bandol apparently, can be this way: approachable yet aggressive in youth (five years and under); funky and diminished in middle age (six to 12 years); then elegant, meditative and magical in old age (12 years and older). It is as though it goes into hiding before re-emerging for an Oscar-winning performance.
We were on the cusp of middle age, but I didn't see any signs that the wine was on the decline. It held together well for several hours. In fact, Mourvèdre's composition makes it fairly resilient to oxygen compared to other red wines.
Next Steps
I'm noticing a trend in the wines I ultimately select for our first taste guides. Whether its a bottle of Léon Perdigal Châteauneuf-du-Pape or Bernard Levet "La Chavaroche" Côte-Rôtie, my natural inclination for a "first taste" is to buy a wine on the lower end of the price spectrum.
Whether you call these wines "starter wines" or "entry-level," they give a good enough first impression to let you know whether the wine should be pursued deeper.  And I feel Domaine le Galantin (and la Bastide Blanche) fit that profile pretty well. My interests tend to veer away from bold, aggressive red wines, but in only a handful of cases — such as Nebbiolo and Syrah — they can be among my absolute favorite.
Time will tell whether the Mourvèdre wines of Bandol would be added to that list, but yes, let's return to Bandol Rouge in the future for a second taste. This appears to be a wine of rich character and uniqueness.
2011 Domaine Le Galantin Bandol Rouge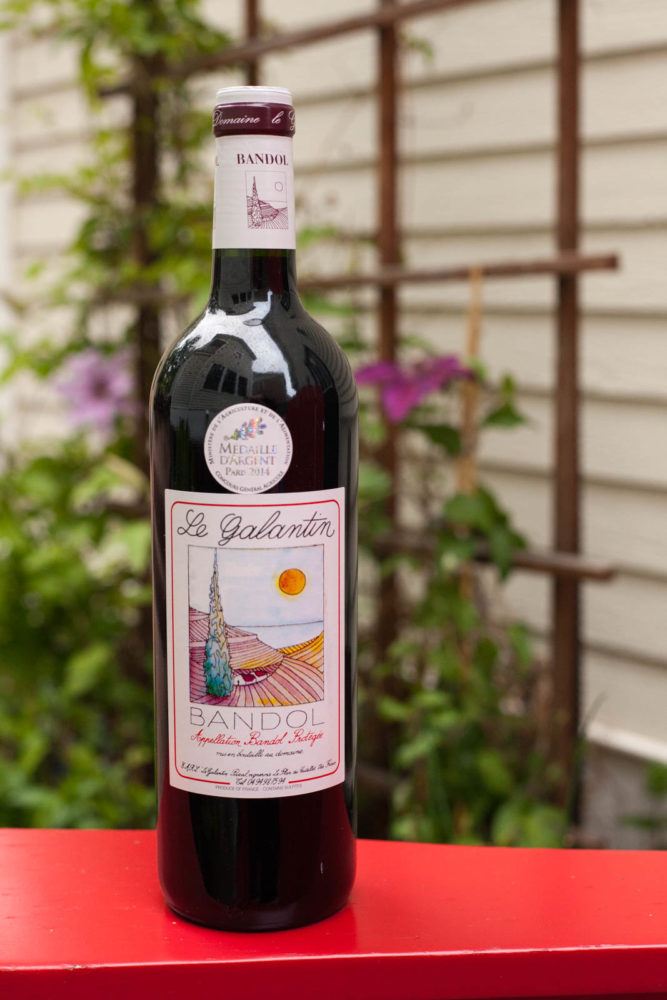 Bandol AOP, France
Grapes: Mourvèdre (95%), Grenache (5%)
Alcohol: 14.5%
Ratings: ★★★★ 1/2 (out of five)
• Aromas, Flavor & Structure: ★★★★ 1/2
Food-friendliness: ★★★★
Value: ★★★★ 1/2
Tasting notes: An elegant yet fierce wine — like a gifted ballet dancer who is all muscle. Blackberry and raspberry fruit on the nose with recollections of graphite, herbs and cured meat as well. Massive on the palate, with a finely balanced center that recalls dark fruits, smoke and mocha, while lively graphite notes play on the edges. Quite a bit of persistence after every sip.
Recommended for: Screams for lamb chops or a burger with goat cheese. Also recommended as a gift for that Malbec-drinking friend of yours. They will be pleasantly surprised.
---
Related Reading